Music Midtown's leader speaks
A behind-the-scenes look at the history of Peter Conlon's Atlanta music machine
In the summer of 1958, Peter Conlon's father moved his family from their home in Bridgeport, Conn., to a parcel of farmland on the outskirts of Tucker, Ga., near what is now Northlake Mall. The family settled into a house on a former bird sanctuary near the Shallowford Road exit and the Northeast Expressway. "Shallowford was a gravel road back then, and there was a slaughterhouse near there," Conlon says. "You know, it's like when you see these coming-of-age films where you have a bucolic childhood in the South. Northlake actually had a lake with a rope swing when we were kids. The lake is gone now, but there were streams and fields and we used to ride our bikes up to Stone Mountain."
Conlon's father was a BF Goodrich salesman and transferred to Atlanta when the company opened a regional office here for a new merchandise line. The move came just in time for Conlon, the middle of three boys, to start first grade at Immaculate Heart of Mary Catholic School on Briarcliff Road.
The seeds for a lifelong obsession with music were planted in fifth grade when Conlon bought his first album, Meet the Beatles, at a Rich's department store. After wrapping his head around the Merseybeat driving songs such as "I Want to Hold Your Hand" and "I Saw Her Standing There," he was hooked on rock 'n' roll. He recalls spending hours in his room studying album cover art and losing himself in the grooves of the Rolling Stones, the Dave Clarke Five, and more.
Music became the focus of his attention and by college had turned into more than a hobby. He got a taste for booking live shows while living in Athens and working on a Bachelor's Degree in International Business at the University of Georgia.
In college, Conlon landed jobs working for both the student concert committee and the Interfraternity Council. When he joined there wasn't much organization behind either committee's operations. Bookings were sporadic and rarely made money. But he brought some business sense to both committees.
One of the first bookings he was involved with was a Jethro Tull concert. The details surrounding those early shows are mostly hazy memories now. Conlon recalls leading efforts to bring other artists to UGA's campus, including Elton John and the Allman Brothers. "We learned quickly how to do it right," Conlon says. "I remember one year we had a budget of $10,000 at the beginning of one year. By the end of the year we still had $10,000!"
Over the last four decades, Conlon has become Atlanta's most powerful concert promoter, now overseeing shows as the president of Live Nation's Georgia/Alabama regional office. He books stages in the city's largest and most acclaimed music venues, from Aaron's Amphitheatre at Lakewood and Chastain Park Amphitheater to Philips Arena, the Tabernacle, and the Fox Theatre.
Conlon is the city's liaison to the most respected names in popular music. Everyone from the Rolling Stones, Paul McCartney, and Bruce Springsteen to Johnny Cash, Bob Dylan, the Foo Fighters, Lana Del Rey, and more have worked with him when playing Atlanta.
One of the earmarks of his legacy is Music Midtown, the annual festival that Conlon co-founded in 1994 with veteran music promoter Alex Cooley. Like any industry or vocation in which art and commerce collide, the business of booking a multi-day festival is a nuanced affair. Taste, integrity, and business savvy are often at odds.
Music Midtown takes over Piedmont Park Sept. 18-19. Thirty bands will fill out four stages over the weekend. Drake, Van Halen, Elton John, Run the Jewels, Alice in Chains, and more will perform. The lineup is typical of what Conlon puts together each year: unapologetically mainstream pop artists, tried-and-true staples, and a parade of up-and-coming modern rock and urban music acts.
Conlon's office sits 19 floors above Paces Ferry Road in Buckhead. The view from his window encompasses a vast sprawl of skyscrapers jutting out from an endless green canopy of treetops. Conlon swivels in his chair and returns to his desk with a stack of pages. Each one is filled with long lines of numbers telling him how the shows he's booked are selling, and how much he needs to increase his efforts. He thumbs over a few lines and mumbles something about Phish at Lakewood and Def Leppard then pauses to smirk and say, "I live by the ticket count every day."
At 63 years old, Conlon is reserved, even mellow. He speaks matter-of-factly and walks with a quiet presence that evokes actor Alan Rickman channeling Professor Severus Snape from the Harry Potter films.
A framed quote from gonzo journalist and political wildman Hunter S. Thompson hangs on the wall of Conlon's office. He pulls it down and reads it aloud: "The music business is a cruel and shallow money trench, a long plastic hallway where thieves and pimps run free, and good men die like dogs. There's also a negative side."
Conlon laughs. "There's a lot of truth in that," he says.
Nearly every square inch of wall space in his office is covered with photos of Conlon rubbing elbows with the likes of former President Jimmy Carter, Willie Nelson, and dozens of other icons. Guitars are propped in opposite corners, one autographed by Johnny Cash, the other by the Boss himself, Bruce Springsteen. A signed Devo energy dome sits in a glass case surrounded by more concert memorabilia. The office's centerpiece is a charcoal, graphite, and ink composition from New York City artist Robert Longo's "Men in Cities" series — an image of a man in a business suit either recoiling from a bomb blast, or dancing in ecstasy. "Most people think it's David Byrne," Conlon says.
Conlon frequently drifts into stories of his encounters with politicians and celebrities. As he hangs the framed quote back on the wall, he talks of having drinks with Hunter S. Thompson at the Democratic National Convention in the late '70s. "He had the long cigarette holder hanging out his mouth, the hat, and the Hawaiian shirt. He was just like he's always portrayed, completely unpredictable," Conlon says. "Hunter loved President Carter. He said he was the only honest man running for president — maybe too honest for politics."
Conlon flips again through pages from his daily report and points to one line: Music Midtown.
"This is what I do every day," he says. "Music Midtown is just one of the items on this report."
Conlon and Cooley became friends while working together in the late 1970s on concerts for Carter's presidential campaign. Conlon left law school at UGA in 1975 to intern with Carter.
"It was right after Watergate and I saw on the news that Carter was running," Conlon says. "He had a great image and was an honest guy, so I called to see if they needed help, and they did. When I started, there were very few people on staff, maybe 20. I had been coming in between classes, but by the end of the first quarter [[[Chief of Staff] Hamilton [[[Jordan] said to me, 'We love having you, but you have to make a decision to be full-time or not.' So I told my parents and they thought it was a great thing to be involved with, and they were right. We won the nomination and then the presidency."
Conlon worked for Carter for two presidential campaigns and during his administration. During the 1980 re-election campaign he took on the roles of National Fundraising Director and Special Assistant to the Administrator of the Small Business Administration for the White House Liaison. From 1975 to 1980, Conlon traveled the country meeting with people who had relationships with Carter to discuss potential fundraising opportunities. Putting on concerts to raise campaign funds was part of the agenda, and, as Conlon explains, public campaign financing laws were structured differently back in those days. At the time, Conlon says, the government would match a campaign donation up to $100. Ticket sales from fundraising concerts were treated like donations.
"If you got $10 per ticket, you also got $10 from the government, so that's $20," Conlon says. "With some of that money you would pay for the concert."
Texas-born country music star Willie Nelson was a friend of Carter, and had offered to play some concerts to help the campaign. Conlon saw the shows through.
"In those days I got to know all of the major promoters in each town and in each region — there were just a handful of them," Conlon says. "In San Francisco it was Bill Graham. In Atlanta it was Alex Cooley, and we met then."
Since the late '60s, Cooley had emerged as the city's major concert promoter. He was breaking down the country's perceptions of the South and carving a touring path through the region and expanding the live music market. Cooley brought Janis Joplin to Atlanta for her first show in the South. He also booked Jimi Hendrix to headline the Atlanta International Pop Festival in 1970. And in 1978 he booked the Sex Pistols' North American debut at the Great Southeast Music Hall in Atlanta, which ushered in a new era for punk rock.
Cooley's place in the history of music throughout the Southeast cannot be overstated. Conlon and Cooley worked together organizing concerts, sporadically at first. When President Carter lost his re-election bid, Conlon moved back to Atlanta where he put together a political consulting company. He held a few contracts with Carter, and worked on a couple of congressional races as well. But Conlon wanted to get more involved with concert promotions. His experiences raising funds on the campaign trail had instilled in him a drive to reach the largest audiences possible.
Conlon and Cooley continued working together and when Cooley found himself recovering from a bankruptcy, and parting ways with a former business partner, Conlon saw the opportunity to get something new started. At first, the two merged their respective ventures — Cooley's "Concert" promotions, and Conlon's "Southern" events. Together, Cooley and Conlon jump-started the city's amphitheater music scene in the early '80s — a trend that Conlon had watched spring up around the country while working with Willie Nelson.
Chastain Amphitheater was the first venue on his radar, although at the time it was used mostly for classical music performances. "I was able to get some financing for us," Conlon says. "I saw Chastain, and approached them about doing contemporary music shows there."
Chastain jumped at the idea, so Conlon and Cooley booked country music songwriter Jerry Jeff Walker and Leon Redbone as a trial run. Their first major success at Chastain came with a performance by the pop and R&B outfit the Pointer Sisters. A deluge of acts followed, including performances by Jimmy Buffet, Frank Sinatra, and Nina Simone, among others.
Conlon and Cooley thrived as a team. It was an alliance based on friendship, and according to both parties, it wasn't until at least a decade into their partnership that they even considered signing contracts with each other. "Lawyers started looking at what we were doing, and telling us to get our dealings in order," Conlon says. "Prior to that we always just had a handshake. To this day we have never argued over money."
Cooley had taste, and Conlon had business savvy. "I always liked Peter," Cooley says. "He has a keen mind for business. He thinks things out and is methodical. On all of these things I am diametrically different from him. I am not a good businessman. I'm not methodical. I have a lot of ideas. Peter used to call me the big picture guy."
It's a dynamic that suited them both. "Alex would come to me and say, 'I want to do a festival.' It was my job to figure out how to make it work," Conlon says.
By 1988 the two had begun booking shows as Cooley/Conlon Presents. Six years later, Music Midtown was born. The original concept for the festival was much different than what took shape and became the model they expanded upon from 1994 through 2005.
Both Conlon and Cooley point to the New Orleans Jazz and Heritage Festival when talking about what they wanted to create for Atlanta. Cooley conceptualized a festival that would be spread out over two weekends with symposiums, lectures, and workshops happening throughout the week and live music performances on the weekends.
"I have always been struck by how narrow the American view of music is," Cooley says. "You're either a country fan or a rock 'n' roll fan or a classical fan. You rarely go outside of your own genre. I find that disturbing. It's a big wild world of music out there. There are countless musicians who have something to say, but so often they get trampled over by the rush to superstardom. To a degree I wanted Music Midtown to be the antithesis of that. I wanted to book Bruce Springsteen and Sade, and bring in some musicians from Africa. But try selling a ticket to that sometime."
From 1994-2005, Music Midtown took place at various Midtown and Downtown locations. By the early aughts, the festival had grown to a three-day event with six stages drawing nearly 100,000 attendees a day. Concertgoers swarmed the festival grounds, amassing around stages and forming football field-length crowds for shows by OutKast, Ween, Lil Jon, Stone Temple Pilots, No Doubt, and more. It was a melee of glow sticks, balloon hats, and concertgoers reveling in deep party mode.
The scene changed in 2005 when a tropical storm front packing 69 mile-per-hour winds delivered a crippling blow to Music Midtown. "It had been beautiful all week, and the storm was supposed to miss us, but I watched it coming on the radar, and it struck right when we were opening the gates," Conlon says. "We had to evacuate the festival grounds."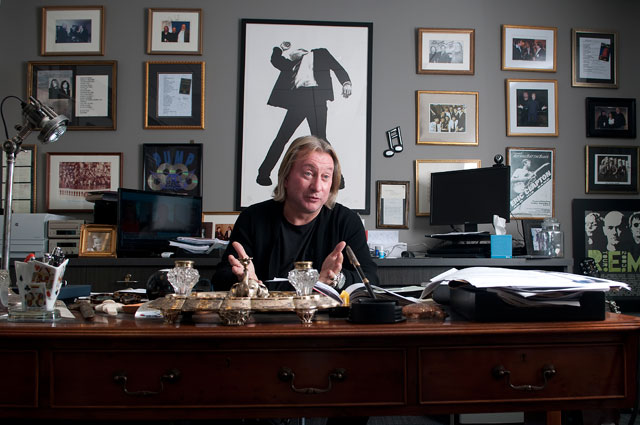 As a result of low sales, Cooley and Clear Channel, the festival's chief financial backer that year, withdrew from future Music Midtowns. Faced with the tough decision to go it alone or call it quits, Conlon pulled the plug. "It was a fight to keep it going," Conlon says. "[[[Mayor Shirley Franklin] was squeezing me on the deal terribly, and it just made no sense anymore. I had the feeling they didn't want me to do it, so I decided, 'I'm not doing it next year.' It wasn't an easy decision, and I didn't know for how long. I hoped that it was more of a hiatus than an end."
While not retired from music promotions altogether, Cooley, 76, has stayed away from Music Midtown since 2005. These days he co-owns Eddie's Attic in Decatur, where he occasionally books shows. Cooley is also involved with the PARKLIFE festival, which brings acts such as Jason Isbell, Strand of Oaks, and Natalie Prass to Piedmont Park on Sun., Oct. 18.
"I would hate to go back into the pressure cooker," Cooley says. "I want to be in music, not in the music business. There are a lot of compromises, and a lot of cutting corners, and a lot of smoke and mirrors that I choose to not have to deal with at this point in my life. I want to be involved with shows that I enjoy."
In 2011, after five years of silence, Conlon revived Music Midtown, this time settling into Piedmont Park. It was smaller at first — relatively speaking — sporting a single-day lineup featuring headliners Coldplay and the Black Keys.
Since then, Conlon has watched Atlanta's music festival circuit grow exponentially. From TomorrowWorld's spectacle of lights and electronic dance music in Chattahoochee Hills to Shaky Knees' modern indie rock lineup to ONE Musicfest and A3C's respective approaches to urban and afro-centric sounds, the festival scene has diversified and exploded. But Conlon doesn't give the competition a second thought.
"There are a lot of people putting on festivals now, who don't really know what they're doing," he says. "On the surface it looks like an easy way to make a lot of money. But it's a lot of hard work, and you have to have a couple of things in place: You have to have a site that you can brand, and a brand that you're going to see through. And you have to book it right. You also have to develop a cultural situation where you motivate people to buy a ticket. And you have to have an identity that you have developed."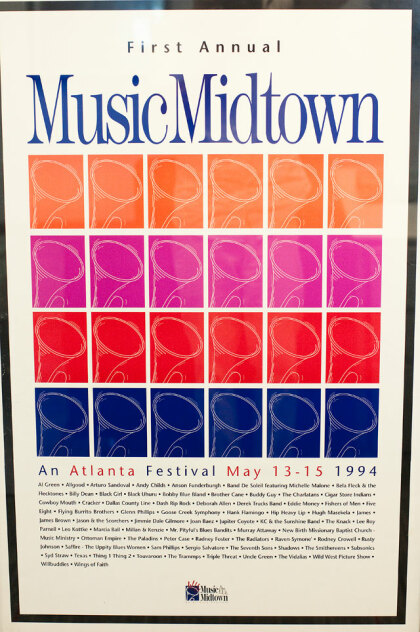 When it comes to Music Midtown, that identity is party time for tens of thousands of concertgoers. And while the last five festivals have never quite reached the magnitude of those of the late '90s and early-aughts heydays, it has continued growing each year. Since relaunching, Music Midtown generates nearly $50 million for the local economy each year, according to a report conducted by the Nashville Area Chamber of Commerce Research Center, although Conlon says the festival's financial margins are tight.
When Alice in Chains frontman William DuVall takes the stage this year, it will be his second time performing at Music Midtown. In 2001, his former band Comes With the Fall backed Alice in Chains' guitarist Jerry Cantrell. A few days before the show Cantrell broke his hand. They met to discuss whether or not they could pull it off. "It was one of those shows that justified the entire tour," DuVall says. "I said, 'We're here. Let's do it. I'll cover leads on a lot of things. Let's just make it the fun, semi-absurd experience its liable to be.' So we did, and it was a great time."
Afterward, DuVall watched the Cult perform: "I watched Ian [[[Astbury] throw his tambourine like 30 feet in the air. It went up, came down, and bounced off the monitor, and without looking he grabbed it out of the air like it was nothing. It was amazing. These are the kinds of things that make a festival like this so great for the audience, and for the performers," he says. "It's always amazing to see who turns up, or running into people you haven't seen in years. I look forward to that."
But the festival is not without its critics. Each year in the weeks leading up to and following Music Midtown, residents of Piedmont Park's surrounding neighborhoods bemoan the increased traffic, street closures, and damage to the park incurred during the festival. Conlon says he tries to alleviate the issues with more police officers and by making every effort to leave the park in better shape than it was before Music Midtown. Since the festival returned in 2011, critics on social media and from within the local music community have voiced frustrations over Music Midtown's increasingly commercial and mainstream leanings. They say there's a void where ground-level Atlanta music once had a stage. In 2005, acts such as A Fir-Ju Well, Dropsonic, Collective Efforts, and Good Friday Experiment played the Best Buy/99X-sponsored Locals Only stage.
"We used to book a good amount of local music," Conlon says. "We went through the work of building the stage and the sound system and booking the acts. But after putting all of the effort into making it happen, nobody stuck around to watch the bands. It just wasn't working for us."
He caught some flak from the local music community over a quote in the 2012 Creative Loafing Music Issue story "Atlanta promoters and players on piss-poor performance," in which Conlon said, "If you're working in a bar, and you're a bartender but you play in a band, you're a bartender. It's how you make your living. If you're making your living as a musician full time, you're a musician. This is a business of talent. People in this business seek talent out. If you're talented, someone's gonna find you and you're gonna get discovered. If you're still flailing around and you're in your late 30s or 40s, you probably don't have any talent and you should really look at plan B."
He knows he came off harsh, but he stands by his words.
"You are what you do," Conlon says. "I understand people who say, 'Look, I'm just starting out.' That makes sense. But if you've been trying to get your band going for 10-15 years, plan B is important. I didn't mean to hurt people's feelings, but I did. I was afraid to order drinks from bartenders after I said that."
Criticism aside, Conlon's legacy of producing live music and taking the reins of Music Midown has become ingrained in the city's cultural landscape. Music Midtown is a moneymaking juggernaut for the city, and the culmination of a lifetime's work. Conlon's passion for music, which began with his first Beatles record, combined with experience and a powerful business savvy have placed him in the presence of megastars, rock 'n' roll legends, and even a U.S. president. Love it or hate it, Conlon's contribution to the city has to be respected.