Ployd's long strange trip from DJ to producer
ATL bass music innovator drops first original track and discusses Giant Skelly project
On a mild February afternoon in Virginia-Highland, the looming threat of snowstorm Pax shows on the faces of passersby as they make their way along the sidewalk outside of the coffee shop. Inside, Aireon Grimes, the DJ and self-described "vibe pusher" known as Ployd, slides up a chair, sips his black coffee, and lays three cigarettes on the table. He rolls them under his palm, each one poised for a break in the conversation.
But before he steps outside for a smoke, he relives an electronic odyssey. For the last eight years, Ployd has had a front row seat to the ever-changing face of Atlanta's electronic dance music scene. After first traversing realms of jungle and drum 'n' bass, he later helped usher in the changing tides of dubstep and trap music.
As a founding player in two of the city's original dubstep collectives, Atlanta Dubstep and Wobble House, Ployd has watched the music morph from a curious U.K. import into an aggressive American club phenomenon as trap, so-called brostep, and countless other subgenre permutations. Ployd always seems to be one step ahead of any trend.
"I tend to get a little bored of playing a certain style of music all the time," he says. "When I move on to another sound there are a lot of other DJs still playing that sound out, and plenty of people who are still new to it and want to hear it."
Ployd, 33, never plans his live sets. He makes up everything as he goes, drawing from the room's energy.
"I never know exactly what I'm going to play," he says. "Sometimes I'll grab the mic and warn everybody who's in the crowd that night: 'Hey, just so you guys know, I don't plan my sets, so if you see me up here staring at the ceiling, scratching my head, and looking kind of funny, that's just me trying to figure out what I'm going to play next. I'm not high, and I'm not on drugs or anything like that!"
Just a few nights earlier, Ployd performed a late-night set at the Iris, an electronic music club on Buford Highway. From behind the decks, he led a packed house through a rapid-fire sequence of rising and falling BPMs and stylistic musical shifts. His set was a patchwork of sludgy dubstep, more dubstep, and trap music, before he finally brought the night to a close with a dose of moombahton's swelling bass and robotic two-step beats.
"I like to say that I play what I want to hear, what you want to hear, and what you didn't know you wanted to hear yet," he says.
Over the years, Ployd has become one of Atlanta's most progressive DJs. He stresses the need for exploration and forward-thinking young minds to, as he puts it, "push the envelope rather than just follow the instructions on how to make an envelope." Still, he never saw the mainstream's co-opting of dubstep as a negative thing. He talks about massive regional music festivals such as TomorrowWorld and CounterPoint, which both take place right outside of Atlanta, as gateways for discovering new music.
"When we saw the music blowing up, a lot of people were turned off, but I never saw electronic music getting a lot attention as a bad thing," he says. "If anything it will draw out the kids who are lurking in their suburban homes and lead them to discover some house music or something else that they like."
Eight years after playing his first head-ringing DJ set in a Downtown Atlanta club, Ployd has become a fixture of the local EDM scene. Nearly a decade of headlining electronic music parties and amassing devotees with a Grateful Dead-like dedication has led him to make the move to producer. He's maintained a tight grasp on his original music, keeping every note miraculously off of the Internet and opting instead to earn fans by pummeling them live with blasts of bass. The official release this month of his first original track, as well as a new collaborative effort with the group dubbed Giant Skelly, mark a welcome new direction in Ployd's long, strange trip as an Atlanta EDM innovator.
Ployd first took to the stage in 2006 as a DJ at the now-defunct Downtown club the Mark Ultra Lounge for Anthony Rotella's "Transit" drum 'n' bass nights. He laughs while recalling how nervous he was about playing in a club for the first time. He remembers being so overwhelmed by the bass that he went cross-eyed twice during his set.
"It was one of those nights where the music was crazy," he says. "I had to take my headphones off and shake my head just to snap out of it."
Since then, his confidence has grown and it shows in his stage presence when he weaves to the music and commands the audience.
"Ployd's diverse palette has aided Atlanta in moving forward with several styles of music," Rotella says. "He's got a heart of gold and it's reflected in his bookings, fans, and DJ sets. Without his involvement in Atlanta Dubstep, I couldn't see that brand moving as far forward as it did."
Trap Check and Turnt party promoter, and Ployd's longtime cohort, Adrian "Zone3" Sosebee agrees. "Without Ployd there is no EDM scene in Atlanta," he says. "Ployd rocks the fucking crowd no matter what the situation may be. He plays because he loves it, not because he's trying be the next DJ sensation — he was the first DJ to play dubstep in Atlanta. You have to respect his game. I've watched him grow and branch out as an artist. When the EDM and trap movements exploded, some dubstep heads were resistant to the sound, but not Ployd. He embraced it and became Trap Jesus!"
Ployd takes another sip of coffee, running his fingers over his well-kept beard. It's true: The beard, and his thick, chest-length hair do make for a striking resemblance to the popular image of the Son of God. "Turning water into lean since 2006," he says with a laugh. "It's a hilarious nickname. I've had people say to me, 'You really need to rebrand yourself as Trap Jesus and get that whole thing going!' But that might be a little too David Koresh-y," he says, mulling over the cult-like following he's developed.
His down-to-earth ways have resonated with fans in a club music world rife with inflated egos. Being the guy who compares himself to Jesus isn't his style, even though his humility and compassion for the music and the crowd fit the roll. Ployd's accolades hinge on one thing: the sheer power of his live DJ sets. His stature throughout the southeastern U.S. has exploded within the dance music underground since that first show at the Mark. In person, his chill attitude has more of a Dead Head family vibe than one of a club-hardened DJ.
"I do dig some hippy stuff," Ployd says. "At home, if I'm not listening to some weird, grindy, robotic, electronic music, I'm listening to classic rock kind of stuff. Grateful Dead, Pink Floyd — love the Floyd."
Indeed, his very moniker, Ployd, is a contraction of the words Pink Floyd — a name he adopted when he was 16 years old to use as the handle for his first AOL account. Like the Dead, he prefers a more grassroots approach to building a fanbase.
Over the last few years, Ployd has become a regular fixture at King Plow and Terminal West, performing opening sets on bills such as the Trinumeral Fest with Flying Lotus and moombahton creator Dave Nada, along with other acts such as Nit Grit, Borgore, and Zoogma.
"What really makes Ployd stand out is that he's an authentic, real guy," says Terminal West co-owner Alan Sher. "There are a lot of people calling themselves promoters now and throwing electronic music parties. He's a grateful, humble dude, and you always know it's going to be a great set. He's been DJing since before it was cool. He cares about the people who come out to support him, and he'll take however long it takes to talk with them in person."
Thus far, Ployd has managed to keep all of his original music off of the Internet, although several bootleg videos of his DJ sets are floating around YouTube. He's also posted a few mixes to SoundCloud, including a Halloween mix for 88.5 (WRAS-FM), and scattered reworkings of tunes for contemporaries such as Treasure Fingers, Evol Intent, and a "country time" mix for Freakstep Records.
Maintaining a strict separation between his music and the Internet has created a mutual respect between him and his audience.
"It breeds a certain kind of fan," Ployd says. "They recognize it when someone is authentic, and isn't just trying to sell them on an image. Consciously or subconsciously, people see you're just doing your thing, and they respect that."
As always, though, Ployd's changing things up. With this month's release of the original track "Aliens, Bro. Aliens," Ployd went from working exclusively as a DJ to producing and promoting his own music.
"I was a little late to the production game," he says. "When I started doing this it was more just a way for me to hang out with my homies, have fun and show off our mixes to each other. Now, I'm comfortable enough with what I'm capable of creating."
From the first pings and subtle bass booms of "Aliens, Bro. Aliens," a new dimension of Ployd's more introspective, but also playful side comes to light.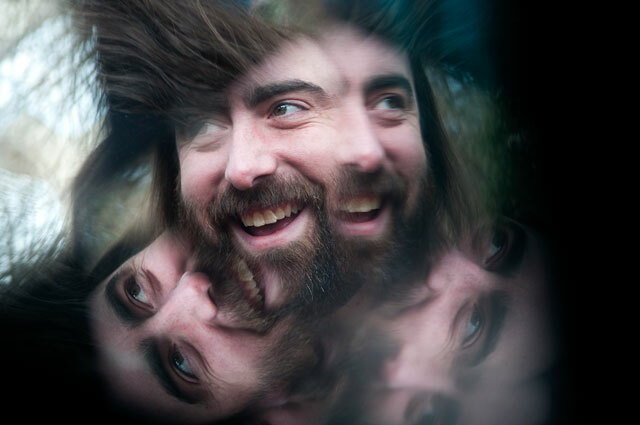 "When I started writing this track it just kind of flowed out of me," he says. "I've made other tracks since this one that are technically better, but this one is near and dear to me because it taught me a lot about EDM production. I've had to go back over it a couple times and learn how to make the different frequencies work together. It's still not perfect in my mind but hey, what is?"
The sounds of birds chirping over a collage of angular beats, clicks, bass drops, and the swooshing of a razor-sharp pendulum blade give rise to a dark and enigmatic sound. Despite its many working parts, the song feels minimal — far from the busy and full-throttle grind of his club music pursuits.
On this track, Ployd delves into a more ethereal crossroads of warm synthesizer tones and dub beats. The combination is hypnotic.
"I've always been a big fan of mysterious-sounding music," Ployd says. "Dark soundscapes that are slightly aggressive and a bit scary. That's the vibe I wanted to accomplish with this track."
Gaining skill as a performer is one thing, but producing music comes with a much different set of challenges and rewards. It's the kind of change Ployd needs to keep moving forward.
"I have certain things that I want to express artistically," he says. "DJing is fun and great, but there are certain things that I want to express using my own voice and my own music. Not just someone else's music."
In his basement/bedroom lab, Ployd leans over his computer. His nose hovers inches from the screen and deep concentration washes over his face. His mouse zigzags across a galaxy of twittering sine waves and a maze of digital knobs and sliders to make subtle adjustments to the bass, a beat, or a sample.
Ableton software seems to be his instrument of choice — that and a library of sampled voices and real-world sounds he's culled from the BBC Sound Effects Library. He riffles through files on his computer, pulling up tracks he says are still works in progress, slowly being assembled for another new project he's working on called Giant Skelly.
A collaboration with fellow DJs/producers Brian Lørd (Kaynara) and Jake McDonald, Giant Skelly finds Ployd gradually moving toward performing with live instrumentation. Don't expect to catch them playing anytime soon — the group has yet to turn out a finished track, but it's all in the works.
The name Giant Skelly is a nod to both role-playing games of the '80s and '90s and a far-out conspiracy theory that's recently kept Ployd's mind occupied. Certain conspiracy theorists speculate that during ancient times, the earth was populated by a race of giants possibly from outer space. For some reason, their presence has been concealed as part of a Smithsonian cover-up. The only evidence of their existence, the theory goes, are the few scattered remains fringe archaeologists have unearthed around the world.
"I'm less concerned with the story being true than I am with just hearing a good story," Ployd says. "What could be cooler than a story about space giants coming to earth, and why are they being covered up? That's just a cool story, and it involves the Bible, so even the skeptics are secretly thinking, 'Could it be true?'"
Still in its infancy, the group has its sights set on performing more for the festival crowd than the club circuit. "Aliens, Bro. Aliens" and Giant Skelly are fitting next steps for Ployd. As an insider with one eye constantly looking toward left field, the city's electronic music scene has benefitted from his exploratory spirit.
"I want to see some eerie vibes come out of this — dark, but not overly aggressive," he says. "I'd like to see it go in a different direction than a lot of what we've seen with the evolution of dubstep and other forms of electronic music."
In January, one of the city's most prominent electronic music venues, Quad, closed. While its shuttering feels like a blow to the scene, Ployd remains hopeful.
"Since we've seen the music go a little more mainstream, a lot of kids have developed loyalties to clubs over the music itself," he says. "It makes sense. They know there's a party there on certain nights. Coming up in this music scene, when people went to electronica shows they knew exactly what they were going to see — if they didn't already know the DJ. It's become more of a party scene in recent years. Now, maybe some kids who didn't already know about some of the other things that are going on around town will get turned on to something new."