The Blotter: Compliment conundrum
A 24-year-old man and his friend requested an Uber driver pick them up at a gay club in Midtown to take them home. During the ride, the 24-year-old jokingly told the Uber driver he was really cute. According to the police report, the driver told the man to "shut the fuck up," and alledgedly pulled out a gun and aimed it at the 24-year-old.
The 24-year-old remained quiet for the rest of the trip. When they arrived at his apartment, the two men got out of the car. The armed Uber driver reportedly exited his car and proceeded to follow the two men until they went inside the apartment. The 24-year-old told police he called Uber and was advised to get a police report.
Stupid stoner
A 29-year-old man called police after a skinny drug dealer nicknamed "Ace" reportedly ripped him off in Virginia-Highland.
From the victim's report: "I was robbed by Ace for $300 close to Little Five Points on St. Charles while trying to purchase some weed. I got in the car with Ace and some other guy I never seen before. I thought everything was cool because Ace and I used to be friends. We entered the car and the driver pulls off and stops and pulls out a big knife. Ace then pulls out a shiny gun and says, 'Fuck ... give it up.'" Ace and his accomplice reportedly stole $300 cash and the man's wallet.
Ace is described as a tall, slim man "with a goatee not connected to a beard," according to the police report.
The cop patiently took the 29-year-old man's statement about getting robbed by his drug dealer. Then the cop arrested the man for attempting to purchase marijuana — a crime he had just confessed to — and took him to jail. Perhaps next time a drug dealer rips you off, just let it go.
Slippery hot summer fun
In the Edgewood neighborhood, a woman was driving home on Walthall Street when she saw a man "making loud noises and pleasuring himself," a cop noted. "She stated he kept doing this for 30 minutes."
Another Edgewood man reported hearing "strange noises." The man said he stepped outside his home and saw a man and woman fornicating on the sidewalk. The frisky couple then went to a nearby vacant lot where they continued to perform various sex acts.
A cop arrived and "heard sounds commonly associated with sexual intercourse coming from an open lot." The horny exhibitionist couple (a 25-year-old man and a 39-year-old woman) went to jail on public indecency charges.
Idiot move of the week
A 63-year-old man crawled onto the roof of an East Atlanta pharmacy, busted open an air-conditioning unit to create a hole, and shimmied down a duct pipe into the pharmacy. The man filled up his black backpack with drugs and then took off down Haas Avenue, dropping drugs and pills as he walked.
Next, the man reportedly tried to break into a home — still carrying the backpack filled with stolen drugs. Police followed the trail of pills down Haas Avenue and nabbed him. So, did the man take any drugs worth all that trouble? Nope. He tried to swipe 100 nasal decongestant tablets, a pint of codeine, and some naproxen pain reliever.
So close, yet so far away
On Glenwood Place in East Atlanta, a man called police about a prowler on his back porch around midnight. Upon closer examination, the man realized he knew the prowler: It was his 27-year-old next-door neighbor, who appeared quite drunk. "He was unable to stand or walk back to his home," a cop noted. "In addition [the male neighbor] felt that he was already at his home, but was actually at his neighbor's home when I encountered him." The male neighbor was sweating profusely and trying to take off his clothes. "It appeared that [the neighbor] was possibly on drugs," the cop noted. "He kept speaking in a demonic voice, which I was unable to understand."
The man who called police did not want to press charges against his neighbor. Cops charged the neighbor with disorderly conduct under the influence, anyway. Medics arrived to treat the neighbor, who had to be strapped to a gurney.
No frisky, no peace
On the Westside, a 48-year-old man told police that at around 4 a.m. he was tired and ready for bed, but his female friend wanted to have sex. The man refused and proceeded to turn off the lights to go to bed. His female friend pouted and then stormed off. Next, the man heard a door slam and the sound of glass shattering. He got out of bed and went outside to find his Dodge Magnum's front windshield completely crushed. The man told police he's willing to do anything to prosecute his female friend — but he doesn't know her last name.
Items in the Blotter are taken from actual Atlanta police reports. The Blotter Diva compiles them and puts them into her own words.
More By This Writer
Thursday July 1, 2021 01:36 pm EDT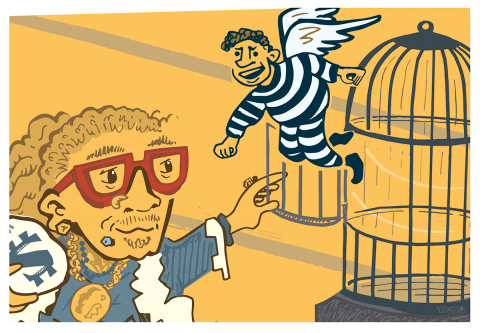 Wednesday June 2, 2021 06:26 pm EDT
Tuesday May 4, 2021 07:40 am EDT
Monday April 5, 2021 11:35 am EDT
Monday March 1, 2021 03:29 pm EST
Search for more by Lauren Keating
---