Photo Galleries - Inman Park Parade and Festival 2009
Inman Park Festival Photos 2009
There's something to be said about street festivals during times of economic woe. This year's Inman Park Festival seemed to be one of its busiest yet. The setting of stunning Inman Park homes, the killer spring weather and a general feel of happy made this festival the place to be April 25. And of course, the ever-popular Inman Park Parade did not disappoint.
(Photos by Liz Barclay)
More By This Writer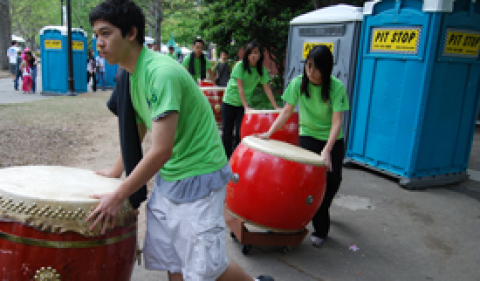 Tuesday April 21, 2009 02:15 pm EDT
Photos from this year's Festival |
more...
Tuesday April 7, 2009 04:00 am EDT
A surprising number of people came out to fight each other April 4…using pillows. That's correct, the International Pillow Fight Day does exist and the celebration was held at Freedom Park. It's all fun and games so don't get your feathers ruffled...
(Photos by Liz Barclay)
|
more...
Wednesday April 1, 2009 04:00 am EDT
Grab your umbrella and a BLT because when it rains, it pours... The weather didn't scare away devoted bacon lovers from attending the annual Bacon Fest, which took place March 28 at Dad's Garage Theatre. People of all ages came out to enjoy the event's festivities, which included games, live music, beer, and plenty of bacon.
(Photos by Liz Barclay)
|
more...
Tuesday March 10, 2009 04:00 am EDT
Ladies, gentlemen and children of all ages attended Cartoon Madness IV: Circus at Alcove Gallery March 6. The show opened with flamethrowers and steadily wowed audiences throughout the night with artwork and performances from jugglers, clowns, and local band Greasepaint. Grab some popcorn and cotton candy, and enjoy the pictures from the show.
(Photos by Liz Barclay)
|
more...
Wednesday February 11, 2009 12:04 am EST
Riding their hogs and rocking out |
more...
Search for more by Liz Barclay
array(11) {
  [0]=>
  int(1)
  [1]=>
  int(149)
  [2]=>
  int(1276)
  [3]=>
  int(102)
  [4]=>
  int(242)
  [5]=>
  int(1358)
  [6]=>
  int(638)
  [7]=>
  int(1182)
  [8]=>
  int(1477)
  [9]=>
  int(1338)
  [10]=>
  int(679)
}