Top 10 gay bars in Atlanta
How do we love the city's LGBT nightlife? Let us count the ways.
10) The Cockpit
The Cockpit is the only gay watering hole in Grant Park, not far from Mary's in East Atlanta, and an encouraging sign of the city's sprawling gay population. Not only does the space attract a down-to-earth clientele, but it's smoke free — a rarity among the city's gay bars. 465 Boulevard. 404-343-2450. www.thecockpit-atlanta.blogspot.com.
9) Jungle (Pictured) Permanently Closed
Remember "Queer as Folk"? Have your Babylon moment at this untz-untz dance club on the delightfully sordid Cheshire Bridge Road. Jungle arguably has the best drag stage in town, and two sex clubs reside in the same complex. 2115 Faulkner Road. 404-844-8800.
8) Swinging Richards (Pictured)
Some people celebrate by eating out at a nice restaurant. Others may opt for a spa day. Atlanta gays, on the other hand, go to this all gay male strip club with the strongest drinks in town to celebrate birthdays, out-of-town guests and the spare Tuesday (when there's no cover before midnight). 1400 Northside Drive. 404-352-0532. www.swingingrichards.com.
7) Burkhart's Pub - Permanently closed
Burkhart's is a neighborhood bar on steroids. The two-story setup with a lovely patio is packed with all walks of life. And if you need a break from the trashtastic drag show, the Ansley Mall location places it right next to Mixx and across the lot from Felix's and Oscar's. 1492 Piedmont Ave. 404-872-4403. (Update February 2020: Under new ownership by the owners of Oscar's and newly named Midtown Moon.)
5) Traxx (Pictured)
African-American gays flock to this giant megaclub in Decatur where anyone can be a V.I.P. for $20. Hip-hop superstar Nicki Minaj attracted a crowd of thousands when she performed at the venue during Black Gay Pride. 1287 Columbia Drive, Decatur. 404-835-7790. www.traxxatlanta.com.
6) BJ Roosters
Go-go boys dance on the metallic bar in this approachably seedy watering hole in the Tara Theatre shopping center. To your right, a nice billiards area. To your left, the "private" rooms for a special dance with your new go-go dancing friend. 2345 Cheshire Bridge Road, Suite 1. 404-634-5895.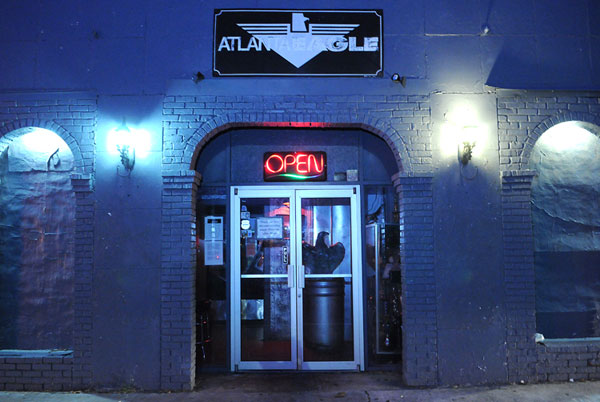 3) The Eagle (Pictured)
Atlanta's 23-year-old leather bar is stronger than ever following a police raid in 2009 that's still being litigated. Take off your shirt — no matter what you look like — and head to the high-energy dance floor where you'll see bears singing along to the latest Rihanna. 306 Ponce de Leon Ave. 404-873-2453. www.atlantaeagle.com.
4) My Sister's Room
The L-word is the only word that counts here. The friendly East Atlanta club, host to a variety of Djs and dance parties, is the city's best pickup spot for twentysomething lesbians. 1271 Glenwood Ave. 678-705-4585. www.mysistersroom.com.
2) Mary's
You have to escape Midtown to have this much fun. The East Atlanta gay bar has some of the best karaoke (or, as they say, "Maryoke") in town on Tuesday and Saturday nights. And when the small dance floor gets going, no one leaves until they're dripping with sweat. 1287 Glenwood Ave. 404-624-4411. www.marysatlanta.com.
1) Blake's on the Park
Love it or hate it, this "neighborhood" bar isn't going anywhere. Many bash on Blake's for its uppity clientele, but the opposite is true: It's ground zero for the Midtown gay set to mix up with different types and find Mr. Right Now. Sundays are particularly crowded. 227 10th St. 404-892-5786. www.blakesontheparkatlanta.com.