First Look: Dish Dive
Top Flr alums keep it quirky at the new Kirkwood micro-eatery
Have you had enough of the big and flashy restaurants that draw equally big and flashy crowds? Are you eager for something more, well, intimate? A place where you can walk in with friends, carry a growler of beer or bottle of wine, and sit down to some flat-out interesting and affordable food? Look no further than a little house by the train tracks, on the edge of Kirkwood and Decatur, where you'll find tiny Dish Dive — a 16-seat ode to being small, friendly, and quirky.
A meal at Dish Dive is like hanging out at your cool friend's house while he cooks you dinner. Here, the cool friends are chef Travis Carroll and co-owner Jeff Myers. You may remember them both from their time at Top Flr, another relatively quirky little endeavor. At Dish Dive, Jeff will greet you with a warm smile, talk you through the menu, maybe even offer you a few pieces of pickled onion as you discuss how the cinnamon-heavy and completely unusual chicken pot pie could use a quick hit of acidity. The vibe is chill, the decor spare but homey, and the open kitchen is probably about the same size as yours. Jeff and Travis want you to feel at home.
Dish Dive's menu comes on one single printed piece of paper, less than a dozen dishes in all. But the curious collection of small plates somehow spans from flat-out-grubber gravy-drenched fries to healthy and intricately-composed seasonal veggies, with a sprinkling of German, Middle Eastern, and good ol' Southern inspirations thrown in. There's pink spaetzle, and shakshuka, and pork belly with sorghum. I said this place was quirky, right? And the prices encourage you to embrace the quirk with abandon — most dishes are $7 or $8, with the pork belly being the most substantial and pricey plate at $14.
??
For those of you who remember chef David Sweeney's Dynamic Dish, a similarly intimate and quirky restaurant, Dish Dive's boldly flavored veggies may lead to happy reminiscing (though Dynamic Dish walked a far more serene path). There's the salad of warm winter greens serving as the setting for a collision of flavors and textures — sweet and crunchy caramel-spice pecan brittle, tart dried cherries, an intricate smoked blue cheese and bacon vinaigrette. Or how about that pink spaetzle, chewy but happily-light, tossed with house-made ricotta and asparagus coconut sauce and topped with a runny egg. On the simpler side, pan-roasted cauliflower comes charred around the edges, laid out over a spread of thick boiled-peanut romesco sauce that tastes vaguely of Thailand.
Some of the combinations, including a predilection for throwing sweet into the savory, may have you questioning the quirk. But somehow, chef Travis pulls disparate notes together with aplomb. The strangest example is the dish labeled pork belly with wild mushroom and leek grits, French toast, and maple sorghum braising jus. The pork belly and French toast both arrive cut into thick triangles with deep mahogany exteriors, both looking like charred cuts of steak. Slices of strawberry (say what?) dot the creamy grits, adding a touch of color. As you tentatively tap your fork to confirm which is pork, which is waffle, your doubts may rise. And then you take a bite. Perfectly cooked pork belly, meaty and fatty and tender and crunchy, plays off the (deep-fried) French toast, and somehow the mushrooms and berries and grits and sorghum all merge into something magical.
??
The so-called dive fries offer a junkier diversion. You can choose to have them topped with chicken gravy or mushroom gravy with white cheddar, or go all out with duck confit, sharp provolone, and a mess o' peas on top. A fellow food writer had some inexplicably off experiences with the duck and the chicken gravy on two different visits, so we opted for the mushroom gravy version. The non-meat rendition conjured childhood memories of Campbell's cream of mushroom soup. The fries arrive in a tangled nest held together by cheddar, the gravy drizzled lightly so as not to weigh them down. This is perfect beer food, so be sure to run down to Ale Yeah! a few blocks away to grab a growler before you enter the door.
Oh, and the dessert? It's not listed on the menu, but we asked Jeff what they had. When he told us it was "Chicago-style" cheesecake made by his mom (who hails from Chicago), I just couldn't say no. I have no idea if this dense but straightforward cheesecake is actually what folks eat around Chicago, but I'll happily return for Jeff's mom's baking anytime.
Atlanta could use a bit more of what Dish Dive is trying to bring to the table — the intimate, the modest, the quirky. Jeff and Travis do manage to make you feel at home, but also leave you thinking how comfortably strange your meal was as you walk out the door.
More By This Writer
Monday February 19, 2018 04:59 pm EST
Gloriously anachronistic and free from all frills, Mt. Paran Country Store makes Buckhead work |
more...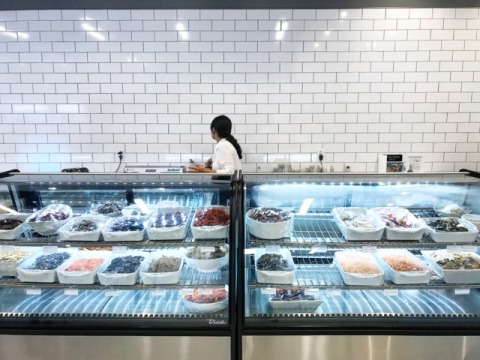 Wednesday January 3, 2018 06:00 pm EST
It's the Korean take-out shop you never knew you needed |
more...
Thursday November 30, 2017 01:54 am EST
Eduardo Porto Carreiro. It's a damn good name for a sommelier, isn't it? Exotic, complex with a touch of mystery? The man himself, like his actual title he was just promoted to beverage director for all Ford Fry Restaurants is more down to earth. After establishing a notable wine career in Los Angeles and New York, Porto Carreiro moved to Atlanta in March, along with his "very pregnant wife"... |
more...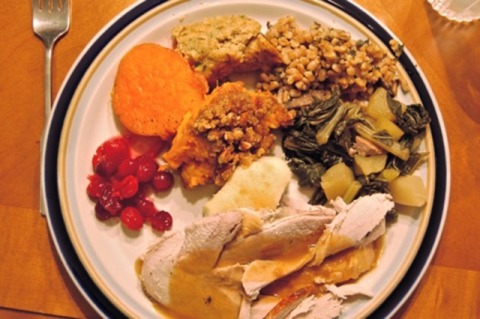 Friday November 17, 2017 06:49 pm EST
Our family Thanksgiving meal was fabulous, but it wasn't the turkey or the cranberries or the dressing that really distinguished it from other meals it was the gravy. Gravy is the glue (forgive the unappetizing term) that brings the Thanksgiving meal together. It bridges the turkey to the dressing to the cranberries to the rolls. It magically works with just about everything. I could (almost)... |
more...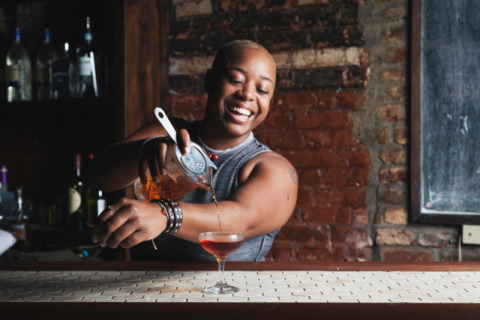 Monday November 13, 2017 06:31 pm EST
If there were an award for smiling-est bartender in town, Tiffanie Barriere, a.k.a the Drinking Coach, would surely be a finalist. Barriere may be best known for her long stint seven and a half years running the award-winning drinks program at One Flew South, the restaurant/bar that literally set the bar for airport awesomeness. But to Atlanta's tight-knit bartender community, Barriere is like... |
more...
Search for more by Brad Kaplan