Neighborhoods - Inman Park - 2014
An architectural tour of Inman Park's past, present, and future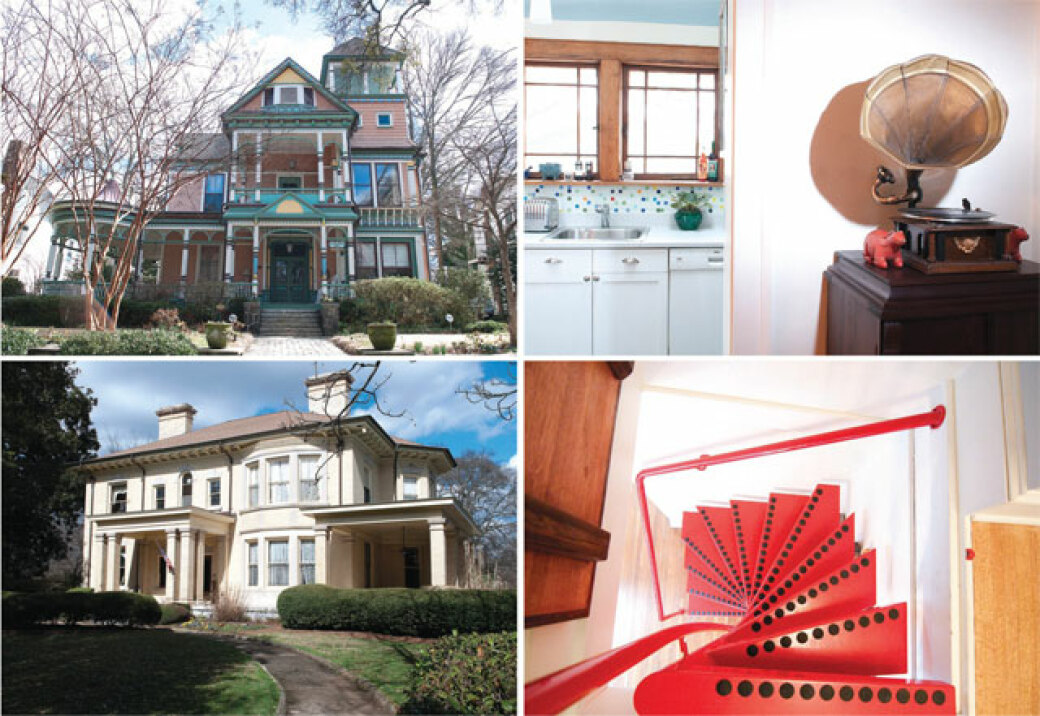 TILL DEATH: "When you move into Inman Park you don't move out. We laugh and call it the cradle to grave." - Regina Brewer
"Do you like my view?" Inman Park resident Ken Britt asks sarcastically. We're standing in the living room of his top-floor corner unit condo at 245 N. Highland Ave. The building, a part of the Inman Park Village, was built in 2005 on the former Mead Plant industrial site. Natural light floods in through giant floor-to-ceiling windows. To the north, the view stretches out over the street, above the trees, and beyond. Inman Park's newest mixed-use high-rise, 280 Elizabeth, is under construction next door. As the structure grows higher, Britt's view gets smaller.
The neighborhood's eastern edge has undergone massive redevelopment in the last decade. Towering condo buildings like the one Britt lives in and new townhomes dominate the landscape. Given the area's proximity to the coveted Beltline Eastside Trail, it's likely progress will continue to remake this part of the neighborhood for years to come.
Britt moved into the neighborhood from Midtown's Colony Square in 2012.
"Inman Park [was] where it was all happening, the buzz. So that's where I wanted to be," he says.
Founded by Atlanta developer Joel Hurt in 1890 (Hurt mansion pictured bottom left), Inman Park began as a wealthy suburban oasis for Atlanta's elite. Since then, Inman Park has seen numerous periods of prosperity and decline. Just as Britt's loft tells the story of Inman Park's current and future gentrification, the massive gingerbread Victorians, craftsman bungalows, and other historic homes that comprise Inman Park tell the story of its past.
The Inman Park Tour of Homes, a popular feature of the annual Inman Park Festival, is one way residents showcase their passion for preservation and restoration.
"We created the tour to highlight that yes, people live in these homes, yes these homes are beautiful, and they are worth saving," tour committee co-chair Regina Brewer says.
Inside Britt's condo, interior designer John Ishmael of Nandina Home & Design filled the space with pieces of furniture and art from Britt's personal collection to give it a modern, eclectic feel. Hanging among the paintings are photos of Britt with U.S. presidents, and his favorite piece, an abstract pastel canvas painted by his mother.
"We'll see what happens when the rest of the complex gets built," Britt says. "There might be way too much activity, but I'll love it anyway."
Also preparing for the tour this year are David and Anna Laube, who live around the corner at 203 Hale St. Their 100-year-old home retains many of its historic features such as fireplaces with their original tile surrounds. But Anna's Scandinavian influence pops up in many of the home's bright white, modern design finishes.
"You have to get a little creative with every nook and cranny," David says as he reveals a laundry room tucked underneath the stairs. Now, after years of updates, the home, which originally had two bedrooms and one bath, has a spacious open floor plan with four bedrooms and three baths.
Elliot Stivers and Deborah Choi live at 853 Euclid Ave. (pictured top and bottom right) The home was built in 1930 on land that originally housed tennis courts and stables that belonged to Ernest and Emily Woodruff. Stivers has been on the tour once before, but since then extensive renovations have expanded the home's square footage significantly. His most recent project included the addition of an entire upstairs master suite accessible by a quirky red spiral staircase.
Inman Park's emblem, a yellow and black butterfly, adorns many of the neighborhood's iconic front porches. Like the homes on the tour, it symbolizes the importance of moving forward while preserving the past.
"If you look in each of the butterfly wings you'll see an outline of faces ... one looking to the past, [and one] looking to the future," Brewer says.
King Keith House
King Keith House (pictured top left) is a historical bed-and-breakfast in the middle of Atlanta's first suburban neighborhood, Inman Park. 889 Edgewood Ave. 404-688-7330. www.kingkeith.com.
One Eared Stag
One Eared Stag is a farm-to-table restaurant that serves brunch, lunch, and dinner. 1029 Edgewood Ave. 404-525-4479. www.oneearedstag.com.
Sotto Sotto
Unabashedly Italian and composed with food in mind, it's one of the more delightful lists in the city. 313 N. Highland Ave. 404-523-6678. www.sottosottorestaurant.com.
Fritti
Riccardo Ullio's younger, hipper sibling to next-door Sotto Sotto offers hits and few big misses in such departments as authentic Italian croquettes, bracing salads, fried seafood, and thin-crust, rustic pizzas with exotic toppings. Atmosphere, service, and the wine list are notable as well. 309 N. Highland Ave. 404-880-9559. www.frittirestaurant.com.
Whitespace Gallery
Local curator/collector Susan Bridges mostly features exhibitions devoted to emerging Atlanta artists in her Victorian Inman Park home. 814 Edgewood Ave. 404-688-1892. www.whitespace814.com.
Springvale Park
Inman Park's playground for children is known for its "weird alligator head" floating in the park's pond. Euclid Avenue and Waverly Way. 404-546-6788. www.springvaleparkplayground.org.
NOTE: This story has been updated since original publication.