Neighborhoods - Little Five Points - 2014
Foot patrol in one of ATL's most pedestrian-friendly neighborhoods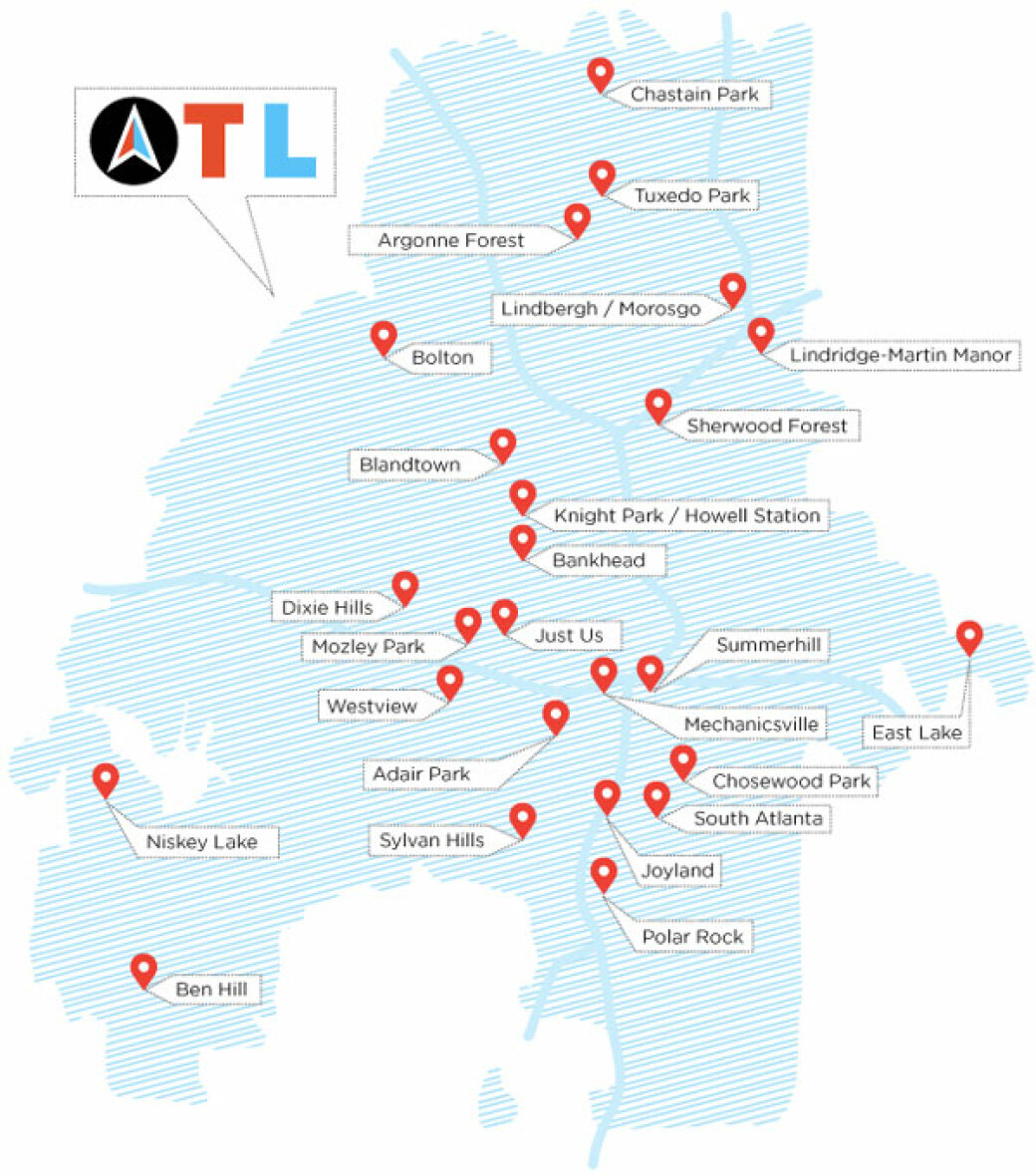 Little Five Points is many different things to many different people. Here, bikers share the sidewalks with crusty punk misanthropes, bearded hipsters, the homeless, and suburbanites who've come to see how the other half lives. Gaudy storefronts, from a crashed UFO at Junkman's Daughter to R. Land's interpretation of Rodin's "Orphée et Eurydice" (aka the cover of Arcade Fire's Reflektor) at Criminal Records mark a cartoonish cityscape. Who best to serve as my guide through this place of sensory overload than the most refined and reserved L5P regular I know: Lydia Sharlow.
For nearly three years, Sharlow has stood at the center of it all, serving espresso, iced coffee, and cappuccino from behind the counter at Aurora Coffee — the dark-roasted lifeblood of L5P.
"It actually took a while for Little Five Points to work its way into my heart," Sharlow says. "What's beautiful about the neighborhood, more than the eclectic shops, are the people who live and work here. There are people from all walks of life, with widely varying tastes and opinions, who share a common ground surrounding some level of respect or commitment to creativity."
Our L5P walk begins on a Sunday morning. Goth-tinged Vortex waitresses mill about the parking lot, sweeping up trash and preparing for a busy day.
"You have to try it at least once," Sharlow says as we walk in the shadow of the Vortex's large and looming psychedelic skull (pictured top right), its mouth forever agape. "It's a neighborhood anchor, and anytime you need to give directions it's the most recognizable landmark around."
Ali Baba (pictured bottom right) on Euclid Avenue is more her speed, though. "They have the best hummus in the neighborhood, if not the city," she says.
Along the way we pass a homeless man named Digger camped out by the fire-gutted Corner Tavern. "Spare a little change so I can get a bite to eat?" he asks.
As an Aurora barista and co-owner of Pull Coffee, a pop-up espresso bar, Sharlow, 26, has learned to navigate the neighborhood where Euclid, Moreland, and McLendon avenues all converge. On those breezy weekends when everyone and his mom has ventured out for a day in L5P, dealing with long lines of cars turning across traffic is an exercise in Zen patience.
"If I drive, sometimes I'll park a few blocks away in Inman Park to avoid traffic," Sharlow says. "The best thing to do is ride your bike, lock it up to a rack, and be done with it. There are places where you need to be careful at night — off the beaten path — but this is the neighborhood for walking."
L5P makes it easy to support independent businesses. As we walk past Coyote Trading Co., Sharlow recalls buying blankets there for last year's Christmas gifts.
"Criminal (pictured left) and Wax 'n' Facts are the best record stores around," she says. "Abbadabba's has shoes, and Rag-O-Rama and Clothing Warehouse are for vintage shopping."
The list of shops and haunts from the Star Bar and Variety Playhouse for live music to Elmyr for burritos goes on. In the end, it's the people watching that gives L5P so much character.
"If I'm going to go anywhere in Atlanta purely for the people watching it's Little Five," Sharlow says. "My favorite has to be the array of street characters who hang around all day. There's one who dresses in sheets, another that looks like a leprechaun. I'm not entirely sure if they're all homeless. And then there's the flower guy who's peed on Aurora's porch — twice. The interactions I have working in this neighborhood are definitely sitcom material."
Aurora Coffee
The elder statesman of Atlanta's coffee culture, Aurora lies at the heart of L5P. Its cold brew iced coffee is the best in the city, and if you're stalking pretty much any musician or artistic type in town, if they don't work at Aurora, they'll stroll through for a cup of Joe at least once a day. 468 Moreland Ave. 404-523-6856. www.auroracoffee.com.
Ali Baba
When it comes to Turkish, Mediterranean, and Greek fare, Ali Baba sets a high standard, offering the tastiest falafel, hummus, and gyros in the neighborhood, if not the city. 1099 Euclid Ave. 678-508-9811. www.alibabaatlanta.com.
Coyote Trading Co.
A Native American-themed shop, offering a selection of books, blankets, decorative handmade arts, jewelry, moccasins, and such. It's a good place to shop for unique gifts. 419 Moreland Ave. 404-221-1512. www.coyotetrading.com.
Wax 'n' Facts
A Little Five Points institution since 1976, Wax 'n' Facts is where the crate diggers go to get their hands dirty. With a vast selection of new and used vinyl and CDs covering everything from blues, jazz, hip-hop, rock 'n' roll, country, and more, come here looking for Col. Bruce, Bukka White, Pavement, Public Enemy, or whatever it is you fancy, and walk out with a tall stack of dusty grooves you didn't know you needed. 432 Moreland Ave. 404-525-2275. www.waxnfacts.com.
Elmyr
Atlanta's premier burrito bar is where the regulars come to chill and knock back a few. With daily specials that'll never set you back more than about $5, this is a great place to ball when you're on a budget and rub elbows with some of the best musicians in town. 1091 Euclid Ave. 404-588-0250. www.elmyr.com.