Neighborhoods - Westside - 2014
The Urban Cowboy still turns heads on Howell Mill Road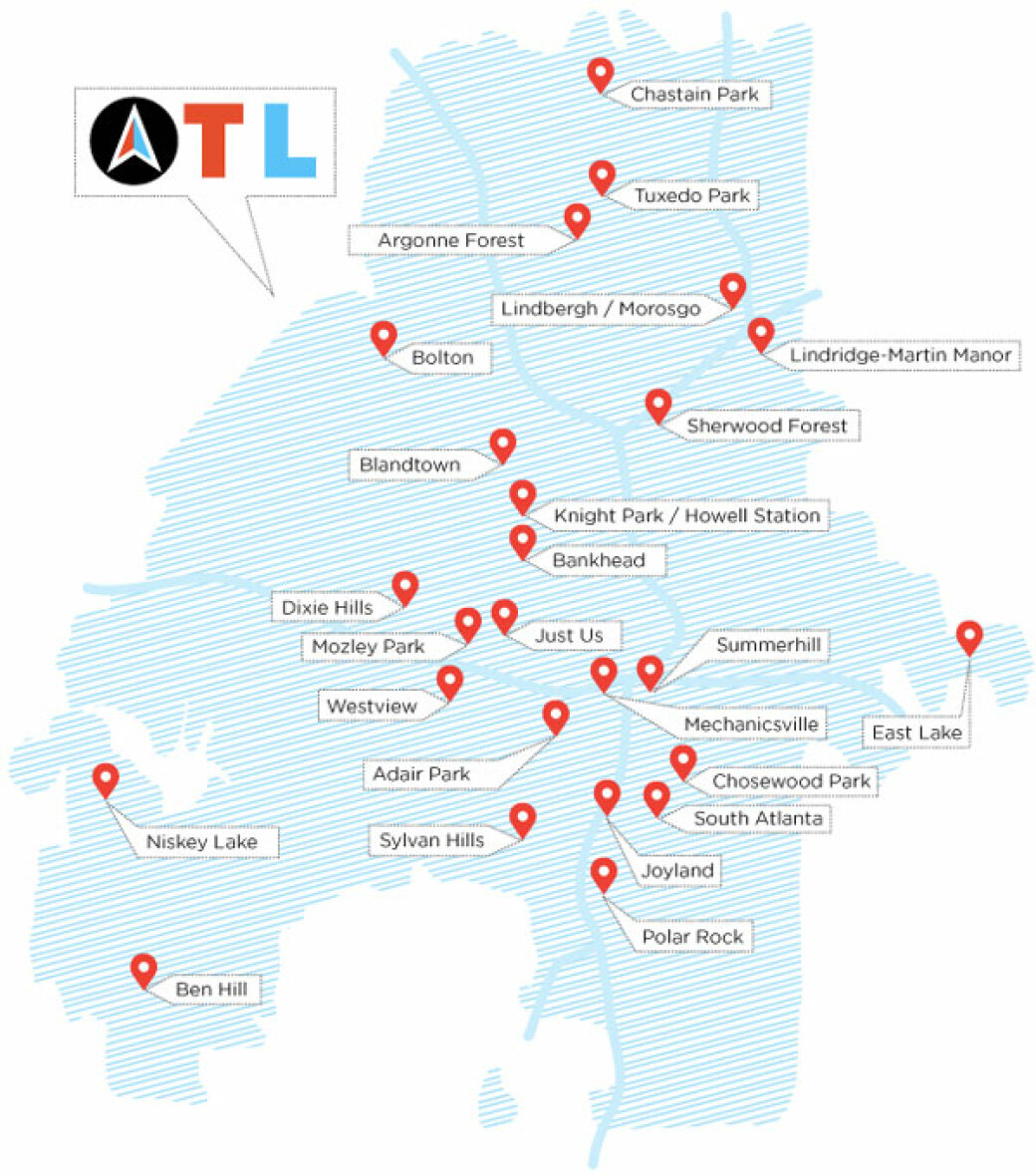 "Do you want a cowboy hat?" Brandon "Brannu" Fulton asks me before we begin our horseback tour of the Westside neighborhood he called home until January. Apparently, he keeps an extra one in his truck for such occasions. When I decline, he insists I take a piece of straw to chew on as we trot from the corner of 17th Street and Northside Drive toward Howell Mill Road.
The idea behind our urban excursion is for me to get a sense of the neighborhood through his eyes. But at the moment, I'm too busy trying to make sure Spinderella, his brown-and-white American Paint Horse, hugs the curb close enough for cars to pass. "Hold the reins like ice cream cones," he tells me before we take off.
From behind, dude looks like a pro in his Stetson and snakeskin boots. His posture is so straight, it looks like he and his horse Opera are attached at the spine.
The light at Howell Mill turns green and we ease out into the street and veer to the left as Fulton waves back at the people in the cars. People are smiling at me as if I know what I'm doing, and in my eagerness not to disappoint, I gingerly turn toward the left like Fulton taught me to guide Spinderella. But something tells me she already knows the way.
Over the past year or two, they've ridden this route — from here to Marietta Street, down to Brady Avenue, back around to Howell Mill, up to Bowen Street and back again — enough to garner their own 'hood fame. Not to mention a bit of infamy. About a month after our tour, Fulton will be banned from riding or harboring horses in the city of Atlanta for six months after pleading no contest to an array of charges stemming from his former Westside barn.
But on this day, it's still all love.
"Howell Mill is perfect," he says, name-dropping neighborhood amenities, like the M Street Cleaners on nearby Marietta Street and his barbershop Salon Ramsey off of 10th Street.
"In this block alone, you get plenty of restaurants," Fulton says, as Spinderella and Opera amble along the sidewalk. "La Fonda (pictured top right) is my main spot. They rock with me. If I come there without the horse, they're like, 'Cowboy, where's the horse?'"
At that moment, a woman in a car on the opposite side of the road sticks her head out the window and starts yelling like she's never seen a horse before. "Look at that. Oh my goodness," she calls out as we pass a waving crowd of Sunday brunchers outside West Egg.
Funny thing is, the Westside, which usually doesn't get a lot of points for neighborhood walkability, is pretty rideable on horseback, even for a Sunday morning. The drivers who have to slow to a crawl behind us when the lanes narrow down to one may disagree.
Across the street from the Atlanta Mission, Fulton spots a mother and her daughters waiting at a MARTA bus stop. He makes a pit stop and helps the mother lift her daughter Ziggy onto the horse.
A former touring DJ for hip-hop artist J-Kwon, the Brooklyn native gained a passion for horses from his grandfather who took him to a nearby riding academy as a child. Today, Fulton pays it forward by providing rides for children and trading horse rides for charitable donations of used clothing he delivers to less fortunate riders in the Bluff or nearby nonprofits.
"Ziggy, don't be scared," Fulton says to the girl as he places her in the saddle. Fulton almost looks more ecstatic than she does. We circle around passing Octane (pictured bottom left), 5 Seasons Brewery, another of his neighborhood watering holes, and Compound, the nightclub where he occasionally DJs.
A nearby church called Embassy is letting out on Brady Avenue, and Fulton can't resist making a pit stop. "Can I bring my horse inside?" he asks. They laugh at the thought. But before they can say no, the pastor comes out behind them and bounds straight for the horse. Fulton hops off and hands him the reins for a lap around the parking lot.
Back on the concrete trail, the Urban Cowboy gets wistful approaching the fork at Marietta Street. "Those kids will remember that day for the rest of their lives," he says, chewing on a stick of straw.
Atlanta Mission
Besides spreading his love for horses, the Urban Cowboy likes to use them to solicit charitable contributions for such organizations as the Atlanta Mission. "That's one of my main stops," he says, referring to the homeless mission. "When I get clothes I'll go up there and they'll come out and collect them." 921 Howell Mill Road. 404-367-2465. www.atlantamission.org.
Northside Tavern
The old-school blues bar is the perfect outpost within trotting distance for a thirsty cowhand. "I'd tie the horse up out front, go into Northside and listen to some blues. My barn was right up the block," Fulton says. 1058 Howell Mill Road. 404-874-8745. www.northsidetavern.com.
West Egg
It may be known for its Sunday brunch crowd, but Fulton finds West Egg particularly inviting on evenings before his DJ gigs at the nearby Compound. "I go there to eat," he says. "Then I'd go to Compound and walk the horse up to the valet." 1100 Howell Mill Road. 404-872-3973. www.westeggcafe.com.
JCT Kitchen
When the midday hunger hits, Fulton's often found himself tying up behind JCT Kitchen for a quick burger and truffle Parmesan fries or shrimp and grits. "I like everything on the menu there," he says. 1198 Howell Mill Road, Suite 18. 404-355-2252. www.jctkitchen.com.?
La Fonda
"They look out for me," Fulton says regarding La Fonda. His horse Spinderella no doubt agrees. Restaurant staff oftentimes provides her with water while Fulton gets his fill inside the Mexican cantina. 1025 Howell Mill Road. 404-249-2272. www.fellinisatlanta.com.