The Blotter: Problematic parcel
Bizarre crimes from Atlanta police reports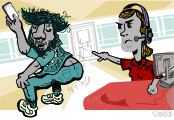 See: All Blotter columns
In a Buckhead park, three suspicious packages triggered people's anxiety. A cop arrived and looked at the problem: a trio of unattended boxes (at least one from Amazon).
Box No. 1 was already open. Looking inside, the cop saw "an ID with Islamic writing." She said she removed "the plastic bag where the ID was contained and noticed a black bag with locks." Alarmed by the bag, the cop called her boss, who called Homeland Security.Soon, the park was filled with bomb-sniffing K9 dogs and two Homeland Security units. The police dogs went to work. "It was determined that no explosive material was present in any of those packages," an officer noted.So what was inside the suspicious packages? According to the police report, "The small Amazon box contained cat food and was returned to its owner (a 64-year-old woman), whose name was on the package."
Box No. 2 contained a laptop computer and paperwork, all returned to its owner. Inside Box No. 3: window-cleaning equipment. Someone decided to send the window-cleaning equipment to the maintenance staff of a nearby building.
Crappy situation
In Brookwood Hills, a 30-year-old woman heard a "hard knock" on her apartment's front door. Looking through the peephole, she saw an angry man in a hat and striped shirt, clutching a black rifle. "Open the door!" the man shouted, while banging with the "butt end of the gun.
Alarmed, the woman secured all the locks and called police. "Stop doing that shit!" the man yelled, banging even harder, "like he was trying to break in.
Now panicked, the woman called her boyfriend and told him to come home right now. Seconds later, the angry man fired a shot then two more shots. According to the woman, the gunfire sounds seemed to be coming from underneath her apartment.Police arrived. "
[The woman] said that she'd never seen the man before" a cop noted. "The woman also said she has two dogs that she lets defecate on her balcony, which she periodically washes off with water.
Apparently, the woman's dog-poop disposal method wasn't popular with her neighbors.The rifle-toting man said he's fed up with the constant stream of dog shit falling onto his balcony. He lives in the apartment below with his wife and young daughter. He simply wanted the woman to deal with her shit differently.
Police took the rifle-toting man, 27, to jail on aggravated assault charges.
Lame leverage ploy
On I-20, a cop spotted a speeding white pickup truck making numerous lane changes. Then, the white pickup truck swerved over white lines near the Hill Street exit.The cop flipped on his blue lights and siren. The pickup stopped, and the driver, a 53-year-old man, hopped out. "Get back into your truck until I tell you to get out," the cop said."Just wanted to be friendly," the driver replied.The driver "continued to talk without hesitation, explaining that he had a difficult day at work and his words slurred together so much that I had to have him repeat himself," the cop noted.
The driver said he had a few beers earlier with friends and then flunked three field-sobriety tests in a row. "You got me," the driver said, admitting he "probably was a hair over the limit" regarding alcohol.
The cop explained the charges: DUI and reckless driving. The driver said he owns a pizza restaurant, and offered the cop "free pizza." "We can all forget about this," the driver said.
Free pizza didn't sway the cop. He took the driver to jail.
Lucid or lunatic?
Cops received a call about an ongoing rubbish controversy at a Midtown theater/event venue. The suspect, a 48-year-old man, "constantly sits on the sidewalk, blocking people ... and then throws items of trash all over the sidewalk, street and side lawn," noted the cop. "The amount of trash is considerable, filling half of a 50-gallon bag." The caller said he's had to hire someone almost daily to clean up the man's rubbish.
The cop asked the 48-year-old man for his side of the story. The man "began to ramble in broken sentences," the cop noted. "[He] was attempting to act like he was completely mentally ill but was able to make logical conclusions. Knew there are four quarters in a dollar and that the president is Donald Trump." Yet the man refused to identify himself, saying only that his name is "the Bible.
Several times, the cop offered the man a deal: Just pick up the trash, instead of going to jail. The man refused. "He tried to quote Scripture, call me Satan and say the police have no authority over him," the cop noted.
So the man was charged with littering and giving a false name. "On several occasions, [he] would respond clearly to certain items he was concerned about, i.e., property, money, but refused to cooperate in any other way. [He] tries to act mentally ill, and though that may be to an extent ... [[he] is very aware of his surroundings and chooses when to act sane.

Items in the Blotter are taken from actual Atlanta police reports. The Blotter Diva compiles them and puts them into her own words.
Thursday September 5, 2019 10:43 am EDT
Sleeping it off in a bed of carrots |
more...
Thursday August 1, 2019 04:47 pm EDT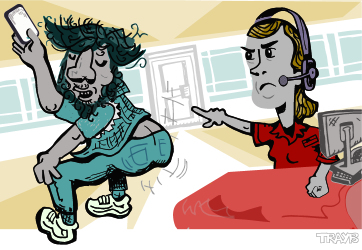 Friday July 5, 2019 10:14 am EDT
Friday May 3, 2019 12:11 pm EDT
Tuesday January 1, 2019 05:30 pm EST
Tuesday December 12, 2017 03:50 pm EST
His Audi was left unlocked and running |
more...
Monday December 4, 2017 06:45 pm EST
Is there nothing sacred about making pals in chat rooms anymore? |
more...
Thursday November 30, 2017 07:04 pm EST
Plus, an allegedly boozy bartender charged with a DUI |
more...
Monday November 20, 2017 05:14 pm EST
Plus, 'No, officer; I was just urinating in public!' |
more...
Thursday November 16, 2017 05:56 pm EST
Plus, 'If you're not going to be with me, you can't be with no one else.' |
more...