The good, the bad and the hacky
Open mic hosts talk their role in guiding comics through their first steps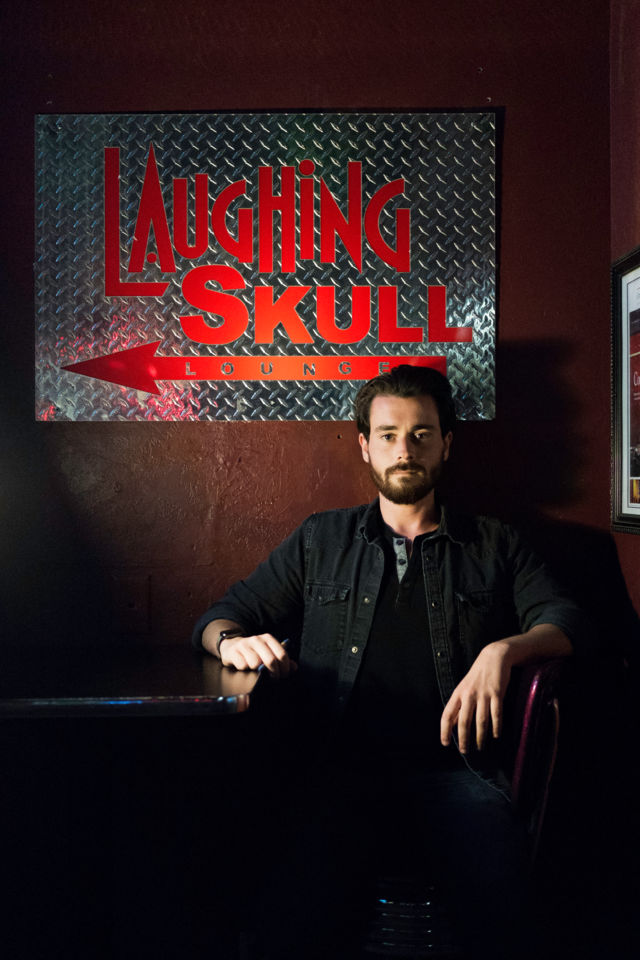 KEEPER OF THE LIST: Open mic host Andrew George corrals rowdy crowds and jittery jokesters every week at his comedy "gym."Lindsey MaxBehind every great comedian is a seemingly endless series of open mic nights.
Generally seen as the performance venue where most comics get their first taste of validation and/or rejection (from an audience that can range from the discerning to the drunkenly indifferent), open mics are comedy "gyms" — places for jokesters to work out material regardless of experience. And just like your local gym, there are people making every exercise look easy, loud brutes who won't clean up after themselves and folks who should probably stop before they get hurt.
There's nothing glamorous about open mics, yet they're pretty much all comics have when they start, and nobody's more aware of the ups and downs of these gyms than the hosts. So what's it like to be behind the wheel of a show where anything can (and most likely will) happen?
Comedians Andrew George and Jen Lenny hold the bittersweet role as captains of two of Atlanta's most popular open mics. George hosts the Tuesday night mic at the Laughing Skull Lounge comedy club in Midtown. Across town, Lenny hosts the U Up? mic held at Noni's Bar and Deli on Edgewood Avenue every Tuesday night. For the past few years, they've seen the best of the best Atlanta has to offer, the absolute worst and even a surprise or two from a celebrity.
There are two distinct types of open mics: club mics and indie (or bar) mics. Clubs are specifically in business to put on comedy shows and nothing else, whereas indie mics are essentially on loan, popping up in venues meant for other purposes — like dive bars, coffee shops, barbecue joints and sometimes people's homes. Each event type comes with its own expectations, advantages and disadvantages. "Comedy club open mics tend to have more people trying comedy for the first (and sometimes only) time," George says, "while open mics in bars or smaller venues are usually full of experienced comedians trying out new jokes."
The audiences at both mics tend to be as different as the comics who frequent them. The Skull has a penchant for selling out its mics, whereas a full room is a rarity over in the indie world. "Getting audience members to regularly attend a weekly open mic is difficult," Lenny says. "So everyone in the room is likely a comic. … Making space for an open mic is no small feat because things can definitely go wrong. Part of my job as the host is to make sure we do right for the bar that's hosting us."
Many indie mics tend to be what folks refer to as "ambush shows," in that some customers attend not knowing a show is about to happen. "[U Up?] is a bar open mic so not every patron is thrilled to hear comedy, and that's OK," Lenny says. The nature of the ambush show, however, does pile on more pressure for the mic to prove its worth. "One bad Yelp review and we're gone."
For hosts like Lenny, what a mic lacks in amenities (like a green room, top-of-the-line audio equipment or beefy dudes in black security shirts) it makes up for in freedom. Lenny decides how her mic operates, who gets stage time and when. She can pre-book via social media or email one week or more in advance, or simply plop a bit of scrap paper on the bar and let comics race to get their name on the list for a spot that night (referred to as a "show-up, go-up"). Still, event organizers will undoubtedly be bombarded with folks trying to sweet talk (or scream) their way onto a full bill. At the Skull, this is especially futile. "The host has little to no control over the lineup at a comedy club," George says. "Those spots had been booked weeks in advance."
One of the main reasons being a good host is so important and difficult is because they are responsible for setting the tone of the night. In addition to producer duties, you also have to do your job as a comic. "Starting out can be intimidating because you don't know if your sense of humor will translate on stage," Lenny says. "We're all funny to our friends, family and co-workers, but getting a stranger to laugh at your jokes — who is also competing with you for money and stage time — is entirely different." New, aspiring comics, aka "open mic'ers," will soon find their support system can't be present for every show, and that's when stand-up gets real.
Every now and then, a doe-eyed open mic'er tries to use hosting as a shortcut to more stage time, but hosting/producing is not a role to rush into. You have to know how to make any audience laugh, as well as how to work your way out of a bomb, because you will be the liaison between a plethora of folks who will do both. "Once I see someone start to flail, I start planning what I'm going to say to the crowd before I have to bring up the next comic," George says. "The most important part of the host's job on an open mic is to keep the energy in the room upbeat and conducive to comedy." However he decides to approach it that night, George always holds himself to one rule. "[When a comic bombs] don't be mean; that's the fastest way to make an audience turn on you. Make a joke to get everyone back on board, but don't make the comic the butt of it."
That's the one guarantee to every open mic: There will be flailing no matter who you are. If you build it, they will bomb. But successful comics must tough it out through the bombs and the sometimes-downright discomfort of being crammed in a room full of strangers you might otherwise distance yourself from. "Comedy is a giant mirror so, yeah, it's as toxic and off-putting as the world it's mirroring," Lenny says. And that's where tone comes back into play. It's not just the audience the host needs to lift up, but also the environment created by their fellow comics. As a mic is only sustained by a steady stream of willing jokers, more often than not the host is the glue that keeps it all together or the final nail in the coffin. "I make sure to talk to everyone," Lenny says. "If they don't approach me then I'll try to approach them and make sure they know how getting stage time works. Priority goes to whoever shows up, works and actually watches the show. If you're outside when your name gets called, then I'll move on to someone who is actually engaged and in the room."
Like every room, every comic has their own personality allowing for hosts to employ different styles to ruling their kingdom of scribble-filled notebooks. "I like it loud, fast-paced and energetic," Lenny says. "I'll cram as many comics on the lineup as possible so we get to see everyone's new thing or best jokes." As for George: "I prefer the 'get them on board and leave them alone' approach of doing things. I only like to do material between comics if it's necessary, that way the show doesn't drag on too long."
While their respective mics are wildly different in structure, Lenny and George share the same pet peeve. "I cannot stand when comics sit down during their sets," Lenny says. George adds: "There is no better way to get me to stop paying attention than to address how bright the spotlight is. Also, if you sit down on the stool (or hump it), I'm going to spend a couple minutes checking my emails."
Mic nights can be memorable for all the right reasons as well as all the wrong ones, and sometimes, scary enough to warrant a call to the police. If you go to enough of them, you're sure to see some truly bizarre things. "One time the mic went perfectly smooth with no issues," Lenny says.
A bizarre occurrence indeed.
U Up? Comedy open mic: Free. 9:30 p.m. Tuesdays. Noni's, 357 Edgewood Ave. S.E. www.nonisdeli.com.
Laughing Skull open mic: $10. 7:30 p.m. Monday, Tuesday and Wednesday. Laughing Skull Lounge, 878 Peachtree St. N.E. laughingskulllounge.com.