Meet JS Kitchen
It's the Korean take-out shop you never knew you needed
It may be an itch you didn't know needed scratching, but Atlanta now has an upscale Korean takeout shop that also offers cooking classes, and it is all kinds of delightful. From the airy design to the pristine cases filled with kimchi and other banchan, JS Kitchen is packed with small pleasures. The shop offers a wide selection of items to go, but you can choose to sit down at a shared table if you must pop open the daily mixed lunch box, filled with a variety of the shop's Korean delicacies, right away.JS Kitchen is the brainchild of Shelly Lee, owner of Jang Su Jang restaurant down the street in Duluth. Jang Su Jang has been drawing crowds seeking traditional Korean fare for 14 years now, but it has long been Lee's dream to open a market and cooking studio. She now handles most of the cooking at JS Kitchen personally, and her kimchi in particular is worth seeking out.Seung Hee Lee, co-author of the recently released Everyday Korean cookbook, will be putting together a slate of cooking and wine pairing classes for JS Kitchen to take advantage of the open kitchen classroom that sits next to the shop's counters. She was hooked on Lee's cooking from the get-go. "When I tasted their kimchi, I knew I could retire from making my own kimchi from scratch," she says with a laugh. "It's definitely better than my mom's, and comes very close to my grandma's." (Sorry, mom and grandma.) Part of the magic is that JS Kitchen skimps neither on time nor technique, employing ingredients like raw oysters or marrow broth to amp up the depth of flavor in various types of kimchi. And, no, not all of them are what you would call spicy or funky — JS Kitchen offers a wide variety, including less common specialties like sesame leaf.Don't miss the marinated bulgogi (thinly sliced and marinated beef or pork), which, like the kimchi, far exceeds the quality found in typical Asian markets. JS Kitchen will cook it for you on the spot, but all it takes is a few minutes on a hot grill or skillet to prepare top-notch bulgogi at home. JS Kitchen, 3492 Satellite Blvd. #130, Duluth. 470-268-8435.
More By This Writer
Monday February 19, 2018 04:59 pm EST
Gloriously anachronistic and free from all frills, Mt. Paran Country Store makes Buckhead work |
more...
Thursday November 30, 2017 01:54 am EST
Eduardo Porto Carreiro. It's a damn good name for a sommelier, isn't it? Exotic, complex with a touch of mystery? The man himself, like his actual title he was just promoted to beverage director for all Ford Fry Restaurants is more down to earth. After establishing a notable wine career in Los Angeles and New York, Porto Carreiro moved to Atlanta in March, along with his "very pregnant wife"... |
more...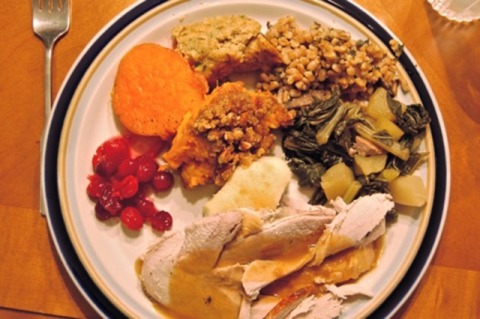 Friday November 17, 2017 06:49 pm EST
Our family Thanksgiving meal was fabulous, but it wasn't the turkey or the cranberries or the dressing that really distinguished it from other meals it was the gravy. Gravy is the glue (forgive the unappetizing term) that brings the Thanksgiving meal together. It bridges the turkey to the dressing to the cranberries to the rolls. It magically works with just about everything. I could (almost)... |
more...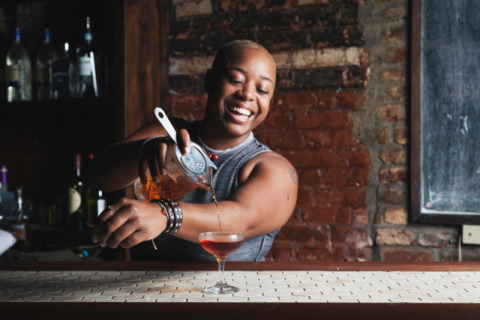 Monday November 13, 2017 06:31 pm EST
If there were an award for smiling-est bartender in town, Tiffanie Barriere, a.k.a the Drinking Coach, would surely be a finalist. Barriere may be best known for her long stint seven and a half years running the award-winning drinks program at One Flew South, the restaurant/bar that literally set the bar for airport awesomeness. But to Atlanta's tight-knit bartender community, Barriere is like... |
more...
Wednesday November 8, 2017 04:32 pm EST
Marc Mousseau likes to tell a story. He's in a room full of people in Atlanta, asking four progressively more challenging questions about their familiarity with the Ossabaw pig. The story ends with a single audience member holding his hand up, the lone individual in the crowd who has not only heard of Ossabaw Island and the Ossabaw Island pig breed, but has actually eaten Ossabaw pork more than... |
more...
Search for more by Brad Kaplan