Extreme makeover: Philips Arena edition
Hawks' stadium gets hawt transformation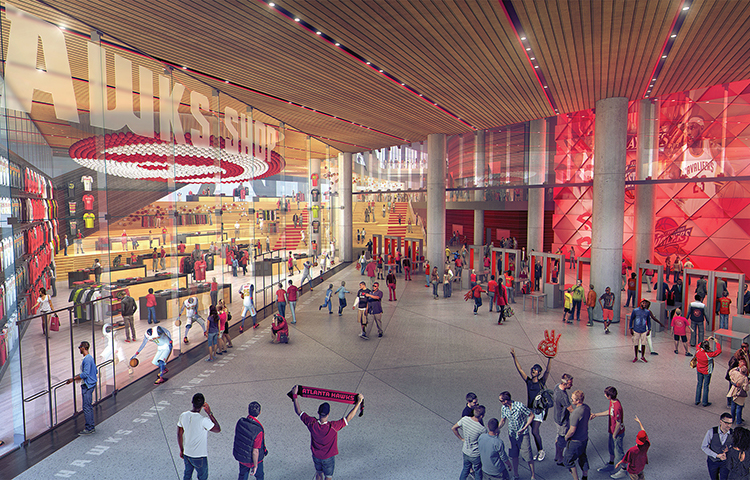 Philips Arena is getting fancy, y'all. This week, the Atlanta Hawks announced a "radical transformation" coming to the team's venue. Among the new offerings? The ability to play virtual golf while you watch a game.
By the time the arena's makeover is completed during the 2018-2019 season, it's going to look like a whole new space without a single slab of tile on the roof being touched. The layout takes inspiration from the success of the Beltline: a lot of open spaces connected with lots to see and do. Not only will there be a new concourse design, seating configuration and a new scoreboard three times the size of the current one, the arena will also boast a slick new courtside bar (the first of its kind in the NBA), TopGolf Swing Suites, Southern gourmet restaurant Zac Brown's Social Club (courtesy of the frontman of the Zac Brown Band, if that wasn't obvious), and rapper Killer Mike's barbershop The SWAG Shop.
In other words, even non-basketball fans (with money) can spend all afternoon at Philips Arena during home games and not get bored.
"It's so much more than a renovation," Hawks COO Thad Sheely told CNN. "A renovation implies that we're putting some paint on the walls, maybe you added a bathroom or two to your house. It doesn't really denote to scale. We really are ??_ going to be able to touch almost every thing and facing piece of the building."
The cost of the project is upwards of $192 million, with a majority of those funds coming from car rental taxes. The city also plans to kick in some money from the sale of Turner Field, while the Hawks is slated to contribute about $50 million to the endeavor.
In a statement sent to Creative Loafing, CEO Steve Koonin said, "Philips Arena is the home of music and sports in Atlanta, and is the premier large event venue in the South. The transformation of our building will positively impact restaurants, hotels and commerce in downtown Atlanta, and will further cement our city as one of the greatest in America.?۝
The real question is: Will the price of admission to games and other events be going up? Uh, yes: About $3 a ticket, to help pay for traffic management and security, the AJC reports. But hey, at least the Hawks are with us through 2046.