50 YEARS - 1991: The Story of 'Murder Kroger'
Surviving Murder Kroger: One man's story complicates how a symbol of Atlanta authenticity will be remembered - Rodney Carmichael, Nov. 2016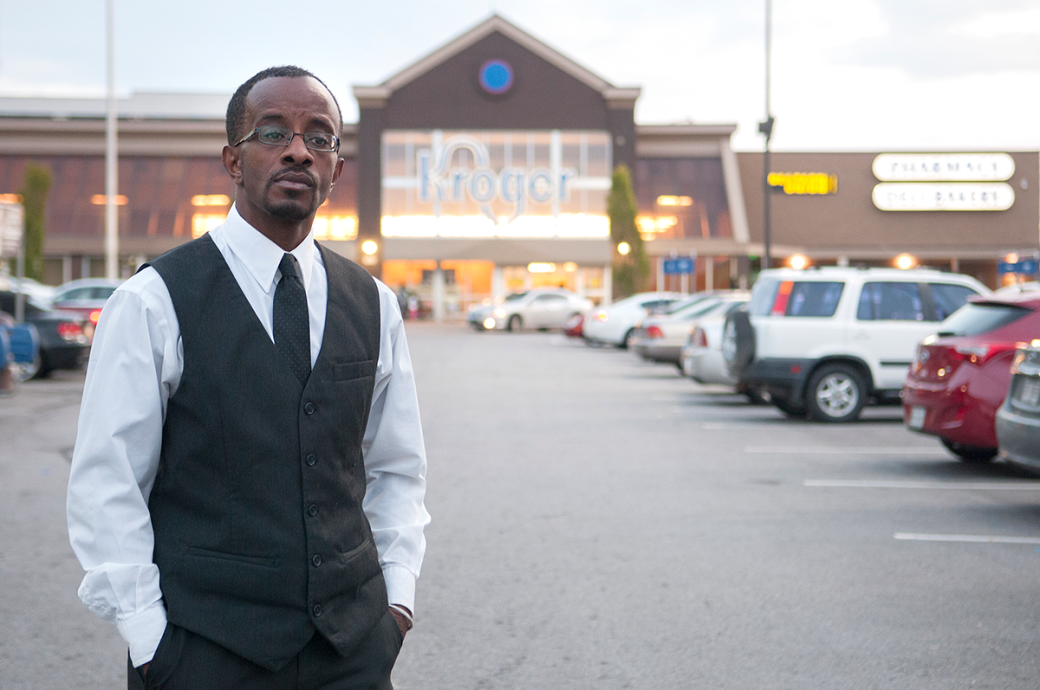 The infamous Murder Kroger died a raucous death just before Halloween. It may have taken a piece of Atlanta with it. In a parking lot tribute fit for a big-box grocery store that symbolized so much more, locals eulogized the end of an era."This is kind of a death to our neighborhood," Maggie Canby, who grew up in Sandy Springs but moved to Poncey-Highland six years ago, said at an Oct. 27 vigil for the location. "Atlanta got burned down in the 1800s and it's like we haven't stopped since."

Nearly 200 people came to pay their final respects the night before Halloween. Some wore ironic tees with Kroger's classic logo designed to spell out "Murder." Others double-fisted lit candles and cans of craft beer. People shared their wildest coming of age stories — "I lost my virginity in this parking lot!" one man blurted out — as they waxed nostalgic over the Kroger on Ponce de Leon Avenue.
One man in attendance saw nothing sad nor sentimental about plans to replace the store known as Murder Kroger with a $140 million mixed-use mid-rise (which will also include a 60,000 square-foot Kroger adjacent to the Beltline). In fact, Daemon Parker hopes the ironic nickname — and all it stands for — will finally be laid to permanent rest.

"Yeah, I really would like to see it die," says Parker, who witnessed the fatal event that earned the Kroger its gruesome name two and a half decades ago. He watched his friend get shot and killed in the same parking lot in 1991. It was the first of several murders committed or dead bodies discovered on the premises over the next 25 years. As the city evolved, the location became the stuff of local lore, a cultural landmark worthy of its own tongue-in-cheek theme song. But it's always been a cruel joke to King, one that trivializes a tragic event he's been haunted by more than half his life.
Parker's story highlights the real ambivalence surrounding this soon-to-be-demolished signifier of a fading Atlanta. As far as symbols of authenticity go, Murder Kroger is a complicated one. And the differences of opinion over its meaning — or meaninglessness — hinge on issues of class, culture, and identity that Atlanta's always had but is only beginning to grapple with.Best known as DJ Hype King, Parker has been a staple for years in Atlanta nightlife. But one night in particular changed his life forever. Parker was only 19 — the same age as the two organizers of last week's vigil — the night an April Fools' Day came to a tragic end for him, his cousin, and 25-year-old Cynthia Prioleau.

While walking through the parking lot from North Avenue to Ponce, where they planned to get something to eat, a car approached from behind on the side of Kroger. Though the driver had plenty of room to go around, as Parker recalls, he wanted them to move. Cynthia didn't. He bumped her with his car from behind. In response, she sprayed inside his open window with mace. That's when Parker noticed the driver reaching for his glove box.
"He had his car in front of us and there he was holding a revolver," Parker says while reliving the scene in the parking lot the night before the Oct. 27 vigil. "The last thing I heard him say was, 'I got something for you, bitch.' And he just shot three times at Cynthia.""I remember looking at him as he drove off. ]It was like he'd done it a thousand times. He didn't screech his tires or anything. He drove off as cool as can be."Shot three times — once in the leg, stomach, and mouth — Cynthia Prioleau lay in the parking lot still breathing but convulsing and unable to speak. Prioleau died that night but her killer was never captured. News coverage of the killing shows Parker being escorted into the back of a police car that night as a primary witness.

"I don't think I was ever the same," he says. "I don't know how kids who grow up like that deal with it. But at that time I just know my temper became volatile. The more I tried to act like it didn't phase me, the more it did."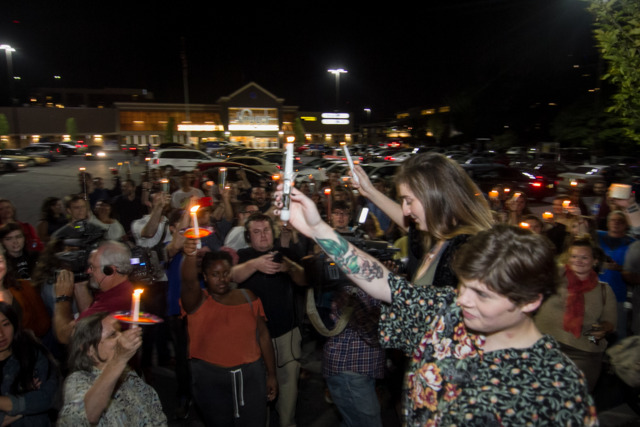 Georgia State University students Rowyn Hirsch and Rachel Bowen weren't even born when that incident occurred. By the time they were aware of the name Murder Kroger, it was already ubiquitous.

"I think my dad told me about Murder Kroger when I was like 11 or 12," Hirsch says. "He was picking me up from a show at the Masquerade and told me to meet him at the Murder Kroger." Like so many, the Kroger was a pit stop between parties, the midnight rendezvous halfway between Masquerade and MJQ. So when they heard it was finally meeting its last days, organizing a tongue-in-cheek CandleLIT Vigil seemed the proper thing to do. When their Facebook invite page garnered an outpouring of support, it was the last thing they expected.More than mourning its loss, people could be overheard bemoaning the change coming to Ponce. "There are apartment complexes going up that are $3,000 for a motherfucking studio," one young woman in a Murder Kroger-logo tee said out loud.

Dan Blackshear, who'd come to pay his respects, stood on the crowd's edge echoing those sentiments. "They can't just build regular apartments. Everything has to be luxury," the 40-year-old resident said. "That is the actual problem."

For many, Ponce Kroger's demolition represents the last vestige of intown authenticity and evidence of the city's disappearing character as the Beltline ushers in a wave of redevelopment blander than homogenized milk. The near antithesis of the new Krobar — as the fancy Glenwood Place Kroger with the beer and wine bar has been nicknamed — Ponce Kroger's kitschy charm and slightly worn facade was part of the appeal, despite a recent remodeling and failed attempt to rebrand it Beltline Kroger.

"I loved the fact that there was sketchiness because it gave character," Canby says. "I want people that can appreciate the neighborhood charm without condemning it."

Others point to the irony of a big-box store being viewed as a symbol of authenticity as proof that Atlanta no longer has any. "Whatever memories you have of this place are yours, and I do not begrudge you them. But memories aside, Atlanta is losing nothing special," urbanist Matthew Garbettwrote on his Unplanned Atlanta Tumblr page last week.
But Ponce's days as one of Atlanta's grittiest corridors have since passed. Stroller-pushing moms have replaced sex workers. The derelict Clermont Hotel is being renovated into a fancy boutique brand. Ponce City Market has turned the 90-year-old former Sears building into an upscale mixed-use mall of the future. The Open Door Community, a longtime resource for the city's homeless, is closing early next year.

"There are plenty of 'authentic' run down Krogers remaining in Atlanta. Come down to the southwest side to RDA [Ralph David Abernathy] or Cleveland Avenue," wrote Garbett, who decided against attending the vigil because he considers it a mockery. "This is an insult to people actually experiencing gentrification."

More insulting to Parker, however, is how his friend's death became a meme for a generation of Atlantans. While a killing in the parking lot took place as recently as 2015, it's a reality most Murder Kroger fans are never forced to consider. Last Thursday, Hirsch and Bowen were confronted with that reality when Parker came to the vigil. After listening to them speak effusively about the event and the turnout, he introduced himself and tried to explain why he felt the vigil was distasteful.

"They want to frame it as if they're mourning or showing respect to the dead, but they're not. They're making fun of them," he told me the day before meeting them face-to-face."Our goal here wasn't to make any ill feelings or mock anything," Hirsch told me at the vigil, which also included a moment of silence for the deceased and a food drive overseen by Second Helpings Atlanta for the Atlanta Community Food Bank.

Like most loaded symbols, Murder Kroger's cultural significance remains layered. "It's all fun and games but it is fucked up that people actually died," says Blackshear, who lived in the immediate area in the late '90s. "We joke about it, but it really ain't no joke." Others argue there's a difference between interpretation and intention. "We get that its name comes with baggage and the fact that there are people who will be offended by it, but I don't think it ever was meant to mean any harm," Bowen says. "If you're from Atlanta, you know what Murder Kroger is," Hirsch adds. "And it sucks, probably, to have all your friends talk about that. But at the same time it has a Wikipedia page, it has a Facebook page."

Parker, a constant presence over the years in clubs like East Atlanta Village's Graveyard Tavern, has never been able to hide from the Murder Kroger phenomenon. He sees it on T-shirts and hears the references all the time, often made by people he considers friends. But when he saw a Murder Kroger float in the Little Five Points Halloween parade a couple of years ago, he became determined to start speaking out after years of silence."I was just like, this is ridiculous. It was time somebody was able to connect me with the situation," Parker says. "The fact that I became a part of nightlife, the fact that I was able to reach out to people, the fact that I am well-spoken, know how to dress, is going to make people start to change. If you have made it in life, you can't just disappear into the shadows and act like that didn't happen. And that's what I wanted to do. I wanted to act like it didn't happen."Burdened with a sense of survivor's guilt, Parker's taking a stand for a friend in death that he couldn't save in life. That means something to him, even if it stands in total contrast to what the big-box store has come to mean to many within this city.Kroger, which has always distanced itself from the Murder Kroger nickname, rarely making public comment about it over the years, had a young employee wheeling around a buggy full of cold bottled water and store coupons for people present at last week's vigil. Just 16, she'd only become aware of the infamous nickname the week before after looking it up on the internet to confirm, the worker told me.

Inside, two early Halloween revelers wearing devil costumes walked their dog up and down the aisles while raiding the last of the remaining items on deep discount. The '80s power ballad "Endless Love" by Lionel Richie and Diana Ross piped over store speakers as people posed for selfies in front of barren store shelves and emptied freezers. It looked like the apocalypse. But the party was just beginning.