First Look: Cast Iron
Chef Evan Cordes returns to the biz after three years away with his cozy new O4W eatery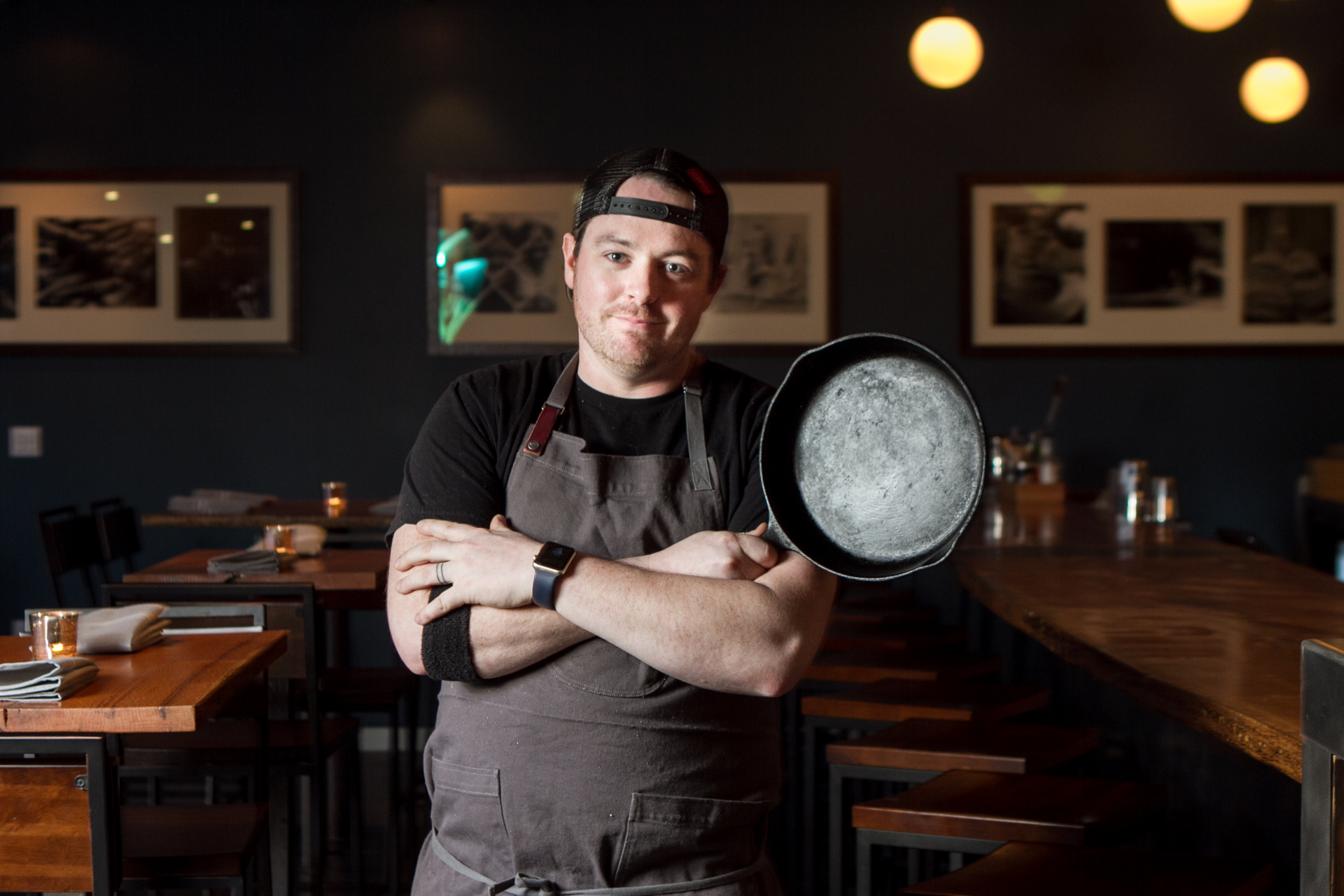 When chef Evan Cordes moved to Atlanta from Raleigh seven years ago, he took a job at Scott Serpas' eponymous new warehouse-turned-restaurant in O4W. After some time, he moved on to Billy Allin's Cakes & Ale before completing a six-month stint at H. Harper Station. Next came a second run at Serpas. Then, back to Cakes & Ale.


"I recognized my life was quite literally going in circles," he says.
While grateful for the experiences, Cordes needed some solid ground. After another part-time gig making pickles with Nick Melvin, that solid ground appeared in an unexpected form: A local family approached him to ask if he'd be their personal chef.
It was a first for Cordes, but he ended up spending three years — the longest he'd ever stuck with one job — doing just that. He enjoyed the regular hours, traveled to Europe for the first time, and learned how to cook for kids ("Getting a young person to eat something, unless it's a chocolate sandwich, is hard"). But he always knew the gig would be temporary. "About a year in, my wife and I went out to eat somewhere and I just remember sitting there and being like, I miss this," he recalls. "I knew at some point I would need to be back in that environment."
Now, after three years away, 33-year-old Cordes has not only returned to restaurants, but also realized a dream he's held since childhood. At the end of November, he opened a restaurant of his own: Cast Iron.
Located in the O4W space formerly occupied by Last Word and P'Cheen, Cast Iron makes a point to eschew trends, focusing instead on enduring comfort foods made from locally sourced ingredients. "A cast iron skillet is usually something valued and passed along from one generation to another," says Cordes, "so it helped cement our mantra of timelessness."
The menu is playful but hearty and changes with the seasons. You can make a meal of small plates or go more traditional with an app and a main — rye tagliatelle with pork shoulder ($16), meaty monk fish with rice pudding and garlic tomato gravy ($17), a thick and juicy Tillamook cheddar bacon burger on chili cornmeal bread served with a "burger salad" of seasonal vegetables roasted in leftover burger juice ($13).
No value assignedCordes is clearly having fun here, especially with the small plates. Salty slivers of duck confit and crispy duck skin come on crunchy waffle chips with pickled onion cream and sweet cherry mostarda to balance out the flavor ($7). Cordes' signature "bunch of mushrooms" ($11) is exactly what it sounds like — a vegetarian-friendly pile of hen of the woods, king trumpet, oyster, hon-shimeji, and bunashimeji mushrooms in egg yolk with bread crumbs and dollops of agar-stabilized balsamic and sherry jams.
The half cooked snapper ($11) is truly unique: a near-translucent cut of fish in a bright orange splash of fermented pimiento peppers, olive oil, and house-made smoked paprika with olives, dried hops Cordes grew in his yard, and a white cloud of popcorn. "It was the dish that was on the menu for my sake," says Cordes. "I was like, I made this, and I hope someone gets it and loves it, but if all we sell are burgers and wings, we have this for someone who wants something truly interesting. But people have gotten it, and they've loved it."
Cast Iron boasts a well-curated selection of regional draughts and old world wines by the glass or bottle. On our visit, cocktails were $8 each and named after tracks from jazz musician Charles Mingus' seminal album Mingus Ah Um. The restaurant has recently parted ways with bar manager Bradford Tolleson; Cordes says his "cocktails didn't mesh well with Cast Iron" but that they've got a "really solid team behind the bar now."
The space itself is simple: dark painted walls, custom walnut furniture, cozy wooden booths, a large convivial bar, a tiny open kitchen. (Important side note: the women's bathroom is unicorn-themed.) "I wanted to be a neighborhood spot," says Cordes. "We use the phrase 'nothing too fancy' a lot."
No value assignedThere's poetry to be found in the once again circular nature of Cordes' return to O4W, a neighborhood that has changed quite drastically in the seven years since he first arrived. "We're kind of at a crossroads of what's going on in Atlanta at this intersection," he says. "Down the street at Inman Quarter we have very new development that I think surpasses what people would qualify as gentrification. But over here, we still have a great mix of people who have either lived in this neighborhood for a long time or are eager to see something that they can enjoy without giving too much consideration. That's the kind of opportunity I was looking for."
While many of the neighborhood's new concepts are embracing modernity, soaring price points, and trendy dishes, Cast Iron draws its inspiration from simpler times. Back in Charlotte, North Carolina, Cordes cooked at Alexander Michael's, a locally famous neighborhood tavern open since 1983. He watched the restaurant survive 2008's recession, which hit Charlotte, a banking town, harder than most.
"Because they had made this concept that was not high-end, that was something people loved — the kind of place people would bring their families, the perfect date place — they were able to stay the course and weather the storm." He shrugs. "That's what I want."
Cast Iron. 701-5 Highland Ave. N.E. 404-228-2005. www.castironatl.com.