Signs of Solidarity ATL
Local artists join forces to display messages of love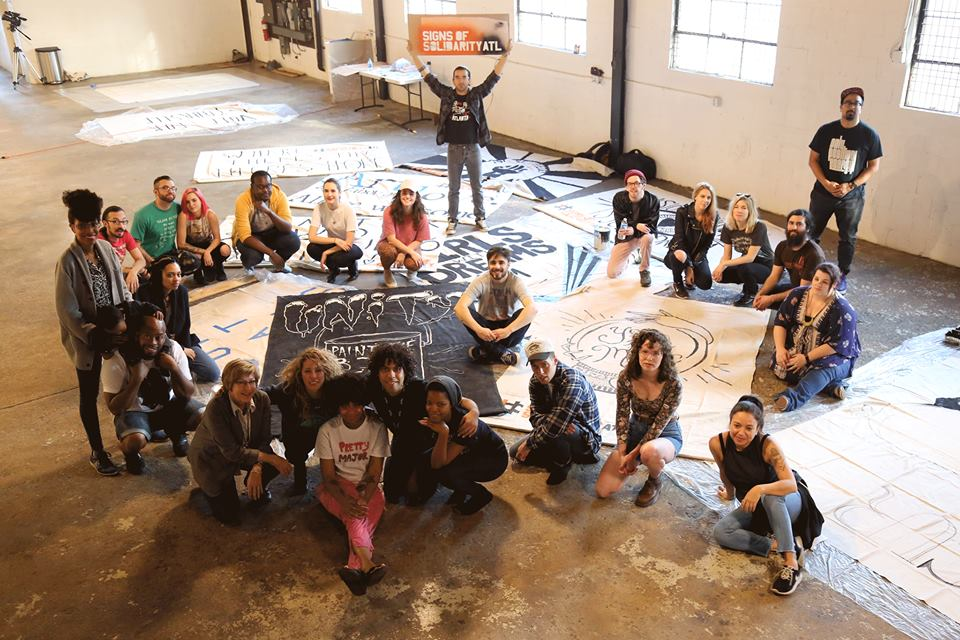 The Atlanta arts community has something to say. In fact, 33 banners will be rolled from the sides of various local rooftops today in an effort to ensure the message is clear: love and diversity is to be kept safe in our city. No ifs, ands or buts about it.


Signs of Solidarity, a public-art project created in Philadelphia working to preserve inclusivity, has inspired numerous Atlanta-based poets, writers and creatives — including Living Walls, Peter Ferrari, Fabian Williams, Mammal Gallery, Dashboard US, Nikita Gale, Arbitrary Living, Faatimah Stevens, Brian Egan, Quianah Upton, Wussy Mag and Mint Gallery, among others — to create that same kind of passion back down South. The banners painted for this event concentrate on a vital resistance to hate by presenting messages like: "You are Magic," "We Are the Antidote," "Paint the Big Picture Together," and more simply "Love and Unity."


Monica Campana, executive director of Living Walls, said: "It's a role for artists to give these glimpses of hope. The world right now seems to be justifying hate more and more. The Atlanta art community does not stand for it."


Signs of Solidarity ATL works will be hung atop the roofs of 7 Stages Theatre, Bon Ton, Vesta Movement, Elliot Street Pub, Mary's EAV, City of Ink, Notch8 Gallery, Joe's coffee EAV, Mindzai Creative, Sister Louisa's Church, Mother, Lotta Frutta, Murmur, The Soundtable, Joystick, The Local and several other venues in support of this citywide initiative to spread all things love and accept nothing less.




Free. Thurs.-Sat., Jan. 19-22. Multiple Locations.