From the Bay to the A
How Eat Here ATL founder Morgan Bryant turned her love of great food into a dream job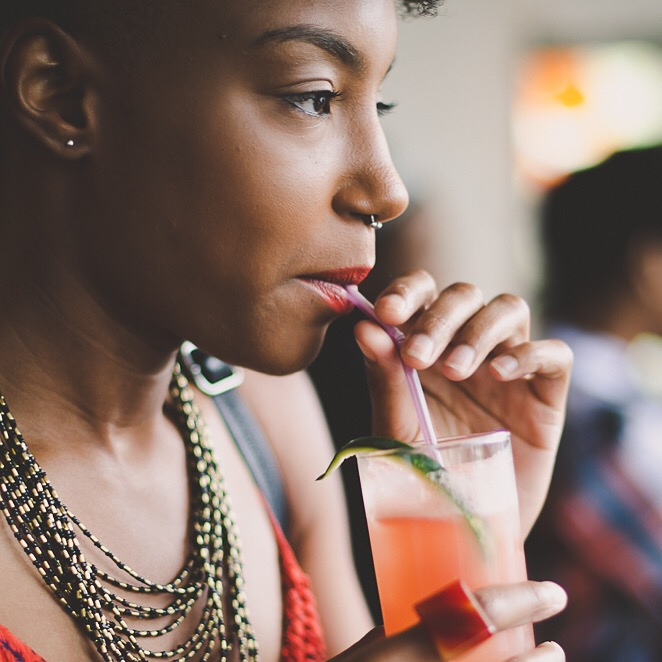 Atlanta has no shortage of great places to eat, but finding them often proves to be a challenge. For Morgan Bryant, self-taught food critic and founder of
Eat Here ATL
, knowledge and access to Atlantabs best cuisine is a right, not a privilege. bAs humans, we all have to eat,b she says. bNo matter your age, race, or orientation, you need food. And we should all have access to the best of it.b
Eat Here ATL has become a trusted voice for Atlanta foodies, providing insight, aesthetics and humor in the search for our citybs best eats. Bryant, an Oakland native with a taste for fresh food and fresh starts, has followed her passion to the center of Atlantabs food scene.
Born in Berkeley, California, but raised in East Oaklandbs bDirty 30sb, Bryant grew up immersed in a melting pot of African-American, Asian, and Latino cultures. The cultural juxtaposition she experienced since birth played a large role in shaping her perspective. bOakland has always been extremely diverse, but the distinctions between people there go beyond just race bB itbs class too,b she says. bWhen I was younger, my neighborhood had one of the highest murder rates in the country, yet I was able to attend a private school in Berkeley that exposed me to a higher quality of education and living. Those experiences made me open to learning, and adapting to new things.b
Bryantbs early exposure to a diverse array of lifestyles and cultures was critical to developing her sense of taste. bI didnbt come from a home where my mom cooked a lot,b she says. bIn my neighborhood, youbd find restaurants representing ten different nationalities on one street. My mom would just pass me the credit card and tell me to go find something, so Ibve always had the drive to search for good food.b
Her interest only grew as she got older. bWe didnbt really have a traditional cafeteria at Berkeley High School, we had an open campus lunch,b Bryant says. bWebd get out of class for 40 minutes, but I would always take these hour-long breaks just so I could eat at a spot I liked. Growing up in the Bay, you may be from the bhood, but youbll always have a taste for unique food.b
After graduating high school, Bryant applied to Le Cordon Bleubs San Francisco campus in hopes of becoming a chef, but decided right before enrolling that she didnbt want to go. Then she enrolled at the New College of California, but the school shut down during the recession. bI went from being a student with an apartment to having almost nothing,b she recalls. bThatbs when I decided it was time for a change.b
While many people hesitate in moments of adversity, Bryant saw her dilemma as an opportunity for a fresh start. Leaving everything behind, she moved to Atlanta. bI figured if I didnbt leave then, I would never leave Oakland,b she says. bPeople get comfortable with what they know, and I was taught that youbre not learning unless youbre uncomfortable. What could be more uncomfortable than moving across the country with no job, money, friends, family or place to stay? I bought a one-way ticket, packed three suitcases, and never looked back.b
Moving to Atlanta was an immediate culture shock for Bryant, but she adapted quickly. Upon arriving she stayed with a cousin and enrolled at the Art Institute of Atlanta, seeking a degree in fashion and retail management. She met her roommate on the very first day of class and the two became fast friends. But just a few months into her studies, Bryant once again felt the need for a change.B bCollege was actually one of my biggest mistakes, because nobody has ever asked for my educational background,b she says. bSome careers just donbt require a degree, and I was feeling that the time and money I was putting into college wasnbt worth it b so I dropped out.b
Working in retail to make ends meet, Bryant realized that her love of finding great food could become a business of its own. bInitially, I thought Atlanta was a food desert compared to what I knew,b she says. Then in 2015 she started exploring and posting Instagram photos of the best meals she could find. bI noticed the reaction it was getting. I knew that I liked to eat good food, and other people appreciated my opinion. Thatbs how Eat Here ATL was born.b
As the page began to amass followers, Bryant purchased a URL, contracted a logo designer, brainstormed taglines, and began stamping restaurants she approved of with Eat Here ATL window decals. After hosting a pop-up food shop in Inman Park that brought out a surprising number of followers and restaurants, she realized just how large her brand was becoming.
bMy goal was always to connect people with places that are unique to the city,b Bryant says. bWhy give your money to a franchise that doesnbt really need it, when you can support a local business that gives you a one-of-a-kind experience? When I saw how many people showed up to the event to support my vision, that was a real turning point for me.b
In the couple years since, Eat Here ATL has grown into a trusted brand with over 23,000 followers. Now, the mission goes beyond simply posting pictures online. Therebs a well-trafficked blog featuring interviews with local chefs, restaurateurs and small business owners. Bryant also promotes brands and restaurants she believe need a larger platform, provides social media marketing services, and encourages local buying amongst her followers.
Bryant attests that her success is the result of constant work, careful strategizing and plenty of mistakes. bPeople think you just post nice food pictures and followers come, but itbs so much more than that,b she says. bWith any online marketing tool, you have to constantly engage your followers, promote the service youbre providing and make sure the content you post matches your audiencebs values.b
Today, Eat Here ATLbs reach continues to grow; Bryant now employs an assistant, Arielle Kleiman, to handle daily operations, and has positioned herself as a respected figure in the industry, garnering invites to food events and restaurant openings. But she is careful to maintain her high standards.
bTo capture Eat Here ATLbs attention, you have to create moments for patrons,b she says. bA moment is created when you provide great service in a carefully curated space with a powerful aesthetic. Patrons need to know when they leave their home that theybre going to get something they canbt find anywhere else.b
In keeping with her slogan, bBringing The Community Back To The Table,b Bryant is determined to make great food accessible to everyone. Showcasing diverse establishments that offer an array of price points within a multitude of Atlantabs neighborhoods, the entrepreneur is able to present an array of cuisines for her ever-evolving demographic.
bFood is something that every walk of life and every living being needs,b she says. bItbs important to be as inclusive as possible, and I intend to continue featuring establishments that appeal to every kind of taste out there.b
More By This Writer
No results for query.
Search for more by Johnell Gipson