ROLL CALL - Taradactyl
 The Heartbeeps DJ doesn't really take requests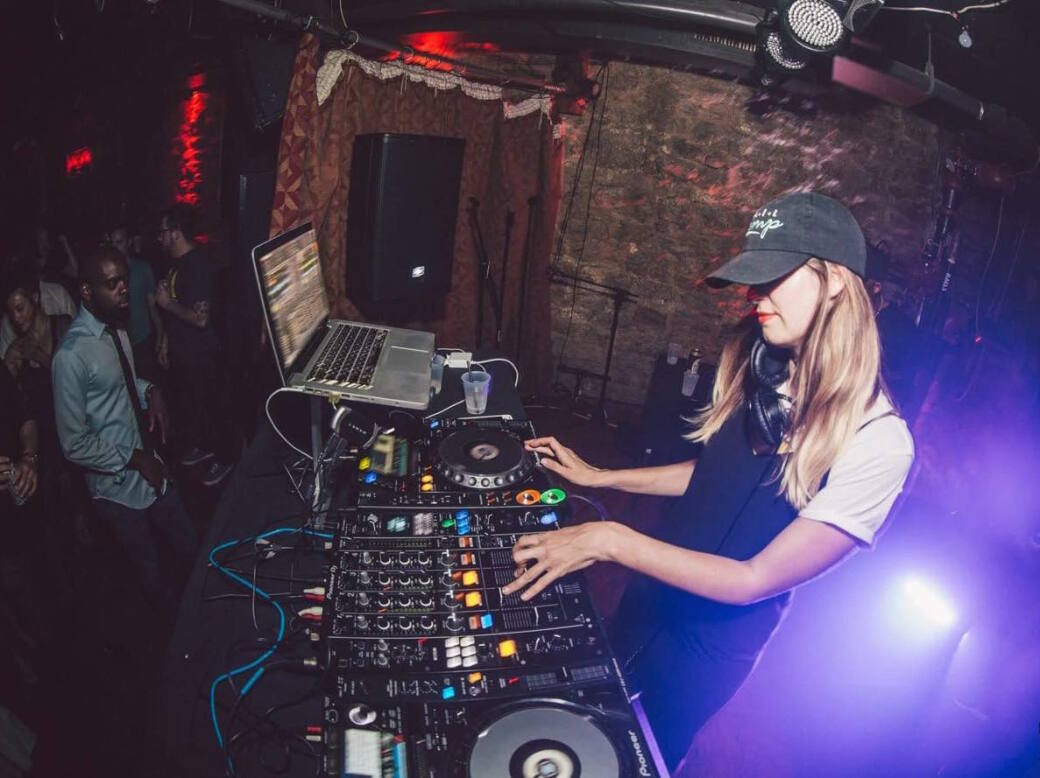 A LOVE THAT BURNS HOT ENOUGH TO LAST: Taradactyl's Heartbeeps party keeps MJQ's back room moving every Saturday at midnight.
Fun fact: Tara Davies, aka Taradactyl, is the first and only MJQ resident DJ who also happens to be a lady. For the last seven years, she has kept the dance floor in MJQ's back room moving every Saturday at midnight with her weekly Heartbeeps set of classic pop music. These days, Davies also takes over Ladybird for Vino and Vinyl every Wednesday at 8 p.m. and Deep End for '80s night every Friday at 10 p.m. On Sat., March 3, she joins Blkkmorris, Sofa King Evil, and Grandtheft for MJQ's monthly Sloppy Seconds showcase of Southern hip-hop and electronic music. On Sat., March 31, she keeps the afterparty moving following a performance by South Korean electronic pop vocalist Cifika. Before kicking off a month bookended by high-profile gigs, Davies took a few minutes to talk about life in the DJ booth.
How did you become a DJ?
I grew up in Knoxville, and there weren't many places for "cool kids" to dance. There were some random spots in the Old City, or on the strip with college kids from U.T., which wasn't my scene. I'm a music lover. I love to dance, so I asked some friends who own a bar inside a Victorian house if I could play songs from my computer and made my own dance party. I invited so many friends, and it was awesome. Technically, it's still going Thursday nights at Sassy Ann's. When I moved to Atlanta in 2006, I met Decatur Social Club DJ Preston Craig and was introduced to the scene.
What kind of music is your specialty?
My specialty at Heartbeeps is pop music. If you want to dance to music that you love and know all the words to, that's Heartbeeps — classic '80s, '90s, pop, and indie music. But my favorite kind of music to DJ would be more of a house or disco style. I'm currently working on a mix that includes Laurel Halo, Yaeji, and Kelly Lee Owens.
If I'm DJing a Sloppy Seconds night, I get to go deeper because that crowd is more open to newer things. For Heartbeeps, I stick to what people are there to hear.
What makes a good DJ?
Knowing your audience, knowing what songs to play, and the right time to play them. If you're playing good songs that people don't know, and they keep dancing, you've succeeded.
What song is your secret weapon?
Whitney Houston, "I Wanna Dance with Somebody," will forever be a crowd-pleaser. If I don't play it, because I feel like I play it every Saturday, someone will ask. It never fails.
Do you take requests?
Not really. If it's something I don't want to play, I don't want to make someone upset. But I'll hear them out. If it works in my set I'll say, 'Yeah, but not right this second,' or 'I'm about to play that right now that's crazy!' But if it's something I wouldn't normally play then I don't. This weekend someone asked for that song "Birthday Sex" because it was their friend's birthday, and I was like, 'Do you know how slow that song is? Are you hearing what I'm playing right now?' People need to trust the DJ. -CL-
---