A culinary playground
Victoria Shore brings a love of pastries and a playful spirit to Krog Street Market newcomer Recess
Pastries were Victoria Shore's first passion. While studying history and anthropology at the University of Georgia, the Alpharetta native taught herself how to bake. "Food was the one thing I was consistently interested in while I was in college," the now 26-year-old chef says. "I spent way too much time and money in a grocery store to make food for myself."
She recalls hauling her enormous cookbook collection to each new destination whenever she'd move, even to a semester across the pond in England. It was a pain, to be sure, but the books—Anthony Bourdain's Kitchen Confidential among them—inspired and pushed her forward. Upon graduation, she decided to pursue food full-time. "I didn't have any positive direction with what I was doing with my degrees, so I figured I would try to find an internship in a kitchen or on a farm with something food-related." Shore ended up moving to Maine (cookbooks and all) for an internship at a bed and breakfast. There, she spent six months honing her pastry skills, tending to a little vegetable garden, and cooking breakfast for guests. When a pastry position opened at Cooks & Soldiers back on her home turf, Shore cold-emailed Fred Castellucci on a whim. She got the job.
"A large part of being a chef is opening yourself up to as many food and restaurant experiences as you can, and picking and choosing what to keep, recycle, or hold onto," Shore says. "None of us are operating in a vacuum and sitting in a dark room with great ideas. It's a process of curation more than anything."
A loyal employee of Castellucci Hospitality Group ever since her Cooks & Soldiers gig, Shore has learned to love the hustle and bustle of a working kitchen, moving seamlessly through positions ranging from garde manger to line cook. Through it all, she's continued her pastry education by double-timing with overnight shifts at Inman Park's Proof Bakeshop to learn more about baking bread. When Double Zero reopened in Emory Village back in the fall of 2016, she became sous chef, running the pastry program and making ice cream. But now, she's embarking on something entirely new: running her own restaurant.
This spring, Shore introduces the Castelluccis' first fast casual concept: a food stall called Recess that will join the group's newly opened tapas spot Bar Mercado at Krog Street Market. Driven by fresh salads, hearty sandwiches, grain bowls, and other healthy, veggie-forward dishes, the concept's mission statement is quite simple: "food that makes you feel good."
"We don't want to take ourselves too seriously," Shore says. "It's going to be delicious, but not fussy and unapproachable."
Of course, running a restaurant also means plenty of not-so-fun details like dealing with vendors, plumbing, and ADA requirements for permits and plans. But Shore has handled the challenges with aplomb, despite a series of delays that pushed back the stall's opening date. She credits John Castellucci for seeing her potential and promoting her from within the hospitality group. "He's been supportive of me from day one," she says. "He pushes me to do more than I think I am capable of doing."
Shore and her team built Recess's menu over weeks of tastings with the ever-discerning Fred Castellucci. The goal is to keep things fresh and seasonal, blending textures and toppings at various temperatures. She'll harken back to her love of pastries with a robust yet health-conscious sweets program, featuring paleo-friendly, gluten-free, and vegan baked goods. More decadent biscuits and banana bread will be offered during brunch on the weekends.
"Every time you take a bite you get something a little new and different to keep it interesting," she says. "Enjoyment in food comes from being thoughtfully engaged with it." This is what she hopes to provide to her future diners — a recess of sorts from typical restaurant fare; a lighter, plant-based alternative to the heaviness that has long permeated the restaurant scene. But she's not holding herself to any hard-and-fast rules. Much of what she cooks is mood-based. Shore cooks and eats with intuition. "It's very important that food is nutritious and nourishing to your body, but for me it's about mental health as well," she says. "Food can put you in a good mood. Good food is soul-satisfying."
Recess, Krog Street Market, 99 Krog St. N.E. www.recessatl.com.
More By This Writer
Friday January 26, 2018 10:06 pm EST
The Common Market Georgia helps small-scale farmers into large-scale kitchens |
more...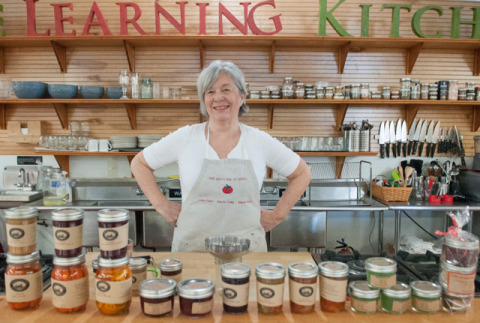 Thursday December 14, 2017 06:50 pm EST
Once needed for times of scarcity, canning and pickling are now some of the hottest ways to prepare fresh food |
more...
Tuesday November 14, 2017 10:54 pm EST
Spiller Park Coffee was batting a thousand. The Ponce City Market stall, co-owned by James Beard award-winning chef Hugh Acheson and barista extraordinaire Dale Donchey, was bustling, the accolades rolling in. But Donchey wanted to grow further, to open a brick-and-mortar location in which to hang his proverbial cap. And this fall, he and Acheson have done just that, with a standalone spot in... |
more...
Friday November 10, 2017 04:01 pm EST
Enter Nakato and you have to choose: left or right. To the left, a tranquil, elegant space with a sushi bar opens out to traditional dining rooms, lined with rice straw mats and separated by silent sliding wooden doors. To the right, boisterous clapping cheers on hibachi chefs in a circus of cooking.
In the middle is Sachiyo Nakato Takahara, the third generation owner of the 45-year-old...
|
more...
Thursday October 26, 2017 04:20 pm EDT
Decatur's traditional Mexican bakery celebrates Dia de los Muertos with sugar skulls, pan de muerto and mariachi music |
more...
Search for more by Grace Huseth