Hawg and Ale Smokehouse opened a new location this week, Sabbath Brewery takes over the old EAV Barbell and more
Food news roundup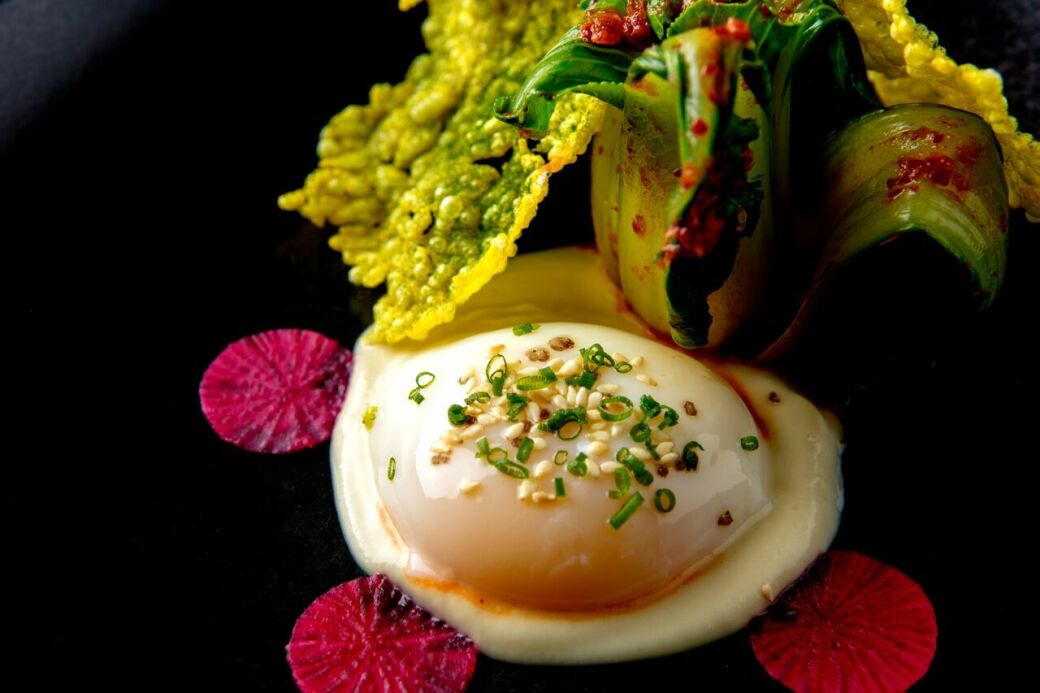 EGGCELLENT: The Alden is now open with a menu highlighting soft-coddled Pan Asian egg with bok choy and ginger and Florida grouper with pepperoni arrosto.
Watershed is transforming once again. Owners Ross Jones and Emily Saliers sold the Buckhead restaurant to Matt Marcus (Bluetop, Portofino), who will serve as Executive chef. Watershed opened in Decatur in 1998, closed in 2011, and reopened in the current location in 2012. Executive chef Zeb Stevenson and Jones will partner on a forthcoming venture, location TBD.
Chamblee has a new hot spot. The Alden (5070 Peachtree Blvd.), from Dogwood Supper Club's Jason Alden Hicks, is now open in mixed use development Parkview on Peachtree. Menu highlights include Hicks' soft-coddled Pan Asian egg with bok choy and ginger and Florida grouper with pepperoni arrosto. The Alden has a full craft cocktail menu as well.
After the closing of One Midtown Kitchen, Executive chef Matt Weinstein has found a home at Midtown's TAP (1180 Peachtree St. N.E.). Weinstein plans a revamp of TAP's menu early this summer to align with his modern cuisine.
Cheers, East Atlanta! A new brewery is set to open by Halloween. What Now Atlanta first reported Sabbath Brewery will take over the old EAV Barbell Club at 530 Flat Shoals Ave. S.E.
Forbes Magazine calls Paul Hobbs "the Steve Jobs of Wine," for his expertise and quality. Canoe Executive chef Matthew Basford hosts his brother, Matt Hobbs on Mon., April 16 for a paired dinner. A native of Australia, Basford has peppercorn-crusted kangaroo on the menu. Dinner begins at 7.
Ian Winslade's (Murphy's, Paces & Vine) Mission + Market opened this Monday in the Three Alliance Center building near Phipp's Plaza. "We're ready to create a neighborhood staple," Winslade said in a release. The globally influenced menu includes thin crust pizzas from the restaurant's brick oven. We hear the apricot and tomato with charred eggplant is killer. A 16 seat bar will serve classic cocktails.
Check out Lure's new Sunday dinner series. Next Saturday (4/22) they will throw a Vietnamese style crawfish boil with three courses and pairings with cocktails and wine. It's a deal at $35. Runs 5:30-7 p.m.To reserve a spot: 404-817-3650.
We may get a definitive answer to the question, "Is a hotdog a sandwich?" There is a cool new question booth inside Ponce City Market (2nd floor of Food Hall) where conversations with the public are recorded inside. HowStuffWorks will pose a new question each week and collect your answers, which will be revealed in their podcast. Head over there Fri., Sat., and Sun. from noon to 5 p.m. to take part in the conversation.
Marietta has a new BBQ source. Hawg and Ale Smokehouse opened this week at 25 Powders Springs St., replacing Chantico Burrito Cantina, which closed in September. Hawg and Ale is open for lunch and dinner and also has a location (called Hog and Ale) in Peachtree Corners.
Get out the seersucker and floppy hats, JCT Restaurant and Bar's annual Derby Day Party returns to Westside on May 5. From 3:30 p.m. until the end of the races Watch on the big screen, sip mint juleps (2 tickets included), and snack on chef Brian Horn's special menu. Visitors can even place $10 bets for a chance to win a $250 JCT gift card with all proceeds benefiting the Giving Kitchen. Tickets available here.
---