HIGH FREQUENCIES: Earthless and the return of hard rock
What's old is new again at Masquerade Wednesday night
BOUNDLESS: The members of Earthless, from left, Isaiah Mitchell, bassist Mike Eginton, and Mario, Rubalcaba.
For many, Cream was the gateway band. The first power trio. Enjoying the freedom to improvise afforded with only three musicians onstage, in the late '60s, power trios could do no wrong. There were others. Blue Cheer. Groundhogs. Led Zeppelin. Funny, now, to think that at one time Cream, with its rhythm section's jazz background, were considered the precursors to heavy metal. Mountain? Certainly. Adding more musicians to the mix, extemporaneous jams took flight with the likes of Amon Duul II and Hawkwind, heavy and hard hitting. When it started to get a little too bombastic ... that was heavy metal.
The head banging days are over for most who came of age with heavy metal. Not that the genre has died. It's been reborn. Traditional heavy metal has given way to death metal, speed metal, stoner metal, thrash metal, black metal, industrial metal, doom metal — you name it, there's a metal for it.
Earthless, the California power trio set to play Masquerade on Wednesday, June 6, are a next generation metal band influenced more by the exploratory jams of its earlier predecessors than the requisite posing of many of today's metal bands. Made up of Isaiah Mitchell, guitar; bassist Mike Eginton; and drummer Mario, Rubalcaba, the trio first came together in 2001 when they discovered they all shared an interest in Japanese psychedelic rock and German krautrock.
Finally releasing an album, Sonic Prayer, in 2005, they followed with Rhythms from a Cosmic Sky in 2007 and From the Ages in 2013.
What first caught my ear was the blistering version of Groundhogs' "Cherry Red" from the band's second album, Rhythms from a Cosmic Sky. Not only is it a great cover of a definitive track from the Groundhogs 1971 album Split, but it's one of the few songs from the mainly instrumental band to feature vocals.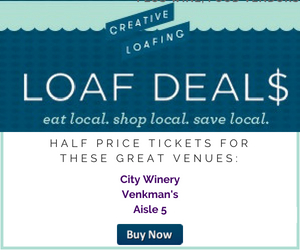 The lengthy instrumentals of their past have given way to songs with vocals on the band's 2018 release, Black Heaven, which Earthless is now promoting on tour.
Guitarist Mitchell, who also sings when the need arises, doesn't think "anything has changed, outside of the obvious," noting recently that, "yes, we've started to introduce vocals into our music."
"We've always been into the improvisation side of music, Mitchell explains, "creating on the spot. It's difficult to make instrumental music interesting I feel so our aim is to keep the listener's attention and take them on a journey."
With that, the guitarist acknowledges that not only is there "a freedom for all of us to fill more space," but "there's a responsibility to fill the space in a tasteful way. Being the only melodic instrument I need to decorate the song to accentuate what Mike and Mario are doing."
Mitchell understands the exercise well, having grown up listening music firsthand.
"For me personally, I learned about bands like Cream, Groundhogs and Blue Cheer through my dad. He's also a musician and he's always played music. When I was very young he'd have band practice at the house and I'd always be there watching. There's always new and older bands that I end up discovering from friends and my band mates. Mike and Mario know about tons more bands than I do so they've introduced me to lots of music that's had a strong affect on me."
With Black Heaven, the members of Earthless wanted "to make a different record than the others, but we didn't expect it to be this different. We didn't intend for Black Heaven to have more songs with vocals than instrumentals. It just turned out that the stronger songs that we recorded had vocals on them. We had a couple of longer instrumental songs going on in the studio, but they weren't feeling right. In the end, we're happy throwing everyone and ourselves for a loop."
The move away from all instrumental songs, has not been made without a price.
"Yeah, we knew that we'd loose some people with this record, but, at the end of the day you can't worry about that. You shouldn't create art in hopes of making people happy. That can't happen. But quite a few people have come up to me after a show and said they didn't think we'd be the same band live and they were we're very happy to find out that our live show is pretty much the same. We have a few songs in the set with vocals but the set consists of more instrumental tracks and we keep the flow going from one song to the next so the journey doesn't stop."
Mitchell says he's the primary lyricist for Earthless, though he did approach a friend, Gregory Slugocki, to help on one song.
"I love the way he gets words across that are hard for me to express. It was a new and wonderful process for me," Mitchell says of collaborating on "Sudden End." "I have a hard time letting people get in on writing lyrics. I want to be able to do it by myself, but I know that I need to ask for help sometimes. I'm glad Gregory was into working with me."
Having recently signed a deal with Nuclear Blast Records, home of Slayer, Danzig, Meshuggah, and many other metal bands, I asked if that had any bearing on recording songs possibly more "commercially-viable" by having vocals on them.
Mitchell says it did, but not to the extent many fans might think. There was never an attempt to make a more accessible record to gain a wider audience.
As he explains, "Monte Conner, who runs Nuclear Blast here, was a fan of the band previous to our signing — and knew what we were all about. He asked us if we would be into recording any songs with vocals. Vocals aren't a brand new thing for us and he knew that as well. If we didn't have vocals on the record, it wouldn't have been a deal breaker with signing to the label, but we had a song with vocals already written so we decided to put it on the record. Ends up we put four vocal tracks on the album with two instrumentals to go with it. We would've never seen that coming!
"We enjoy playing with each other and if we're not happy with something musically we don't go through with it," Mitchell continues. "We go at our own speed. We may have burned out long ago if we didn't do things how we wanted. We've always stayed true to ourselves and what we want to create.
Another year 'round dept. … The Rainmen & Friends the play the Moonshadow Tavern in Tucker this Saturday, June 9. What is always a swinging dance party when they perform their eclectic oldies should pack an extra punch this weekend, as it's drummer David Michaelson's 65th birthday celebration. Michaelson has played in more Atlanta bands than you have fingers, the Georgia Satellites, the Nasty Bucks, and the Thirsty Dudes among them. Expect a number of special guests to join in on the celebration. … Early shows continue at the Northside Tavern on Saturday evenings. June 9 Sammy Blue stops in for a solo set between 6 and 9 p.m.
Contact Tony Paris regarding band news and music-related events at cl.highfreqs at gmail.com. Information sent via Facebook or Messenger is consciously ignored.
---