Parting words with Philip Frobos
The Omni singer and bass player on drinking Grizzes, his pivotal moments amid an ever-changing city, and reality vs. the perceptions of life as a working musician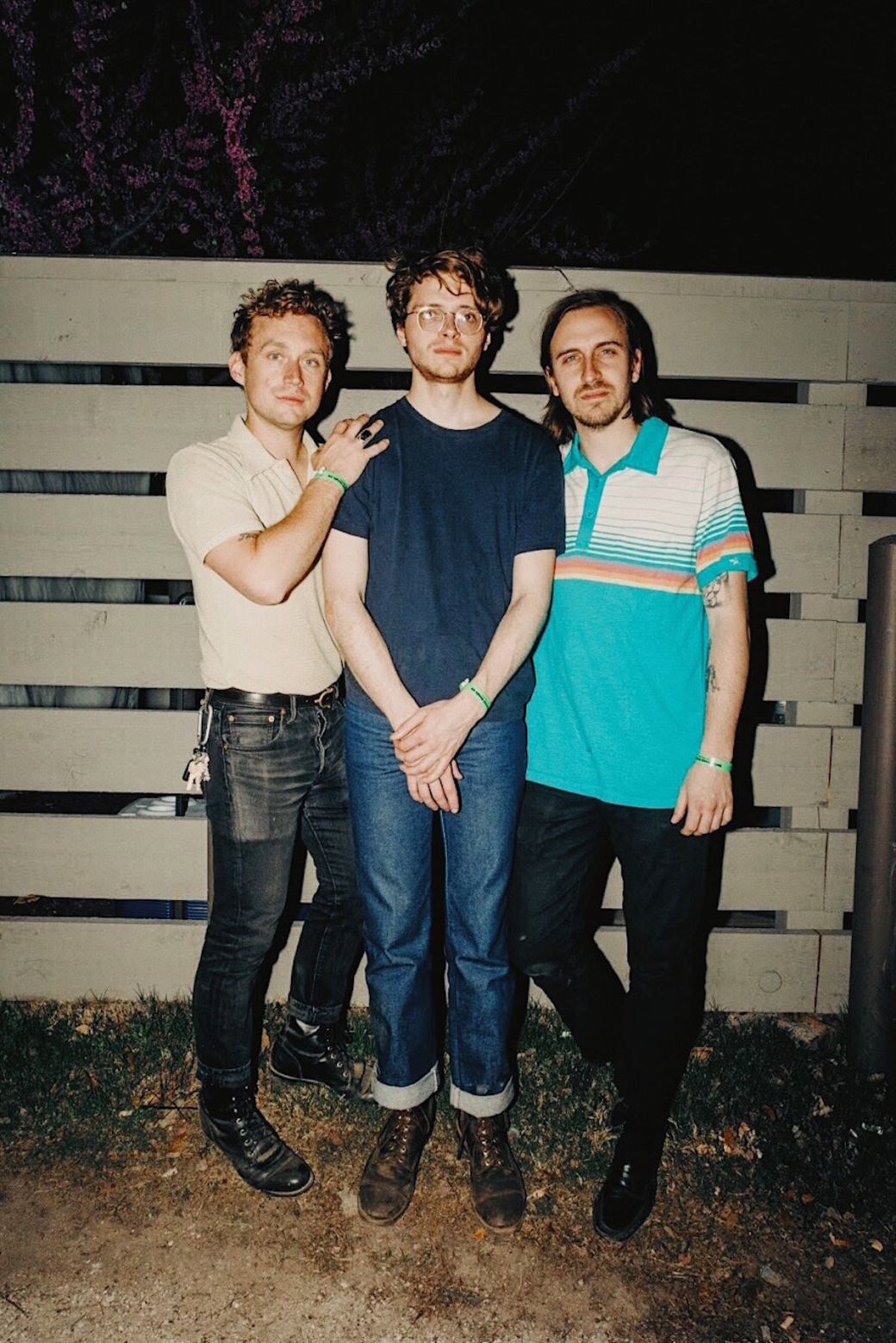 DELUXE EDITION: Omni is Philip Frobos (from left) and Frankie Broyles, with live drummer Chris Yonker.
You told me a story, today, about a young kid who approached you after a recent show in South Carolina. He drove all the way from Atlanta to see you play, and was just stoked to be there having a good time. It reminds me of when we first met, when you were that kid, talking to me about music after a show at the Star Bar many years ago.
Yeah, I remember (laughs).
What knowledge have you gained since your days of first getting involved with the local music scene?
Self-awareness is a big one. Recognizing actual reality versus what I want reality to be. Part of that was delusion, and part of it was not understanding what's going on socially, musically, and businesswise. My old band Carnivores played shows and were friends with the Intelligence. Lars [Finberg] even played Omni's recent Los Angeles show. I used to think, "This is the most amazing band on In the Red Records!' They were touring, they had an agent, and I remember saying, "Carnivores should do a tour with Intelligence! It'll be great!" Very respectfully, they said, "Maybe at some point, but not now." At the time, I didn't understand why not. Now, young bands say that sort of thing to us. Now I understand that being a punk or D.I.Y. band that travels means you barely make enough to get to the next town. We live well, but we're not at the taking-other-bands-on-tour phase. It's endearing, though, because you reach people in ways where they see you as larger than life, but you're still just out there fighting the fight.
That reminds me of an old music business saying: Treat everyone with respect, because if you pass them on your way up, you'll pass them on your way down.
I don't know where Omni is on the ups and downs, but being kind to people is always a good thing. Stephanie [Luke] from the Coathangers once said to me, "It's so much easier just being nice." That stuck with me. There's no point in being a dick, especially when people just want to talk about music.
Omni's latest 7-inch, "Sunset Preacher" b/w "Confessional" is getting some airplay on the B.B.C.! Are these songs the first we're hearing of a new album?
No, these songs are just stand-alone songs. We're going to try to keep all of our singles as their own releases, and separate from what goes on the albums. … But we are working on a new record.
Do you have a title for the album yet?
No … I dreamed an album title the other night, but I don't want to say it out loud. Not yet.
Likewise, Omni has gone through a lot of drummers. This year, Chris Yonker from Hello Ocho has been playing drums with Omni. Is he a permanent fixture in the group?
Permanent is a difficult word. We love having Chris on the road. From Deluxe through Multi-Task to right now Omni and into the future, Omni has always been, and always will be, me and Frankie Broyles. Frankie plays all of the drums on all of the recordings. We have a drummer for live shows, and we've had a lot of help along the way. Each drummer has brought their own adventure. But the core, permanent members of this group are me and Frankie.
Has Atlanta changed since you've spent more time on the road?
It has changed, but there are solid standbys here. Chris Daresta and Matt Weiner who run DKA — they have their crowd, their nights, and their national following. I love what they've created for themselves. Omni hasn't stopped traveling for about a year and a half, and Atlanta feels somewhat different when we come home. Traffic has gotten noticeably worse (laughs). 
In April, we played a show at the Bakery for the annual WREKtacular. That was awesome because we got to play to a lot of kids. We've been playing 21+ clubs, and it's thrilling to play for underage people who are excited about music. Now, when we play local shows, it's for a lot of people we don't know, which is nice. It's always cool to see our friends having a good time, but the faces in the crowd are changing.
When we played at the Bakery, it was the first time in years I saw and felt the same energy that I used to see and feel during the old MLK Eyedrum days — remade in a new place. People were hanging out in the parking lot between bands. Inside, a cool art show was going on. It was incredibly refreshing to be around that scene with all of these cool young people. 
In the past, I've often referred to Atlanta as having a perpetual identity crisis. Since the city has changed in such drastic ways, it feels like young musicians want to preserve a sense of identity that's been here all along.
There was a moment, when Omni first started traveling, when Frankie and I didn't want to push the Atlanta angle too hard. We had already done that in previous groups. So, we just wanted to exist in the world. But the further we go, I'm happy to call Atlanta home. It's such a positive, diverse place. The weather is great, and it's an exciting environment to be in while you're making music. There are great places here — real culture — that haven't been flattened by the tech beasts. Not yet, anyway. 
Our friends from Franz Ferdinand were here recently, playing Shaky Knees. It was the first time we could show them what our Atlanta is really like. We went with half the band to El Myr for a Grizz — a mini bottle of Corona with a shot of tequila dropped in. They were like, "Ah, this Grizz thing is pretty cool!" Later, they were DJing at Chrome Yellow on Edgewood Avenue. Alex Kapranos walked down the street and got some wings somewhere. He came back and said,  "We encounter a lot of places, but none of them are nearly as friendly or as diverse as Atlanta! I'd kinda like to just come back here and hang out for a while."
People who leave Atlanta often come back saying they had no idea how different Atlanta is from other cities because of its diversity.
For sure. Everything in most major cities is more pocketed because people find their neighborhoods and stick to them. Atlanta, New Orleans, and Birmingham are more like a genuine blend of cultures. Everyone just kind of landed where they landed. Buford Highway has a million different cultures to experience. It's not like you're going to the Ethiopian neighborhood. You're going to the Everything neighborhood. Everybody always comments about how much they love all of the trees here, too.
Omni's second album Multi-Task is out now on Trouble In Mind Records.
---