Tracy Woodard: No fiddlin' around
The violinist juggles music, activism, and family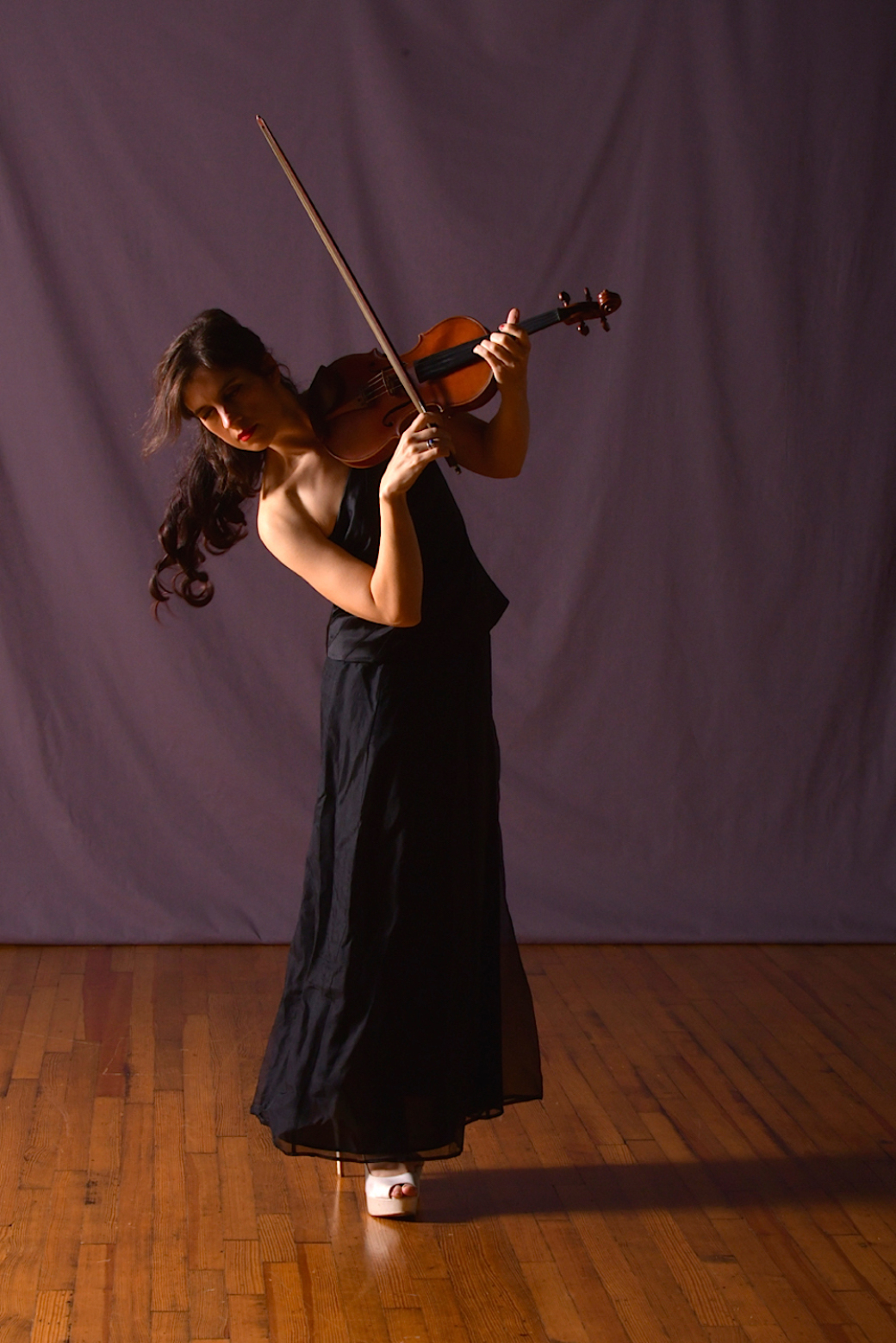 CREATIVITY AND ACTIVISM: Violinist and philanthropist Tracy Woodard is changing the world one string at a time.
Tracy Woodard sits down at one of the sidewalk picnic tables outside of Kavarna, a coffee shop/internet cafe in Oakhurst. She stoops slightly, letting the violin case, which had been slung across her back, slide onto the wooden bench. A straightforward, no-nonsense type who carries herself like a woman on a mission, Woodard speaks in declarative sentences in a distinctive voice — the tone and cadence of which, while friendly enough, would not be out of place on a military drill field.
Born on December 8, 1980, the day John Lennon was murdered ("That was the one newspaper my dad did not want to have to buy"), Woodard moved to Atlanta with her family when she was 10. Both parents play the organ, her mother as a professional church organist."I was given a cello at age five and didn't like that, so switched to piano and didn't like that," she says. "When I was nine, I saw a violinist playing in The Witches of Eastwick and thought, 'Oh, I want to do that,' so I did."
Now a professional violinist, concert programmer and promoter, wife, and mother of a nine-year-old boy and six-year-old girl, Woodard juggles her responsibilities with casual aplomb.
"Every now and again I'll get a weird look for being a mom and doing other things, but mostly I don't ask for permission," Woodard says.
Not asking for permission has served the 37-year-old Charlotte, North Carolina native well. A graduate of Georgia State University and the University of Georgia, Woodard currently plays musical chairs with the Macon, Lagrange, Albany, Rome, and Huntsville Symphonies as well as the Savannah Philharmonic. As a member of the American Hollywood Film Orchestra, Trans-Siberian Orchestra, and the New York Gilbert & Sullivan Opera Company, she has toured across China and the United States.
"Sometimes you have a contract, sometimes you're on a list, sometimes you're a regular substitute," Woodard says. "You have to coordinate and schedule dates between orchestras. Right now, I'm working on the 2018-2019 season, which starts in the fall."
In addition to occasional engagements with Atlanta-based contemporary chamber ensembles, such as Chamber Cartel and Bent Frequency, Woodard is co-founder of Cantos Y Cuentos, a string quartet specializing in performances that blend music with imagery. She also works on programming in an administrative capacity with the newly formed Atlanta Contemporary Ensemble (ACE).
Woodard is also president of Mad Housers, Inc., a nonprofit corporation that constructs shelters, develops low-income housing, and advocates for the homeless. In practical terms, Mad Housers sends out volunteer crews to build basic but effective plywood structures, equipped with a locking door, wood stove, and storage space.
"It's not permanent, but it's better than a tent," Woodard says. "While you're in there, you're sleeping better because you have a sense of privacy and security."
Many of the people assisted by Mad Housers are older individuals, some of whom have never used a smartphone. Volunteers help them secure a state-subsidized phone, contact social service agencies, and navigate through bureaucratic red tape. According to Woodard, the city of Atlanta has housing for about five percent of its homeless population.
"Right now, we are tolerated by the city, because we are helping fill that gap," she says, "but I would prefer working out something more official and on the books."
Currently, some 60 Mad Housers shelters stand in homeless encampments around the metro area, most on privately owned industrial property with the permission of landowners. The number has decreased in the last couple of years because many huts were demolished during construction of the Atlanta BeltLine.
"To the BeltLine's credit, they found apartments for most of those people," Woodard says.
This past January, Woodard produced "Signal and the Noise," a three-part series at the former Eyedrum space Downtown featuring silent films accompanied by live music. For the series' finale, Cantos Y Cuentos provided the soundtrack for A Page of Madness, a 1926 Japanese cult film directed by Teinosuke Kinugasa. In May, Woodard programmed "Con Moto," which combined a composer's workshop and a concert featuring works for small ensemble and dancers by Susan Clearman, Anthony Green, and Atlanta Symphony Orchestra bassist Michael Kurth. The music was performed by the ACE, conducted by Amy Wilson, with Covin Washington and Hannah Bowers, two teenaged members of the Sukha Artists dance company, interpreting choreography by Tricia Froedge.
"I was inspired to start programming by Eyedrum and its DIY philosophy," Woodard says. "I am perfectly happy doing the back-office work because I enjoy facilitating artists."
A brief recounting, which could serve as Woodard's modus operandi: Find the instrument, the tool, and the vocation that best suits your predilections, then use it to enrich and change the world. -CL-
---