What's New at We Suki Suki
The ever-changing food court has a few new faces
Things change quickly around the Global Grub Collective in East Atlanta Village. What's there today may not be there tomorrow — and that's part of the fun! Step into the narrow international food court and you'll be greeted by a new set of spices wafting from the stalls. Keep reading to meet the newest vendors.
Marrakech Express
Marrakech Express started as a catering company until Amal Alaoui decided it was time to take things to the next level and opened a stall at We Suki Suki. She prides her food on being authentic, and without fusion — just pure Moroccan cooking. Standout dishes on the menu include the meatball tagine, meatballs cooked in a spicy tomato sauce served over basmati rice; and the chicken tanjiya in which boneless chicken pieces are slow cooked with cumin and Alaoui's house-preserved lemons.
Lifting Noodles Ramen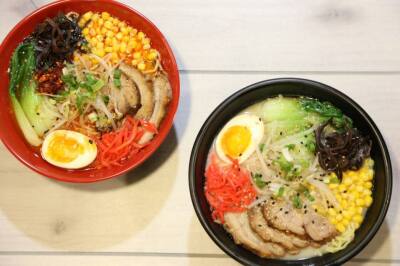 From the team behind Poke Burri comes Lifting Noodles Ramen. It opened in January next door to its sister stall and lures people in with steaming bowls of traditional ramen. The broth cooks for hours making it rich and viscous. Keep an eye out for the secret menu items, too, like the ramen carbonara: brothless ramen fried with an egg yolk. 

Mushi Ni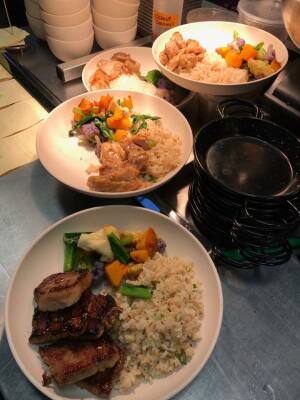 Participating in Anne Quatrano's Culinary Leadership Program is a full time job, but that didn't stop Tanya Jimenez from opening a stall in We Suki Suki. She runs it alongside her husband, Michael Le, in preparation for their forthcoming restaurant at Pinewood Forest, Braise. Here you'll find a tight menu of six baos (plus a bonus "super bao" of the week, i.e. s'mores bao), brown rice bowls, and snacks like tempura fried Oreos and Tokyo fries.
More By This Writer
Tuesday July 10, 2018 02:32 pm EDT
The newly re-opened hotel is a stylish spot to throw back a few |
more...
Monday April 16, 2018 05:00 am EDT
Where to find Atlanta's best portable treats from around the globe |
more...
Tuesday March 6, 2018 03:43 pm EST
Felicia Atkinson of Smyrna's Original Hot Dog Factory offers gluttony with a side of cheer |
more...
Thursday December 14, 2017 07:36 pm EST
Downtown Decatur's newest salad, poké, and juice bar offers more than meets the eye |
more...
Thursday December 14, 2017 12:54 pm EST
Lean into the season with one of these locally made and oh-so-festive sippers |
more...
Search for more by Lia Picard