HIGH FREQUENCIES: Bluegrass is not dead
And the Rev. Jeff Mosier is not 'old and in the way'
A MASTER PLAN: The Rev. Jeff Mosier onstage at the Fox Theatre during "Hampton 70: A Celebration of Col. Bruce Hampton."
Old & In the Way, the self-titled album and one of many side projects of the Grateful Dead's late guitarist Jerry Garcia, is one of my all-time favorite records. I go back to it over and over, just like I do the first Velvet Underground & Nico album, Glenn Phillips' Lost at Sea or Leon Thomas in Berlin with Oliver Nelson when things aren't right, the world is off-kilter, and I need to reboot. The bluegrass foray is the right mix of vocal harmonies, expert musicianship, and musical freedom. I remember not long after the album was released in 1975, Garcia was set to play the Great Southeast Music Hall in Atlanta. Thinking it was a chance to see the album played live, with or without the all-star lineup — Peter Rowan, Vassar Clements, David Grisman, and John Kahn were also captured on the live recording — I was more than excited to go to the show. But Garcia had already moved on, taking the stage that night with the Legion of Mary. I was disappointed no bluegrass was in the offing, but the Legion of Mary were not disappointing in the least.
The Rev. Jeff Mosier is one of a handful of local musicians to champion bluegrass as forged by Old & In the Way. Turns out, he, too, has a high regard for the band that started out during an afternoon jam session.
"I often thought rockers had a disdain for bluegrass," he tells me, "until I found out that Jerry Garcia played the banjo. Old & In the Way turned a whole group of people onto bluegrass who would've never gotten its beauty and importance. Later on, Phish would do the same thing for another generation. I've often said that if Jerry Garcia had not been a banjo player, I probably would not have a job. No one broke down barriers like Jerry Garcia."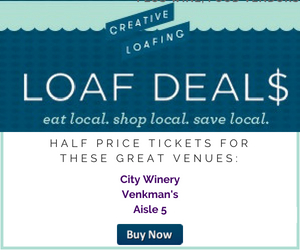 While Garcia made him more aware of the music's possibilities, Mosier was no stranger to bluegrass. Having grown up in Bristol, Tennessee, he first started playing banjo at 18. "My grandmother, Mable Hayes, was a Maybelle Carter-style guitarist and really influenced me and my brother. My brother started playing first and then I followed on banjo. Banjo literally changed the course of my life from the start. Bluegrass is a complete protein in the sense that you can learn everything there is to learn about being musical by figuring out bluegrass music. There's no faking it, no Diet Coke in bluegrass music. It's either there or it's not. And to really learn how to play it right takes a lot of effort and testing around others who are also constantly striving to get it right."

Mosier was not only given the playground — or minefield — to "get it right," but also to experiment with and stretch the boundaries of the music when he played with Col. Bruce Hampton and the Aquarium Rescue Unit. Hampton taught him "even more about the depth and beauty of bluegrass," Mosier recalls, "and then I went headlong towards that world of progressive bluegrass during my time with him.

"I took a path towards playing more experimental and sonic versions of bluegrass which I still continue until this day. I can, and still do, play traditional bluegrass on occasion every Sunday night from 6 to 9 p.m. at From The Earth Brewery in Roswell. I like it all."

Since founding Blueground Undergrass in 1998, Mosier has established bluegrass as a form of expression as viable in the jam band scene as rock 'n' roll, blues, jazz, and roots music. Indeed, sitting in with Phish during the band's early days, Mosier also had a huge influence in that group's approach to music.

It's no wonder he'll be playing the Phish after-party Friday, August 3, at Smith's Olde Bar as a special guest with the Grass Is Dead.

"The Grass is Dead allows me to play both traditional and Dead-like vibes on their show. It's great energy and intent. Billy Gilmore and Steve Pruitt are lifelong friends, and we know a million tunes between us. They really play bluegrass, yet they also are Deadheads. Their music is not just rock spiced up with bluegrass instruments. They have well-thought-out arrangements that draw on bluegrass but are accepted by even the most hardcore Dead fan. I never feel like I'm playing in a Grateful Dead cover band when I'm with them. Because of their intention and the way they put the songs together, it's a real tribute to both bluegrass music and the Grateful Dead at the same time."

Given the variety of styles he's played with bands of varying genres, it will be interesting to hear how Mosier defines himself — if he does at all — when he releases his first solo album next spring for his 60th birthday. Called Happens to Play Banjo, the record will include "all the different, weird things that I do through banjo, songs, and storytelling," Mosier says. "Bluegrass music and American music have influenced me in ways that are hard to measure."

Let it rock dept. … It was one of those nights you wished you'd recorded. Dan Baird and Homemade Sin always put on a good show, but July 13 at Eddie's Attic, the band was on fire. Just burning — the fire department was still hosing down the place the next day. In a sense, it was a welcome home party for Baird — who first started playing in bands (Nasty Bucks, Georgia Satellites) in this city, but also because he was returning to the stage after overcoming health issues. What transpired that night was pure magic. Opening up with "Six Years Gone," the band cut through the decades with "Tell My Fortune," "Another Chance," "Younger Face," "All Over But the Cryin'," and, yes, "Keep Your Hands To Yourself," reminding the audience of what was, while new songs from Homemade Sins' large catalog brought home where they are now. The sold-out show wasn't so much a high school reunion (if you graduated from Hedgens, that is) as a mix of new fans with just enough old friends present to remind you how special those nights were so long ago. The audience, and the band, were breathing hot 'n' heavy.

They say vinyl is making a comeback dept. … Wax 'N' Facts, the used record store in Little Five Points, recently celebrated its 42nd anniversary. When the store was first opened by Danny Beard and Harry DeMille, L5P was  a place working-class Atlantans called home and where many of the city's down-and-out sought shelter and handouts. Some landmarks have come and gone, but Zesto remains on the corner of Moreland and McLendon; down Euclid Avenue, the marquees of the Variety Theater and 7 Stages still shine bright, and the Euclid Avenue Yacht Club continues to harbor many who remember L5P from back in the day. While Digger may even now be on Moreland Avenue, asking passers-by for spare change, the working-class neighborhood has given way to urban professionals and millennials, and to the many amenities they require. There's a Target, a Kroger, a Lowe's, a Best Buy, and a Barnes & Noble a short walk from Wax 'N' Facts, with a Starbucks to the other side. Every hipster and visitor who is overcharged for parking in the area — as well as many business owners — owe Beard and DeMille a debt of gratitude for having the foresight to open up shop when they did. Time, indeed, flies … next thing you know, Beard, who also founded DB Recs, which fostered the B-52's, Pylon, Love Tractor, the Fans, and the Brains, will be turning 65. Wait a minute! That will be next week, August 3, at the Northside Tavern, where Danny is sure to "dance this mess around" with the Rainmen playing.
---