NEW MUSIC MONDAY: Adelaide, Bad Spell, and Illiterates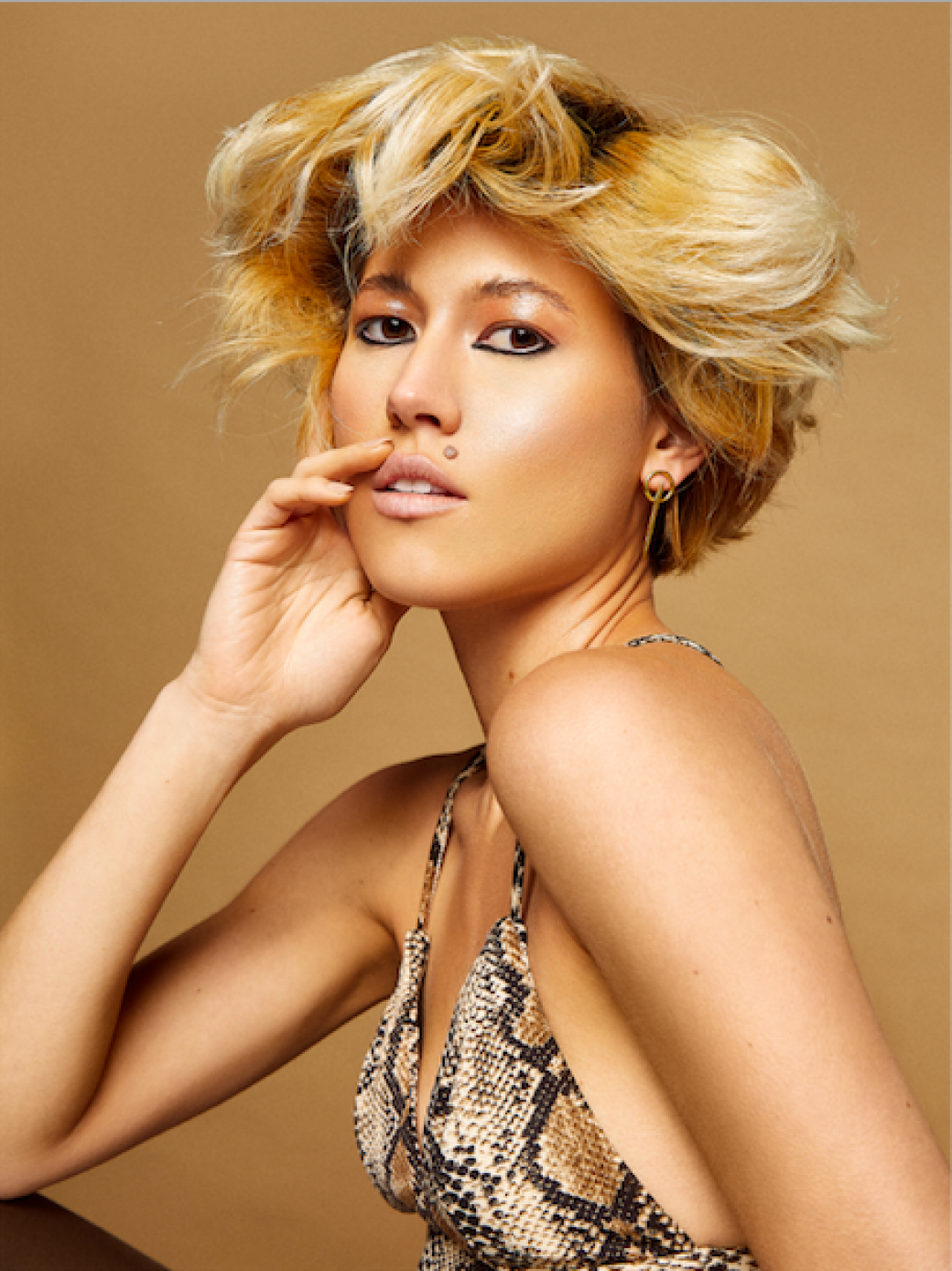 SEEING COLORS: "I try to channel the energy that I want to present to the listeners. A lot of times I see that as color and it makes me think of painting and flow. The feeling of creation." - Adelaide

Adelaide Tai, better known simply as Adelaide, holds a variety of talents that appeal to a variety of senses. The singer/songwriter doubles as a painter, making her art and music explode with color through every gentle guitar melody and careful brushstroke. Earlier this year, she entranced audiences with her debut single "Blue," and has been hard at work on a second single with a video titled "Keep Me Up," which arrived July 27.
"Blue" presented a textured, full-bodied sound. Adelaide, along with Christopher Alan Yates (banjo and vocal harmonies), Trish Land (percussion), and Gabbie Watts (upright bass), crafted a colorful blend of Americana and folk. The group lingered on the video, seeking perfection. At last, the polished product was set free and arrived in April.
Now, Adelaide reveals a different side of herself that transcends her goals of perfection and pushes for authenticity with "Keep Me Up." Both the songwriting and production take a raw turn without sacrificing the sound quality as Adelaide treks on as a soloist.
"Keep Me Up" is about seeing or thinking about someone you already did all of the work of getting over emotionally," Adelaide says. "How you don't want them to make you happy or sad because it would rip your heart back open. It's about working hard to stay neutral when someone really has the ability to get under your skin."
One month after the song's June release, Adelaide also released the video, which continued the push for realism. Filmed and edited by Nina Dolgin (WonderRoot), listeners are guided down a trail of nostalgia. The video was shot at the Goat Farm, and acts as a diary focusing on relationships. But the term relationship holds an extended meaning — from human connections to an intimacy with the city of Atlanta itself.
"It's kind of a love letter to the city," she says. "I wanted it to be really simple and cozy."
As a multifaceted artist, Adelaide's tangible art takes refuge in her music and vice versa. Although songwriting and painting have different creative processes, she combines them by incorporating a visual element during live shows.
"Both art and music inform one another, especially when it comes to performance," she says. "I try to channel the energy that I want to present to the listeners. A lot of times I see that as color and it makes me think of painting and flow. The feeling of creation."
Whether Adelaide treks on as a solo artist, collaborative musician, or painter, she's sure to enthrall audiences with a kaleidoscope of talents that pull on multiple sensory channels. — Lauren Leathers
Bad Spell's most recent release, a track titled "Don't Go Out Tonight," offers a healthy dose of fuzzed up, grimy psychedelia. Throughout the song, which was produced by Bad Spell and Ed Rawls of Living Room Studios, singer Bryan Malone's scratchy vocals warn an unidentified compadre that the outside winds are picking up and carrying ominous tidings. Dealing with the topics of paranoia and loneliness, the song is both gloomy and grinding, maintaining momentum via drum crashes, organ pads courtesy of guest musician Spencer Garn, and a lengthy and commendable guitar solo that rips through the middle. "Don't Go Out Tonight" will appear on an upcoming album of the same name, and the track is accompanied by an appropriately trippy and scuffed up music video, directed by Bad Spell's own Bryan Malone. The band plays the Star Bar on Sat., Aug. 25, with Barrence Whitfield & the Savages, the Woggles, and DJ Vikki V.— Annika Von Grey
Illiterates' latst single "Horton Heats A Who," produced by Matt McCalvin (Gringo Star, Zoners, St. Pe), is theatrical, fun, and a little bit twisted. The song is fairly sparse, hanging on to the pace created by stuttering drums and singer Steve Albertson's stream-of-consciousness vocal ranting. Sporadic and fairly manic guitar wails and punk laced gang vocals echo throughout the track, adding some aesthetic depth. A few key harmonized guitar moments bump up the complexity of the song, showcasing Illiterates as a group with some meaningful talent to go along with their spunk. The song will appear on the band's upcoming debut LP Makeout Mountain and positions them as an up-and-coming act to watch.— AVG
More By This Writer
No results for query.
Search for more by Lauren Leathers and Annika Von Grey