Monday Night Brewing ties seven on
The brewery's co-founders celebrate seven years of friendship and conversation over craft beer
WEEKENDS ARE OVERRATED: Co-founders Jonathan Baker (FROM LEFT), Jeff Heck, and Joel Iverson look back on Monday Night Brewing's most transformative year.
It's been seven years since Monday Night Brewing opened in West Midtown, and last year was the company's most transformative and successful to date.
In one year, the company brewed more than 100 individual beers — a feat made possible by the construction of Monday Night Garage on the West End, which created a larger space for barrel-aging projects and special events. Around the same time, the company rebranded its can design from the iconic businessman silhouette to a uniform necktie pattern. On August 4-5, the team is throwing a party to celebrate.
Monday Night is a leader of innovation and creativity in Atlanta's craft beer industry, but to co-founders Jeff Heck (CEO and supreme beer chancellor), Joel Iverson (COO and taste testing ninja) and Jonathan Baker (chief marketing officer), Monday Night Brewing isn't just about brewing beer. The breweries exist as a catalyst to deepen human relationships.
What sets Monday Night Brewing apart from other breweries in Atlanta?
Jonathan Baker: So first of all, we have two locations. Our original location in West Midtown has the Hop Hut, with specialty IPAs and experimental hoppy beers. The Garage in West End is based on barrel-aging and sour beers. We focus on the taproom experience to create a welcoming place. We're much more about what beer does for people and for conversation rather than the beer itself. We try to enable relationships and conversations whenever possible, and that starts in the taproom.
Jeff Heck: In the last couple years, opening The Garage and making investments in our Hop Hut small-batch system, I would say that we are now a leader in local innovation. A lot of breweries don't have the resources or bandwidth that we do. We've brewed more than 100 unique beers this year alone, between the two locations. That means the best of the best of those ideas make it to market.
Joel Iverson: We are doing a lot more as a company to push the limits of brewing beer. We have a Ph.D. microbiologist on staff who is working with Kennesaw State University to correlate what you perceive in a beer versus what is scientifically in there. The greatest thing that we've learned is that beer is great but people matter a lot more — that means customers, employees, and distributors. It's a lot harder than any of us ever thought it would be, but it's a real joy to have people at the heart of what we're doing.
What's your favorite brew?
JB: Well our standard answer is: "That's like choosing your favorite child." I think all of us drink seasonally, so it kinda varies depending on the time of year. But I always come back to Slap Fight IPA as a go-to drinker.
JI: I'm the same way with Slap Fight.
JH: I always go to Slap Fight as a "watching football" beer, but I think my favorite beer is probably Excolatur. It is a double barrel-aged dark sour with cherries — that one was remarkable. The base beer was our Drafty Kilt scotch ale, aged in bourbon barrels, then rum barrels, then soured with added cherries to it.
Is Monday Night expanding to other states?
JB: Georgia, Alabama, and we launched Tennessee in June. It's gone really well so far, but geographic expansion has never really been a huge part of our business. It's not that we don't want to expand to other states, but we want to do it the right way rather than expand as quickly as possible.
JI: That's mostly because we've seen really good growth in our home market — Atlanta. We didn't expand to Alabama until our third anniversary, and it was another three years before we went to Tennessee.
JH: We never want expansion to distract us from our core purpose in Atlanta. We always remind ourselves of our purpose statement, which is that we exist to deepen human relationships over some of the best beer in the country. When we expand, we always have to ask ourselves if doing so might compromise our ability to connect with people and brew great beer.
Most breweries in Atlanta aren't open on Mondays. But naturally, Monday Night is open on well… Monday. Did that trend play any role in the name and business model of the brewery?
JB: The name of the brewery kinda found us. We started home brewing together on Monday nights, because that was the only night that we didn't have anything else going on. So we started really looking forward to our Monday night brew sessions and that's where the the phrase "Weekends are Overrated" came from.
JI: When we first opened, we were only open three days a week. Monday was one of those days. Now, we are open seven days a week at both locations. But Monday is still actually one of our busiest days, which is pretty cool. We shouldn't just be living for Fridays, Saturdays and Sundays — we want to make weekdays awesome too.
What does the necktie symbolize?
JB: The guy in the suit is actually a silhouette of Joel! But going back to our homebrewing days — we all had white-collar day jobs, so we wore ties to work and the first thing we did when we got to the garage to brew was loosen our neckties. So it's supposed to symbolize celebration of the end of the work day, but also just celebration of every day.
JH: It's not just "thank goodness work is over," but also, "I got some good work done today." We're proud of the work that we accomplish every day, and we want people who drink our beer to feel the same way.
JI: On one hand, there is a sense among craft brewers that we are rebels, Civil War punks, white water rafters. But we have found that our story connects with a lot more white collar folks who got what we were doing, working jobs and then coming home to hang out in the garage.
The can design changed in September. Why the change?
JB: We were launching two new core beers at the time, as well as a new brewery that also needed its own look and feel. In all honesty, one of the big reasons we switched from the old can design is that we were running out of solid colors for the backgrounds. When we first started, breweries only had five or six beers and that was it, but now people want more. The key image of our brand is the necktie, so it was important to keep that when we moved over to the new designs to keep our design cohesive.
JH: There's a consistency to the look and feel of our cans. There are a lot of retail places that will have four or five of our beers next to each other, and the uniformity of our white cans with different colored neckties makes them pop.
What would you say were some of the high points of the year?
JH: This was our most transformative year in our history since we opened. Our anniversary last year was also the opening party for the Garage. Since then, we've opened a second brewery, moved all of our core beers from bottles to cans, launched two new core beers, and brewed more than 100 other seasonals and one-offs. Since the Fall we have been growing so much. We've made a lot of investments in our equipment and facilities, even hiring a lot of new full time and part time people.
JI: To be honest, when we were leading up to building a second facility last year, it was really terrifying. Craft beer was slowing down, and we were building a second facility in an area where a lot of people told us it was a bad idea. We were making so many changes and taking such big risks but it's really paying off now.
Which beers sold the best or got the most attention this year aside from the core brews?
JH: Our Han Brolo pale ale was pretty exciting because it was a new beer and was rated the number one pale ale in the country in Paste Magazine's blind taste test. Space Lettuce IPA has been a real hit, and we've started doing collaborations with other breweries. We did the I'm Suuuper Cereal IPA with Finback Brewery in New York. Don't Call it Hotlanta also did very well, and Tears of My Enemies was probably the most sought after.
What are the plans for next year?
JH: Oh... there's going to be a "next year?" One of the biggest things is we're making several capital investments, including a lot of new equipment for increased efficiency and capacity. We think about our three pillars as quantity, quality, and innovation. Those are all goals to meet demand for availability and creativity of our beer.
JB: We want to continue to push the boundaries of what beer can be. We will also have a permanent stationary food truck inside the garage called Betty's Waffle Emporium, which will be all in-house recipes including chicken and waffles, and vegan options, with a full-time employee working on it.
JI: We started an internship program with Kennesaw State University's microbiology and hospitality departments, which has grown into a grad student project with students taking data on scientific compounds creating flavors and tastes in beer. There's a desire to dig deeper into the beer and learn more about what goes into beer.
Ales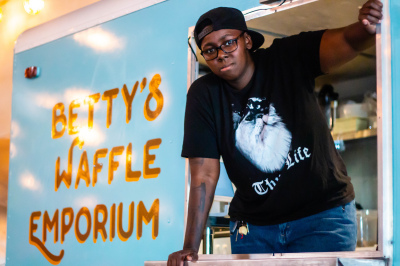 What can people expect from the anniversary event?
JH: Our anniversary parties are fun for us, such a good vibe. And for us it's more like a "thank you party" for those who work with us, brewery industry folks, family, and neighbors. Beer puts people on a level playing field and that's what we love about it.
JB: We'll have live music, a game room with ping pong and shuffleboard, and around 50 unique beers.
JI: Tie Seven On is our anniversary sour IPA. Keeping with a tradition since our second anniversary, it's made with seven malts, seven hops, seven strains of yeast, and 7 percent ABV. This is probably the last year we can get away with that pattern because it's hard to keep adding to that, but it really captures where we are right now. It brings together the different elements of Monday Night, and it's delicious.
Monday Night Brewing's anniversary party will span two days, August 4-5. Saturday is strictly 21 plus, and includes live music from jazz ensemble Kebbi Williams and the Wolfpack and indie rock outfit Quiet Hounds. Sunday is family-friendly. Tickets include seven beer tickets, a limited edition anniversary glass, and access to food. VIP tickets are available for additional goodies. Tickets, more information and a full beer list can be found on Monday Night's website.
$35-$70 (General-VIP), 21+ only. Sat., Aug. 4. 2-10 p.m.; $25. Sun., Aug. 5. 12:30-7 p.m. Monday Night Garage, 933 Lee St. S.W.. 404-352-7703. www.mondaynightbrewing.com.
---