GRAZING: Hot fun in the summertime
Hot chicken musts — and to avoid 
HATTIE B'S: "Damn hot" chicken with pimento mac & cheese, collards, and peach cobbler to lineup for.
If patience is not among your virtues, you may want to delay dining at the new Hattie B's Hot Chicken in Little Five Points (299 Moreland Ave., 678-888-4884). The lines during the first week were so long and slow-moving that phones went dead. Lifelong friendships were established. Antiperspirants wore out in the blazing heat (but King of Pops was there reviving people with free icy treats).
The huge turnout and long waits were no surprise, given that the food media have whined nearly a year about construction delays on the Nashville-based chain restaurant. The building itself is a marvel – a red-and-white, retro-fitted 1950s Phillips 66 gas station with a gigantic, triangular patio roof that will surely remind you of an abstract chicken beak sheltering the George Jetson family. The conversely rustic, woody interior is relatively narrow and the seating, inside and out, is mainly community tables. Garage-style windows light up the place. The acoustics are raucous, but what do you expect when people are clutching their throats and screaming for oxygen because they have bitten into fried chicken with thermonuclear spice?
Okay, that's an exaggeration, but so, in my opinion, is the labeling of the chicken's spiciness. The menu, posted above the bar where you order, offers six levels of heat:  Southern (plain), mild, medium, hot, damn hot, and shut-the-cluck-up. I ordered a damn hot breast and wing and, although I admit the first two bites produced a couple of hiccups, by the third bite I was wondering, "What the cluck?" It was hot, but not nearly as hot as, say, a bracing Sichuan meal. So, if you are a chilihead, size up, not down. (Then again, if you are one of my friends, you should probably just go to KFC.)
What about the flavor overall? Delicious, seriously. This is not a case of fire destroying flavor. As I devoured the super-crunchy, oddly shiny breast, I thought my tongue was hallucinating because I kept encountering some sweetness. Moreover, the source of the spiciness was confusing. I assumed that it was all in the batter, but why was I licking the damn chicken? Google explained that the juicy chicken is dry-brined in salt and lots of black pepper. It's dipped in a mixture of milk, eggs, and hot sauce; then it's dredged in flour; then it's dipped and dredged again. It's deep fried. And here's where it gets interesting. A portion of the fryer oil is whisked with brown sugar, cayenne, paprika, garlic powder, salt, and pepper. Just before it heads to the table, the chicken is basted with this concoction, producing the glassy red glow and literal layers of flavor.
There are plenty of side dishes. I ordered "pimento mac & cheese" that had little presence of pimentos, but nonetheless provided a creamy contrast to the brittle chicken. "Southern greens" turned out to be oily collards with not-very-flavorful pot liquor. I also ordered the hefty helping of peach cobbler. There were no chunks of browned crust, but the creamy texture was peachy-keen just as it was. I'm not sure if the few peach slices were fresh. The chicken, by the way, is also available as tenders, and waffles are on the menu too.
Hattie B's owners are a father-and-son team, Nick Bishop and his namesake. (The family has a thing for namesakes, apparently; a trio of Hattie Bishops gave the restaurant its name.) Nashville had been well known for hot chicken since the 1940s when they opened Hattie's in 2012, and the dish has become a national obsession in the last few years. Gus's World Famous Fried Chicken, for example, has been slightly stinging palates here since 2015, while many other restaurants are now featuring hot chicken on their menus.
One of Atlanta's own entries into the spicy chicken sweepstakes is Mary Hoopa's House of Fried Chicken and Oysters (2371 Hosea L. Williams Dr., 404-254-5236). This airy loft-like restaurant, in East Lake next to Poor Hendrix, is owned by Robert Phalen, whose cooking I first encountered at Holy Taco (which he sold) and then One Eared Stag, which he still operates in Inman Park. Phalen is something of a mad genius. Picture yourself sleep-walking into your kitchen with an Ambien buzz. You open your fridge and cabinets, and your muse insists you concoct something from ingredients you might never allow yourself to combine in a prosaic waking state. No, Phalen is not a psychedelic zombie, but he can certainly be out there, usually to everyone's advantage.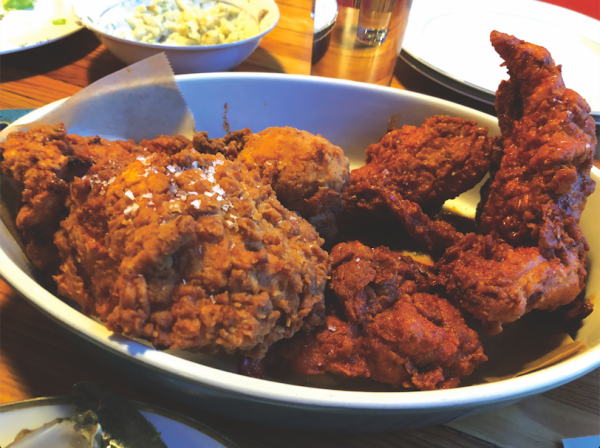 But not always. Mary Hoopa's, named after a friend of a friend of his wife, features not-so-plain, sweet, and hot fried chicken. With the hot version, the twice-fried, brined birds undergo a final basting similar to Hattie B's. The heat is thus limited to the super-crunchy skin. It's very mild and, in all honesty, I didn't care much for it. It tasted to me like a meek Sichuan dish. All flavors were dominated by cumin, but not with the intensity that makes true Sichuan so engaging when it is combined with both fiery and numbing peppers. So, I ended up preferring the perfect traditional Southern version. We did not sample the sweet chicken.
I'm sorry to say that the oysters, which we ordered raw and grilled, were disappointing. I'm still not used to paying $15 for six oysters, especially when half of them are so tiny you're not sure if they're whole oysters. We preferred the grilled version with fermented lemon, butter, garlic confit, and chervil. 
Snacks, each plenty for two or even three if you're ordering a lot, prevailed in concept but on the whole, weren't well prepared. However, my favorite dish of the meal was whipped chicken liver spread on heavy bread with chopped banana peppers and sliced peaches under a vivid green pile of … I'm not sure. A clam wrap turned out to be tepid fried clams sitting atop a leaf of butter lettuce. The menu promised "lemon cream, calabrese chili, mint, basil, and pickled onion." Nope. Nothing but some onion. We were excited to see fried zucchini blossoms on the menu. They were filled with something like gamey chicken pudge with aioli, cucumber, and bell pepper. The flower had obviously been fried well before we ordered it. Butter beans with black pepper and pecorino looked like a miserable puddle, and the taste was bland as canned. 
It's painful to go on. We visited on a Sunday and our personable, funny server told us that the restaurant had just been vacated by a very large party of whining, complaining people. Perhaps the kitchen was exhausted or was taking its anger out on us. I know that Phalen wasn't around. It certainly didn't taste like his food.

RANDOM NOTES: Everyone in Southeast Atlanta has mourned the closing of El Mexicano on Moreland Avenue a few months ago. Happily, the owners have opened a new restaurant, Patria Cocina (1039 Grant St., 404-622-3501), in the new artsy Grant Park development, The Beacon Atlanta). I dropped by while running an errand and ordered a couple of tacos — carnitas and al pastor — that hit the spot. Their chicken mole was my go-to at El Mexicano…. Midtown Moon (1492 Piedmont Ave., 404-343-6514) is a gay pub that recently opened in the space vacated after 20-plus years by Burkhart's. The dinner-only menu reprises the dirt-cheap (but sometimes over-seasoned) steaks that were so popular a few years back and then disappeared. This is one of the city's preeminent drag bars. The shows don't typically begin until late, but don't be surprised if RuPaul's next drag superstar takes a seat beside you.
More By This Writer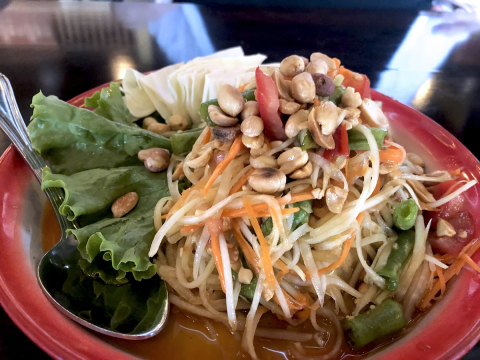 Thursday July 1, 2021 02:12 pm EDT
From Buford Highway to Chattahoochee Avenue — that's a lot of territory, indeed |
more...
Thursday June 3, 2021 09:53 am EDT
Lunch at El Viñedo Local, dinner from Krystal, lecturing cheap tippers, exploring new foodie media |
more...
Monday May 3, 2021 12:42 pm EDT
Grazing surveys some Atlanta hot dogs |
more...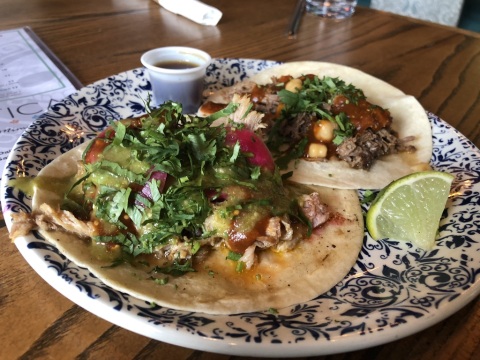 Tuesday April 6, 2021 01:32 pm EDT
The borderless menus of Botica and Mukja |
more...
Thursday March 4, 2021 10:01 am EST
And a cheap fix you can buy right off the shelf |
more...
Search for more by Cliff Bostock
---