HIGH FREQUENCIES: Here, there, and everywhere
Mudcat plows the field of opportunity 
Less than a month after his last show at the Avondale Town Cinema, Danny "Mudcat" Dudek returns to the performance venue just on the other side of the tracks from Decatur, Friday, Aug. 17. The show will find the singer/guitarist onstage with a six-piece band (including sax, trombone and keyboards) recording a live album.
This live recording is not to be confused with Mudcat's 13th studio album — which includes ten originals and one 15th century cover from the British Isles — that he is is currently readying for release.
The band will play some of the "new tunes and revisit a bunch of older tunes and even some 'Saturday Night Specials,' Mudcat says, taking time out from his Fall planting schedule to answer a few questions. "Playing mostly originals," Mudcat assures the set list will include "that part of the Venn diagram where originals and crowd pleasers overlap," offering the best of both worlds. "A fun night out on the weekend is what we hope to capture."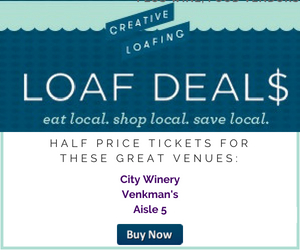 Last month at the Avondale Town Cinema, Mudcat's show was a live presentation of "The Piedmont Report," a podcast he's been producing for a number of years. A blend of informative farm and gardening reports along with a entertaining dose of music, past and present, from the Piedmont Region, what started as a simple audio podcast offering "tips for vegetable gardening and sustainable living" has grown to include video reports, and, with the Avondale gig, a live presentation of "theatre, music, culture, agricultural information and jokes onstage."
"I am really really pleased. It was a dream come true. No longtime dream either!" Mudcat says. "It was completely acoustic. I sure hope to do another one. The crowd was so enthusiastic and respectful that we were running the show through one mic."
While the entire evening's performance was recorded, it's been released as three separate podcasts available on Mudcat's website. Joining Mudcat and wildlife biologist Kathryn Dudeck onstage were a number of Mudcat's friends and fellow musicians (regular's at the Northside Tavern in West Atlanta), including Ross Pead, Stoney Brooks, Bill Sheffield, Nathan Nelson, Skye Paige, Blues Dude, Shelton Powe, Georgia Slim, and Mudcat's Piedmont Playboys (Dan Francis, Joey Hoegger and Jake Holliday) plus the Atlanta Horns (Joseph Burton and Darryl Dunn).
Even with that calibre of musicians onstage, Mudcat believes the key to making it work as an auditory experience is the emcee. To host the evening, he got in touch with David Bartlett, a friend from his Hephzibah High School days in Augusta ("the real Tobacco Road," he muses).
"He has an improv group called Shrodinger's Cat and teaches high school — a genuine Southern character, rated G." When not throwing in a glib plug for Mudcat's Triple XXX Hot Stuff Sauce ("Who needs taste buds?"), Bartlett provides just the right amount of detail and description of the goings-on onstage to keep the podcast listener engaged. The performance was also filmed by a two-camera crew of film students from Charleston, SC. With Mudcat is "standing by for the rest," one already available (other than the usual audience-member-shot- with-a-cell-phone clips), is a 15-minute segment of slide guitarist Sky Paige's set.
In addition to the Friday night at Avondale Town Cinema, Mudcat plays his usual Wednesday night solo gig at the Northside Tavern, and, Thursday night, he's at Blind Willie's with the Atlanta Horns. Three different nights, three different presentations, all pure Mudcat.
Drivin N Cryin's recent two-night stint at Venkman's wasn't without its surprises. In addition to guitarist Peter Stroud taking time off from his Sheryl Crowe duties to sub on guitar with Kevn Kinney, Tim Neilsen, and Dave V Johnson, Tom Gray (Delta Moon, the Brains) joined them onstage for a version of his song, "Money Changes Everything," popularized in the 80s by Cyndi Lauper. Propelled by Stroud's spot-on guitar work, recalling Robert Fripp's inspired solos on David Bowie's "Heroes," Gray played the song on his now familiar dobro, rather than his usual commanding presence at the keyboards, as was his instrument of choice before forming Delta Moon. By the end of the night, Stevie Tombstone, who had opened the Friday night show, also joined DNC onstage.
Kinney, who, in his three decades long career has a history of inviting friends onstage with him, had the favor returned to him last week in Amsterdam. When Patti Smith finished her set at the Paradiso, Kinney was invited onstage, along with King Crimson saxophonist Mel Collins, to play on "People Have the Power." Thanks to DNC archivist/WREK "Personality Crisis" host Jon Kincaid for the head's up — and the link.
Cowboy Mouth is band that can lay claim to a long history with Atlanta audiences. Singer/drummer Fred LeBlanc used to play the 688 Club with regularity in Dash Rip Rock, before leaving that trio and taking a year off to concentrate on his songwriting. Regrouping Cowboy Mouth, an earlier group of his with guitarist John Thomas Griffith (Remember the Red Rockers?), the two have maintained a steady career releasing albums and touring. Having a signature song like "Jenny Says," of course, certainly helps. The LeBlanc and Griffith, along with Matt Jones on guitar and Brian Broussard on bass, play the Buckhead Theatre this Saturday, August 18, to promote their second "best of" collection, The Name Of The Band Is … Volume 2, a hot gumbo of alt-rock rhythms with their rowdy spirit and celebration of life, all integral parts of their live shows.
Celebrating the 50th anniversary of their landmark release, the Gram Parsons-inspired Sweetheart of the Rodeo, Byrds founding members Roger McGuinn and Chris Hillman team up with Marty Stuart and his Fabulous Superlatives to take the celebration on the road. Tickets for the Sunday, Oct. 21, show at the Sandy Springs Performing Arts Center go onsale this Friday, Aug. 17, at 10 A.M.
---