Weekend round up for Jan. 11-13
Rubik's Cubes, drum machines, and Carbonas!
See our new CL radio site for all podcasts
JANUARY 11-13 Welcome to another edition of CL's weekend podcast round up. Music Editor Chad Radford and critics Will Cardwell and Jacob Chisenhall talk about 10 weekend events you don't want to miss. Of course, you can learn more at www.creativeloafing.com and via CL's daily "5 Things To Do" lists. In the meantime, press play to check out a conversation about the evolution of the East Atlanta Village leading up to the Earl's 20th anniversary Friday night kick-off featuring a reunion by quintessential Atlanta punk outfit, Carbonas, and more.
Fri., Jan. 11
— The Earl celebrates its 20th anniversary with performances by Carbonas, Predator, Ryan Dinosaur, and Wash. $20. 9 p.m.
Read Chad Radford's review of Carbonas 2xLP singles and rarities comp., Your Moral Superiors (Goner Records).
— Lo-fi house music producer and Scottsdale, Arizona transplant Harvey Waters celebrates the release of his Simulacra EP (VLSC Records) at The Deep End. Free. 9 p.m.
— Houston, Texas-based synth-punk outfit Mvtant plays 529 with locals Anticipation, CRT, Drool, and Blammo at 529. $5. 9 p.m.
Sat., Jan. 12
— Superbody, TAYLOR ALXNDR, Post-Hunk, Dead Neighbors, and DJ Zaida Sanchez play a benefit show for local musician Yancey Ballard (Man Up, Yancey, Shouldies). All proceeds will help pay for Ballard's top surgery. Donations will be taken at the door. 9 p.m.
— The art of live musical performance and slaying video games take over the Earl when Bit Brigade defeats "Megaman II" and "Castlevania" on stage and in real time. This show marks the last stand for Bit Brigade, as the group is calling it quits after this one final performance Thor Axe opens the show. $15. 9 p.m.
— Drum Machines 101: Atlanta Synth Club at the Bakery: Synthead Aron Artrip offers an introduction to drum machines and beat sequencing. Artip presents the basics of drum machine programming and pattern execution. $5 (suggested donation at the door). 2-4 p.m. at the Bakery.
— Comedians Steve Martin & Martin Short share the Fox Theatre stage with Asheville, NC-based bluegrass outfit Steep Canyon Rangers and pianist Jeff Babko for the "Now You See Them, Soon You Won't" tour. $50-$225. 7 p.m.
— Kadampa Meditation Center Georgia is having an enlightening extravaganza to celebrate the grand opening of their new Inman Park headquarters, a mere stone's throw away from the Atlanta BeltLine. The space occupies a former AAA Motor Service facility and is complete with a meditation room, a specialized children's meditation area, a relaxation lounge, as well as a gift shop and bookstore. The celebration's itinerary offers free meditation workshops, complimentary lunch, music, and door prizes. 10 a.m.-4 p.m. Free.

— Rubik's Rampage! Here's your chance to spend a day with Gold Medalist Speed Cuber and the first woman to solve a "6x6" while blindfolded, Sydney Weaver. Weaver has also claimed 24 medals throughout her celebrated career, seven gold, six silver, and 11 bronze. For this worksop, Weaver will teach you how to solve the classic Rubik's Cube puzzle with speed and finesse. $25 (adv) – $30 (door). 11:30 a.m. Red Light Cafe
Sun., Jan. 13
— Canopy, Crossed, Upchuck, and Apostle fill out the bill for a solid Sunday night show at the Bakery. Crossed comes all the way from NOLA to join some lovely locals for a performance oozing with sludge, doom, hardcore, and punk that is not for the faint of heart. 8:30 p.m. $5.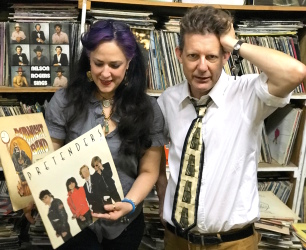 Monday July 15, 2019 04:18 pm EDT
Andy Browne and Lucy Theodora on Joe Strummer, primates, and writing their next album |
more...
Saturday July 13, 2019 09:59 am EDT
The rising country star on technology, the music industry, and his latest single 'Lonesome High' |
more...
Thursday July 11, 2019 09:19 am EDT
DIP at Smith's Olde Bar, Built to Spill at Terminal West, Attack of the Killer Tomatoes Festival, and more |
more...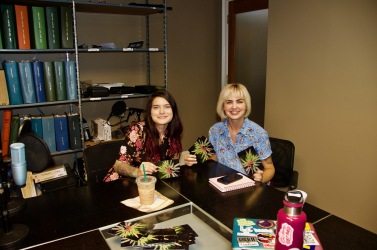 Monday July 8, 2019 02:12 pm EDT
Sophia Sabsowitz is the Curator at Pulp Books in West Midtown. She also spends a portion of each year trimming fresh cannabis crop in the infamous Humboldt County, Calif, familiar by most as the setting for the Netflix docu-series "Murder Mountain."
Sabsowitz's knowledge of cannabis flows directly into her creative life as a painter and current curator at Pulp Books, located in West Midtown,...
|
more...
Monday July 8, 2019 01:41 pm EDT
Some of you may know her for her hit song, "Cannabis Car," which helped expand her awareness of hemp across the nation. Aviva believes we should all be driving cars that run on cannabis and growing home hemp gardens for salads, paper, clothing. It may sound all a bit flower child, but did you know Henry Ford had cars running on hemp before it was outlawed in the US? If you're interested in... |
more...
Wednesday July 3, 2019 03:36 pm EDT
Special Fourth of JUly America bonus pack edition |
more...
Podcast: Visitors Podcasts, Music Podcasts, Homepage, Music
Tuesday July 2, 2019 02:38 pm EDT
'Nature Documentary' LP stamps in time a bygone era for South Broad Street |
more...
Monday July 1, 2019 05:31 pm EDT
A new slice for Summerhill |
more...
Friday June 28, 2019 10:42 am EDT
Drivin N Cryin, Dinner Time, Asteroid Day, and more |
more...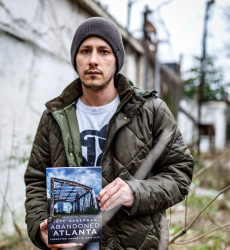 Thursday June 27, 2019 03:00 pm EDT
Photographer Jeff Hagerman talks about his adventures in photographing Atlanta's forgotten infrastructure |
more...