LISTENING POST: SoundNOW freshens spring concert calendar
The 4th annual SoundNOW contemporary music festival showcases Atlanta's fertile chamber music scene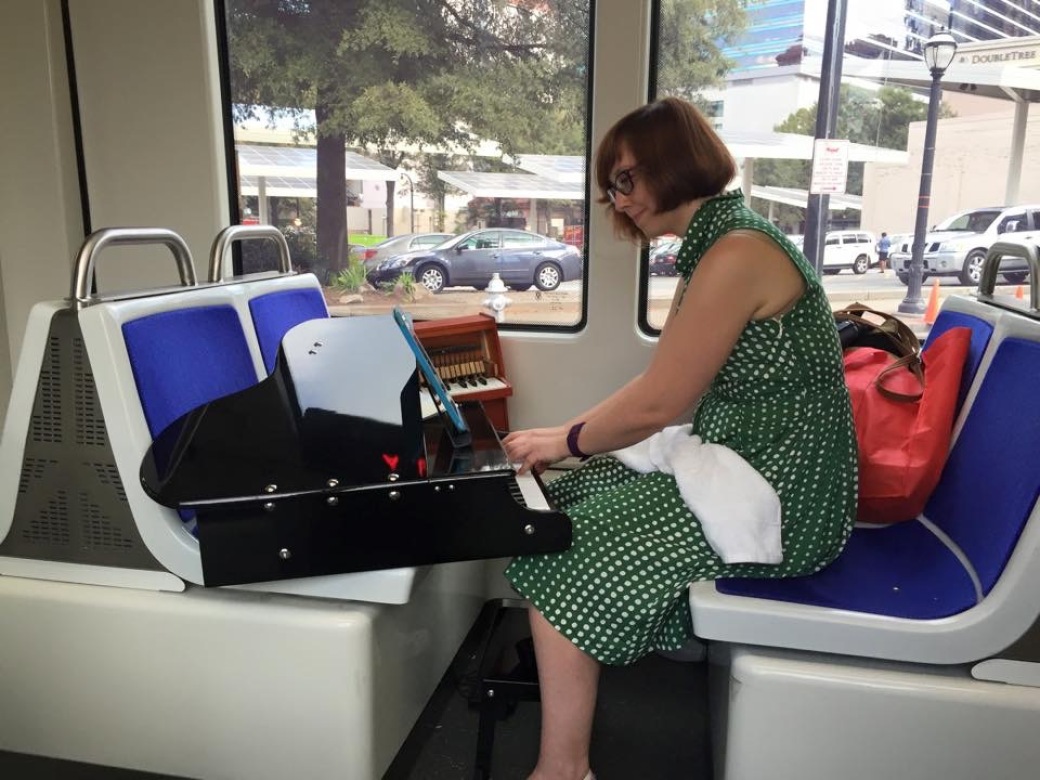 "MUSIC FOR A CAPTIVE AUDIENCE:" Amy O'Dell performs on toy pianos in an Atlanta streetcar during a special concert presented by Bent Frequency in 2015. O'Dell and Bent Frequency are among the many chamber music performers in the 2019 SoundNOW Festival, which runs April 7-13 at multiple venues.
In Atlanta these days, it seems you can hardly swing a stallion-hair cello bow around your head without hitting a chamber ensemble composer or member, or, go more than a few days without encountering a contemporary chamber music concert. The next few weeks are especially filled with examples of this welcome phenomenon, culminating in the 4th annual SoundNOW Festival, which runs April 7 through 13 at a variety of Atlanta venues.
"This music is happening all the time around town," says Nickitas Demos, director of the School of Music at Georgia State University, artistic director of neoPhonia New Music Ensemble, and one of the founding organizers of SoundNOW. "The purpose of the festival is to present a microcosm of the scene within a one-week period."
Over the course of seven days at multiple venues, nine different ensembles will perform recently written pieces and 20th-century repertoire by composers familiar and obscure. The concert programs cover everything from wilderness landscape impressions and prepared toy pianos to interactive computer programs and kitchen spices. The keynote engagement occurs midway through the week when 67-year-old composer, trombonist, and scholar George Lewis arrives for a three-day "residency."
A Chicago native and currently the Edwin H. Case Professor of American Music at Columbia University, Lewis is an academic free radical who roams with equal street cred between the jazz/improv and experimental/classical music scenes. One of his most notable compositions, Voyager, relies on a self-developed software program which creates "a nonhierarchical, interactive musical environment" enabling a dialogue between the improviser and a "virtual improvising orchestra." As a virtuosic trombonist, Lewis has performed or recorded with everyone from Anthony Braxton and Count Basie to Laurie Anderson and the Globe Unity Orchestra.
Lewis' three-day itinerary is sponsored by Bent Frequency, the new music ensemble and programming entity founded by Georgia State University professors Stuart Gerber and Jan Berry Baker. A program at GSU's Florence Kopleff Recital Hall on Wednesday, April 9, features Lewis performing the world premiere of "In Memoriam of Albert Lee Murray," a solo trombone work written especially for him by T.J. Anderson.
On the same bill, Bent Frequency will perform two Lewis compositions, "North Star Boogaloo" and "Anthem." The ensemble will also play compositions by former Atlanta Symphony Composer-in-Residence Alvin Singleton, GSU alumna Collette Coward, UGA assistant professor Emily Koh, Anahita Abbasi, and Eve Beglarian.
"North Star Boogaloo," for percussion and audio, was written by Lewis for Steven Schick, with text by poet Quincy Troupe, when all three were colleagues at the University of California at San Diego. The work features two "rappers": the percussionist, whose part is completely notated, and "Virtual Quincy," a computer program that samples the poet's voice reading the text/poem. Supporting the rappers are hip-hop beats and other sounds keyed to the score, a strategy Lewis refers to as "part of my digital aesthetic of variation and difference."
"Anthem," composed by Lewis in 2009 under commission from Wet Ink, a New York-based collective of composers, performers, and improvisers, was written for an ensemble comprised of flute(s), tenor saxophone, piano/accordion, percussion, voice, violin, and electronics. A roiling, riotous journey, which conjures up swing bands, marching bands, dissonant cacophony, and sonorous elocutions, "Anthem" supports a text derived by following what Lewis calls "concatentative procedures."
During his three-day stand in Atlanta, Lewis will preside over a symposium on improvisation, perform in an open rehearsal with Bent Frequency, and deliver two lectures. One of the lectures is on Lewis's 2008 book about the Chicago-based Association for the Advancement of Creative Musicians, A Power Stronger Than Itself: The AACM and American Experimental Music. The other lecture is focused on his artistic process. All of the events are free and open to the public (see details on the SoundNOW website).
"George is a powerful influence on today's new music scene," says Demos. "He's keenly focused on improvisation and always pushing boundaries, which makes Bent Frequency especially well-suited to presenting and performing his work."
By design, the bulk of SoundNOW showcases homegrown players and a selection of locally composed music. On April 10, Chamber Cartel, led by percussionist Caleb Herron, will be premiering Philippe Hurel's "3 études pour Atlanta" for flute and percussion. The Cartel will also play Augustin Braud's "Dans les pas de la main (hommage à Cy Twombly)," and Drew Baker's "Domination of Black."
"All of the pieces are meditations on sound," says Herron, "but they range in tonal color from light and virtuosic to somewhat darker and aggressive."
This year's festival marks the debut of smol ensemble. Recently formed by Amy O'Dell after working on a commission with Canadian composer and fellow toy piano enthusiast Monica Pearce, the duo will be augmented by percussionists Justin Greene and Paul Stevens for this program on April 13. The ensemble will be premiering works by Pearce and Greene, performing a composition by Eva-Maria Houben, and interpreting "Music for Amplified Toy Pianos" by John Cage.
"I can't think of another instrument that so invitingly inspires exploration," O'Dell says of the toy piano, which is currently enjoying something of a renaissance in 21st-century new music circles. "The combination of its miniature frame, delightful tones, and limited range makes everyone feel welcome to play around with the instrument."
The neoPhonia New Music Ensemble will be premiering SoundNOW organizer Demos' Ithaca. Written for baritone and ensemble, the work is based on a poem published in 1911 by Constantine P. Cavafy. To translate the poem into English Demos relied on Dr. Gregory Jusdanis, director of Modern Greek Studies at Ohio State University.
"I wanted it to be in English," Demos explains, "because I want the audience to understand and follow the story, which boils down to the old adage about the journey being more important than the destination."
Additional concerts feature Terminus Ensemble, led by artistic directors Sarah Hersh and Brent Milam; Cantos y Cuentos string quartet led by Tracy Woodard; Perimeter Flutes, a quartet of female flutists in residence at Georgia Perimeter College; and Moloq, a quartet representing the pop/electronic/experimental edge of the modern chamber envelope.
The 2019 edition of the SoundNOW Festival represents the best possible reason to stop missing out on some of the coolest new music in town.
'The American Music Show'
Atlantans of either a certain socio-cultural inclination, or age, recall with great fondness The American Music Show. During the show's televised broadcast from 1981 to 2005, TAMS presented an almost entirely improvised, hilariously wild-ass and unabashedly gay-weirdo version of the standard issue TV variety show. Co-produced by the late Dick Richards, David Goldman, James Bond, Potsy Duncan, and Bud "Beebo" Lowry, TAMS featured sketches, performances, films and recordings by a kaleidoscopic array of alt-Atlanta scensters including RuPaul, DeAundra Peek, Larry Tee, Duffy Odum, Lady Bunny, Tom Zarrilli, and Jayne County.
On Wednesday, March 20, the Emory University Rose Library celebrates TAMS' crucial importance as an historical marker documenting Atlanta's LGBTQ+ community with screenings of the show drawn from the library's recently acquired collection of more than 700 VHS recordings. Rose Library curator Randy Gue, along with original cast members, will be on hand for the sold-out event to discuss the creation of TAMS and to dispel or augment salacious rumors, which have lingered since the show's demise.
In honor of women
On Sunday, March 24, a group of female musicians from the Atlanta Symphony Orchestra — Emily Brebach (English horn), Marci Gurnow (clarinet), Julianne Lee (violin), Jessica Oudin (viola), Elisabeth Remy Johnson (harp), and Christina Smith (flute) — will perform a program of chamber music at the Oglethorpe University Museum of Art. "Listen: Works by Women" features compositions by Clara Schumann, the renowned composer and recitalist whose 200th birthday is marked in September; and Mary Kouyoumdjian, a young Armenian-American composer living in Brooklyn whose wondrously imaginative music frequently addresses the legacy carried by her ethnic origins. "Listen: Works by Women" is free and open to the public in honor of Women's History Month and International Women's Day.
Sonic Generator Redux
In 2014, Tom Sherwood, then principal percussionist with the Atlanta Symphony Orchestra, announced that he was joining the Cleveland Symphony Orchestra. With Sherwood's departure, together with his wife, Jessica, an accomplished flutist and educator in her own right, Atlanta appeared to have lost Sonic Generator, one of the city's most adventurous new music ensembles.
Founded by Sherwood in 2005 as an ensemble-in-residence at Georgia Tech, during its heyday Sonic Generator established a reputation for exceptional concert performances and ambitious programming. In 2011, SONICpalooza, a 10-hour marathon of contemporary acoustic and electronic music performed in the lobby of the Woodruff Arts Center, ended with a mesmerizing, midnight-hour rendition by Sonic Generator of Steve Reich's Music for 18 Musicians. A few months later, the ensemble collaborated with gloATL and ASO music director Robert Spano to stage Maa (1991), Finnish composer Kaija Saariaho's highly adventurous, immersive, multimedia ballet. In 2012, an expanded version of Sonic Generator performed a new score composed by Argentinean Martin Matalon for Fritz Lang's 1927 silent sci-fi film, Metropolis,, which was screened under the stars on an outside wall of the High Museum.
On April 3, Sonic Generator (sans the Sherwoods) makes its long-awaited return in a collaborative program with Café Momus, a student-led Georgia Tech ensemble which focuses on combining contemporary music and theater. Previous Café Momus projects include Igor Stravinsky's L'Histoire du Soldat and William Walton's Façade, An Entertainment. For this performance Café Momus will be joined by members of the original Sonic Generator troupe in a performance of Arnold Schoenberg's Opus 21. One of modern chamber music's landmark works, the full title of this atonal composition, which premiered in Berlin in 1912, is Three Times Seven Poems from Albert Giraud's "Pierrot Lunaire." Most classical music enthusiasts know it as "Pierrot Lunaire" or simply "Pierrot," a reference to the cycle of poems by Belgian poet Albert Giraud, upon which the work is based.
"We've been looking for ways in which Sonic Generator can continue in some shape or form," says Chaowen Ting, director of Orchestral Studies at Georgia Tech. "'Pierrot' was one that everyone was most interested in doing."
Also on the program: Violinist Grant Gilman conducts Café Momus in Erich Korngold's String Sextet, Op. 10 (1915), while Ted Gurch, associate principal clarinetist with the ASO and Sonic Generator alumnus, leads the student ensemble in a rendition of "Autumn Music" (1995) by Jennifer Higdon. The show takes place at Georgia Tech's West Village Dining Center.
---