LISTENING POST: Javanese shadow puppetry brings the Mahābhārata to 'life'
Emory Gamelan Ensemble hosts Javanese masters for 'Celebration of Arjuna'
CELEBRATION OF ARJUNA: Two Javanese masters of shadow puppetry and gamelan drumming, Sumarsam and Darsono Hadiraharjo, will perform with the Emory Gamelan Ensemble (seen here in a 2018 performance) Saturday, April 6, at the Emory University Performing Arts Studio.
What better way to usher in spring than by taking in an enchanting, millennia-old form of Javanese puppetry accompanied by the mellifluous overtones and tranquil thronging of an Indonesian gamelan? The opportunity comes on Saturday, April 6, when the Emory Gamelan Ensemble performs "Celebration of Arjuna," a mythical tale derived from the Sanskrit epic Mahābhārata about a heroic warrior, master archer, and companion of the Hindu god Krishna.
Joining the Emory Gamelan Ensemble in this family-friendly wayang kulit (shadow puppetry) program are two world-renowned specialists. On loan from Wesleyan University is artist-in-residence Professor Sumarsam, a dalang (puppet master), master drummer, and the author of Gamelan: Cultural Interaction and Musical Development in Central Java and Javanese Gamelan and the West. Darsono Hadiraharjo, a visiting fellow from Cornell University, is a master drummer and dalang who accompanies dancers at the royal court of Mangkunegaran in Surakarta, near the Javanese village where he was born.
"In our 21-year history, this is the first time the Emory gamelan has had the luxury of hosting an Indonesian master to teach us for an extended period," says Sarah Muwahidah, director of the Emory Gamelan Ensemble.
Muwahidah is referring to a specially funded program, which brought Hadiraharjo to the Emory campus for a series of weeks-long educational sessions during the past year. For "Celebration of Arjuna," Hadiraharjo is serving as the ensemble's music director while Sumarsam, who has previously worked with the Emory troupe, supervises the puppetry side of things. Sumarsan will also deliver a lecture-demonstration about wayang kulit, with live accompaniment by Hadiraharjo on Thursday, April 4, at 5:30 p.m. at Cannon Chapel.
"Because our last few wayang kulit shows have told stories from the Ramayana, we are very excited about this program, which enacts a story from the Mahābhārata," says Neil Fried, acting music director of the Emory Gamelan Ensemble. "We want to see how the textual change affects the rasa, or artistic feeling, of the performance."
At 100,000 verses, the Mahābhārata, which dates from the 4th century BCE, contains what is perhaps the best known of all the revered Hindu texts, the Bhagavad Gita. Scholars do not take the term for these texts, itihasa, which roughly translates as "oral history," too literally, since they chronicle myths and legends every bit as phantasmagorical as the stories found in Greek fables and contemporary superhero comics.
The protagonist of "Celebration of Arjuna" is an immaculately conceived warrior-prince who becomes the confidant of Lord Krishna, generally considered the greatest figure in Hindu mythology. In this particular adventure, Arjuna sets off on a self-imposed pilgrimage to a mountain retreat, and along the way, falls in love with a beautiful maiden, Subhadra, who is coveted by a demon king. The inevitable struggle between good and evil is resolved within a narrative that encompasses dancing, singing, a wedding, and mortal combat.
In wayang kulit performances, the narrator is accorded plenty of leeway to embellish the story with humorous expressions, local references, and other elements aimed at entertaining the audience. In past productions with the Emory Gamelan Ensemble, Sumarsan and Hadiraharjo have demonstrated why their mastery of this particular aspect of the craft is so highly regarded.
"Performing for puppets is an amazing experience," says Fried. "Mimesis is a powerful concept, especially in the context of accompanying a wayang kulit production. A challenge for the ensemble is to not be hypnotized during the performance!"
As sure as spring has sprung, Saturday's performance at the Emory University Performing Arts Studio promises a similarly immersive and engaging experience to everyone in attendance.
Nels Cline, Gerald Cleaver, and Larry Ochs Trio at the Bakery
Like malodorous cheese, postmodernist literature, and professional wrestling, free jazz and avant-garde music aren't everyone's cup of entertainment. In each case, a certain amount of initial willpower and sustained exposure is required to discover the rewards within.
With that in mind, consider the Nels Cline/Gerald Cleaver/Larry Ochs Trio, which makes its Atlanta debut at The Bakery Sunday, April 14. Brashly unpredictable, loudly unnerving, and sweetly seductive, often within the same song, the trio is one of the most palatable groupings of free improv musicians currently touring.
Cline is best known as the lead guitarist in Wilco, a position he has held since 2004. While his indie-rock cred is thereby assured, Cline's professional resume covers an astonishing array of projects including a duo with the transcendently talented guitarist Julian Lage; as well as a quartet, The Nels Cline Four, with Lage, bassist Scott Colley and drummer Tom Rainey. Additionally, Cline has more than 200 album appearances to his credit, at least 30 of those as leader of the pack.
Cleaver (drums) brings to the triumvirate a solid grounding in the Detroit jazz scene, a distinguished career as an educator, and an impeccable record as accompanist to jazz luminaries such as Roscoe Mitchell, Matt Shipp, Charles Lloyd, and Miroslav Vitous. Ochs (saxophones) bears the legacy of the Rova Saxophone Quartet, the widely celebrated all-reed improv band he co-founded in San Francisco some five decades ago, which has performed in Atlanta a number of times. Ochs and Cline have been collaborating since the late 1990s and performing as a duo since 2013.
Sharing the bill with the Nels Cline/Gerald Cleaver/Larry Ochs Trio is Outside Voice, a quartet of outstanding local jazz improvisers featuring Kenito Murray (percussion), Quinn Masonry (saxophones/electronics), Mamaniji Azanyah (upright bass), and Rafael Villanueva (guitar).
Admittedly, the Nels Cline/Gerald Cleaver/Larry Ochs concert is not for everyone. It represents an opportunity for the musically adventurous and the merely curious to try something completely different. Who knows? You might like what you hear. The rest of us can hardly wait for the stinky madness to hit the mat.
Klimchak, Avneesh Sarwate (AV Performance), Infinite Third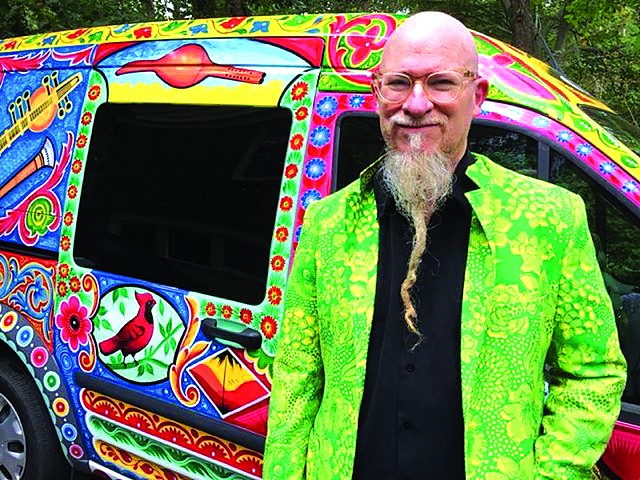 The Bakery continues its envelope-pushing roll with an evening of "Experimental, Electroacoustic, and Audiovisual Art" on Wednesday, April 24, featuring Klimchak, Avneesh Sarwate and Infinite Third. With improvisation the middle name of the game for all three musicians, suffice it to say some of the material on tap for the "EEAV" gig has yet to be conceived.
"I really won't finalize my pieces until I get back from Big Ears next week," says Klimchak, a familiar figure on the Atlanta improv scene. Referring to the three-day experimental music festival in Knoxville, he continues, "Seeing all that amazing music might blow my mind to the point where I'll end up going in a completely different direction. At the very least, the experience will influence the work I'm already planning on doing."
Planned for the Bakery gig are three pieces based on structured improvisation. One is a solo work for "Kanjira" (a small drum covered in lizard skin and played with one hand, while the other hand presses the head to change the pitch), augmented by vocal percussion. Another piece features the "Jaltarang," a homebuilt melodic instrument made with tuned rice bowls, accompanied by throat-singing. The third piece was envisaged for solo theremin.
Klimchak recently returned from a three-week residency at Safety Harbor Arts and Music Center in Florida, energized as much by the mode of transportation as the learning experience. The trip was the first undertaken by the musician in his Ford Transit van, which was painted in spectacularly psychedelic fashion by famed Pakistani truck artist Haider Ali.
"I've always taken musical inspiration from visual art," Klimchak says, "and the paint job on the Transit has been a constant source of new ideas.".
On the trip, Klimchak composed a new work called "Bowled Over," which uses pairs of steel bowls connected with a piece of tubing. Raising and lowering the bowls, which are filled with water, changes the pitch of the sound produced when they are struck.
"The trick is that, because the bowls are connected, one bowl goes up in pitch, while the other bowl goes down in pitch," explains Klimchak. "Writing for the instrument involves figuring out the relationship between two sets of pitches."
While in Florida, Klimchak performed an in-process version of "Bowled Over" at Safety Harbor Arts and Music Center with input from master drummer Sean Hamilton. He hopes to finish the piece for an Atlanta premiere later this year.
As for other musicians on the "EEAV" bill, I haven't yet caught Avneesh Sarwate in concert, but the work posted on his website is intriguing enough. A fairly recent house concert by Billy Mays III (Infinite Third) has me very much looking forward to his return to Atlanta.
---