Record Store Day field guide 2019
From Riverdale to the Battery, Atlanta celebrates brick and mortar shops with live music, limited releases, and more
The city of Atlanta is blessed with an abundance of record stores. From Riverdale to the Battery one would be hard-pressed to travel more than a few miles without passing a shop or two along the way. In 2008, Record Store Day was launched to drive traffic into record stores, which, at the time, were an endangered species. Times have changed a bit over the last decade. In 2019, vinyl reigns supreme among music heads. The mom-and-pop shops that this annual holiday was invented to save are now struggling to make room for the deluge of limited edition RSD releases set to arrive on Saturday April 13. The following list is a Field Guide of CL-approved best bets for your Record Store Day shopping experience. Times and performers are being added every day, so be sure to check online for the most up-to-date information.
Al Bum's Record Shoppe If you're in the Acworth area, stop by Al Bum's Record Shoppe. They've ordered all the goods, and will have a healthy stock of what's coming out this year. But, as it is every Record Store Day, there's an element of chance and luck at work here. The shop opens at 8 a.m., and the line forms early. There will be complimentary coffee and danishes for everyone in line. 5338, 4805 S Main St, Acworth. 678-398-9352. www.facebook.com/AlBumsRecordShoppe. 
Comeback Vinyl, in downtown Alpharetta, may be a ways outside Atlanta, but this up-and-coming shop is an absolute OTP gem. Since moving in November 2017 into its current 2,000-square-foot space, the five-year-old shop has filled its bins with an abundance of LPs rather than CDs, cassettes, or even 7-inch records. Alex and Karen Vernon, the mother-and-son duo who co-founded and co-own Comeback Vinyl, plan to open the shop at 9 a.m. to handle the heightened demand and merriment. For Record Store Day 2019, Comeback Vinyl expects to be stocking the second or third most RSD-exclusive titles. It's also coordinating special giveaways with Dogfish Head Brewing Company and Audioengine Speakers. And as of press time, a few other festivities had yet to be finalized. 1 South Main St., Alpharetta. 678-580-0583. www.comebackvinyl.com. — Bobby Power

Criminal Records is Atlanta's ground zero for Record Store Day. Owner Eric Levine is part of the team that launched the annual holiday for vinyl lovers back in 2008. Since then, the Little 5 Points shop has hosted a day-long block party filled with celebrity signings, in-store performances, and the largest selection of RSD exclusives to be found anywhere inside the perimeter. This year, the store opens at 9 a.m. All used CDs and LPs in the store are 25 percent off until noon. There will be one line for Record Store Day shoppers and no line for the folks who just want browse the record store racks like any other day of the year — business as usual.
In-store appearances
— 1-3 p.m. DJ Swivel.
— 3 p.m. Intimate acoustic performance and signing with Timothy Showalter of Strand Of Oaks.
— 4 p.m. Acoustic performance by Nathan Hardy of Microwave.
— 5-7 p.m. DJ Saasha Foo
— 7 p.m. The Legendary DJ Jelly
Outside in Findley Plaza
— Positive Impact Health Centers
— 9 a.m.-3 p.m. Deep Cut
— 11:30 a.m.-5 p.m The Masquerade
— 11:30 a.m.-5 p.m. Girls Rock Camp
— Noon-2 p.m. King Of Pops
— Noon-5 p.m. New Georgia Project
1154 Euclid Ave. N.E. 404-215-9511. www.criminalatl.com. — Chad Radford
DBS Sounds lies just south of the Perimeter in Riverdale, and is well known as the record store authority in Clayton County. Founded in 1994 by owner Tobago Benito, DBS's thorough selection of R&B, reggae, electronic, and hip-hop LPs and CDs persists as the store celebrates 25 years in the business. Revered as more than a music shop, DBS has a hands-on approach with its community, hosting meet-and-greets, backyard BBQs, and signings, as well as promoting exclusive releases from local artists. Record Store Day hours will be 12 p.m. to 7 p.m. featuring a Caribbean cookout in tandem, exclusive Record Store Day vinyls on sale, and confirmed acts such as William Murphy, DJ Jelly, MC Assault, and the entire Oomp Camp. Doubling as R&B crooner Sammy's album release celebration, DBS is sure to be one of the most noteworthy Record Store Day stops this year. 6610 GA-85, Riverdale. 770-997-5776. www.dbssounds.com. — Joshua Robinson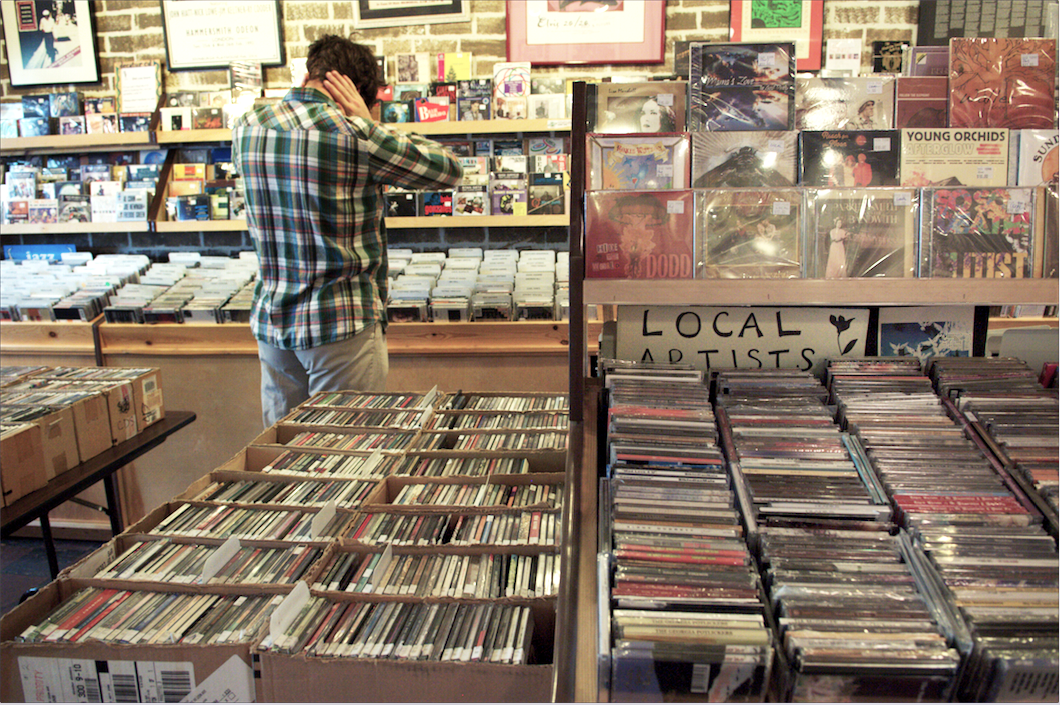 Decatur CD & Vinyl is a cozy haven for music lovers nestled in the heart of downtown Decatur. The store hosts an impressive selection of new and used CDs, LPs, and cassettes at a fair price, and their used rock 'n' roll and jazz offerings are especially worth perusing. The music playing throughout the store is always bumping, curated by the staff to enhance your browsing experience. The snug spot is so packed to the brim with their current inventory that the store's two person crew, one of whom is owner Warren Hudson, is having a tough time making room for all the new releases. Though the store opens at 10 a.m. on Record Store day, the staff plans to arrive by 9:30 to facilitate the increased traffic and frenzied fanatics. 356 W. Ponce de Leon Ave., Decatur. 404-371-9090. www.ebay.com/str/decaturcd. — Will Cardwell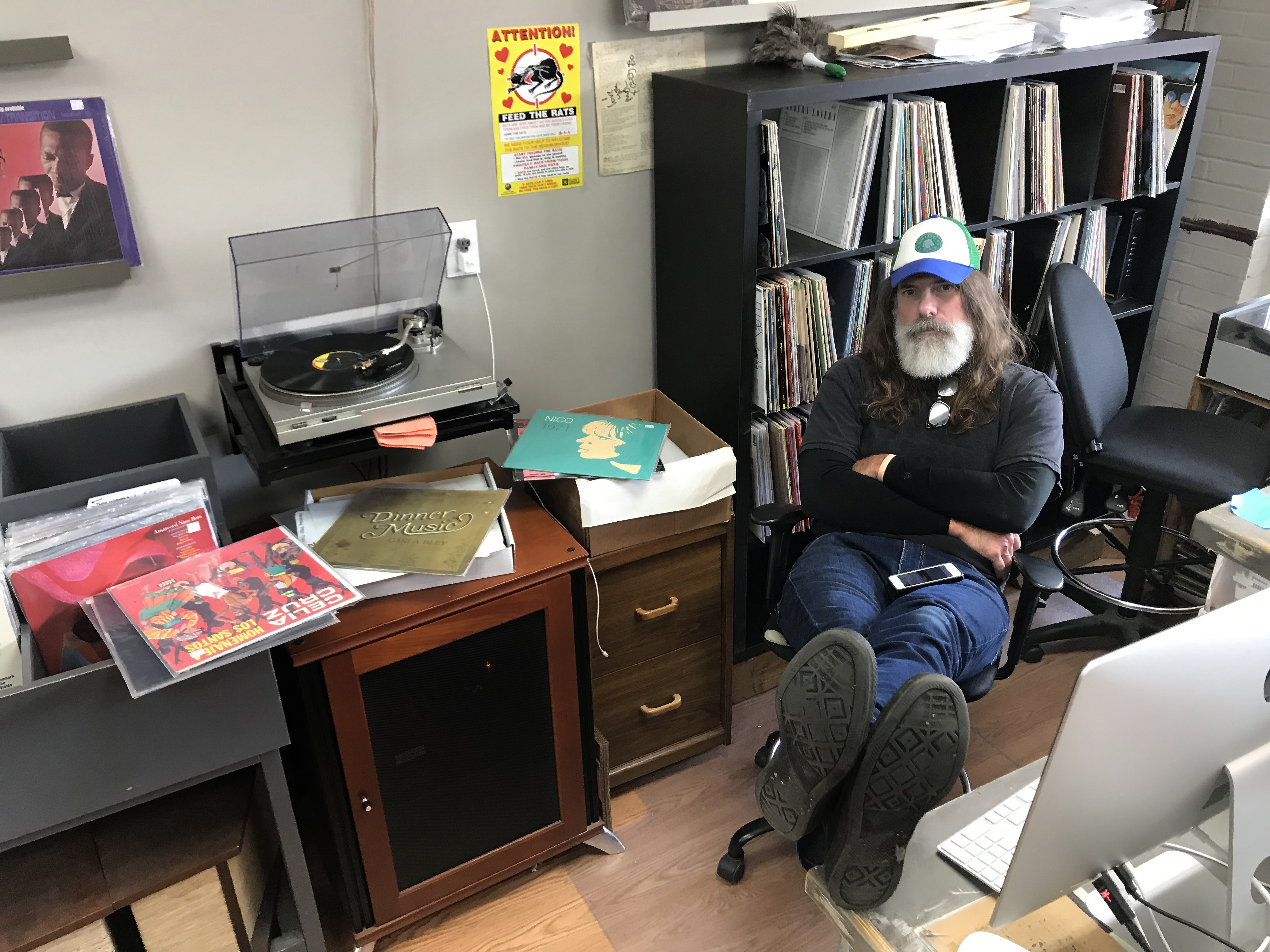 Ella Guru Record Shop Ask anyone who's made the drive into the wilds of Decatur's Leafmore/Oak Grove/Sagamore Hills neighborhood to check out Ella Guru, and the response is akin to a wild-eyed Dennis Hopper circa Apocalypse Now. Tales of mind-blowing records lining the store's bins and walls are true. It's all used vinyl, and owner Don Radcliffe and the tight crew he keeps know the value of a well-curated selection. Be it classic or obscure rock nuggets, country gold, hip-hop 12-inches, serious avant-garde scores, or deep cuts from Marion Brown, John Coltrane, or Sun Ra's catalogs, the dedication to quality over quantity is Ella Guru's strong suit. The store's carries used vinyl exclusively. As such, there will be no new Record Store Day releases to be found here. But, to celebrate this special day of consumerism, the store is hosting a sidewalk tent sale Fri., April 12 through Sun., April 14 — the whole weekend! Many records will be priced $1-$3, and inside, the choice products are knocked down by 10 percent throughout the weekend. 2747 Lavista Rd, Decatur. 404-883-2413. www.facebook.com/EllaGuruRecordStore.
Fantasyland Records has been a Buckhead staple since owner Andy Folio opened the shop in 1976. Fantasyland boasts the "finest selection of used records" in Atlanta, which is a hard claim to dispute. The shop's interior is maze-like, with narrow walkways through multiple rooms of new and used LPs, 45s, CDs, tapes, DVDs, and even collectable items and music magazines. Fantasyland's eagerness to buy and trade used records contributes to the store's constantly rotating catalogue as well as its collection of rare bootlegs. The store offers a vast array of well-stocked sections, ranging from fundamental genres such as rock 'n' roll, jazz, and classical to easy listening, film soundtracks, and "strange and bizarre." The store is set to open at 10 a.m. on Record Store day, and will carry all of the offered limited-release titles. 360 Pharr Road N.E. 404-237-3193. www.fantasylandrecords.com. — WC
Mojo Vinyl is cozily tucked in amid the quiet but bustling Historic Roswell. Rand Cabus, Mojo Vinyl's founder and owner, envisions his 400-square-foot shop as a haven for record store enthusiasts, providing a casual spot for buyers and browsers to peruse both original and reissued classics from the golden age of vinyl. That communal, no-frills sentiment is perhaps best highlighted in its motto — "Listen Naked" — which speaks not only to the shop's open ambiance but also to the experience of listening to vinyl itself. This year, the shop opens at 10 a.m., although owner Rand Cabus expects a line of eager shoppers to begin around 5 a.m. At noon, Mojopalooza begins with a live set by Project-Detour, followed by live sets by Nate Nelson, the Entertainment Crackers, and The Seven Sons on the shop's new outdoor stage along with a food truck.26 Webb St. Ste. 2, Roswell. 678-543-5042. www.mojovinylrecords.com. — BP

Moods Music has a vibe that can turn a quick visit into a lengthy stopover. Opening the door is like entering a new dimension; the eclectic happenings of Little 5 melt away, leaving a dimly-it space with an inviting aroma in the air. A cross between a record store and a lounge, Moods Music's soulful aesthetic is a joy to experience. Approaching its 20th anniversary, Moods is a low-profile embodiment of valuing quality over quantity. The shop, known for its niche in R&B, house, world, and hip-hop offerings, features a respectable LP selection, a hefty offering of CDs, and a black cinema catalogue superior to most online retailers. For Record Store Day enthusiasts interested in securing the limited exclusive 21st-anniversary release of Goodie Mob's Still Standing or the reissue of the original Craig Mack and Notorious B.I.G. sampler, Moods Music is an essential stop. The shop will also celebrate its roots in R&B, house, and hip-hop with to-be-confirmed DJs, local acts, and extended store hours. 1131 Euclid Ave. N.E. 404-653-0724. www.moodsmusic.net. — JR
Sunbrimmer Records opened its doors in Avondale Estates in the spring of 2014. Store owner Mike Tyson specializes in an array of new and used vinyl deep cuts. The shop is clean and meticulously organized, as every square inch of retail space boasts rows of soundtracks, cosmic jazz, psychedelic country, funk, disco, blues, power pop, and classic rock LPs and singles. It's a well-curated selection. Prices are high, but so is the quality of the product. This year, the Andy Browne Troupe celebrates the arrival of its latest CD, Elephants, with a low-key, mostly acoustic performance filled out by electric bass and congas. The Art Linton Project also performs. Keep an eye out for sales throughout the day, but no new RSD titles will be carried this year. The shop opens at noon, music starts at 6 p.m. 4 N. Clarendon, Avondale Estates. 404-343-3892. www.sunbrimmer.com. — CR

Waterloo Sunset Records made a move to the Battery at SunTrust Park about a year ago. After settling into its new digs next to the Baseballism clothing store, the shop has reaped the rewards of baseball-season foot traffic and of its location in Smyrna which, historically, has been overlooked in terms of record-shopping destinations. Waterloo Sunset is run by and for vinyl collectors, and stocks a healthy amount of European post-punk gems. There's plenty of red-blooded rock 'n' roll, too. After all, the store is named after a Kinks song. This year, the shop opens at 9 a.m. for Record Store Day, and will carry as many exclusive titles as they can fit through the door. DJ Mahogany from Athens will be spinning records, and there will be live performances by Curtis Davis and friends. 900 Battery Ave. Ste. 1010. 770-989-1967. www.waterloosunsetsmyrna.com. — CR
Wax 'N' Facts is a longstanding Little 5 Points institution, the place to go if you want to be where the locals hang out. Since 1976, the shop's co-owners Danny Beard and Harry DeMille have kept the city's coolest shopping neighborhood well-stocked with new and used soul, funk, hip-hop, R&B, punk, country, folk, and rock 'n' roll LPs. Keep an eye out for used CD scores as well as VHS tapes, DVDs, books, and more. Come Record Store Day, they always pull out a few surprises. Each year, the store crams as many RSD titles onto the counter as they can find room for, all while hosting an honest-to-goodness celebration of Wax 'n' Facts' neighborhood legacy, meeting newcomers and cracking jokes with the regular vinyl heads who dig through the rows of dusty crates the other 364 days of the year. The store opens early, at 10 a.m., and this year, DJs Zano Bathroom, Amiel Tamlin, and more will set up behind the turntable and keep the line of customers moving right along. 432 Moreland Ave. N.E. 404-525-2275. www.waxnfacts.com. — CR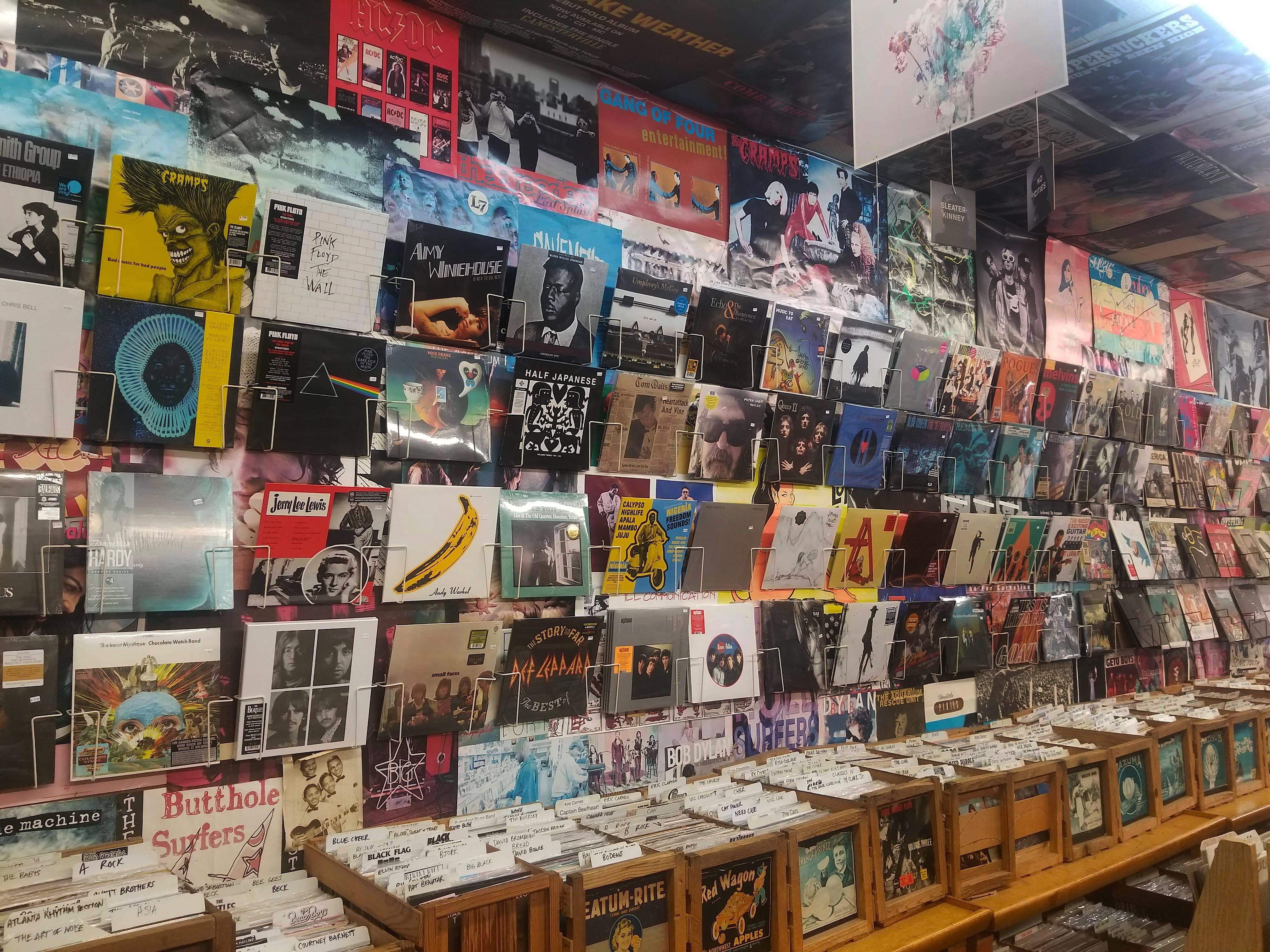 Wuxtry Records has been raising the bar high for the city's vinyl shopping odyssey since 1978. Co-founder Mark Thrasher keeps the Atlanta location stacked to the ceiling with one of the strongest selections around of classic alternative rock, post-punk, country, classical music, new wave, and jazz deep cuts. Fellow co-owner Dan Wall runs the Athens location. The bins are filled with new and used CDs, LPs, and boxes upon boxes of 45s that have been known to yield serious scores for those who dig. The guys behind the counter offer a wealth of knowledge when it comes to Georgia music history, and if it's record store banter you want, these guys can spar for days. For Record Store Day 2019, they'll have a full complement of RSD titles, and will open at 10 a.m. — one hour early to get that line of vinyl-lovers moving. 2096 N. Decatur Road, Decatur. 404-329-0020. www.wuxtryrecords.com. — CR
---