SCENES AND MOTIONS: 'fence' allows painful memories to escape
The give and take of power
This month, from October 3–6, Atlanta-based choreographer George Staib and dance company Staibdance present the world premiere of fence, their most political and socially driven work to date. Staib, working with 13 of our city's boldest contemporary dancers and a visionary international design team, is expanding on the visceral emotions and cultural tensions that fueled his critically acclaimed dance work moat when it premiered at Emory's Schwartz Center three summers ago.
Like moat, fence is also inspired by the choreographer's painful memories of growing up in pre-revolutionary Iran and Reagan-era rural Pennsylvania. Staib's latest work invites the audience on a personal journey exploring power and powerlessness, the experience of being the outsider, and how the idea of "otherness" can rob us of our power or, ultimately, become the source of our power in this life.
As a young child in Iran in the early 1970s, Staib attended the Tehran American School on the outskirts of the nation's ancient capital. His classmates were mostly from the U.S. and Europe. As the only student who had been born and raised in Iran, he was painfully self-conscious of his outsider status at school. Staib felt real fear when two American students were lured to a remote part of the campus by two Iranian men who suddenly stabbed the boys through a fence that separated the school from a mostly deserted landscape.
Two years later, in 1977, Staib's family fled Iran and immigrated to rural Pennsylvania. George grew up in America during the Iranian Revolution and in the shadow of the hostage crisis at the U.S. Embassy that ultimately led to President Jimmy Carter's political defeat and helped elect Ronald Reagan. In the wake of those global events, and inside yet another fence that surrounded his American high school, Staib felt like even more of an outcast than he had back in Tehran. Other students often hurled rocks at him and his sister and shouted racist, anti-Iranian insults.
Four decades after the emotional and political turmoil of his childhood, Staib now serves on the dance faculty of Emory University. He founded his Atlanta-based dance company in 2012. As a working artist and as an American citizen during these Trumpian dark times, Staib sees the South as a region with many of the same power dynamics (race, religion, gender, class) that he faced in his native Iran and in rural Pennsylvania in the early 1980s.
"In fence," Staib explains, "the dancers delineate and rearrange space; they destroy it, and then move on, as a parallel symbol of the desire to alter the self and to deny any sense of otherness. They examine the tension that exists between what is and what may be; the tension between the moment of betrayal and the moment power is taken away from any individual; and ultimately, the provocative precipice of reclaiming our ground."
Perhaps more than in any previous work premiered by Staibdance (wishdust, moat, attic, snap, versus, and nameday), Staib's intensely physical vocabulary in fence bonds with traditional Iranian dance. Iranian dance movement is rarely, if ever, performed with, or in front of, members of the opposite sex. fence blends these traditional gender-specific movements with original dance vocabulary created collaboratively by Staib, co-choreographer/managing director Sarah Hillmer, and the dancers themselves, whose contrasting movements explore feelings of unrest on both a personal and a global level.
Over the past seven seasons, Staibdance premieres have been performed by a who's who of Atlanta dance talent. The latest all-star team includes Anna Bracewell, Nicole Johnson, Jimmy Joyner, Britanie Leland, Chrystola Luu, Gianna Mercandetti, Laura Morton, Amelia Reiser, Virginia Spinks, and apprentice dancers Patsy Collins, Bailey Harbaugh, Catherine Messina, and Benjamin Stevenson.
Beginning with their premiere of attic at Emory in 2015, Staibdance has also given special attention to creating compelling physical and sensory environments as part of each complete dance work. Using funds from a major National Dance Project (NDP) Production Award grant from the New England Foundation for the Arts (NEFA), Staib has gathered a tantalizingly impressive creative design team to carry out his vision.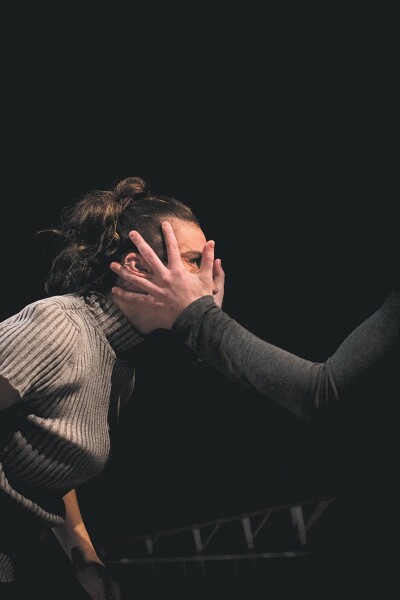 Jessica Anderson and Sebastian Monroy, the genius duo behind Into Outof Studio, are weaving a sensory-based digital experience within the work. Anderson, the creative technologist behind the Design & Innovation Lab at Spelman College, serves as creative/technical advisor. Designer Gregory Catellier creates distinct spaces and moods with light, scenic designer Sara Ward Culpepper sculpted the titular fence inhabiting the space, and former Atlanta Ballet costume designer Tamara Cobus chose the physical textures and patterns the dancers move within.
Enveloping it all is original music rooted in Middle Eastern scales, harmonics, rhythms, and Iranian vocals. Electronic musician and composer Ben Coleman (formerly of Judi Chicago and Noot d' Noot) blurs the elements in real time, creating a cross-pollination of sounds, texts, and otherworldly ambiance. All this talent was paid for by the NDP Production Award — Staibdance was one of only two grant recipients from the Southeast and the first Georgia-based arts organization to ever receive the highly competitive award, so kudos to them for that.
Ultimately, George Staib and everyone at Staibdance wants this dance work to be part of a dialogue on power. As they enter the venue, the audience is surrounded by a world of projected images of people's personal journeys, via posts from the company's hashtag campaign that asks, "What takes your power?" (#staibdancefence #givespower #takeyourpower) As audiences exit the performance space, they leave through an entirely different world of projected images, centered on the ways the global hashtag community reclaims their power. -CL-
---