GRAZING: Five restaurants to please, repulse, and bore you
First visit, first impressions
I've been everywhere in the last month, so what follows is a random sampling of my peripatetic palate. These are descriptions of first visits, but there are nonetheless clear winners, losers, and mystifyingly boring oddities.
MTH Pizza: I've been eating with the same bunch of friends every Friday night for years. One of them lives in Kennesaw and is constantly pulling us northward to exotic locales like Smyrna. Recently, we visited this newish pizzeria from the super-talented Muss & Turner deli guys. The restaurant is decorated with graffiti art, including a warning that pineapple is not permitted in the kitchen. I'm down with that! The first "Hawaiian" pizza I ate was in Germany 25 years ago and I've mainly avoided the monstrosity ever since.
The pizzas here are a bit difficult to classify. They are not squishy-thin Neapolitan pies. Nor are they as thick as New York pies. So they have heft, but not so much that you can't fold the slices. All pies are 16 inches and will feed four people, especially with starters. We ordered two of the eight house-composed pies, including a margherita and one called "the hell boy." The latter featured the usual mozzarella, provolone, and tomato sauce, plus some hot chilies, pepperoni, and nduja, which is a spicy pork pate that originated in the Calabria region of Italy before becoming an obsession with many American foodies a few years back. I much preferred this spicy pizza to the margherita, which, in its simplicity, is regarded as the test of a pizzaiolo. Unfortunately, MTH's tomato sauce completely overwhelmed the basil and the rather stingy portion of fresh mozzarella. I'd definitely order something different. You can construct your own pie, if none of the six other house-composed pies attracts you.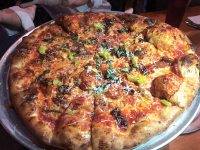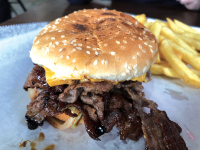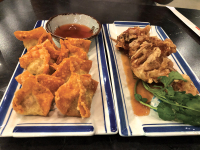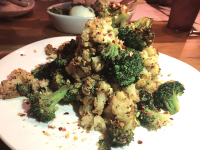 We also tried two starters. First was the well-executed if rather retro roasted cauliflower and broccoli with chili flakes, bread crumbs, and sultana grapes. I insisted we also order the burrata di bufala, a usually decadent orb of mozzarella that is supposed to be firm on the outside and lusciously creamy inside. I'm sorry to say that the burrata here came to our table ice-cold – it should be room temperature – and the interior was barely spreadable on the accompanying flat bread. I won't completely condemn it because it came with a fig spread and figs make everything better. During our meal, by the way, a toddler began screaming with a marinara-curdling intensity that reminded me I am human and that this is a family restaurant, not a fussy pizzeria. It's quite enjoyable. (1675 Cumberland Parkway, Smyrna, 678-424-1333, mthpizza.com.)
Street Bistro: This weird venture replaces Hong Kong Harbour, the 40-year-old restaurant that introduced many Midtown diners to authentic Cantonese cooking. For years, it was the place many local chefs went for late-night dining. Now, it looks like a nearly empty, gigantic hangar with a concrete floor and a comparatively tiny bar for ordering inexpensive chicken wings, burgers, sandwiches, fried seafood, and rice dishes. Some dishes have an Asian accent, like my Korean "burger" made with shaved slices of bulgogi. My friend ordered a straightforward plant-based burger. Honestly, both tasted okay, as did our sides of fries, but the restaurant needs focus, a coherent menu, and some kind of décor. Until then, you could smoke a ton of weed and go there around 11 p.m. to make selfies of yourself as a refugee inside a post-apocalyptic waystation on your way to a New World. (2184 Cheshire Bridge Rd., 404-325-7630, atlstreetbistro.com.)
Wonderkid: Speaking of post-apocalyptic refugees, this new diner in Reynoldstown could be an entry to a paradoxically retro New World. It is located in the 60-year-old, redeveloping Atlanta Dairies complex which inspires rosy memories of cheerful milkmen and cows with names like Bossy and Buttercup. (Could they be grazing along the nearby BeltLine?) Wonderkid itself recalls that same era's crypto-fancy diners with plush pleather booths, moody lighting, and ice clinking in cocktails while Peggy Lee croons during evening hours. The place is the work of super-creative types like designer Smith Hanes, the owners of the Lawrence and Bonton, and the King of Pops bros.
Executive chef Justin Dixon's menu is largely Waffle House on entheogens plucked from a garden on the BeltLine. There are two breakfast menus. One serves five dishes like avocado toast with smoked salmon, and eggs Benedict with biscuits and country ham, available 8-11 a.m. The other menu provides "breakfast all day," including fried catfish and shrimp grits; poached eggs over braised, spicy tomatoes with a grilled-cheese sandwich; a pan-roasted sirloin steak with eggs and black-pepper gravy; omelettes; and a burger. We didn't order any of these dishes but chose from the main menu of 11 heavier dishes. First up was a brilliant starter of three classic deviled eggs topped with razor-thin country ham and a long spike of pickled okra. Our entrees instantly reminded us of nachos. Mine included a falafel waffle (yes, that's right) with capers, cheddar cheese, horseradish, and bone-marrow aioli. The second entree was steak tatare with hash browns, too much horseradish, capers, and odd bone-marrow aioli. Both were messy, without much form, but I also ordered a comical chicken pot pie full of root vegetables, black pepper gravy, and, of course, chicken. It was covered with a football-size balloon of puff pastry, which could cause more delight than a kid's first birthday cake. Of the entrees, it was my favorite even though I doubt the pastry is house-made.

There is also a bar inside that sells mad soft-serve ice cream treats from the King of Pops guys. We didn't try that. We also missed the changing daily menu of specials. One such menu online was offering cassoulet, one of my favorite dishes on the planet. When you go, look for this menu which likely gives Chef Dixon extra room to riff on classics. (777 Memorial Dr., 404-331-0720, wonderkidatl.com.)
Chris' Carribbean Bistro: I don't get it. This Smyrna restaurant's owner grew up in Jamaica, so you'd expect some spicy food. Au contraire. For the most part, the food here is unrelentingly bland, even though it's mostly well prepared. I'm assuming this is a concession to the lame palates of Smyrna, but I don't know. We had jerk wings, mango wings, eggrolls, and, my favorite of everything, crispy conch fritters. The restaurant is known for its jerk-chicken lasagna, which two of us ordered. It's a deliriously seductive mess, and everything works – except for the tiny strands of shredded jerk chicken which were literally unrecognizable in both portions on our table. The best entrée was a rich seafood stew, while blackened snapper topped with shrimp and a butter sauce took second place. (4479 S Cobb Dr., Smyrna, 678-695-3133, chriscaribbean.com.)
Chom Chom Vietnamese Kitchen: It's hard to believe yet another large Vietnamese restaurant has opened in Chamblee. This one is inside a towering white building with a big sign that says "Magnum" in gold letters, just like the condom maker's logo. It's a mystery. Chom Chom's particular space was previously occupied by China Delight. It's sparely decorated with heavily windowed green walls and a high ceiling with some quirky lighting. There are six varieties of spring and summer rolls to begin your meal, but I suggest you go for the fried soft-shell crab with tamarind sauce. We also liked the pork-filled fried wontons. I highly recommend the restaurant's classic "shaking beef," cubes of rare tenderloin served with the usual coarse salt and lime to amp up the already intense flavor. You'll find plenty of bun (rice noodle) bowls, but I recommend you avoid the "Hanoi" one. It's basically a deconstructed version with lemongrass pork sausage patties, pork belly, bean sprouts, garlic, noodles, and herbs plated separately with a shallow bowl of fish sauce. You mix and match, rather than toss it all together as you would the typical bowl. Too much work. The restaurant also has lunch specials and you will want to take home one of the splendid banh mi (sandwiches) for a 3 a.m. snack. (2390 Chamblee Tucker Rd., 470-375-3190, chomchomatl.com.) —CL­—
---