THE MOVE: Plan accordingly - June 2019
Hey y'all! What's the Move?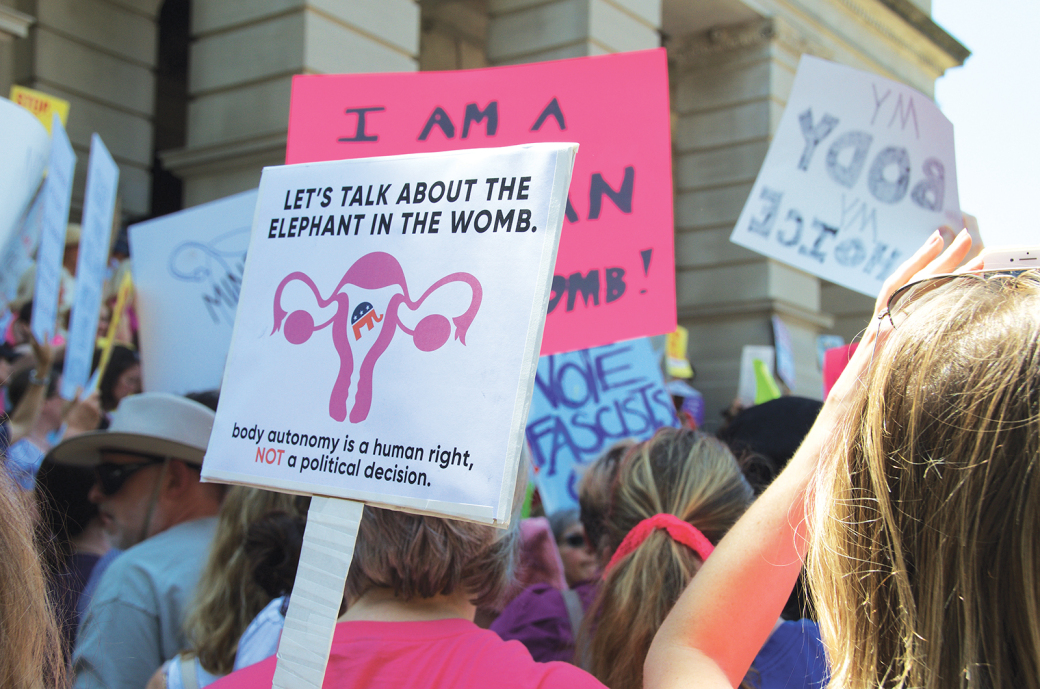 The main move right now: Women's rights – in May, there were a total of four protests at the Georgia State Capitol, sending a loud message of disapproval to the governor.
The Move is a column intended to help you beat the fight against basic, one move at a time. Look here for all the best underground, and some above-ground, events in ATL. Bc you CAN have a balanced diet of disco and yoga. Warning of side effects: Overdose of culture. Bloated bank account from lack of overpriced ticket purchase. Consume at your own risk
Psst … Xtra! Xtra! Weed all about it! Shameless plug for CL's latest podcast series, "Friends in High Places." Listen along as I interview the likes of those mapping out the cannabis industry for Georgians, bc it's not coming, it's here. 
TUESDAYS & THURSDAYS IN JUNE:
Lunchtime Fiber 2019 It's time to take yarn to the next level, my DIY dreamers. On Tuesdays and Thursdays, the Southeast Fiber Arts Alliance wants you to drop in to their studio from 10-2 to work on a fiber/textile project during your lunch break. Pack your lunch and snack while working around like-minded crafters and fiber experts. Next stop, the High Museum*! 
Disclaimer: May require more than two lunch breaks a week to get exhibit at High Museum of Art. This event is free to the public. 

SUNDAY JUNE 9:
Collect Atlanta Fundraiser Join artists FRKO, Y. Malik Jalal, Free Rent, and more as they come together in support of Collect Atlanta for an installation, and continue to shrink Atlanta-area food deserts. The fundraiser, held at the South Bend Commons on Lakewood Terrace, supports Collect Atlanta's mission "to gather people who want access to resources or information about food sustainability in their communities." 
Can't make the event? Look for the GoFundMe page floating around. Funds also support partners South Bend Commons, Industrial Workers of the World,  FTP Farms, The Housing Justice League, and Community Movement Builders Project.  https://www.facebook.com/events/317993468875527/
SUNDAY JUNE 9:
Blue Spirit Wheel Live Set at Ecstatic Dance Atlanta Y'all know I love me a day rave! This special addition of Ecstatic Dance Atlanta comes with a LIVE MUSIC set by Blue Spirit Wheel, self-described as "Achieving liberation from the cycle of life-death-rebirth and helping others to do the same!" 
Being a morning person, the only thing I dislike about dance music is the hours. My body wants to dance all day, and then go get hours of sleep please and thank you. Also, sober dance party = no hangovers! Only $20 at the door!
SUNDAY JUNE 9:
Hemp Out the Toxins $5 Hemp is the answer to most problems in my life, and you should totally jump on this bandwagon if you haven't already. Sure, the devil's lettuce can get you high, but the uses of hemp go way beyond getting your buzz on. 
Here's a new one to me, hemp for toxic waste. Instead of costly remediation for toxic water and landfills, the Georgia Hemp Economic Revival Organization wants to use hemp to create a healthier eco system. "There is a better way.  We can plant hemp, sunflowers, poplar trees, mushroom barriers .... so many possibilities!" —The Georgia Hemp Economic Revival Organization. Proceeds from the fundraiser go towards The Sunflower Project (GA Phytoremediation Program) and to frame a proposal to Georgia Power to research hemp phytoremediation.
Come for the hemp-plastered earth house, stay for the live hemp-building demos, music, hemp hay rides, and an education on "hemping out the toxins." 2 p.m.-8 p.m., Waller's Coffee Shop, 240 DeKalb Industrial Way in Decatur.
THURSDAY JUNE 13:
ContrastATL (Free All Night) UUeird brings up another FREE night of music. Bassheads can rejoice in an intimate setting at Edgewood Speakeasy, above the Music Room on Edgewood Avenue. This month, Xenotype. Guest DJs are encouraged to play out of their usual genres, so it will be interesting to hear how Xenotype steps away from dubstep.
ContrastATL runs every second Thursday, housing fresh insight into Atlanta's current DJ scene. Strictly 21 and up.
WEDNESDAY JUNE 12:
Tchaikovsky & More in Piedmont Park Enjoy the work of the Russian composer who wrote the soundtracks to our lives before there were soundtracks, when conductor Robert Spano and the ASO perform Tchaikovsky's 5th Symphony for free in Piedmont Park. An early show featuring the Atlanta Symphony Youth Orchestra begins at 6:30 p.m. Also on the bill: Rossini and Christopher Theofanidis.
Go chill the box wine and call ahead on those Publix subs because I really can't think of a better reason for a picnic in the park. Pro tip: Go early to catch a great view. Although there is plenty of space, the closer to the stage, the more likely you can drown out the Chatty Cathys. 
SATURDAY JUNE 15:
Summer Photo Walk Historic Oakland Cemetery is a photographer's paradise. PERIOD. I love the reaction from visitors when I mention we're going to an event in the cemetery, but it truly is one of the best stops on any tour of Atlanta.
Meet up with photogs of all levels during the golden hour to capture Victorian funerary sculptures and cultivated gardens with a stunning backdrop of the city of Atlanta. "This will be an excellent opportunity to practice macro and architecture photography." — HOC. Well praise Jesus, bc I personally live for macro photo ops! The event is $15 for members of Historic Oakland Foundation and $20 for non-members.  
SATURDAY JUNE 15:
Deep South presents Ladies of LCD Soundsystem DJ Tour LCD Soundsystem is a top-five all-time band for me. This music gets my serotonin off the charts!! I'm a survivor of the two-night face-melter performance at the Roxy in 2017. Night one was the first time I ever cried tears of joy at a concert. Two years later, they're sending the ladies, or the best of the band IMO. These women are nothing short of prolific in their solo careers, as well as time with LCD. 
"Ladies of LCD Soundsystem is a DJ tour with Nancy Whang and Gavin Rayna Russom. The tour is a celebration of their work as solo artists, and an exploration of their music beyond their work with LCD Soundsystem as keyboard player/vocalist and synthesist respectively."
At the Music Room, 327 Edgewood Avenue. If you like dancing in a tiny, intimate club with legends, this is the party for you. 
WEDNESDAY JUNE 26–SUNDAY JUNE 30:
Southern Fried Queer Pride Atlanta 2019! Celebrating five years of fried pride! Southern Fried Queer Pride is a queer and trans, arts & advocacy that goes down at The Bakery Atlanta — the most adorable DIY space in ATL right now. Personally looking forward to a DIY Menstrual Pads (Upcycled) Workshop, a useful life skill I'd wish I'd learned instead of algebra. 
"This means 5 years of legendary dance parties, catalyzing community discussions, provocative art galleries, A BALL, and so much more. Now we bring you 5 DAYS of deep fried, queer seasoned events!" — SFQP
The festival has a suggested $7 to $20 sliding-scale door cover, however, no one will be turned away due to lack of funds. Sigh. If only the whole world operated like our friends at SFQP. 
http://www.southernfriedqueerpride.com/sfqpatl2019
SUNDAY JUNE 23:
2019 LGBTQ History Tour Ever wonder how Atlanta neighborhoods became gayborhoods? The Center for Civil and Human Rights' LGBTQ Institute wants to ride around on a shuttle and educate you. From Ansley Mall to 10th and Piedmont and Cheshire Bridge, activists Dave Hayward and Maria Helena Dolan explain the history of these predominantly LGBTQ areas. Learn about Atlanta neighborhoods, and the human and civil rights saga that helped sew its fabric. Two hours for only $20. https://www.atlantapride.org/event/