Big Night Out: 'So much better than IG live'
Big Boi and KP The Great close out the three-day event at Centennial Park
Hail Marys come in all shapes and forms. Going into the last stretch of 2020 — a year characterized by a pandemic that essentially shut down the music industry — Atlanta's music scene desperately needed one. After months of sheltering in place and a ban on large gatherings, much less large-scale music events, Rival Entertainment gave it a shot with "Big Night Out." 
Over three days from Friday, October 23 through Sunday, October 25, the Atlanta-based concert promoter and production company gave music lovers a chance to get real at Centennial Park for a weekend of safety-conscious live music, coronavirus pandemic be damned. The first two days of BNO featured performances from acts such as Moon Taxi, Pigeons Playing Ping Pong, the Marcus King Trio, and Future Birds. The final day of the concert brought it all back home with a celebration of Atlanta's extraordinary hip-hop aristocracy, led by KP The Great (a.k.a. Kawan Prather) and Big Boi. 
Headlines of the past seven months aside, the experience at Centennial Park was unlike anything regular concert-goers are used to. The event eliminated sprawling general admission areas and packed mosh pits in favor of $200+ socially distanced pods that supported groups of up to six people. And, when not hanging out in one's own pod, a mask mandate was aggressively enforced by event staff. If this is, in fact, the future of concerts and festivals post-COVID-19, BNO was a courageous first leap forward into this reimagined version of the live concert experience.
It was the audience and the artists onstage who might have needed to catch up. While the public's lack of experience with socially distanced music events could've added up to an uneventful experience, the exchange of energy between performers and the crowd was all over the place. At times during BNO, it was as if there was no worldwide pandemic, even though everyone was safely encamped in their pods. The nostalgia from KP The Great's DJ set and Big Boi's long list of hits alone were enough to transport you to another time and place, but seeing Atlanta legends such as Killer Mike, Sleepy Brown, Goodie Mob, and Dungeon Family members all make appearances and perform their classics would've blown the roof off the place — if we had been inside, that is!
But then, you notice that "Swag Surfin" simply isn't as wavy when you're fenced off from fellow concertgoers, and reciting Andre 3000's verse on "Int'l Players Anthem" hits different when you can't witness your neighbors nailing Three Stacks' poetic overture word for word. While a pessimist would argue that the socially distanced format detracts from the magic of live music, I'd say it's more likely just a case of growing pains, and — like wearing masks whenever heading out for groceries or dining at restaurants with permanently blocked-off tables — it'll soon become the new normal as more socially distanced events like BNO occur.
One thing was made abundantly clear during the closing night of Big Night Out, and KP The Great said it perfectly during his performance: "This is so much better than IG live."
Since the onset of the pandemic, many industry leaders, artists, and cultural commentators have speculated that concerts and festivals wouldn't be able to safely return until sometime during 2021. Although Big Night Out was strange and awkward at times, the effort to reinterpret the live music experience defied expectations by a landslide — and helped usher in a new era of live music. —CL—
More By This Writer
Thursday July 22, 2021 03:02 pm EDT
Here's what you need to do to secure a free ticket to the acclaimed artist's listening party tonight |
more...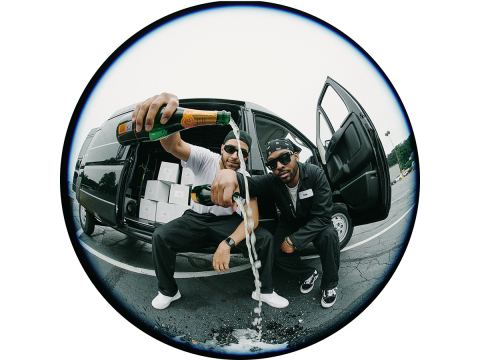 Friday July 2, 2021 09:35 am EDT
The rapper and producer duo go three for three with their latest project, "Bring the Bottles In" |
more...
Thursday July 1, 2021 11:01 am EDT
The forthcoming launch of local sneaker brand Heel begs a brief tour of the city's sneaker culture |
more...
Thursday June 3, 2021 12:16 pm EDT
You may not yet know Young Thug's new artist, but he's ready to introduce himself |
more...
Wednesday May 5, 2021 10:43 am EDT
Atlanta remembers the late Hip-Hop legend. |
more...
Search for more by JOSHUA ROBINSON
---