The Rolling Stones rock the ATL
Mercedes-Benz stadium was not the place for naysayers and doubters of the world's greatest 'geriatric' rock band
ALL PHOTOS: RICK DIAMOND PHOTOGRAPHY


The Rolling Stones gathered no moss during their Nov. 11 appearance at Atlanta's Mercedes-Benz Stadium. Sounds a bit cliche, doesn't it? But what has the "greatest rock 'n' roll band in the world" become in their nearly six decade existence, other than a cliche, right? Mick Jagger prancing around onstage. Keith Richards still pumping life into the term "junkie chic," though he's stopped pumping drugs into his body years ago. Attending one of their shows is almost tedious at this point. How many times can a person sit through "Jumping Jack Flash," "Satisfaction," or even "Midnight Rambler?"
Yet that was not the case when the Stones rolled into town for their recent performance during their "No Filter" tour, one that has had its stops and starts for four years during the coronavirus pandemic and the various health problems of two of the band's members.
From the opening chords of "Street Fighting Man" to the closing notes of "Satisfaction" Mick Jagger commanded the stage for two hours and the band, well the band rocked like they would never stop.
It was a phenomenal night of age and experience over youth and exuberance that keenly brought into perspective what it means to be the the "greatest rock 'n' roll band in the world."
Having seen the Stones at least eight times through the years, I had my doubts that they could pull it off at Mercedes-Benz, much less keep me captivated during their set. Even during their 1975 "Tour of the Americas" I found myself bored during "It's Only Rock 'N' Roll (But I like It)," decided I didn't, and wandered around the Omni, only to have someone put a knife to my throat and demand all of my money. But there was no reason to wander Nov. 11. As energetic as they started, things really began to pick up  during "She's A Rainbow," followed by an intense, plaintive "You Can't Always Get What You Want." Even the newly-penned "Ghost Town" was captivating — not an easy feat for most Stones compositions of the last twenty to thirty years — with its ominous overtones .
"Midnight Rambler" and "Gimme Shelter," two of the truly awe-inspiring rock 'n' roll songs of the genre, both from Let It Bleed, the band's 1969 opus, bookended "Paint It Black," "Sympathy for the Devil" and "Jumpin' Jack Flash." Those five songs, for me at least, were not only the highlight of the show, but the best of five songs of any Rolling Stones show I've ever seen. During "Paint It Black," the cavernous stadium became as intimate as watching them on television during the "Ed Sullivan Show" in 1966. "Sympathy for the Devil was as haunting as seeing them play at Altamont in the film Gimme Shelter. "Gimme Shelter" was as powerful and dramatic as anything and everything The Rolling Stones are purported to be. Indeed, for the first time ever I "got" The Rolling Stones and understood what so many of their generation — and subsequent generations — see them to be.
It was a revelatory night. —CL—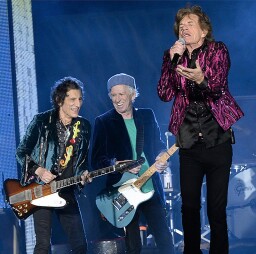 ---