ATL BREWS: Retail sales strong at brew pubs
Anniversaries and trivia on tap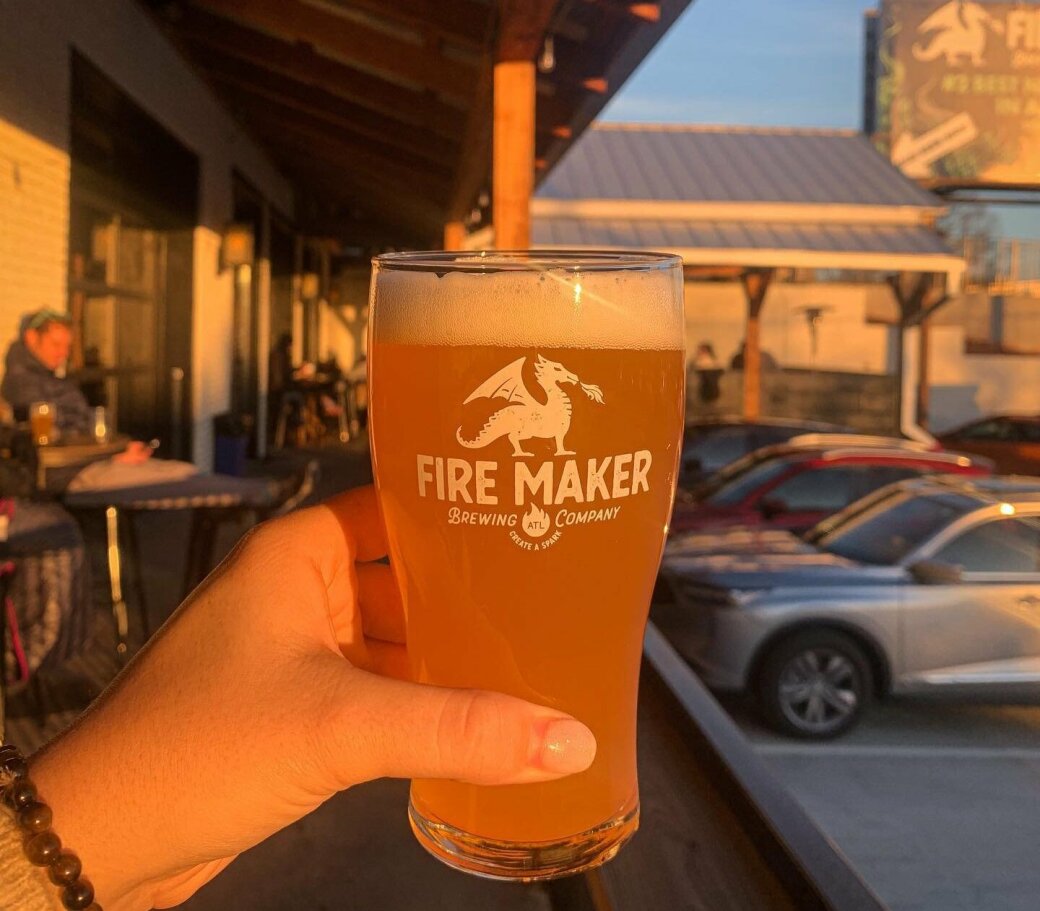 With the increase in COVID cases due to the Omicron variant, Burnt Hickory Brewery in Kennesaw will be closing the taproom until they can decide on more stringent health protocols to protect their customers.  You can still get their brews in the market!
For the month of January, buy a pint at Atlanta Brewing Company on the Westside, and get a six-pack of Howell Millionaire or Moray IPA for only $5!
For a limited time, Contrast Artisan Ales in Chamblee is bottling their Crooked Smile British Brown Porter — a medium-bodied porter infused with pumpkin-y goodness — smooth, not too sweet, not too spiced — just right.
Cherry Street Brewing is celebrating their ninth anniversary with a special ninth anniversary IPA, and their Extra Extra! IPA, both available in 4 packs to take home from their brewpub at Halcyon in Cumming.
For the next couple of weeks, head to Fire Maker Brewing Company on the Westside to try their limited release, Close But No Guitar. This New-England style IPA gets a beautiful orange hue from traces of honey malt. Loaded with three different tropical hops, and a little bit of Simcoe for balance, notes of papaya, white pineapple and tangerine dominate. Flaked Oats, Honey Malt and Malted Wheat bring a sweet malt background that buoys this aromatic IPA. Check out our Fire Maker Brewing podcast!
Check out the new Steak Burger, featuring 8 ounces of dry-aged ground beef, topped with tomato, lettuce, onion, and house-made pimento cheese, along with a side of fries, at Biggerstaff Brewing Company in the Old Fourth Ward.  Pair it with their west coast IPA, Redus!
Slow Pour Brewing Company in Lawrenceville features the Inside Joke Comedy Showcase on Wednesday, Jan. 12, starting at 8pm
Celebrate the release of Fire Maker Brewing Company's White Witch Wit from now until Thursday, Jan. 13.  It's the first release from their new brewer, Trapper, and features gentle citrus and floral orange blossom honey notes with a soft, spicy noble hop character.
Hapeville's Arches Brewing is holding two "HaHa Hapeville" nights on Friday, Jan. 14 and Friday, Feb. 18, from 8-10 p.m. featuring some of Atlanta's best stand-up acts — and beer delivered to your table. Check out our Arches Brewing podcast!
Second Self Beer Company on the Westside will release a collab with Atlanta-based Hip Hop Heads Brewery called Rye'd or Die, a double-rye IPA brewed with rye (duh), Simcoe, Citra, and Cascade hops with a big malty and slightly-spicy flavor palate on Saturday, Jan. 15, at the taproom. Check out our Second Self Beer podcast!
Awkward Brewing in Fayetteville is celebrating what would have been Betty White's one hundredth birthday with bottomless Beermosas and brunch on Saturday, Jan. 15, from 11 a.m. to 2 p.m.
Join Dry County Brewing in Kennesaw on Wednesday, Jan. 26, from 7-9 p.m. for a special themed trivia night — everything Marvel! Get your comic nerd on! Check out our Dry County Brewing podcast!
Check out the longest running brewery show in the country at Midtown's Sweetwater Brewing when their Beer and Comedy night (established back in 2011) starts back up on Wednesday, Feb. 9, at 8 p.m.
Celebrate Sandy Springs own Pontoon Brewing as they celebrate their fourth anniversary Saturday, Feb. 12, from 1-8 p.m.
Eventide Brewing in Grant Park is celebrating their eighth anniversary this weekend … but the actual celebration will be a bit delayed thanks to the uptick in COVID cases.  Right now plans are to hold the anniversary celebration Feb. 19. Check out our Eventide Brewing podcast!
The 2022 Suwanee Beer Fest Beer Chaser 5K will take place on Mar. 5, and registration just opened Friday, Jan. 7.  It takes place at Suwanee Town Center Park starting at 11 a.m. and is a Peachtree Road Race qualifying event.  Full details available here. 
And if you want to look even further into 2022, Sweetwater Brewing has announced the dates for that year's 420 Fest Iit's happening in Centennial Olympic Park from Thursday, Apr. 28, through Sunday, May 1!
Ongoing
6S Brewing Company (3111 Main St., Duluth) features Trivia nights on Wednesdays from 7-9 p.m. and Bingo nights on Thursdays from 7-9 p.m.
Arches Brewing (3361 Dogwood Dr, Hapeville) hosts The Bingo Show on Sundays from 1-3 p.m. Play bingo with beer and drag queens! Check out our Arches podcast!
Fire Maker Brewing (975 Chattahoochee Ave, Atlanta) in West Midtown features trivia every Wednesday and themed trivia every Thursday, both starting at 6:30 p.m. Check out our Fire Maker podcast!
Horned Owl Brewing (2765 S Main St, Kennesaw) has trivia night every Wednesday from 7-9 p.m.
Ironmonger Brewing (2129 NW Pkwy, Marietta) features trivia every Wednesday from 7-9 p.m. It's free to play, and you get $1 off selected pints for your team! Check out our Ironmonger podcast!
Ironshield Brewing (457 N Chestnut St, Lawrenceville) also features trivia every Wednesday from 7:15-9:00 p.m. and Game Night every Thursday from 5-9 p.m. Check out our Ironshield podcast!
Watch NFL and College football games every Saturday and Sunday through the season from noon-8:00 p.m at Monday Night Brewing (670 Trabert Ave, Atlanta) in West Midtown and Monday Night Garage (933 Lee St, Atlanta) in West End. Wear your team's gear and get a free beer! Check out our Monday Night podcast!
NoFo Brew Co (6150 GA-400, Cumming) features Music Bingo every Wednesday from 7-9 p.m.
Orpheus Brewing (1440 Dutch Valley Pl, Atlanta) in Ansley Park has trivia every Tuesday from 7-9 p.m. First, second, and third place all win Orpheus gift cards. Check out our Orpheus Brewing podcast!
Reformation Brewery has trivia at their Woodstock location (105 Elm St) on Wednesdays from 7-9 p.m., at their Canton location (225 Reformation Pkwy) on Thursdays from 7-9 p.m., and at the Smyrna location (6255 Riverview Rd) on Sundays from 6-8 p.m. Check out our Reformation podcast!
If you're looking for something other than trivia, check out Speed Puzzles at Round Trip Brewing (1279 Seaboard Industrial Blvd, Atlanta) on the Westside every Tuesday from 6:30-9:00 p.m. Assemble a 500 piece puzzle as quickly as possible, and you might win a gift card for your next visit! Check out our Round Trip podcast!
Join Second Self Beer Company (1317 Logan Circle, Atlanta) in West Midtown for their new Wag-A-Long Wednesdays! Every Wednesday from 5-9 p.m, bring your doggy friend with you and get $1 off your first pint, and $10 pitchers for everyone else! Check out our Second Self podcast!
Six Bridges Brewing (11455 Lakefield Dr, Johns Creek) joins Hard Hitting Trivia every Tuesday from 7:30 to 9:00 p.m. and check out food truck nights on Tuesdays, Fridays, and Saturdays from 4-9 p.m. Check out our Six Bridges podcast!
Slow Pour Brewing Company (407 N Clayton St, Lawrenceville) has trivia every Thursday from 7-9 p.m.  First, second, and third place teams win Slow Pour gift cards.
Social Fox Brewing (20 Skin Alley, Norcross) is now a proud sponsor of the Atlanta Gladiators and you'll be able to purchase some of their brews at the Gas South Arena as of November 5! You can also watch all the Gladiators away games in the taproom! Check out our Social Fox podcast!
Play trivia with the good folks at Sweetwater Brewing (195 Ottley Dr) in Midtown on Wednesdays at 7 p.m.
Tucker Brewing (2003 S Bibb Dr, Tucker) has trivia on the first and third Wednesdays every month from 6:30-8:00 p.m. Check out our Tucker Brewing podcast!
Variant Brewing Company (66 Norcross St, Roswell) celebrates Trivia Tuesday every Tuesday from 7-9 p.m. Prizes for first, second, and third place. Check out our Variant Brewing podcast! —CL—
---