BLUES & BEYOND: Atlanta shows its blues roots
Beverly "Guitar" Watkins' new release — and the Northside Tavern gets some Hollywood love
Beverly "Guitar" Watkins may have passed away in 2019 with only a handful of under-the-radar recordings to her name to document her 50-plus year career, but her legend lives on. The one-time Northside Tavern regular gets an unexpected posthumous tribute in the form of a newly released live album, recorded mostly in Paris. Appropriately, if blandly, titled In Paris, the 2012 show also features longtime Atlanta musicians Lil Joe Burton on trombone, guitarist Albert White, and the late keyboardist Eddie Tigner as members of her backing band. Considering the wild, intense, raw power of her shows, it is certainly odd that there haven't been any officially licensed concerts of Watkins' before this. Clocking in at 40 minutes with only ten tracks (eight originals with spirited Ray Charles and Sam Cooke covers), it's a little short, but does a terrific job capturing the audio of Watkins in full vocal and instrumental bluster. Of course, we can't see any of the show stopping acrobatic stage moves (playing behind her head and on her knees), so much a part of her riveting performance (somebody release a live DVD, please), but the professionally recorded gig sounds vibrant and energetic as the French crowd, who typically love American blues, loudly holler their appreciation. Beverly "Guitar" Watkins:Website Facebook

Nearly three decades after starting its blues/roots/Southern rock programming in 1993, the humble Northside Tavern might be seeing some glitzy red carpet action.
The notorious blues bar and dive, which would seem to be the antithesis of anything slick or trendy, went viral when its inside and exterior appeared in two episodes during the fourth season of Netflix's popular Ozark series. The screen time totaled about five minutes but, added to its inclusion in the recent Aretha Franklin film, and about a half dozen other movies and TV shows (all listed on the Northside Tavern's web page), the word is out about the photogenic properties of the iconic Atlanta drinking and roots music joint. Perhaps to piggyback on the popularity, award winning producer Hal Jacobs is looking for donations to finance a documentary about the place. According to his Indiegogo posting here, he already has 30 interviews completed, and is looking to conduct about 20 more. The Atlanta-based producer/director hopes to premier the film in the fall of this year.
At press time, though, only about a third of his $24k flexible financial goal had been met. Northside Tavern: Website Facebook—CL—
Please send upcoming blues events to be considered for Creative Loafing's Blues & Beyond concert calendar to hal.horowitz@creativeloafing.com
The weather and live music are both starting to warm up with these Blues & Beyond March events.
Fri., March 11

The Greyboy Allstars, Variety Playhouse — Keyboardist Robert Walter and reed man Karl Denson lead this five piece on the Get a Job tour where they feature music from an album of diverse covers of the same name. Songs from Gil Scott-Heron, Gene Ammons, George Harrison and Burt Bacharach among others get the Greyboys' fun and funky jazz treatment, reimagined in ways you won't expect. Come prepared to dance.
$30-79. 8:30 p.m. Variety Playhouse, 1099 Euclid Ave NE, Atlanta, 30307. variety-playhouse.com
Elizabeth Cook, Smith's Olde Bar — To say country rocker Cook has had an eclectic career isn't doing the singer/songwriter justice. Along with her major label and indie recordings, she has hosted a Sirius radio show and an interview TV program called Upstream, been a constant presence on the Grand Ole Opry stage, lived through family deaths and personal problems that would have crippled lesser humans … and is still making great music. 2020's Aftermath album, produced by Butch Walker, is her rowdiest yet, featuring the recent hit "Thick Georgia Woman" which you know she'll play.
$15-20. 8:30 p.m. Smith's Olde Bar, 1578 Piedmont Ave. NE, Atlanta, 30324. www.sobatl.com
Paul Thorn, City Winery — Singer/songwriter, visual artist, professional skydiver and ex-pugilist Thorn has been banging away with varying levels of success since 1997, releasing a string of albums that combine folk, county, gospel and roots rock featuring often wry lyrics and his dry, gruff vocals. He records for his own Perpetual Obscurity label (which indicates his self-deprecating humor), and 2021's Never Too Late to Call built on demos he self-recorded, is a terrific example of everything he does well.
$38-45. 7:30 and 10:00 p.m. City Winery, 650 North Ave. NE., Atlanta, 30308. citywinery.com/Atlanta.
Tre Burt, Eddie's Attic — Any musician who records for the late John Prine's Oh Boy label is always worth checking out and Tre Burt checks all the right boxes. His two albums feature sharply written folk/country originals, sung in a raw, scratchy voice, not far from Prine's, with minimal instrumental backing. He's likely headed for bigger things, so catch him while he's still playing intimate shows in venues like this one.
$15. 9 p.m. Eddie's Attic, 515-B N. McDonough St., Decatur, 30030. eddiesattic.com
Christone "Kingfish" Ingram, Symphony Hall — Dubbed the 662 Juke Joint Live tour in honor of the area code of his Clarksdale, Mississippi hometown, 23 year old blues guitarist Ingram has rightly received near universal acclaim as one of the next generation of blues artists keeping the roots faith while appealing to a younger demographic. His latest album, which shares the tour's numeric title, is a tough, often swampy song cycle describing his life in tunes reflecting the music of his famous birthplace and the divisive socio-political events of the recent past.
$25-125. 7:30 p.m. Symphony Hall, 1280 Peachtree St. NE, Atlanta, 30309. aso.org
Sat., March 12

Kermit Ruffins, City Winery — The caffeinated New Orleans' trumpet blowing and band leading Ruffins always brings the energized, swinging Crescent City party with him as he pays tribute to the jazz of his home base. He has been a star there for decades because he knows how to blow the roof off any club with his lively, upbeat, energetic presence.
$35-50. 7:00 and 10:00 p.m. City Winery, 650 North Ave. NE., Atlanta, 30308. citywinery.com/Atlanta.
Michelle Malone, Eddie's Attic — It's a double dose of Malone with the early show a stripped down duo set and the late one featuring a full band. Either way, you'll hear songs from her upcoming April release titled 1977, her first new disc in four years. The typically bluesy yet lower key album features the Neil Young inspired "Georgia Made," which maybecome her theme song.
$30-60. 7:00 PM & 9:30 p.m. Eddie's Attic, 515-B N. McDonough St., Decatur, 30030. eddiesattic.com
Sarah Shook & the Disarmers, The EARL — Scruffy alt-country rocker Shook just released her/their (she identifies as non-binary) third album of rugged, ragged roots music, this one produced by veteran Pete Anderson (Dwight Yoakam). It's a bit more mainstream and polished but Shook's gutsy Southern drawl of a voice keeps everything raw, especially live. Songs about heartbreak, drinking away your problems and moving forward through life's setbacks enhance her strutting, uncompromising sound.
$12-15. 8:00 p.m. The EARL, 488 Flat Shoals Ave.NE, Atlanta, 30316. www.badearl.com.
Thurs., March 17 and Fri. March 18

Rev. Horton Heat/Hillbilly Casino, The EARL — Two nights of high octane psychobilly from the venerable Heat should be enough to blow the dust out of the cracks in this small joint. He and erstwhile bassist Jimbo have been tearing up stages since 1991 and show no signs of stopping now. Only the short country segment of his set allows you to chill out, before it's back to nitro-burning, greasy, revved up rocking. Arrive early for some serious rockabilly with the animated, retro openers who have been at it for 15 years.
$25. 8:00 p.m. The EARL, 488 Flat Shoals Ave.NE, Atlanta, 30316. www.badearl.com
Fri., March 18

Anders Osborne, Terminal West — Guitarist Osborne may have been born in Sweden but has lived and worked in New Orleans long enough to be considered one of that city's favorite musical sons. Blues, rock, jazz and folk get mixed into his sound, which has gone more acoustic than usual lately. When he plugs in though, his propulsive, expansive improvisations are furious and blistering.
$26-30. 8:00 p.m. Terminal West, 887 West Marietta St. NW C, Atlanta, 30318. terminalwestatl.com
Brandon Santini, Blind Willie's — There are blues musicians that play the harmonica and others that wrestle it to the ground until the somewhat lowly instrument cries for mercy. Santini's in the latter group, blowing fast and hard but with precision and soul. He's a triple threat too as a tough, rugged singer and solid songwriter. His 2019 release The Longshot was one of the best albums in contemporary blues that year.
$TBA. 9:00 p.m. Blind Willie's, 828 N. Highland Ave. NE., Atlanta, 30306. www.blindwilliesblues.com/
Sat., March 19

Yola, The Eastern-Soul singer Yola was initially embraced by the Americana community, but has recently branched out to a slicker, more dance, even disco, oriented sound. She still incorporates a retro R&B approach and live the singer/songwriter remains a force of nature where her powerful pipes and dynamism will blow you away. This tour has been postponed a few times so she should be rested and ready to roll.
$22.50-79. 8:00 p.m. The Eastern, 777 Memorial Dr. SE., Atlanta, 30316. easternatl.com
Hurray for the Riff Raff, Terminal West — Alynda Segarra, aka Hurray for the Riff Raff, started recording indie folk rock professionally in 2008, but it took until 2014 for the music to congeal into scrappy, bluesy indie rock with an ominous urban Americana vibe. This is the first date on an extensive tour supporting a new Life on Earth album, the singer/songwriter's first in five years, which they describe as "nature punk."
$20-23. 8:30 p.m. Terminal West, 887 West Marietta St. NW C, Atlanta, 30318. terminalwestatl.com
Mon., March 21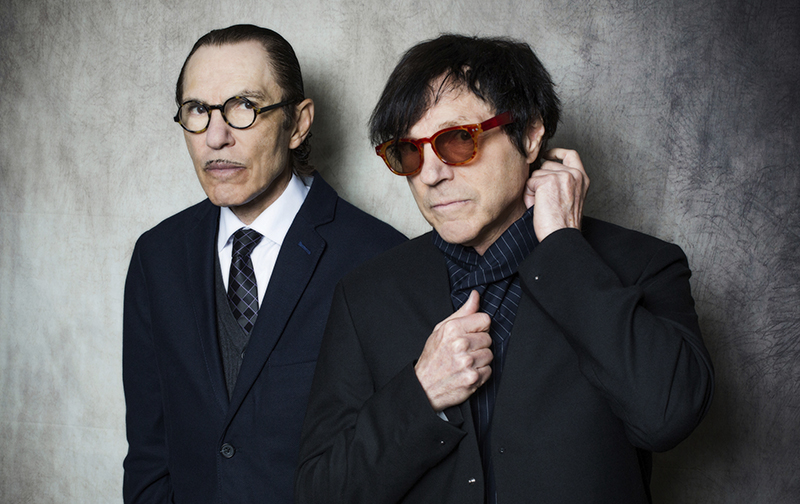 Sparks, The Eastern — Chances are, even the Mael brothers (Ron/keyboards and Russell/vocals), who formed Sparks in 1970, would not have thought Sparks would be riding a wave of popularity fifty-years into a long, twisted career. Credit the 2021 The Sparks Brothers documentary for rekindling interest in the offbeat band, and keeping the flame burning for their long-time fans, while helping spread the word to the uninitiated about their nearly indescribable prog/glam/pop/dance/whatever sound and a glorious 25 album career, that, despite being decades old, has somehow remained timeless. They don't tour often. Don't miss this chance to see an iconic, idiosyncratic act described in the movie as "your favorite band's favorite band" while you have the chance.
$47.50. 8:00 p.m. The Eastern, 777 Memorial Dr. SE., Decatur, 30316. easternatl.com
Walter Trout, City Winery — The 70 year old veteran blues rocking guitar slinger has overcome some serious health issues (his 2019 album was titled Survivor Blues) and is back in fighting form. The ex-John Mayall/Bluesbreakers and Canned Heat member returns from a European tour and released his 29th album which is every bit as potent in its swampy strength as any of the others recorded when he was younger. Trout's the definition of a rugged journeyman and he knows how to knock out audiences with his cutthroat instrumental chops.
$30-40. 8:00 p.m. City Winery, 650 North Ave. NE., Atlanta, 30308. citywinery.com/Atlanta.
Tues., March 22

Little Feat/Amy Helm, Symphony Hall — Keyboardist Bill Payne is the only original member of Little Feat still standing, although longtime Feat-sters Kenny Gradney, Sam Clayton and Fred Tackett remain in the lineup. This should be a rollicking show since it pays tribute to the 40th anniversary of the band's iconic live album, Waiting for Columbus. Their funk, jazz, blues and organic rock, along with great songs from founder Lowell George, never gets stale. Arrive early for Levon's daughter Amy, whose newest roots rock and folk album is arguably her finest.
$29.50-270.50. 8:00 p.m. Symphony Hall, 1280 Peachtree St. NE, Atlanta, 30309 aso.org
Thurs., March 24

Brother & Sister, Aisle 5 — Allman Brothers Band drummer Butch Trucks' kids, Melody and Vaylor, bring a full band on this date of a short three day run. The all-star lineup includes musicians who played with Col. Bruce and Chris Duarte along with Butch's post Allmans' Freight Train Band. Expect lots of jamming on ABB tunes by some solid players with a family connection to the originals…what's not to like?
$20. 8:30 p.m. Aisle 5, 1123 Euclid Ave. NE, Atlanta, 30307. aisle5atl.com
Fri., March 25

Buddy Guy, Colin James, Cobb Energy Performing Arts Center — Guy is pretty much the last man standing of a dying breed of Chicago bluesmen who recorded during the Chess label's '60s heyday that included Howlin' Wolf, Muddy Waters, Little Walter and other legends. He has influenced countless guitarists, including Jimi Hendrix, Eric Clapton and Stevie Ray Vaughan. Now in his mid-'80s, Guy remains as feisty and fiery as ever. But you never know when he may retire, so catch him while you can. Canadian opener James tours behind his twentieth album, OpenRoad, a tough, rootsy addition to a bulging catalog he has been building since 1988. A trivia question for local blues enthusiasts: What year did Michelle Malone and Drag The River join Colin James on tour, opening for him across the U.S.?
$59.50-79.50. 8:00 p.m. Cobb Energy Performing Arts Center, 2800 Cobb Galleria Parkway Atlanta, GA, 30339. www.cobbenergycentre.com

Josh Hoyer & Soul Colossal, Northside Tavern — All the way from Lincoln, Nebraska comes Josh Hoyer and his rugged five piece to bring some Midwestern soul to us Southerners. They have been grinding out the rugged, rocking R&B for nearly a decade but finally got some overdue recognition with 2021's Natural Born Hustler album. Horns help power the sound, but it's Hoyer's gruff, gutsy vocals singing sweat soaked, leather tough originals that push these guys over the top. Not to be missed.
$10. 9:00 p.m. Northside Tavern, 1058 Howell Mill RD. NW, Atlanta, 30318. northsidetavern.com 
Shovels & Rope, Variety Playhouse — Married multi-instrumentalists/singers-songwriters Carrie Ann Hearst and Michael Trent record as Shovels & Rope (the name obliquely references the murder songs which initially peppered their sets), creating an amalgamation of folk, blues, and organic indie rock that's unique and difficult to describe. That's especially the case on their new, relatively stripped back and melancholy Manticore release which dials down the volume yet still roils with tense, taut intensity, heightened when the twosome harmonize together.
$30-59. 8:00 p.m. Variety Playhouse, 1099 Euclid Ave NE, Atlanta, 30307. variety-playhouse.com
Sat., March 26

Cody Matlock, Eddie's Attic — Following in the footsteps of his buddy Eddie 9V, bluesy soulful Atlanta singer/guitarist Matlock moves from the noisy dive bars to this cozy listening room as he continues to cultivate a larger local following. It's impressive progress especially since he has yet to record his debut studio album, although his frisky Live at Eddie's Attic EP was released in 2018. But a high profile gig as William Bell's guitarist surely helps with his recognition, so let's support him on the way up.
$20. 9:30 p.m. Eddie's Attic, 515-B N. McDonough St., Decatur, 30030. eddiesattic.com
Thurs., March 31

Dave Mason, Variety Playhouse — The ex-founding member of Traffic has had plenty of career ups and downs in the decades since going solo in 1970 with the iconic Alone Together, still his finest moment. He moved into an adult contemporary phase with "We Just Disagree" but lately has returned to a less commercial, harder edged sound. And since his last release was a re-recording of Alone Together, the show will likely focus on those songs that remain some of the finest he has written.
$35-79. 8:30 p.m. Variety Playhouse, 1099 Euclid Ave NE, Atlanta, 30307. variety-playhouse.com
Sun., April 3

The Band of Heathens/Texas Gentlemen, Terminal West — It's all Texas all the time tonight as these two Lone Star bred bands deliver their honest, frills-free mix of blues, rock, country, folk, soul and Americana. The Heathens have weathered a variety of personnel changes but keep their music based in the dusky Texas tradition. The Gentlemen are also eclectic, cranking out garage rock and instrumental soul with chops and plucky flair, adding a bit of a wild streak to their diverse sound.
$25. 8:00 p.m. Terminal West, 887 West Marietta St. NW C, Atlanta, 30318. terminalwestatl.com
Mon., April 4

Nick Waterhouse, City Winery — Read reviews about any of West Coast guitarist/vocalist/songwriter Waterhouse's five albums and you'll inevitably see the word "retro." He's steeped in the blues, jazz and even doo-wop of the 50s and 60s, but like James Hunter, whose style is similar, he writes terrific originals around that sound. He will likely feature tracks from 2021's Promenade Blue one of his finest releases.
$30. 8:00 p.m. City Winery, 650 North Ave. NE., Atlanta, 30308. citywinery.com/Atlanta.
Wed., April 6

Joan Osborne, City Winery — Soul/pop singer Osborne hasn't had many hits in the past few decades, but she has kept busy; first by joining the Grateful Dead for a short while then fronting the harder blues rocking Trigger Hippie outfit. Her own releases haven't fared particularly well but all display her tough/tender pipes, gutsy approach and breezy/bluesy style. She always brings it live and this is the perfect intimate venue to best experience her talents.
$40-55. 8:00 p.m. City Winery, 650 North Ave. NE., Atlanta, 30308. citywinery.com/Atlanta.
Thurs., April 7

The Zombies, Center Stage — It's named the Life is a Merry-Go-Round tour which is appropriate since The Zombies have ridden that ride since their mid-60s formation. Led by keyboardist Rod Argent and breathy singer Colin Blunstone, few Brit Invasion era acts have had a second life quite as successful. New albums of originals, lots of tours, and plenty of positive press for their atmospheric pop makes them more than just survivors. They connect generations, bridging audiences ranging from grandparents to youngsters.
$40-170. 8:00 p.m. Center Stage, 1374 W. Peachtree St. NW, Atlanta, 30309. www.centerstage-atlanta.com
Fri., April 8

Dale Watson, Smith's Olde Bar — You don't get much more authentic, old-school Texas honky-tonking than hearing Dale Watson and his band twanging it out in a crowded bar. He is a fierce retro country indie voice, refusing to compromise or water down his authentic approach. That hasn't made him much money but no one would doubt his motives. For those looking to hear the real-deal Hank Williams Sr.-styled music sung in a husky baritone with a rugged band and a rowdy crowd, he's your guy.
$25. 8:00 p.m. Smith's Olde Bar, 1578 Piedmont Ave. NE, Atlanta, 30324. www.sobatl.com

Please send upcoming blues events to consider for CL's Blues & Beyond concert calendar to hal.horowitz at creativeloafing.com.