BLUES & BEYOND: The Waymores offer pure honky tonk and western swing
Husband 'n' wife duo release second album
The Atlanta husband and wife duo of Willie Heath Heal and Kira Annalise have been together since 2013, but are just now starting to receive national attention with their new album Stone Sessions. Heath's husky baritone vocals entice you into their pure honky tonk and Western swing world, while Kira's sunnier voice balances that darkness. It's pure C&W informed by Hank Williams and Johnny Cash, but with lyrics that skew to the lighter, often dryly humorous side. They started in a loose collective called the No Count Palookas but quickly realized their musical chemistry could stand on its own and The Waymores was born.
Want authentic? You don't get any more genuine than Dale Watson who lends his guitar to a track on the twosome's recently-released second album. Guitarist Johnny McGowan, ex-of Atlanta's Blacktop Rockets and other outfits (he now lies in Austin), also guests on one song. The twang stays on high even as the "F" bombs fly on "Roll That Chain." And you can't argue with a song titled "Bat Shit Crazy," a description Kira applies to herself as the pedal steel wails. Dancers will fill the floor to the high-stepping ramble, chuckle to the witty lyrics ("I don't like the whisky but the whiskey likes me"), or maybe do both.
Not only do you get to hear the pure honky tonking music of The Waymores, but you'll experience it in Marietta's oldest drinking establishment (their claim), voted #1 Dive Bar in the state of Georgia, at least according to the folks at Grease, Inc. Better still, it's free.
Free, 4-7 p.m., Fri., May 7. Beer Barrel, 1294 Roswell Rd, Marietta, 30062. (678) 402-8259 https://www.facebook.com/beerbarrelmarietta
Wed., May 4
Cam Cole, Smith's Olde Bar— All the way from London comes Cam Cole, laying down the nastiest, dirtiest, scuzziest blues rocking this side of The Black Keys. And he does it all without a band. Imagine Black Sabbath reincarnated as a blues band and you're close to the gut punch sound Cole drives into your head like an out of control jackhammer. Strap in and enjoy the ride.
$10-15. 9:00 p.m. Smith's Olde Bar, 1578 Piedmont Ave. NE, Atlanta, 30324. www.sobatl.com 404-875-1522
Thurs., May 5
Bill Sheffield's Thursday night jam, Cajun Blues —It's always exciting to welcome a new live music joint to the Atlanta blues circuit. Cajun Blues fits that bill. Located at 2197 Savoy Drive in Chamblee, the club/restaurant officially opened its doors on March 24. They run a Thursday night jam (7-10 p.m.) hosted by the venerable Bill Sheffield and coordinated by Sandra Senn. There is a voluntary $5 fee. The music continues on Friday and Saturday (no cover for local acts), booked by Ritah Wilburn. Oddly, details on who is scheduled are not listed on the club's official web page, at least, not as of press time. Hopefully, they soon will be. The Atlanta Blues Society just held their April meeting there, which bodes well for the venue's connection to the local blues scene. Owner Charles Jeon took over the old Mad Italian restaurant with the intent to make it a "small French Quarter (venue) in the Atlanta vicinity." Indoor capacity is about 70 but in nice weather the doors open to a patio for more room. Their slogan is "You Come for the Food, You Come Back for the Music!"
$5 suggested, 7-10 p.m. Cajun Blues, 2197 Savoy Drive, Chamblee, 30341. (770) 674-4240. cajunblues1.com
Built to Spill, Variety Playhouse — Since 1983, Boise, Idaho's Doug Martsh has been cranking out a series of ever more edgy blues and darkly rocking albums featuring his twisty, terse guitar style backed by throbbing bass and drums. Frequent comparisons to Dinosaur Jr. and Crazy Horse don't quite capture the threesome's prog/blues/rock adequately, but no other band sounds like them. A recent tribute album to the subversive outsider folkie Daniel Johnston, who they also backed on tour, shows just how idiosyncratic Built to Spill gets.
$29.50-55. 8:00 p.m. Variety Playhouse, 1099 Euclid Ave NE, Atlanta, 30307. 404-524-7354. variety-playhouse.com
Fri., May 6

Arlo McKinley, Eddie's Attic — Midwestern singer/songwriter McKinley was the last artist John Prine signed to his Oh Boy imprint before his death. But don't let that be the only reason to check this guy out. His thoughtful songs and emotional vocals reflect moving and often gritty slices of living on the less glamorous side of life. The riveting "Bag of Pills" is just one of the dramatic highlights from his stunning 2020 debut.
$20. 7:00 p.m. Fri., May 6. Eddie's Attic, 515-B N. McDonough St., Decatur, 30030. 404-377-4976. eddiesattic.com
Whiskey Myers, Coca-Cola Roxy — Appropriately dubbed "The Tornillo Tour" after the title of their forthcoming (July) album, these veteran, tough Texas Southern rockers have been at it since 2007, generating fans the hard way, through one night stands in grubby bars and trashy dives. They take a hefty helping of Lynyrd Skynyrd, add some Georgia Satellites' swagger, Molly Hatchet thunder and grimy swamp rawk for a booze soaked attack that will get even the most sedate audience member pumping their fists to the thumping beat.
$44.50-219. 7:00 p.m. Fri., May 6. Coca-Cola Roxy, 800 Battery Ave. SE #500, 30339. livenation.com/venue/KovZ917ACc7/coca-cola-roxy-events
49 Winchester, Smith's Olde Bar— Album number four from this melodic Virginia based country rock sextet finds them graduating to the high profile New West label. Appearances at SXSW, Floydfest, Merlefest and other established events should push them over the top with their flowing Marshall Tucker influenced sound, so this might be the last change to experience their easy grooving, rustic vibe in a small venue.
$15-25. 8:30 p.m. Fri., May 6. Smith's Olde Bar, 1578 Piedmont Ave. NE, Atlanta, 30324.404-875-1522. www.sobatl.com
Sat., May 7
Mike Zito and Albert Castiglia, Vinyl — This logical package of blues six-stringers (they both record for Zito's Gulf Coast Records label) delivers two terrific blues rockers — or, blood brothers — for the price of one. Both have new albums to promote and will play a set each. But the excitement comes when they, and their bands, join for an evening-closing jam which promises serious musical fireworks.
$27. 8:00 p.m. Sat., May 7. Vinyl, 1374 West Peachtree St., Marietta, 30309. 404-885-1365. www.centerstage-atlanta.com
Sun., May 8
Eric Krasno, Son Little, Terminal West —This intriguing double bill is headlined by Soulive guitarist Krasno, touring behind Always a new solo album that continues his explorations combining soul, funk and jazz with solid, at times Prince-inspired, songwriting. Opener Little pushes into Marvin Gaye-styled R&B and takes a side road into the blues, making this a synergetic meeting of the minds pairing. Both artists are backed by the Sweet Sounds of the Assembly and will likely share the stage — which should push the already fiery sound even further into the red.
$25-30. 8:00 p.m. Sun., May 8. Terminal West, 887 West Marietta St. NW C, Atlanta, 30318. 404-876-5566 terminalwestatl.com
Mon., May 9
Victor Wooten, City Winery — Bass wizard Wooten first came to prominence backing Bela Fleck, but the musician who starting playing at the age of five, pushes far beyond those bluegrass roots as a solo act. Funk, jazz, hip-hop and world music, all grounded by his amazing bass work, make his shows an always unexpected gumbo that changes direction with head spinning speed. On his most recent single, Wooten joins with fellow bassist, the legendary Bootsy Collins, for the fizzy "Hip-Hop Lollipop."
$40-50. 8:00 p.m. Mon., May 9. City Winery, 650 North Ave. NE., Atlanta, 30308. citywinery.com/Atlanta.404-946-3791
Thurs., May 12

Darrell Scott, Eddie's Attic — Journeyman string player/multi-instrumentalist Scott was a major figure in the folk/singer-songwriter circles as an in-demand session player and songsmith before he joined with Robert Plant, Patty Griffin and Buddy Miller in 2010's short lived Band of Joy. That raised his profile, but apparently not enough to get him booked into larger venues than this intimate Decatur space. Regardless, his deep well of songs ensures that no two shows are alike, and the smaller space affords him the ability to share his affable and informative patter about a life as colorful and full as they come.
$27.50. 7:00 & 9:00 p.m. Thurs., May 12. Eddie's Attic, 515-B N. McDonough St., Decatur, 30030. 404-377-4976. eddiesattic.com
Fri., May 13
Amy Ray Band, Eddie's Attic — Call it a homecoming as half of the Indigo Girls returns to where it all began for two shows. Not that she ever really left, but it's always a treat to catch Ray and her group bringing the roots rock, country and folk goods to this intimate space. She has seven solo studio albums of material to choose from, so don't expect any IG hits. But even if she just works from 2018's terrific, country tinged Holler, or a new one release to go soon, this is a rare chance to get up close and personal to a true Atlanta icon.
$20. 7:00 & 9:00 p.m. Fri., May 13. Eddie's Attic, 515-B N. McDonough St., Decatur, 30030. 404-377-4976. eddiesattic.com
Joy Oladokun, Bre Kennedy, Terminal West — It has been too long since an African American queer woman captured the attention of the Americana charts. Singer/songwriter Oladokun released one of 2021's most stunning and highly praised releases, In Defense of My Own Happiness, filled with intensely introspective songs that benefitted from a larger production budget. But it's her compelling voice that brings those tracks to life.
$17-20. 8:30 p.m. Fri., May 13. Terminal West, Unit C, 887 West Marietta St. NW, Atlanta, 30318. 404-876-5566. terminalwestatl.com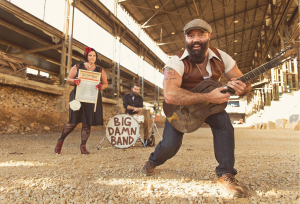 The Dead South, Rev. Peyton's Big Damn Band, Buckhead Theater — This near perfect double bill features two stripped down string bands, steeped in folk, country and blues that infuse raucous, punk-styled drive into once staid, traditional music. Either could headline but the prospect of both sharing the stage and feeding off each other's rowdy energy is incredibly enticing.
$30-52. 8:00 p.m. Fri., May 13. Buckhead Theater, 3110 Roswell Rd. NE, 30305. 404-843-2825. www.livenation.com/venue/KovZpZAJAllA/buckhead-theatre-events
Sat., May 14

Miss Tess, Eddie's Attic —Nashville, by way of Maryland and Boston, retro singer Miss Tess combines old-school jazz, ragtime, blues, rockabilly and country slathered in a noir haze. Her alternately sweet and sassy voice, somewhat like that of Bonnie Raitt, and combination of originals with classics like "Sugar in My Bowl" keeps her sets invigorating and delightfully unpredictable.
$12. 9:30 p.m. Sat., May 14. Eddie's Attic, 515-B N. McDonough St., Decatur, 30030. 404-377-4976. eddiesattic.com
Pokey LaFarge, City Winery —It never hurts having Jack White in your corner, especially when he releases your debut on his well-regarded Third Man label then has you open his tour. That helped put LaFarge's idiosyncratic, old time country, Western swing, rural blues, rockabilly and even retro soul music on the map in 2013, and he has only grown from there. His 2021 release was arguably his finest, tastiest and most focused set which makes this tour supporting it truly tantalizing.
$38-50. 8:00 p.m. Sat., May 14. City Winery, 650 North Ave. NE., Atlanta, 30308. 404-946-3791 citywinery.com/Atlanta
Sun., May 15
Atlanta Blues Society May Gathering and Jam, Bundos Music Shack— May's monthly meeting of Atlanta's award winning blues society features the music of Blair Crimmins and the Hookers doing their retro rooty-toot-tootin' thing. That's enticement enough to get any blues lover to get down to Stone Mountain for an outdoor meet and great with others who also love the music. There is always a closing jam, so bring your instrument, or voice, and join the fun.
$Free. 3:00-6:00 p.m. Sun., May 15. Bundos Music Shack, 1291 Silver Hill Road, Stone Mountain, GA. 30087. atlantabluessociety.org/2022/04/abs-gathering-jam-may-15
Wed., May 18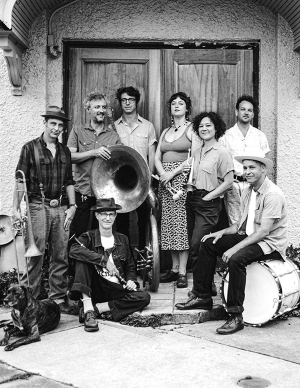 Tuba Skinny, City Winery — Take a trip down the alleys and streets of New Orleans with this unplugged eight piece that has been cranking out the Crescent City's traditional jazz, funk, rustic ragtime and string band music for the better part of a decade. Hooking up with veteran singer Maria Muldaur for an album last year raised the band's profile substantially. They are now touring behind Magnolia Stroll, their first album of all original compositions. Expect a solid dose of New Orleans favorites played with verve, professionalism and a joyfulness the music naturally exudes. If this sounds like a party, it is.
$20-25. 8:00 p.m. Wed., May 18. City Winery, 650 North Ave. NE., Atlanta, 30308..404-946-3791 citywinery.com/Atlanta
Sun., May 22
Lilly Winwood, Smith's Olde Bar —Like Lilly Hiatt, the younger Winwood is more recognizable for the last name she shares with her legendary dad Steve than for her own music. Don't let that dissuade you from checking out the UK born, Nashville based singer/songwriter's subtle, emotionally charged original music, which she has been crafting since 2017. She's promoting the recently released Time Well Spent a strikingly subtle collection of songs regardless of her family affiliation.
$10-15. 8:00 p.m. Sun., May 22. Smith's Olde Bar, 1578 Piedmont Ave. NE, Atlanta, 30324. 404-875-1522. www.sobatl.com
Fri., May 27
Caroline Spence, Eddie's Attic — Nashville based singer/songwriter Spence's 2019 Mint Condition was one of that year's best and most promising albums. Spence returns with its equally affecting follow-up, True North. Album number four is another example of her potent lyrics, easy flowing melodies and melodic songs you'll want spin again after the first listen.
$12. 7:00 p.m. Fri., May 27. Eddie's Attic, 515-B N. McDonough St., Decatur, 30030. 404-377-4976. eddiesattic.com
Sun., May 29

Luke Winslow-King, Roberto Luti, Eddie's Attic — Smooth singing folk/bluesman Winslow-King has been releasing music since 2006 but first got national acclaim when he hooked up with the Bloodshot label of insurgent country and blues in 2013. His style has progressed from basic roots to a slightly more polished sound over the years. The dissolution of his previous label has forced him onto an indie for a new release If These Walls Could Talk which finds him in more soulful, even gospel surroundings and sounding better than ever.
$12. 6:00 p.m. Sun., May 29. Eddie's Attic, 515-B N. McDonough St., Decatur, 30030. 404-377-4976. eddiesattic.com
Fri., June 3
Bonnie Raitt, Lucinda Williams, Chastain Park Amphitheatre — Raitt hits the road supporting her new Just Like That release along with a 50 year career of blues, soul, rock and pop tunes in her extensive history. At 72, her voice remains robust and distinctive and her sizzling slide guitar playing is legendary. Opener Williams is the patron saint of sorts for the Americana genre. Her tough, unvarnished, intense songs are filtered through a darker lens, resulting in 2021's riveting Good Souls, Better Angels arguably her rawest, most gripping set ever.
$22-265. 8:00 p.m. Fri., June 3. Chastain Park Amphitheatre, 4469 Stella Dr. NW., Atlanta, 30342. 404-733-5012. https://www.livenation.com/venue/KovZpZAEkAaA/cadence-bank-amphitheatre-at-chastain-park-events?utm_source=GMBlisting&utm_medium=organic —CL—
Please send upcoming blues events to consider for CL's Blues & Beyond concert calendar to hal.horowitz at creativeloafing.com.
---