BLUES & BEYOND: Frankie Lee's mission is the blues … and beyond
The six headed proponent of blues, soul, jazz and zydeco returns to the stage
Blues & Beyond is the name of this column, but it also could be the slogan of "Frankie Lee" Robinson's band. As the frontman to the Atlanta based Frankie's Blues Mission for over a decade, the guitarist/singer crafts a sound that uses blues as a starting point but also includes jazz, R&B, and even zydeco. "The best of the African-American Tradition" as his web site boasts.
The sixty-something Robinson, originally from South Georgia, has been playing professionally since around 1988. But after spending time in Poughkeepsie, N.Y. with a regional band called the T-Bones, he relocated back to his home state and in the late 80s and started the horn based Solid Senders. That led to Frankie's Blues Mission, his current outfit, which has expanded from a three piece to a sextet ("just before COVID hit" he laments) featuring two horn players.
The big, rollicking, danceable sound is back and ready to set fire to a stage near you. His act's mix of covers and originals has hit all the major festivals over the years and holds down at least one night a month at Blind Willie's. Although the pandemic slowed things in terms of recording new music, Frankie promises to get into the studio to lay down fresh tunes which he hopes to have out before the end of the year.
But live is where this band's action is. Catch them June 10th at Blind Willie's and return for a second helping July 9th.
Summer is here and the proof is, besides the heat and humidity, the area's first large outdoor blues fiesta. It's the seventh annual Bluesberry and Beer Festival in Norcross featuring six veteran local bands holding court for seven hours, all in hopes of getting your mojo working along with downing some blueberries and brews. Although the combination of the latter two sounds a little questionable, circle June 18th on your calendar and see listings below for full details.
June is a little light on live blues, but fuller in the "beyond" category.
Fri., June 3
Bonnie Raitt/Lucinda Williams, Chastain Park Amphitheater — The by now iconic Raitt hits the road supporting her new Just Like That release along with a 50 year career of blues, soul, rock and pop tunes in her extensive history. At 72, her voice remains robust and distinctive and her sizzling slide guitar playing is legendary. Opener Williams is the patron saint of sorts for the Americana genre. Her tough, unvarnished, intense songs are filtered through a darker lens, resulting in 2021's riveting Good Souls, Better Angels a candidate for her rawest, most gripping set ever.
$22-265. 8:00 p.m. Chastain Park Amphitheatre, 4469 Stella Dr. NW., Atlanta, 30342. 404-733-5012. www.livenation.com/venue/KovZpZAEkAaA/cadence-bank-amphitheatre-at-chastain-park-events
Sat/Sun., June 3/4

Candler Park Festival, Candler Park — As usual, this annual fest is heavy on the rootsy jam and pop acts with Disco Biscuits headlining Saturday and Grace Potter on Friday. Saturday also has what looks to be a seriously talented Allman Brothers Band cover act in Trouble No More featuring young blustery guitarists Taz Niederauer and the amazing Daniel Donato. And don't miss New Orleans funky Indian Cha Wa who bring the Mardi Gras experience to Atlanta in all its funky, colorful, energetic glory.
$35-125. 4:00 p.m. Candler Park, 1500 McLendon Ave., Atlanta, 30307. https://candlerparkmusicfestival.com
Sun., June 5

Nashville in Atlanta, Red Clay Music Foundry — You may not recognize the names Alisa McCance, Greg Barnhill, Faith Schueler, or Greg Bieck but they are all talented Nashville singer/songwriters who may have penned songs for far more famous headliners. This low-key event gives them all a chance to shine separately and individually, and you just might hear the next country hit before it takes its final shape.
$20-25. 7:00 p.m. Red Clay Music Foundry 3116 Main St., Duluth, 30096. 404-478-2749. eddieowenpresents.com
Tues., June 7
The Doobie Brothers & Michael McDonald, Ameris Bank Amphitheatre — It's a rare chance to see both versions of the West Coast's most classic, radio friendly rockers when The Doobie Brothers showcase the early Tom Johnston boogie period and later Michael McDonald's soul pop years. Which means you get to hear ALL the songs you know from two distinct periods of their popular 70s chart run and maybe a few from 2021's impressive if ignored comeback. At their best, on deeper album tracks, the Doobie's explored expert finger picking folk, credible blues rocking and subtle soul. Hopefully they have time for those between the hits.
$55-798. 7:30 p.m. Ameris Bank Amphitheatre, 2200 Encore Parkway, Alpharetta, GA. 30009. 404-733-5010. www.encoreparkamphitheatre.com
Thurs., June 9

The Seldom Scene, Red Clay Music Foundry — This Maryland based bluegrass outfit has been around, in one form or another, since 1971. The percussion free quintet rearranges pop and rock tunes like "Hello Mary Lou" for the rural Appalachian sound, as well as playing their own originals. These guys can play fast and furious or soft and supple and have the road miles and catalog to prove it. .
$39-50. 8:00 p.m. Red Clay Music Foundry, 3116 Main St., Duluth, 30096. 404-478-2749. eddieowenpresents.com
Canyonland, Napoleon's — The canyon in this evening's title refers to California's famed Laurel Canyon, the home to such 70's folk rock and pop icons as The Byrds, Buffalo Springfield, Joni Mitchell and The Mamas and Papas. A consortium of local acts led by the redoubtable Michelle Malone, whose recent 1977 album pays tribute to this era, will cover songs generated during this fertile period. It sounds like a lot of fun especially if you have seen either of the two recent documentaries about this period.
$25. 7:30 p.m. Napoleon's 2836 LaVista Rd., Decatur, 30033. 404-321-5000. www.napoleonsgrill.com
Indigo Girls, Rickie Lee Jones, Cadence Bank Amphitheater at Chastain Park — There is little else that compares to a local Indigo Girls show, under the stars, on their Atlanta home turf. Amy Ray and Emily Saliers have been going at it nonstop since their mid-80's Eddie's Attic days. Even though the hits haven't been plentiful lately, their songs remain solid as evidenced by 2020's ''Look Long their 15th release. Likewise, veteran singer/songwriter Rickie Lee Jones hasn't released many notable tunes recently, but has a bulging catalog of classics to choose from.
$17-194. 8:00 p.m. Cadence Bank Amphitheater at Chastain Park, 4469 Stella Dr. NW., Atlanta, 30342. 404-733-5012. www.livenation.com/venue/KovZpZAEkAaA/cadence-bank-amphitheatre-at-chastain-park-events
Sat., June 11

Ann Wilson, Frederick Brown Jr., Amphitheatre — Just to be clear, this show is officially titled Ann Wilson from Heart, in case there was any confusion. Wilson will feature songs from her new album Fierce Bliss, and of course a hefty helping from her original band, who may or may not still be together. She's in her 70's but hasn't lost any of her vocal firepower. And she still rocks out.
$40-600. 7:30 p.m. Frederick Brown Jr., Amphitheatre, 201 McIntosh Trail., Peachtree City, 30269. 770-631-0630. www.amphitheater.org
The Sweet Things/Solid State Radio/Motor Exploder, The EARL — These twangy New York City rockers find the space between country and rock and roll without shorting either one. They are touring behind a new album Brown Leather that sounds enough like when the Stones or Faces go country to make you think they can pull this Americana mix off without seeming self-conscious or worse yet, stilted. Locals will find enough Georgia Satellites influence to make this a worthy follow-up to those Atlanta icons
$13-15. 8:30 p.m. The EARL, 488 Flat Shoals Ave.NE, Atlanta, 30316. 404-522-3950. https://badearl.com/
Sun., June 12

Atlanta Blues Society Gathering, Madlife Studios — David T and friends hosts this month's ABS Sunday soiree. Catch up on all blues happenings, mingle with old friends and make new ones at one of the most sociable music societies in the area.
$free. 3:00 p.m. Madlife Studios, 515-B N. McDonough St., Decatur, 30030. 404-377-4976. eddiesattic.com
Strand of Oaks, Terminal West — Emotional singer/songwriter Timothy Showalter corralled some members of My Morning Jacket to craft his recent eighth, and arguably finest, album 2021's In Heaven. The songs are folk based but have a larger psychedelic sound stage due to a great band, sharp production, the frontman's heartfelt vocals and poignant, sweeping melodies that stick in your brain after the disc is over.
$18-22. 8:00 p.m. Terminal West, 887 West Marietta St. NW C, Atlanta, 30318. 404-876-5566. https://terminalwestatl.com
Tues., June 14
Steely Dan/Snarky Puppy, Cadence Bank Amphitheater at Chastain Park — For a band that famously eschewed touring when they were releasing albums in their 70's peakk, this late career burst of road work gives fans, ones with deep pockets, a chance to hear those songs live. It's a tight, professional show with remarkably talented musicians recreating the classic studio versions with verve and enthusiasm. The opening funky jazzbos substitute for original opener Steve Winwood.
$150-391. 8:00 p.m. Cadence Bank Amphitheater at Chastain Park, 4469 Stella Dr. NW., Atlanta, 30342. 404-733-5012. www.livenation.com/venue/KovZpZAEkAaA/cadence-bank-amphitheatre-at-chastain-park-events
Thurs., June 16
Peter Karp Band, Eddie's Attic — Multi-instrumentalist Karp (guitar, harmonica and piano) has been touring for most of his adult life, bringing his deep acoustic and electrified blues and roots music to any stage that will have him. Like Delbert McClinton, he's based in blues but moves into soul, party rocking and anything else that makes the crowd dance. He's touring behind 2020's Magnificent Heart, one of that year's indie blues highlights and one of the finest entries in his catalog. His band, at least for this show, includes past members of Delta Moon.
$12. 7:00 p.m. Eddie's Attic, 515-B N. McDonough St., Decatur, 30030. 404-377-4976. eddiesattic.com
Robert Plant and Alison Krauss, Cadence Bank Amphitheater at Chastain Park — Mr. lemon squeezer and demure bluegrass/country artist Krauss initially seemed an odd pairing when their 2007 debut appeared. But a gold album and handfuls of awards later, it looked inspired. The follow-up didn't appear until 2021 but the resulting Raising Sand was easily as good and arguably better than the first as the twosome tackled obscure oldies with other under the radar gems for a folk/rock masterpiece that was one of the year's finest releases. Hear them pick and choose from both on this tour and maybe, just maybe, throw in a Zepp ringer.
$71.50-274. 8:00 p.m. Cadence Bank Amphitheater at Chastain Park, 4469 Stella Dr. NW., Atlanta, 30342. 404-733-5012. www.livenation.com/venue/KovZpZAEkAaA/cadence-bank-amphitheatre-at-chastain-park-events
Fri.-Sat., June 17-18

Lost Art Music Festival, Foxhall Resort — This Friday night/all day Saturday lineup of indie country-infused singer/songwriters (Paul Cauthen), soul acts (Durand Jones and the Indications, Southern Avenue), and rockers (Aaron Lee Tasjan) is eclectic, interesting and well worth the hike out to Douglasville, especially if it's a nice day.
$25-175. 7:00 p.m. Foxhall Resort, 8000 Capps Ferry Rd., Douglasville, 30315. lostartmusicfest.com
Sat., June 18

Bluesberry and Beer Festival, Betty Muldin Park/Norcross — Take your blues and blueberry loving dad out to celebrate Father's Day (a day early) with this annual roots festival. It's a terrific lineup of local talent headlined by Eddie 9V, his buddy Cody Matlock (with Stoney Brooks),Sandra Hall, and the Cazanovas. Think of it as Blind Willie's goes outdoors. Be on the lookout for blueberry beer.
$Free. 3:00-10:00 p.m. Betty Muldin Park, 65 Lawrenceville St., Norcross, 30071. 678-622-2104. http://www.bluesberrybeerfestival.com
American Aquarium, Buckhead Theater — Frontman singer/songwriter BJ Barham has been leading this alt-Americana outfit since 2006, picking up fans with each album. They mix some country twang with rock and roll, also throwing a dollop of Jackson Browne-styled introspection into that mix. So much so that the first single from their new Chicamacomico even nicks "running on empty" for its lyrics. Think a less political Drive-By Truckers. Barham's new songs explore loss but he says "It's a sad record that makes you feel good." ---Hal Horowitz
$20-101.50. 8:00 p.m. Buckhead Theater, 3110 Roswell Rd. NE, 30305. 404-843-2825. www.livenation.com/venue/KovZpZAJAllA/buckhead-theatre-events.
Reverend Hylton/Rolling Nowhere/Arlo Finch, Red Clay Music Foundry — Let's hear it for the locals. Atlanta based Hylton is a rambling folkie with a catch in his voice and introspective songs that don't take things too seriously as songs "Biscuits and Gravy" imply. Plus you gotta love a guy who records his live album at Waller's Coffee Shop. Rolling Nowhere, also from Atlanta, is a little less frantic in its country/folk/bluegrass approach. Both are well worth supporting as up and coming talent deserving to be heard outside of Georgia.
$20-25. 8:00 p.m. Red Clay Music Foundry, 3116 Main St., Duluth, 30096. 404-478-2749. eddieowenpresents.com
Sun., June 19
Ally Venable Band, Eddie's Attic — It never hurts for a young woman in the male dominated blues rock field to have headliner names in your corner. Guitar slinger Venable has attained recognition by being on the well regarded Ruf label and by having Kenny Wayne Shepherd not just as a supporter but opening his shows. Every little bit helps as they say, but she has the talent, drive, ambition and songwriting to back up those accolades as her 2021 Heart of Fire release displays.
$16. 8:00 p.m. Eddie's Attic, 515-B N. McDonough St., Decatur, 30030. 404-377-4976. eddiesattic.com
Blue Velvet, Blind Willie's — Women are doing it for themselves! Get dad dancing on Father's Day to this quintet who describe themselves as "Atlanta's newest all female blues ,funk, swing, rockin', groovin' band." That neatly sums up what is surely a diverse set of influences rolled into a talented five piece of local women.
$10. 6:30 p.m. Blind Willie's, 828 N. Highland Ave., Atlanta, 30306. 404-873-2583. www.blindwilliesblues.com
Lord Huron, Coca-Cola Roxy — Those ready to take a trip to Lord Huron's windswept, reverbed psychedelic haze of Americana — think a more spacious, less pop oriented Chris Isaak — can spin the band's newest fourth album Long Lost or, better still, get the live experience. It's a cool, dreamy ride that's Morricone-esque in all the best ways and totally unlike anything else out there that can headline a venue this large.
$39.50. 8:00 p.m. Coca-Cola Roxy, 800 Battery Ave. SE #500, 30339. livenation.com/venue/KovZ917ACc7/coca-cola-roxy-events
Wed., June 22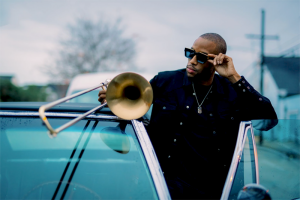 Trombone Shorty's Voodoo Threauxdown, Cadence Bank Amphitheater at Chastain Park — Get ready for some serious New Orleans partying when that city's most popular contemporary and hard working export, Troy "Trombone Shorty" Andrews, turns Chastain Park Amphitheater into something approximating Jazzfest. The final lineup wasn't fixed at press time, but names such as Tank and the Bangas, Big Freedia, Cyril Neville the Uptown Ruler and The Soul Rebels are included. The tour will also feature a tribute to funk legends The Meters led by founding bassist George Porter Jr. alongside Dumpstaphunk. If you have ever loved any New Orleans music, don't even think of missing this high energy show.
$22-109. 7:00 p.m. Cadence Bank Amphitheater at Chastain Park, 4469 Stella Dr. NW., Atlanta, 30342. 404-733-5012. www.livenation.com/venue/KovZpZAEkAaA/cadence-bank-amphitheatre-at-chastain-park-events
Sat., June 24
Joe Jackson, Center Stage — Dubbed the "Sing, You Sinners" tour for no discernible reason, the once new wave, angry young man turned sophisticated elder statesman Jackson returns with the same tight three piece he had last time through town. Advance promotion promises solo and full band sets of music that covers his long career.
$48-68. 8:00 p.m. Center Stage, 1374 West Peachtree St., Marietta, 30309. 404-885-1365. www.centerstage-atlanta.com
CeeLo Green as Soul Brotha #100, The Eastern — Everyone's favorite Goodie Mob member swings back to his hometown for a James Brown tribute. There's no telling what this'll be like, but the advance promotion promises a (rather short) 75 minute set with 27 songs. With Green at the helm, and "elaborate wardrobe" changes, it'll at least be fun.
$39.50-79.50. 8:30 p.m. The Eastern, 777 Memorial Dr. SE., Atlanta, 30316. www.easternatl.com
Please send upcoming blues events to consider for CL's Blues & Beyond concert calendar to hal.horowitz at creativeloafing.com.