LISTENING POST: 'Come As You Are' festival concludes this year's season of The Atlanta Opera
Event's to be held at Pullman Yards June 2-18
COME TO THE CABARET: The Atlanta Opera presents a new production of 'Cabaret' at Pullman Yards as part of the "Come As You Are" festival in June (multiple dates). Sketch by Atlanta Opera costume designer Erik Teague.
The Atlanta Opera concludes its 2021-22 season at Pullman Yards with the "Come As You Are" festival featuring a new production of Cabaret; the Atlanta premiere of As One, a highly acclaimed chamber opera featuring transgender baritone Lucia Lucas, who made her Metropolitan Opera debut in February, in the lead role; and a special Saturday matinee featuring Roswell resident and Metropolitan Opera performer Jay Hunter Morris in a cabaret-style concert. On one hand, "Come As You Are" builds on the company's popular Discoveries Series, which for the last ten years has presented adventurous smaller works in unexpected venues around the metro area. On the other, it represents the Atlanta Opera's community outreach campaign to build a broader audience by stripping away some of the formal trappings of "grand opera" including any pretense to a dress code. Witnessing opera in the uniquely configured environs of Pullman Yards promises to be a highlight of this summer's arts events.
Ticket prices and performance dates for the three productions vary. Check the Atlanta Opera website for more information. Pullman Yards, 225 Rogers Street, NE.
Come As You Are: 'Cabaret' — Thu., Jun. 2-Fri., Jun. 3; Sun., Jun. 5; Fri., Jun. 10; Sun., Jun. 12; Sun., Jun. 19
Come As You Are: 'As One' — Thu., Jun. 9; Sat., Jun. 11;
Come As You Are: Jay Hunter Morris — Sat., Jun. 18
Sat., Jun. 11
ART PARTY 2022, Atlanta Contemporary — After a three-year hiatus, the Atlanta Contemporary's annual ART PARTY fundraiser is back on the not-to-be-missed event calendar. June. 11, from 7-11.59 p.m., the Atlanta Contemporary campus will be transformed into a spectacular multi-purpose stage upon which Valentine's Day, Christmas, St. Patricks Day, Thanksgiving, Easter, Independence Day, Halloween and every holiday in between will be celebrated. Special activities include photo ops, a costume contest, programming on the pavilion, presentations and Open Studio visits with the artists enrolled in the Studio Artist Program. Attendees will dance to the beat of some of the city's best DJs, imbibe specialty cocktails from the Contemporary's mixologists-in-residence, and sample tasty treats from local restaurants and caterers. Each ticket to ART PARTY underwrites Atlanta Contemporary's vision to remain free admission every day. Come out, celebrate and support one of Atlanta's most vital and longstanding modern art centers (founded as Nexus in 1973).
Tickets $50-$225. 7 p.m. Atlanta Contemporary, 535 Means Street NW Atlanta, GA 30318. 404-688-1970.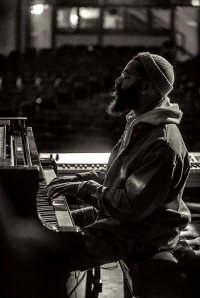 Kenny Banks Jr. Trio, Bouckaert Farm — Renowned Atlanta jazz pianist Kenny Banks Jr. is joined Joel Powell on bass, Larry Wilson on drums and special guest trumpeter Michael Cruse for a concert presented by Chatt Hills Music at Bouckaert Farm in Fairburn. A versatile, in-demand composer, arranger and instrumentalist known for his deep affinity for gospel and rhythm 'n' blues, Banks has performed or recorded with the likes of Kurt Ellington, Jennifer Holiday, Lil John Roberts, Wycliffe Gordon, Jason Marsalis, Les Nubians, Darryl Reeves, Mali Music, Russel Gunn, 8Ball & MJG, Christian Howes and Queen Latifah.
https://www.eventbrite.com/e/kenny-banks-jr-trio-featuring-michael-cruse-tickets-302985356357?utm-campaign=social,email&utm-content=attendeeshare&utm-medium=discovery&utm-source=strongmail&utm-term=checkoutwidget$30]. 7:30 p.m. Bouckaert Farm, 10045 Cedar Grove Rd, Fairburn, GA, 30213.
Mon., Jun. 13
The Sound of Identity, Out Front Theater — The Atlanta Opera, Out Front Theatre and Out on Film in partnership with Atlanta PRIDE present The Sound of Identity, director James Kicklighter's documentary about baritone Lucia Lucas, who plays Hannah in The Atlanta Opera's production of As One as part of the "Come As You Are" festival in June. In 2019, when Lucas sang the title role in Mozart's Don Giovanni with the Tulsa Opera, she became the first transgender woman in the U.S. to perform an opera lead with a professional company in a standard work. In February, Lucas made her Metropolitan Opera debut in the role of the escaped prisoner, Angelotti, in Puccini's Tosca. Following the screening, Lucas, Kicklighter and executive producer Andy Kinslow will host an open discussion.
Free with required registration. 7 p.m. Out Front Theatre, 999 Brady Avenue NW. 404-448-2755
Wed., June 15

Diane Cluck, Flight of Swallows, Thunderbird Trio, Eyedrum Art & Music Gallery — Singer, songwriter, artist and educator Diane Cluck brings her beautiful voice and wonderfully quirky alt-folk music to Eyedrum. Opening for Cluck are Flight of Swallows, one of Listening Post's fave Atlanta new music ensembles; and Thunderbird Trio, a local bluegrass group.
$13 adv, $15 dos. 7:30 doors. Eyedrum Art & Music Gallery , 515 Ralph David Abernathy Blvd. NW.
---