>>

CL 50th

>>

50 Years of loafing ... creatively
50 Years of loafing ... creatively
How far we've come
In 1972, when Debby and Chick Eason hatched the idea for a weekly publication of Atlanta's cultural listings, the city looked a lot different than it does today. Atlanta's then-named William B. Hartsfield Atlanta Airport had become William B. Hartsfield Atlanta International Airport only the year before, thanks to an Eastern Airlines route to Mexico. The state's drinking age was eighteen, but alcohol sales were banned on Sundays. Black residents had recently become the majority population, and the elections of Andrew Young that year as the first Black Congressman since Reconstruction, and Maynard Jackson the following year as the first Black mayor, heralded a sea change in the city's political landscape, yet President Richard Nixon — under fire for the quagmire in Vietnam — still drew throngs of admirers who cheered as his motorcade traveled down Peachtree Street.
The Easons didn't have any grand plan for their start-up publication other than publicizing the many, mainly free events that Atlanta had to offer. Promoting the city was already in their wheelhouse; they'd built a solid track record of highlighting must-see places in their guidebooks for the then-named Atlanta Zoo and the Atlanta Convention and Visitors Bureau, among others. Yet the debut of Creative Loafing that year coincided with larger social, artistic, and demographic undercurrents that would shape how the paper reflected and reported on the city it called home.
A half century later, Creative Loafing endures, but there were times when its future seemed doubtful. There's been bankruptcy and embezzlement, hate mail and death threats, angry advertisers, risky business decisions, owner and staff turnover, and workplace conditions that would be serious OSHA violations today. Yet through it all, the voice of CL has remained feisty, spirited, critical, humorous, playful. It introduced newcomers to the city, telling them where to go and what to do. Its political reporters asked questions and wrote exposes that no other publication would cover. It gave wet-behind-the-ears writers an opportunity to hone their skills, develop a distinctive voice, and launch successful careers. Its music and arts coverage gave burgeoning acts exposure to wider audiences and helped burnish Atlanta's reputation as a national locus for visual and performing arts. And its pages reflected the phenomenal growth of the city and its citizens, for better and worse: gentrification and NIMBY battles, corrupt politicians and civic leaders, the influence of the LGBQT community and the rise of hip hop and trap, enterprising entrepreneurs and disappearing neighborhoods.
Debby Eason says she is particularly proud of CL 's symbiotic relationship with the city. "We really helped build Atlanta because when newcomers would come, their neighbors would introduce Atlanta to them with a copy of Creative Loafing, because we were everywhere. We had boxes everywhere, and the papers were gone in an afternoon. I think that's what we're proudest of, that we helped the community grow and expand."
Making it up as we go

In those early days, it was all about the listings, or, as Debby called them, "directional copy." To compile them, the Easons visited health food stores, bookstores, college campuses, local businesses, and bowling alleys to see what notices were tacked to bulletin boards. They operated out of their home in Morningside where Debby developed photographs in their basement darkroom.
"If you look at our first issues, they're funky and non-newsy, but they had loads, loads of listings," says Debby Eason. "And then it started to grow and people started sending their listings to us, so very quickly the most important asset for Creative Loafing was the mail that started coming in."
Unitarian Universalist minister John Burciaga became the paper's first managing editor serendipitously. "I walked in and asked if they needed any help," he recalls. "Debby mentioned that three psychiatrists were coming from California to talk about something called Feeling Therapy. The Atlanta Journal-Constitution had only a little [blurb] about it so I did a whole feature on it, and it packed the house."
The popularity of CL 's listings was immediate, with the volume of mailed-in listings from businesses and organizations growing from a trickle to a deluge. The also-growing page count created a need for expanded editorial content, and Burciaga's byline included interviews with leading national figures ranging from Gloria Steinem to General William Westmoreland. As writers began pitching story ideas to the paper, Eason asked Burciaga to copyedit and then manage the editorial side of things.
Burciaga was the first — and certainly not the last — managing editor to wrangle a motley assortment of writers, columnists, and reporters with varying degrees of journalistic training. Every managing editor to follow left an imprint on the paper's tone and coverage, from the stories they assigned to the writers they hired. Managing editors were hired and fired, sometimes unceremoniously, due to the ongoing battle that seemed be a part of each ME's job description between the liberal-leaning editorial department and the self-described "social liberal and fiscal conservative" as Debby liked to describe herself. One routinely drank an entire pitcher of beer at lunch while another was known for falling asleep at his desk. Some screamed and bullied, others nurtured and mentored. Some sought to build the paper's political and news coverage, while others encouraged quirky takes on Atlanta's underbelly.
"Throughout Creative Loafing's existence, you have these really interesting groups of people who would all converge," says Burciaga. "And everybody seems to think that the era they were there was the perfect era at the paper."
As a spunky start-up, Creative Loafing could only afford to hire entry-level salespeople and early-stage and emerging writers. John Thomas, who was hired in 1986, had been a writer and editor for The Emory Wheel, Emory University's independent student newspaper, when he was a student, but had no formal journalistic training. When he was hired, he was working as a dishwasher at Fellini's and Tortilla's (RIP), which he continued doing to get by on a starting salary of $11,400.
After a "miserably tedious" stint as Happenings Editor, which required opening bins and bins of mail, and typing in each listing manually, Thomas worked his way up to a regular byline. His cover story with fellow Loafer Steven Beeber on spending the night at the Clermont Hotel put the dive bar and Blondie on the cultural map. Thomas also wrote about used hubcap stores, Einstein's brain, a Black Crowes tour, hanging backstage with James Brown, and just about anything else that sparked his interest.
"We were given a lot of freedom and we really ran with it," he says. "And there were a lot of super creative people doing really creative things. It had probably the most interesting writing going on in the city and having gone on to write for the Village Voice for 10 years, I can say that it also had some of the best alternative weekly writing in the country. Part of what made it so magical is that there was a porousness in terms of what you could do. It felt like anything was fair game as long as it was a good story. It was a place where people like me could go and learn and try new things and develop. And we had a preposterous amount of fun."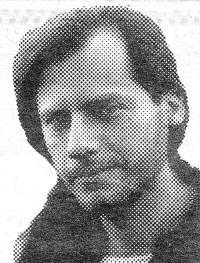 For David Aaron Moore that meant interviewing everyone from Grace Jones and Esther Williams to Nancy Sinatra and Donna Summer as a young writer. "It was an impressionable time in my life and I can still remember things about those individuals, like the smell of perfume and liquor, the texture of skin and even a few inappropriate comments whispered in my ear."
Other writers were brought on board to cover beats with which they had little experience. Rodger Brown was a student at the University of Georgia in Athens working at Kinko's, when he created a self-published magazine that included an article about a KKK cross-burning. The piece was in his clips as he pounded the pavement looking for writing or editorial jobs in Atlanta. Through Tony Paris, Brown was introduced to managing editor Gene-Gabriel Moore, who saw the piece and assigned Brown to cover the Forsyth County civil rights march in January 1987 alongside political reporter CB Hackworth.
Brown filed his story, thinking he might have a foot in the door as a freelance writer. Moore looked over his copy and told Brown to follow him to HR. "I'm thinking, what does that mean?" recalls Brown. "He said, 'Well, you want the job don't you?'" Moore was thrilled the following week when Time magazine featured a spread about the march featuring a photo of Brown alongside John Lewis, taking notes.
With a cover story debut, Brown was off and running. Instructed to cover "the cops and the courts," he came up with the idea to compile a curated selection of the odd, sad, offbeat crimes taken verbatim from police reports. The Blotter took off, becoming one of the paper's most popular and enduring columns. Brown also illustrated each week's listings with quirky, chiaroscuro renderings of criminals and cheats, victims and oddballs, shattered windows and animals meeting awful fates. His bylines also included coverage of the Satanism scare of the 1980s, a rattlesnake roundup, an interview with writer and mountaineer John Krakauer, and a withering critique of Atlanta's short-lived Rio Shopping Center, among many others.
Right in tune

In the 1970s and early 1980s, Atlanta was still viewed in the national music press as being something of a backwater. Promoters like the legendary Alex Cooley, who brought artists like Jimi Hendrix, Janis Joplin, and later the Sex Pistols to Atlanta, advertised in CL because it was the demographic he was appealing to, plus comparable ad space at the Atlanta Journal Constitution was cost prohibitive.
Peter Conlon, president of Live Nation's Georgia/Alabama regional office and Cooley's former partner, recalls the days when music agents wouldn't book their artists in Atlanta. "Alex went to New York and he sold these people on the idea that there was a market here and people wanted to see the music," Conlon told CL writer Chad Radford when Cooley died in 2015. "These days rock 'n' roll music is everywhere, it's on Nike commercials. But back then it was avant-garde. Alex was on the forefront: He transformed the cultural base of the city. It wasn't about making money. It was about doing something that needed to happen."
Tony Paris got to know Cooley — and later Conlon — and other progenitors Atlanta's musical universe as a columnist at the Atlanta Gazette in the late 70s, where his editor was future Creative Loafing managing editor Cliff Bostock. "I learned everything I needed to know about writing from Cliff," he says. "He was relentless in his copy editing and his teaching me how to say things, what to say, how to create my voice and, and projecting that voice. I thought I would never be a good writer, Cliff was so hard on me, making me rewrite stories countless times. I owe him everything in shaping and pushing me as a writer."
Paris had built a strong following through his music reviews and interviews, and particularly for his High Frequencies column, a compendium of news and reporting on the city's expanding, evolving music scene. "I really wanted to cultivate and create a music community in Atlanta where musicians, record company personnel, club owners, and concert promoters knew each other and felt comfortable with each other so that the musicians and the scene would grow." Long before social media, High Frequencies was a must-read resource for learning about musicians, newly formed bands, band break ups, record deals, industry gossip, and anything and everything that had to do with the Atlanta music scene. The column was an immediate hit, and soon after record company and concert and club ad sales exploded, demanding more space be given to the music section. "At the time, the AJC didn't focus on the local scene in its coverage, and, while Creative Loafing had Joe Roman, Russell Shaw, and other writers who did, CL didn't have the pages to run pieces as in-depth as we did at the Gazette."
One day in late 1979, Atlanta Gazette publisher Rick Brown asked Paris what his next article was about. "Whatever it is, make it your best." Curious, Paris asked why. "After our next issue, I'm closing the Gazette. I've decided to go into real estate. I ain't gonna work on Debby's farm no more," Brown cracked, referencing a Bob Dylan song. "I'm tired of fighting with Creative Loafing."
After a year or so of freelancing for national and international music publications, Paris was contacted by Mike Malloy, whom he had known when they both worked at the Gazette. Malloy, now managing editor at Creative Loafing, tried to coax Paris into joining him at Loaf, but Paris refused to work for "the enemy," as he called CL, so adversarial and competitive had been the two papers.
Finally, after returning from seeing The Clash perform at Bond's in New York, Paris relented, and agreed to go to work for Malloy. The Atlanta music scene was thriving, punk rock and new wave (as it was then called), music that Paris championed early on, was gaining more acceptance, and Paris decided he could best continue to "cultivate the local music scene" at the weekly paper, past rivalries be damned.
Paris resurrected his High Frequencies column, further fostering the thriving music scene, including the emergence of the Athens sound (R.E.M., Love Tractor, The B52's), and the advertising dollars that had propped up the Atlanta Gazette. Paris hired a stable of eclectic writers, and the paper's music section grew from a twelve-inch column in a twelve-page paper to 40 pages in a 160-page paper, encompassing jazz, world music, avant-garde, rock, pop, alternative, classical, commercial, and punk.

While the music section regularly covered of acts like Gil Scott-Heron, Cecil Taylor, Run DMC, and Sun Ra, the writers at the time didn't reflect the racial and ethnic diversity of Atlanta's population. "At the time we didn't have those perspectives and may not have covered something the way we could have," says Paris. "Thankfully that has changed."
Politics and pundits

When editors Alix Kenagy Hessler and Cliff Bostock offered Stephen Humphreys a job covering politics, he told them they had the wrong guy. "I told them the extent of my political exposure was reading 'All the Kings Men,' but Alix insisted that since I was a writer I could write about politics," he says. At the time, political and news weekly Southline was starting up, and keeping political coverage in the paper was necessary to maintain a competitive advantage. Humphreys arrived right as the Presidential Parkway controversy began so he started there, and continued reporting on its contentious presence throughout his time at the paper.
Humphreys became a regular at City Hall, attending court hearings and trials alongside beat reporters from the Atlanta Journal-Constitution. His reporting led to lasting friendships and career opportunities. Civil Rights leader John Lewis, at the time a City Councilman mounting a bid for Congress, planned to repeat the historic 1965 Selma to Montgomery March. Humphreys decided to travel along. "I thought, well, that'd be a good story for Creative Loafing. So I rode to Selma with John and walked with him." Lewis liked the article, and the two stayed in touch for decades.
Humphreys also covered then-Representative Wyche Fowler's successful bid for the Senate, later working for him in DC. Humphreys earned his law degree and practices in Athens, where he continues to litigate cases involving corruption, slippery politicians, and judicial malfeasance, including ones related to the special grand jury investigation into Republican attempts to overturn Georgia's 2020 election results.
In 1988, Robert Morris was working as a reporter at the Atlanta Journal-Constitution and ready to break free from the constraints and direction of the paper toward shorter stories. Hired by Cliff Bostock, Morris pitched the idea of writing about homelessness in Atlanta. "At the AJC, I would have been given three days to report and write the story. Cliff told me to take six weeks, which allowed me to live off and on with a homeless family in a shelter. That was my first article and it's some of the best writing I've ever done."
Morris also got stories the larger papers couldn't — or wouldn't — publish. Like the time Morris interviewed Jimmy Carter and managed to get the former President to confirm that it was his head of his National Security Advisory Council, Donald Gregg, who had leaked information about the Iranian hostage negotiations to the Reagan campaign. Despite concerns from the Carter team, who had learned of the confession while listening in on the interview, the story ran in its entirety. "If that had been the AJC, they would have called Anne Cox Chambers and the story would have been killed."
Another Morris cover story, "The Town That Time Forgot," exposed the entrenched racism of Blakely, Georgia, prompting investigations by the U.S. Department of Justice and Civil Rights Commission. "Creative Loafing was where the unexpected could happen, and it did. It was the best job I've ever had," he says. "We made a difference and we had an impact, and that's exactly what journalists are supposed to do."
In 1990, Greg Land launched "The Golden Sleaze Awards" handing out dubious honors to politicians whose behaviors ranged from cruel to clueless to craven. The Awards generated buzz throughout the General Assembly and political observers, and additional reporting by other news outlets. Some of the "winners" wore the honorific happily as it indicated they were not aligned with the leftist progressives and their ilk who ran and read CL .
Later, during his decade as CL 's managing editor, Ken Edelstein, who had been a news writer at the paper, expanded the paper's political coverage even more, bringing on writers Kevin Griffis, Steve Fennessy, Michael Wall, and Thomas Wheatley among others.
Money talks, bullshit walks

From an early age, Scott Walsey was a salesman and a deal maker. As a kid and then as a young man, he sold real estate and magazines door to door and worked in clothing retail. In Atlanta, he branched out from real estate to the restaurant business. When his restaurants went belly up, he approached Debby Eason about selling ads for Pocket Atlanta and then Creative Loafing. The rest is history.
"We started out with coupons and buy-five-ads-get-one-free type of thing," he says. "But what really helped us grow were the cross-promotions we did with the radio stations. I'd give the station a free ad in the paper in exchange for them saying on air, 'pick up this week's Creative Loafing for more details' and it took off from there."
When word got out that an out-of-town publishing company was looking to open a rival paper, Walsey instructed his sales staff to sweeten the existing deals for advertisers on year-long contracts, offering ads at twice the size for half the cost. When the rival started putting out feelers to potential advertisers, the [advertising] budgets were already spoken for.
With a sign on his desk that read, "Money Talks, Bullshit Walks," Walsey hired people who were young and ambitious, in part because he could help shape and train them, and in part because they were cheap. "Anyone who had ten years of sales experience wasn't coming to work for Creative Loafing. The people we hired, their training was just go for it and jump into the fire and learn."
In the early years of CL , the deadline for classified ads was Friday afternoon, with the occasional walk-in asking for a larger print ad. To ensure his staff didn't leave early on Fridays, Walsey held a weekly raffle for prizes. "Every new contract they brought in was worth a certain number of tickets, so if you brought in a five-week contract it would be worth five tickets." Tickets would be drawn to see who had won prizes ranging from movie passes to cash to lottery tickets. "I would say, here's your chance to not show up for work on Monday: Show up on Friday at five for the raffle and maybe you'll win enough money in the lottery you won't have to come back Monday."
Not surprisingly, the success of the sales team's efforts would trump the editorial side of the paper. Alix Kenagy Hessler was managing editor in 1984 and recalls having a story in layout when a late-selling ad came in that required her to scrap the photos accompanying the article. Writers were also known to "pad" the ending of stories so that they could easily be cut from the bottom to make way for a last-minute quarter-page ad.
Other editorial constraints weren't always visible to the staff. During her time as managing editor, Kenagy recalls constant back-and-forth discussions with Eason about editorial tone and content. Eason didn't share the worldview of her left-leaning writers and editors, and Kenagy and others would have to go to bat for their teams. She recalls almost coming to blows with Eason on the loading dock, until Scott Walsey happened upon and shut down their fight. "I left Creative Loafing because I got so tired and exhausted of defending and cutting writers' stories," she says. "Nowadays I can say I admire her for what she started, but at the time I just felt so defeated."
Former managing editor and longtime CL Grazing and Headcase columnist Cliff Bostock recalls advocating for more money for writers, some of whom — like John Thomas — had to work other jobs to make a living. When he finally showed Eason a survey showing that other alternative weeklies were paying their writers twice as much as CL writers, she was furious at his presumptuousness. But a week or so later, she capitulated, and Bostock was finally able to begin getting modest pay increases for his staff.
Still, for all the headaches and politics he experienced as an editor, Bostock says he is grateful for the experience. "The truth is that Debby did something wonderful for this city and for an outlier like me. We know she was stubborn and made crazy decisions, but that's the way most game changers are."
Cultural convergences

As the 1980s began, Atlanta's LGBTQ+ community was becoming more politically active and culturally influential. The first Gay Pride Day had taken place in 1976, and groups such as the Georgia Gay Liberation Front and the Atlanta Lesbian Feminist Alliance were actively lobbying for a host of gay rights issues. That mobilization and activism would accelerate as the AIDS crisis cast a pall on the community and prompted harsh moral judgments from the highest court in the land. In 1982, the Supreme Court upheld Georgia's sodomy laws in a case brought by a gay Atlanta bartender who had been arrested for having sex with another man. Chief Justice Warren Burger observed that "to hold that the act of homosexual sodomy is somehow protected as a fundamental right would be to cast aside millennia of moral teaching."
In the pages of Creative Loafing, coverage of the gay community was more accepting, in part because of the progressive, liberal bent of its editorial staff. The emergence of drag in Atlanta was covered in Creative Loafing, first with profiles of pioneers Rachel Wells and Lily White performing in venues like Sweet Gum Head and Backstreet, followed by coverage of the wildly creative personae of The Now Explosion, RuPaul and the U-Hauls, and DJ Larry Tee — who once observed that Atlanta "was the birthplace of contemporary drag culture" — whether they performed at 688, the Bistro, or Tom Zarrilli's Celebrity Club. And long before Tinder, the CL personal classified ads were where anyone and everyone along the sexual spectrum could look for love or sex or both.
Former managing editor Cliff Bostock recalls that CL was one of the only — if not the only — place for gay personals. "You had a box number assigned to you and we'd pick up the responses on a Friday and then meet up in Piedmont Park on Saturday to read through all the responses. We got ridiculous amounts of responses. We would narrow down to who we wanted to meet that week. It was like a theater of the surreal."
Persevering through rocky times
Throughout the 1990s, CL enjoyed its dominance as one of the most successful alternative weekly chains in the country. Ad sales were healthy, and the editorial mix included political, cultural, and arts coverage by increasingly seasoned reporters. CL expanded to surrounding Atlanta suburbs, as well as other cities in Charlotte, NC; Tampa, FL, Birmingham, AL, and Savannah, GA. But dark clouds were gathering on the horizon.
A comptroller had embezzled significant amounts of money, and the investment in building then seemingly "futuristic" online platforms and strategies strained resources. When the Village Voice expressed interest in buying CL, Debby's son Ben stepped in with a competing bid, borrowing millions of dollars to takeover ownership. The Great Recession hit the following year, and Ben was forced to declare bankruptcy. Under new owners Atalaya Capital and then SouthComm, the paper seemed to right size financially, and veteran reporters and editors captured the vitality, controversies, newsmakers and breakneck growth (and related tensions) of the city. Ben bought back the Atlanta paper in 2017, and the paper was transitioned from a weekly to a monthly with an online presence that offers the comprehensive news-arts-culture reporting that put it on the map a half century ago.
The next chapter
So much has changed in Atlanta over the past fifty years that early editions of the paper seem like a time capsule to another city. The city has grown from 1.2 million people in 1972 to more than 6 million today. There are still shady politicians (ahem, "elected official") and avant-garde artists, culture wars and growing pains. Mary Mac's Tea Room still serves classic Southern food and Buford Highway remains a culinary mecca for authentic international cuisine. Through it all, Creative Loafing has documented mainstream leaders and eccentric personalities, community activists and cautionary tales, racial tensions and sexual politics.
After leaving CL in 1998 to pursue other ventures, former music and managing editor Tony Paris returned to CL in 2017 when he was asked by Ben Eason to revive his High Frequencies column. About a year later, he became managing editor again. He's committed to rebuilding the CL brand as a trusted, curated source for Atlanta's increasingly heterogenous population. And while the proliferation of cultural and news sources has exploded since CL's early days, Paris says that CL's irreverent, unexpected, eye-opening takes on Atlanta provide perspectives not found in other media.
Paris says he's also invested in finding new writers and new voices, and giving them the same guidance and freedom he and countless other Loafers have had. "The challenge is not only making Creative Loafing relevant in the digital age," he says, "it's getting young writers who want to grow and learn, and nurturing them along the way."
Many of those who passed through CL's doors through the last five decades cite that opportunity as life changing. Suzanne Van Atten spent a decade working at CL, which she calls the highlight of her 35-year-and-counting journalism career. "The autonomy we had to do whatever we wanted and the camaraderie we shared doing it could never be matched again. Some of my closest friends today are people I worked with at CL. I feel incredibly fortunate to have had the experience."
—CL—