>>

CL 50th

>>

CL Issue July 8, 1972
CL Issue July 8, 1972
Tech Engineer World Champ Bowler - Vol. 1 Issue 6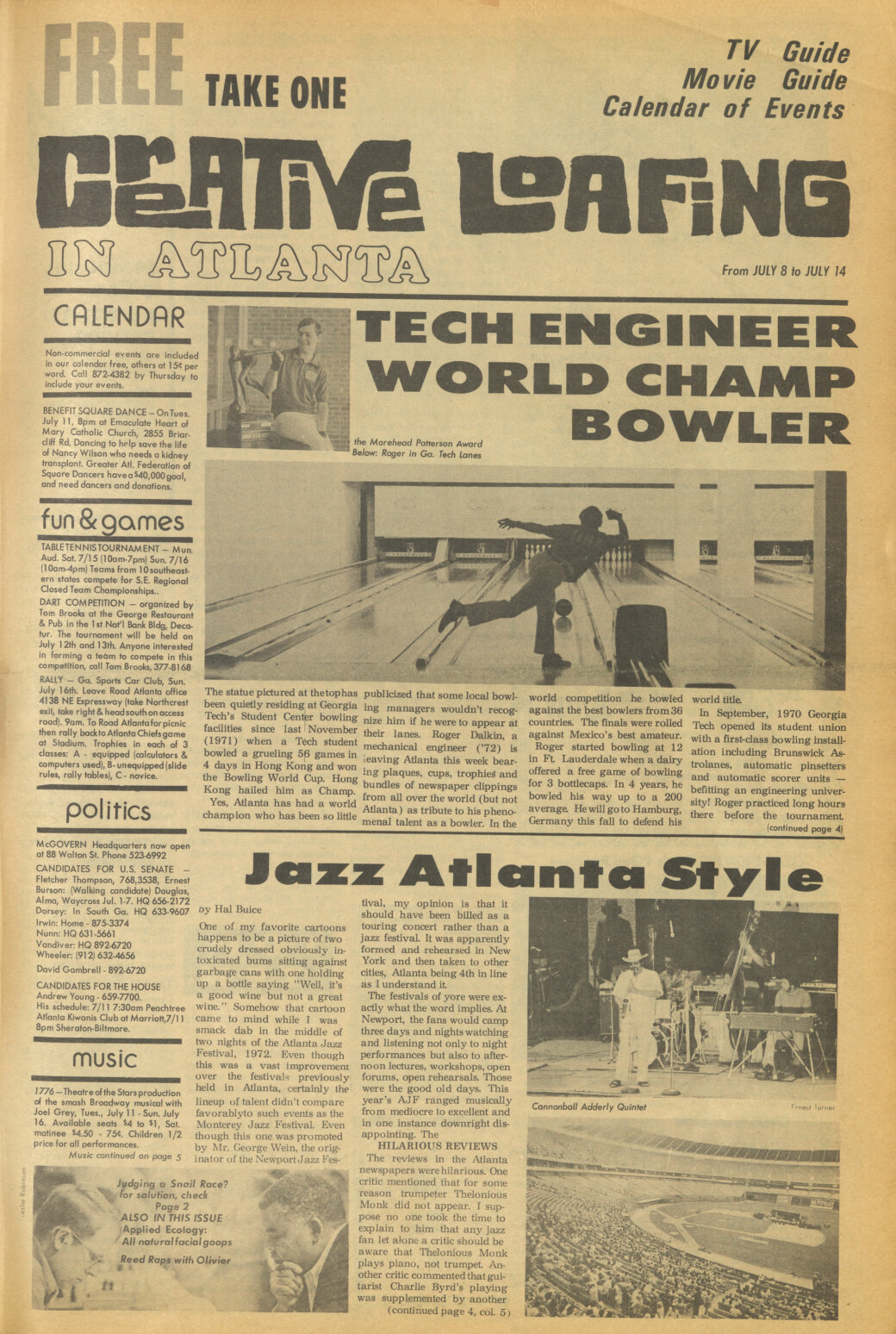 The July 8th publication has the cover articles "Tech Engineer World Champ Bowler" and "Jazz Atlanta Style," along with other articles on Zoo Atlanta, Healthy Living, an interview with Laurence Olivier, and other sections on movies and shows, bowling, Sailing, and television.
Highlights:
The statue pictured at the top has been quietly residing at Georgia Tech's Student Center bowling facilities since last November (1971) when a tech student bowled a grueling 56 games in 4 days in Hong Kng and won the Bowling World Cup...Yes, Atlanta has had a world champion who has been so little publicized that some local bowling managers wouldn't recognize him if he were to appear at their lanes. Roger Dalkin, a mechanical engineer ('72) is leaving Atlanta this week bearing plaques, cups, trophies and bundles of newspaper clippings from all over the world (but not Atlanta) as a tribute to his phenomenal talent as a bowler. 
Jazz Atlanta Style - Review of the 1972 Atlanta Jazz Festival here
Friends of the River - On July 6, the Board of the Atlanta Regional Commission will approve the staff report on: A land use plan for the Chattahoochee River Corridor - 4000 ft. of land on the banks of the Chattahoochee for a 48 mi. stretch (2000 ft. on either side) Immediately after the approval, the plan goes to Cobb, Fulton, Gwinnett & Forsyth Counties for adoption & implementation. The Great Raft Race was given a benefit premiere for the Chattahoochee River Land Acquisition Fund. The benefit was co-sponsored by The Friends of the River & the Georgia Conservancy. Over $5,000 was raised. 
Table Tennis Tournament - Mun. Aud. Sat 7/15 (10am-7pm) Sun. 7/16 (10am-4pm) Teams from 10 southeastern states compete for S.E. Regional Closed Team Championships. 
Soul Festival - Staple Sisters, Joe Simon and The Stylistics will sing at the Mun. Aud., Thurs. July 13. Tickets $4, matineel evening $4.50.
Staff:
Editor, Deborah Eason
Advertising Director: W.S. Trammell
Managing Editor: Annette Hall
Editorial Ass't: Yetta Levitt

The full issue is available on GSU Archives here