>>

CL 50th

>>

ATL UNTRAPPED: B.o.B., Creative Loafing, and Atlanta's undying appreciation for weird
ATL UNTRAPPED: B.o.B., Creative Loafing, and Atlanta's undying appreciation for weird
The genre-defying hitmaker is in his final form ahead of the release of 'Better Than Drugs'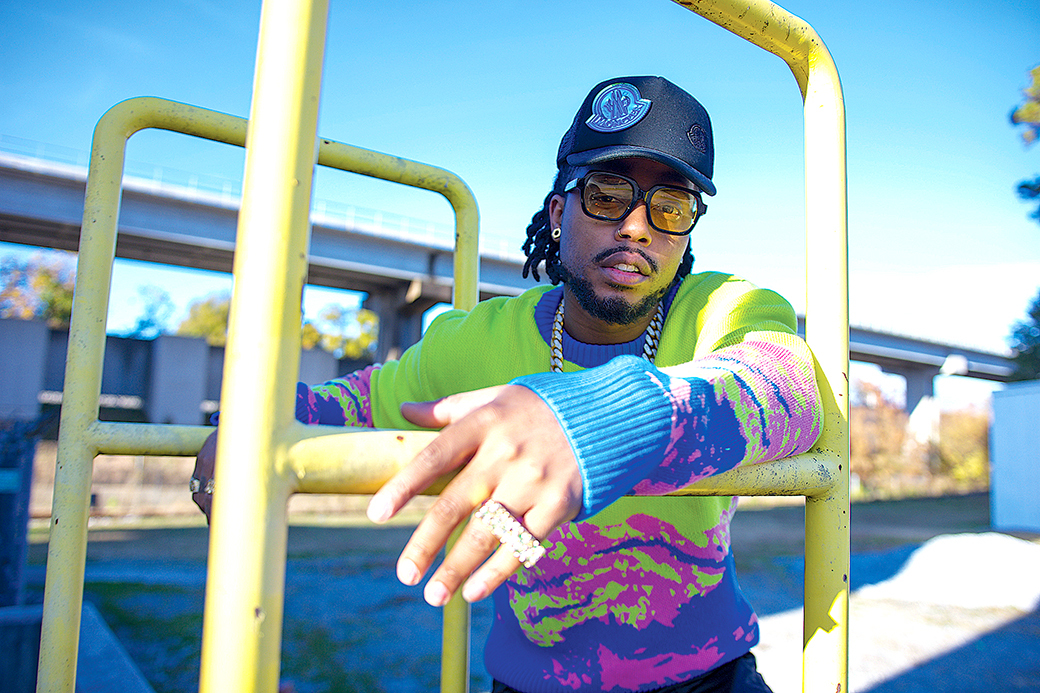 BETTER THAN DRUGS: Ahead of his next album, B.o.B. discusses his legacy and the future of Atlanta's music scene.
B.o.B. shouldn't have been willing to do an interview with CL.
Over the latter half of the previous decade, nearly all of the articles written about him were rife with ridicule over the rapper's belief about the earth being flat. And while I'm not saying that B.o.B.'s comments shouldn't have been questioned — because everyone and everything should be these days — past CL writers definitely had fun at the genre-defying hitmaker's expense. If he had read all of those pieces before agreeing to this interview, who knows if it would have ever come to fruition.
Luckily, he didn't read any of them.
Yet even as I inform him about those stories, B.o.B. doesn't flinch. Unbothered by my bad news, he chooses not to dwell on any of the negativity from CL's past coverage. In fact, the Decatur artist reveals that he couldn't have been happier for an opportunity to appear in the paper's 50th anniversary issue. From his perspective, CL is integral to the documentation and progression of the Atlanta music scene.
"Oh, Creative Loafing is solidified," B.o.B. says with the utmost respect from Atlanta's favorite death-defying publication. "An Atlanta OG — legendary. As soon as I got the news, I was like, 'I'm there, fuck yeah!"
His legacy, like this newspaper's, isn't lost on me. I probably belted out something similar to "fuck yeah" when his publicist Taylor B. said that he was available for an interview.
Temporally shoehorned between the cultural dominance of OutKast — who are perhaps the most famously strange Atliens of all time — and the quirky fashion and musical stylings of Young Thug, B.o.B. is an undisputed Atlanta legend. The 33-year old had a storied run on T.I.'s Grand Hustle Records with B.o.B Presents: The Adventures of Bobby Ray, Strange Clouds, and Underground Luxury — all of which spawned multiple platinum-certified hit singles. Since becoming an independent artist towards the end of the 2010s, the former XXL Freshman has continuously experimented with unconventional ways to share his art with listeners, from dropping The Upside Down as an Instagram-exclusive album in 2017 to releasing his Artificial Intelligence project earlier this spring as a Patreon exclusive.
Now, with his next album locked and loaded, B.o.B. is ready to remind everyone who the fuck he is as an artist and distance himself from the noise about his polarizing personal beliefs.
"At this point in my life, I don't mind people just liking me for my music," he explains, "but that's just not the way the world works. I feel like the more and more it became not about the music, it was the less fun I had making music."
Fortunately, that's not the case anymore. In the coming months, B.o.B. is set to unleash a considerable amount of new music, starting with his Hang Dynasty and AIR co-produced single "Vimana" on June 10 and then his album Better Than Drugs on July 8. He's very open about what his fans can expect from "Vimana" — which he describes as a reflect track that walks listeners through some of the most significant adversities and learning experiences from throughout his storied career — but when it comes to his intriguingly titled album, he remains tight-lipped.
Admitting that he merely enjoys being cryptic, the talented rapper and multi-instrumentalist is adamant that listeners decipher the title for themselves, but he still makes sure to offer a few exciting details about the record. According to B.o.B., Better Than Drugs will consist of 12 to 14 songs, and it will also feature guest appearances from Tech N9ne, Baby Tate, Black Bo from Travis Porter, Ray Moon, Tokyo Vanity, Tuki Carter, and Jace from Two-Nine. Playfully dubbed as an "Eastside occasion," the Decatur artist will be in his final form on his forthcoming full-length effort.
"People compared me to OutKast a lot, and just that whole Dudgeon Family sound, at the early part of my career. I felt like I had to be André and Big Boi at the same time," B.o.B. admits. "I wanted to be accepted for doing all the different weird shit but then it's like, you got to come back and remind niggas like, 'Naw, I'mma kick that fly shit too.' But it was always this struggle of doing it together. Then there was the challenge of having all that pop success get in your head."
"You start thinking like how the record labels think, and it's just — it's terrible," the Grammy-nominated artist continues, chuckling. "Now, I'm on my own accord, playing the game by my rules. I got into the industry so young, so I was still developing a personality, and all this, and that, so there were a lot of tough life lessons I had to learn to get to this point that I'm at. And now I can actually be in my final form."
For B.o.B., his "final form" is more than a newfound level of musical expertise. It's hard-earned happiness that has resulted from all of the lessons that he has learned throughout his career, from trusting your gut and keeping an eye on all your business dealings to building a solid team and learning to truly understand yourself. With his final form now fully realized, B.o.B. is ready for the next phase in his career, which will consist of Better Than Drugs, a band-backed tour this fall, a soon-to-be-announced rock outfit with his longtime guitarist and collaborator Kyle "7King" King, and a follow-up to Artificial Intelligence later this year.
Yet beyond his own upcoming career arc, B.o.B. is thrilled with the direction that his city's music scene is heading in, citing sensational artists like Raury and TTO K.T. as some of his favorites at the moment.
"You can be successful and be weird and be different. You don't have to fit into the mold," B.o.B. said. "It's a lot of people that are not really sticking too tightly to one type of mode of music.You might see them singing, rapping, or playing instruments and shit. In maybe a couple more summers or something, it's gonna be a whole different Atlanta."
Judging from the B.o.B.'s swiftly approaching renaissance, the genre-fluid artists climbing up the ranks in the city, and CL's continued role in offering a platform, Atlanta's love and appreciation for weird is alive and well. That's due to all of the oddball creatives that have called this city home over the last several decades, from CL's long list of contributors to musical innovators like B.o.B. Here's to a strange 50 years of creatively loafing and, hopefully, to an even stranger 50 more. —CL—