CREATIVE ARTS: Street art in August truly highlights the city's beauty
Exhibitions pay homage to Indigenous tradition, graffiti, and abstract expressionism this month
For me, there has always been a certain beauty in street art. The graffiti that envelopes the walls in many areas of downtown Atlanta, to the massive murals that can be found on the BeltLine, these works encompass an emotion that you can't find among the city's galleries or museums. These artists — who most of the time remain unknown — won't allow you to judge their art by their reputation, background, or experience, because all you have to look at is the work that is in front of you. No opening exhibition, charcuterie boards, or elegant back music — just the art.
With the summer months being in full swing and we find ourselves outside more frequently, there's no choice but to see the countless pieces that surround us. Yoyo Ferro's colorful installation in historical College Park exudes the growth and vibrancy of the neighborhood, while B.Mike's large painting in Castleberry Hill encapsulates a child's innocence, and the tragedy has to leave childhood behind, much too early. In fact, a lot of street art has found its way into some of the up-and-coming businesses in the Metropolitan area. The two locations for Virgil's Gullah Kitchen commissioned two amazing artists to enhance the vibe of their establishments, and Botica in Midtown has an amazing painting just outside its entrance that has been the backdrop for several photos across social media.
Some of the exhibitions open in August serve as an ode to an artform that was born out of necessity. Through Jan. of next year, that Schatten Gallery at Emory will be home to the Graffit: A Library Guide to Aerosol Art, and while the expressive strokes that has come to be synonymous with artists of Indigenous descent will be on display until Sept. 4 at the Atlanta Contemporary Art Center — Returns: Cherokee Diaspora and Art, and You Are Heleswv (Medicine). So, whether you consume your art in the controlled environment of a gallery or as a voyeur of street art, just make sure you remain present, respect the process, and do you best to truly see that art for what it is.
Through Jan., 2023
Graffiti: A Library Guide to Aerosol Art, Schatten Gallery at Emory University's Woodruff Library — One of the most interesting forms of artistic expression is on display at Emory through January of next year. Graffiti has come to be associated with many of the impoverished communities of this country and was also pivotal during the infancy of today's most popular musical genre — Hip-Hop. This comprehensive exhibition in the Rose Library will highlight the artform's importance by showcasing printed materials related to graffiti, such as books and photography collections. All of these installations will assist in investigating aerosol art, and how it has become a historical, cultural, and visual representation for an entire group of people yearning for a voice.
Free. Now-Jan. 2023. 540 S. Asbury Circle, Atlanta, 30322. 404-727-6861 www.libraries.emory.edu @emorylibrary
Through Sun., Sept. 4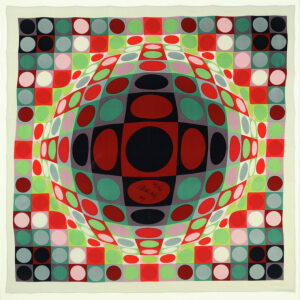 Off The Grid, High Museum of Art — This exhibition takes a look at the diversity of the High's collecting areas, showing works by artists from different cultures and artistic styles, but brought together by the concept of grids. Off The Grid highlights the art of people such as Sol LeWitt, Agnes Martin, Ad Reinhardt, Franks Stella, Agatha Bennett, Harry Callahan, and Howardena Pindell. The exhibition moves across various practices which include works on paper, quilting, and photography. The grid as it's used in art has established its dominant theme in the twentieth century, and this collection at the High seeks to change the perception past minimalism and abstract artists and shows a more diverse group of artwork and mediums.
16.50. Now-Sun., Sept. 4. 1280 Peachtree St. N.E., Atlanta, 30309. 404-733-4400 www.high.org @highmuseumofart
Tues., Aug. 2-Mon., Aug. 15
Eyes on Atlanta: Asian Perspectives in Photography, Atlanta Photography Group Gallery — Originally started by the Atlanta Photography Group's Director of Media and Cultural Outreach Darnell Wilburn, this exhibition will be the second installment the Eyes on Atlanta: Windows into our Community series, and is curated by the current Artistic Operations Manager, Yusheng Liu. The lens-based collection will focus on the artists within the demographic that make up the member base at ATL's Photography Group. Asian Perspectives in Photography will be on view for 14 days in a gallery at Ansley Mall.
Free. Mon., Aug. 2-Mon., Aug 15. 1544 Piedmont Ave., Ste. 107, Atlanta, 30324. 404-605-0605 www.atlantaphotograpygroup.org @atlantaphotographygroup
Through Sun., Sept. 4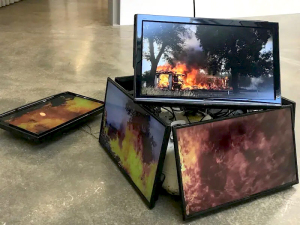 Returns: Cherokee Diaspora and Art, Atlanta Contemporary Art Center — This exhibition borrows its name from James Clifford's book Returns: Becoming Indigenous in the Twenty-First Century and explores cultural renewal through works three artists — Luzene Hill, Brenda Mallory, and Kade Twist. These contemporaries examine the three facets of their identity — as an artist, a Cherokee citizen, and a human being — from their own individual perspective. Throughout history the Cherokee have had to adapt and evolve to survive and pass down their culture, so this exhibition is set up to continue that tradition. These works produced through different forms of media will not only express the experience of the Cherokee, but also make the viewer think about where they fit in on this earth.
Free. Now-Sun., Sept. 4. 535 Means St., NW, Atlanta, 30318. 404-688-1970 www.atlantacontemporary.org @atlantacontemporary
Through Wed., Aug. 31
Women Abstract Expressionists, rek Gallery — The summer exhibition at rek features a talented group of women who manifest their artistic vision through abstract expressionism. This collection was also constructed to showcase the pioneers in Southern art who have been overlooked throughout the years. The artists included are Kathy Costley Broyles, Daisy-Anne Dickson, Niyati Jiwani, Shardaya Jones, Amber McCants, Alisha Morgan, Kimberly Ort, Victoria Phillips, Jill Pope, Carol Santos, Shanon Schneider, Marianne van der Haar and Patricia Young, and its second "First Friday" celebration takes place on Aug. 5.
Free. Now-Wed., Aug. 31. 3383 Lawrenceville Hwy., Tucker, 30084. 678-404-5597 www.rek.gallery @rekgallery
Through Sun., Sept. 4
You Are Heleswv (Medicine), Atlanta Contemporary Art Center — This exhibition at Atlanta Contemporary includes several installations from artists of indigenous descent. With his video TOTSU (Redbird), Jeremy Charles combines the Cherokee language, themes of MMIW, and Indigenous Futurism. Nathaniel Cummings-Lambert's contribution is a Deed of Cultural Easement, and Kalyn Barnoski's work is inspired by the tradition of Cherokee weaving and basketry. Patrick Freeland shows heleswv in vessels created by Cindi Wood, and in addition to the Mvskoke plants are the poems from Joy Harjo. Kyle Bell passes on the knowledge of our Mvskoke foods, and a ceramic sculpture by Raven Halfmoon serves as a reminder of the painful history of the Cherokee and Muscogee.
Free. Now-Sun., Sept. 4. 535 Means St. NW, Atlanta, 30318. 404-688-1970 www.atlantacontemporary.org @atlantacontemporary
Through Sat., Aug. 6
Craig Dongoski: Testament, Whitespace — If you travel down towards the end of Edgewood Avenue, you'll run right into Whitespace, a contemporary art gallery that used to be a carriage house in the 1800s. The establishment features different mediums from a variety of artists, and through Aug. 6, you can check out Testament by Craig Dongoski. His work centers around the development of new forms and new vocabularies with the intention of pushing the envelope of art. You can view this exhibition from Thurs. — Sat. from 11am to 5pm or by appointment.
Free. Now-Sat., Aug. 6. 814 Edgewood Ave. NE, Atlanta, 30337. 404-688-1892 www.whitespace814.com @whitespace814
Through Sun., Sept. 18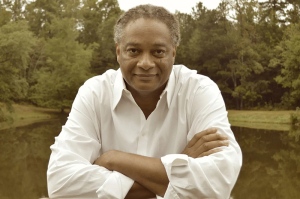 Joe Barry Carroll: My View From My Seven Feet, Hammonds House Museum — Curated by Leatrice Ellzy Wright, My View From Seven Feet is a collection of stories and experiences from NBA All-Star Joe Barry Carroll, and he expresses his perspective through several figurative and abstract paintings that are hopeful, celebratory, and reflective. Being seven feet tall, Carroll's point of view is a lot different from the normal person — so step into his world with this unique exhibition at Hammonds House Museum.
$10. Now-Sun., Sept. 18. 503 Peeples St., Atlanta, 30310. 404-612-0481 www.hammondshouse.org @hammondshouse
Fri., Aug. 26-Sat., Oct. 1
About Now: An Introspective, Bill Lowe Gallery — Artist Jimmy O'Neal has always had a deep interest in physics, science, and biology, which is shown in some of his work. Being exhibited in several galleries across the country, this classically trained painter's art now lands at the Bill Lowe Gallery in Buckhead. About Now: An Introspective will include new painting, drawings, sculptures, and installations from the man himself, along with some earlier works that have been remastered. In this exhibition, the central theme is "the exposure of the thin membranes that exist between our experiences of reality," which is a concept that he has frequently explored through his 30-year career as a creative.
Free. Fri., Aug. 26 — Sun., Oct. 2. 764 Miami Circle, Ste 210, Atlanta, 30324. 404-352-8114 www.lowesgallery.com Bill Lowe Gallery