FALL ARTS PREVIEW: Music
'New Music in Atlanta @ The Museum of Contemporary Art': Features works by living Atlanta-based composers David Garner, Mark Gresham, Richard Prior, Juan Ramirez and Alvin Singleton. Each composer will introduce his piece at the concert on Sunday, Oct. 30.
The final installment of Creative Loafing's Fall Arts Preview focuses on music events and concerts throughout the city, from now until the end of the year. These offerings are to help you make plans in advance to attend such performances, festivals, and events.
As noted last week, for many people, the public health situation is back to near-normal. With masks optional and relaxed protocols almost everywhere, anecdotal experience suggests that galleries, exhibitions, live concerts, theater, dance and other public arts events will continue to see rising attendance through the end of the year and into 2023. Nevertheless, as reported here, some gallery owners, venue operators and arts presenters are still experiencing a deleterious impact on ticket sales and traffic in general caused by COVID-19.
Speaking of which, in September the CDC recommended that "everyone ages 12 years and older in the United States receive an updated COVID-19 booster before a possible surge in COVID-19 illnesses later this fall and winter." The updated doses help restore protection that might been reduced from the initial vaccination as well as provide extra protection against recent variants including Omicron BA.4 and BA.5. Individuals 65+ years of age or immunocomprised remain at higher risk.
The following compendium of upcoming music events is by no means complete as to what the reader may find in Atlanta. Keep checking Creative Loafing for updated listings, details on ticket availability, and dates and times, which are always subject to change.
Atlanta Chamber Players
Elizabeth Pridgen, Artistic Director
Vanya Foote, Executive Director
atlantachamberplayers.com
The Atlanta Chamber Players (ACP) kick off the fall season with a program on Oct. 23 at 3 p.m. at Peachtree Road United Methodist Church featuring the regional premiere of Benjamin Horne's composition for clarinet, violin, cello and piano. The work was co-commissioned by the ACP as part of the Cross-Country Chamber Consortium, which awards commissions to Black, Latinx and indigenous emerging composers.
ACP Concert (Oct. 23, 3 p.m.) — Program TBA. Venue: Ahavath Achim Synagogue
ACP Concert (May 21, 3 p.m.) — Program at the First Presbyterian Church will include the world premiere of Benjamin Raphael Nabors piano quintet (Rapido! Cycle Five Winner), which was co-commissioned by the ACP.
Vanya Foote, Executive Director: "We are still dealing with COVID in terms of audience attendance, but it may be that some folks will just never return vs. people concerned about COVID restrictions or cautiousness. I think we all are trying to figure out how we can attract new audiences or transfer our virtual audiences to in-person. As we get closer to the concert dates, we will see what happens in terms of COVID protocols and adjust based on the conditions and what our partner-venues recommend. The venues on our calendar are large, with knowledgeable staff well-experienced in operating during the pandemic. The first and third concerts will be live-streamed."
Atlanta Gay Men's Chorus
Donald Milton III, Artistic Director
voicesofnote.org/agmc/
@QueerZ (Oct. 15) — The Atlanta Gay Men's Chorus will perform the east coast premiere of @QueerZ, a choral theater work that explores the joys and challenges of being LGBTQ+ and a member of Generation Z, on Oct. 15 at 3 p.m. at the Georgia Tech Ferst Center for the Arts followed by a second performance at 8 p.m. Written by 26-year-old composer and lyricist Julian Hornik, whose credits include a musical based on the early life of Tennessee Williams and a queer immersive musical take on Shakespeare's As You Like It, @QueerZ is a 12-movement song cycle described as "a love letter to the LBGTQ+ community."
Holiday Concert (Dec. 2-3) — The Atlanta Gay Men's Chorus' annual Holiday Concert features a program of songs from different cultural and musical traditions, which transport the audience on an emotional journey through the winter holidays. Performances at the Cathedral of St. Philip in Midtown are Dec. 2 at 8 p.m. and Dec. 3 at 2 p.m. and 8 p.m.
Gellin Hughes, Marketing Officer: "AGMC continues to feel the impact of COVID and we are very grateful for the support by our members and patrons during these uncertain times. We planned to debut @QueerZ in June, but we made the difficult decision to postpone the show until October due to the high number of incident COVID infections in Atlanta at the time. While we are overjoyed to return to the stage in person, we have continued to take precautionary measures throughout the season."
The Atlanta Opera
Tomer Zvulun, General and Artistic Director
atlantaopera.org
Bluebeard's Castle (Bela Bartók) (Oct. 7, 8, 9) — As part of the opera company's award-winning Discoveries Series of new and rarely seen chamber operas, The Atlanta Opera opens the 2022-23 season with the American premiere of a new production of Bela Bartok's Bluebeard's Castle. Typically staged as a psychological thriller or Gothic horror, this production from England's Theatre of Sound centers the story on the loss of a beloved partner to the ravages of dementia. Michael Mayes, star of several Atlanta Opera productions, re-unites with Susan Bullock as Bluebeard and Judith. Presented in partnership with Kennesaw State University's School of Music, Bluebeard's Castle will be staged at the Dr. Bobbie Bailey & Family Performance Center.
Madama Butterfly (Giacomo Puccini) (Nov. 5, 8, 11, 13) — The Atlanta Opera mainstage season opens at Cobb Energy Performing Arts Centre with Giacomo Puccini's enormously popular and haunting story of love, longing and sacrifice. The Atlanta Opera promises a "visually stunning staging that transports audiences." Japanese soprano Yasko Sato has received worldwide acclaim for her interpretation of Cio-Cio-San (the title character's common name). Joining Sato in the role of Navy Lt. B.F. Pinkerton is Italian tenor Gianluca Terranova.
Tomer Zvulun: "The Atlanta Opera continues to enforce a number of health and safety protocols in the workplace and during rehearsals to protect our artists and staff from COVID. While our Health & Safety Task Force, headed by Emory University's Carlos del Rio, continues to assess the risks to audiences, any decisions we make about audience protocols will be based on the actual conditions closer to the performance dates in October and November."
Atlanta Symphony Orchestra
Natalie Stutzmann, Music Director
aso.org
The Atlanta Symphony Orchestra's 78th season includes eight programs led by incoming Music Director Nathalie Stutzmann showcasing repertory staples, such as Beethoven's Ninth Symphony, Brahms' Third Symphony and Bach's St. Matthew Passion, as well as the world premiere of a new choral piece by Hilary Purrington featuring the Atlanta Symphony Orchestra Chorus.
The 2022-23 season opens on Sep. 22 and 24 with guest conductor Peter Oundjian and piano legend Emanuel Ax for Mozart's classic Piano Concerto No. 18, paired with To Awaken the Sleeper, a riveting composition by Emmy Award-winning Atlanta native Joel Thompson featuring words by Harlem Renaissance luminary James Baldwin. Oundjian also leads the ASO in a performance of Rachmaninov's Symphonic Dances. The season will feature U.S. premieres of works by Lera Auerbach, Helen Grime and Tyshawn Sorey; ASO debuts from artists and conductors including Kazem Abdullah, Justin Austin and Elim Chan; and the return of such familiar faces as Lise de la Salle, Gil Shaham, and Principal Guest Conductor Sir Donald Runnicles.
The Family Concert Series returns with Halloween Spooktacular, The Polar Express in Concert and Symphony Safari. Movies in Concert with the ASO will feature Coco in Concert and Joker in Concert. The Atlanta Symphony Hall LIVE fall line-up includes R.E.M. Explored with the ASO, Il Volo, Amos Lee with the ASO, Joe Satriani and An Evening with Brian Culbertson.
Tammy Hawk, VP of Marketing and Communications: "We are happy to share that the Atlanta Symphony Orchestra is back and better than ever, with strong pre-season subscription sales. We're excited about single tickets going on sale in August and the buzz around our new Music Director, Nathalie Stutzmann. This summer, we updated the Galleria space in the Memorial Arts Building of the Woodruff Arts Center to enhance the concert-going experience. We encourage patrons to come early and enjoy the new bars and lounge seating, along with their favorite cocktail."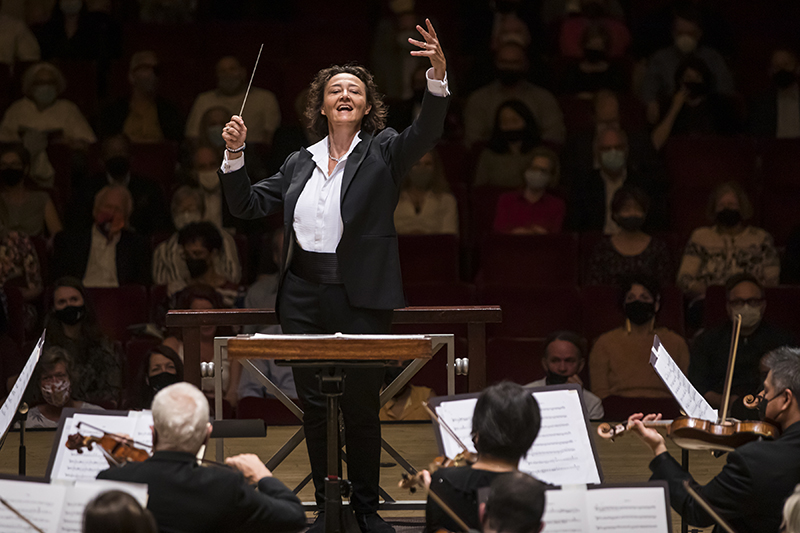 Coro Vocati
John H. Dickson, Artistic Director
corovocati.org
Dear World (Oct. 1-2) — Coro Vocati kicks off its first full season of performances since 2019-2020 with a concert inspired by Emily Dickinson's poem, "This is my letter to the world." The program's title song, "Dear World," was composed by students of Coro Vocati Artistic Director John Dickson while he was Director of Choral Studies at Louisiana State University. The program's lyrics draw from letters written by the three elementary school students, as they ruminate on caring for the Earth, creating a more peaceful world and pursuing personal passions. Coro Vocati will perform Dear World on Saturday, Oct. 1 at 7 p.m. at Morningside Presbyterian Church in Atlanta and on Sunday, Oct. 2, at 2:30 p.m. at Holy Innocents Episcopal Church in Sandy Springs.
David Daly, Managing Director: "Our attendance data does not support the idea that concert attendance has returned to pre-Covid numbers. We've seen strong audiences, but in fewer numbers than we saw prior to early 2020."
eyedrum
Will Lawless, Board Chair
eyedrum.org/
Kirkwood Ballers Club (Sep. 15 and every third Thursday) — Atlanta's experimental open mic night lives at eyedrum. Management recommends: "Bring an instrument, record, beat, turntable, laptop, prepared piece, song, film score, voice, bag of blood, agenda, youth rebellion." And stay safe, kids.
SWEET TEA: A Queer Variety Show (Sep. 22) — Atlanta's longest-running queer variety show typically features drag, spoken word, burlesque and live music performances.
Hardcore Outdoor Show (Sep. 26) — New Jersey hardcore punk band Gel play an outdoor set at eyedrum with Gumm, Feral, Dark Vaughn and RoyalScam.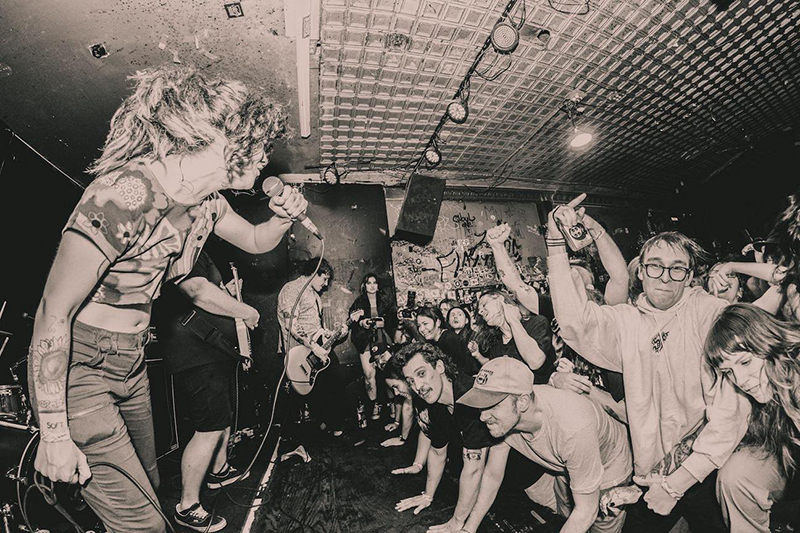 ELEVATE: Open Spaces 2022 Presents: eyedrum & Atlanta (Oct. 8-9) — This fall eyedrum is showcasing the history of Black Mountain College (BMC), which was founded by John Andrew Rice in 1933 (see separate entry below). Among the faculty and students who taught at or attended the college near Asheville, North Carolina, are Josef and Anni Albers, Walter Gropius, Robert Motherwell, Robert Rauschenberg, Willem and Elaine de Kooning, Merce Cunningham, John Cage and Buckminster Fuller. For the exhibition ELEVATE: Open Spaces eyedrum will draw upon ideas, techniques and examples from many of the BMC artists whose influence on contemporary art and design is inestimable.
BASrelief (Oct. 14) — Benjamin Shirley (cello), Majid Araim (mandolin) and Julian "Scotty" Bryan celebrate the release of BASrelief's new CD, Given Dreams, on a bill that also features saxophonist-composer Jeff Crompton playing a solo set and Lauren Neefe reading her poetry.
Cinequeer Film Night (Oct. 15) — An outdoor screening of queer + trans written and directed films and shorts.
Norman Westberg (Oct. 19) — Best known for his work with seminal no wave band Swans, Norman Westberg will perform a set of solo ambient music.

Experimental Curator: The Sally Dixon Story (Nov. 4-6) — Directed by Brigid Maher, this one-hour documentary delves into the life of experimental film curator Sally Dixon. Dixon was a pioneering artist, a trailblazer in the "film as art" movement, who created the film program at The Carnegie Museum of Art in 1970, one of the first institutional programs of its kind.
Black Mountain College: Idea + Place — Furthering the Experimental Legacy of Black Mountain College (Sep. 24-Nov. 12) — Founded in 1933, Black Mountain College (BMC) was conceived by John Rice as a new type of learning institution based on John Dewey's principles of progressive education. Would Black Mountain College have attained the same identity and lifespan had it been located in the urban Northeast, desert Southwest or coastal California, rather than in the Blue Ridge Mountains near Asheville, North Carolina? How did the Great Depression and Jim Crow South milieu influence the evolution and implementation of ideas upon which the college was based? Black Mountain College: Idea + Place seeks to answer these questions by examining the places of BMC, in particular the college's two different campuses and influential predecessor, the Bauhaus in Germany, as well as the post-BMC diaspora.
Emory Chamber Music Society of Atlanta
William Ransom, Artistic Director
chambermusicsociety.emory.edu
30th Anniversary Celebration (Sep. 17) — Celebrate 30 years of live chamber music presented by the Emory Chamber Music Society of Atlanta (ECMSA) with a concert featuring the Vega Quartet — violist Zhenwei Shi, cellist Jesús Castro-Balb, violinists Helen Kim and Jun-Ching Lin, and pianists Julie Coucheron and William Ransom — performing Brahms' Variations on a Theme of Haydn for 2 Pianos; Ravel's String Quartet; Barber's Adagio for Strings and Mendelssohn's Octet for Strings.
ECMSA Bach's Lunch Series (Sep. 23) — Dazzling duo showpieces by Doppler, Sarasate, and Kodaly will be performed by Helen Kim and Jessica Shuang Wu, violin; Charae Krueger, cello; James Zellers and Erica Pirtle, flutes; and William Ransom on piano.
ECMSA: Schubert's Trout at Georgia Aquarium (Oct. 2) — What better place to enjoy one of Schubert's most popular works, the Trout Quintet, than at the Georgia Aquarium? Tenor Timothy Miller also sings the original song with Julie Coucheron, piano; Amy Schwartz Moretti, violin; Charae Krueger, cello; Yinzi Kong, viola; and Joe McFadden, bass. Free with Aquarium admission.
Alec Chin, piano (Oct. 14) — Pianist Alec Chien returns to Emory after a stunning performance on the Beethoven Piano Sonata Series in 2020 to perform a program that includes Modest Mussorgsky's immortal "Pictures at an Exhibition." Free with registration at Carlos Museum website.
Cooke Noontime Concert: Alec Chin (Oct. 14, 12-1 p.m.) — The Carlos Museum and the Emory Chamber Music Society of Atlanta welcome pianist Alex Chien for a performance of Mussorgsky's "Pictures at an Exhibition" and other works for solo piano. The ECMSA Cooke Noontime Series is free but space is limited and registration is required.
New Music in Atlanta @ The Museum of Contemporary Art (Oct. 30) — Music by living Atlanta composers featuring works by David Garner, Mark Gresham, Richard Prior, Juan Ramirez and Alvin Singleton. All composers will be present to introduce their pieces. Free with Museum admission.
Cannon Chapel: Waits Chamber Music Concert: T.S. Eliot: Four Quartets, part I (Nov. 5) — Actor Timothy McDonough reads the first pair of T.S. Eliot's dramatically musical poems interspersed with Beethoven's Quartet Op. 132, which inspired the work, performed by the Vega Quartet.
Soovin Kim, violin; Gloria Chien, piano @ Oxford College (Nov. 10) — Sonatas by Beethoven and Brahms performed by the acclaimed husband-and-wife duo.
Soovin Kim, violin; Gloria Chien, piano (Nov. 12) — The extraordinary duo of Soovin Kim and Gloria Chien are master performers and recent recipients of the Chamber Music Society of Lincoln Center's Award for Extraordinary Service to Chamber Music. With members of the Vega Quartet, they will perform music of Debussy, Prokofiev, Dvorak and Chausson's brilliant Concerto for Violin, Piano and String Quartet.
Kopleff Recital Hall, Georgia State University School of Music
Bent Frequency/Chamber Cartel
bentfrequency.com / chambercartel.com
Timber (Michael Gordon) (Sep. 30) — Bent Frequency, in partnership with another Atlanta-based contemporary chamber ensemble, Chamber Cartel, opens its 2022-2023 season, "RESONANCE," with a performance of Timber by Bang on a Can co-founder Michael Gordon. The concert on Sep. 30 at Kopleff Recital Hall on the Georgia State University downtown campus is free and open to the public. Gordon's epic 5-part, 70-minute composition from 2009 is scored for six wooden two-by-fours of varying sizes, known as "simantras." First incorporated into Western music in the late 20th century by Iannis Xenakis, simantras have been used for centuries in Eastern Orthodox liturgical services. In Timber, the simantras create shifting timbral colors and complex rhythmic patterns, reminiscent of Steve Reich's phase music, which immerse the listener in a swirling, mesmerizing percussive experience.
The Nancy Frampton Rising Artists Series
morningsidepc.org/the-nancy-frampton-rising-artists-series
Created in honor of Atlanta arts enthusiast Nancy Walker Frampton, The Nancy Frampton Rising Artists Series showcases the next generation of classical music stars. During the series' inaugural season, featured artists included Colombian tenor David Rivera Bozón and the Nashville-based Zimri Quartet. All concerts take place at Morningside Presbyterian Church in Atlanta.
An Evening with American Soprano Jasmine Habersham (Oct. 29) — American soprano and Georgia native Jasmine Habersham is a versatile and dynamic artist whose recent performances include The Atlanta Opera productions of Der Kaiser von Atlantis, The Threepenny Carmen and as Cleopatra in Julius Caesar. In addition to her operatic credentials, Habersham has been a featured soloist in concert productions of Szymanowski's Stabat Mater, Schubert's Mass in G, Handel's Messiah and Duke Ellington's Concert of Sacred Music.
No Tomorrow
Priscilla Smith, Artistic Director
facebook.com/NoTomorrowUnderground/
Tim Kaiser (Oct. 10) — Weirdo Industrial Complex founder and electronic and analog instrument-maker extraordinaire Tim Kaiser makes good noise for modern humans. In addition to touring the U.S., the Duluth, Minnesota-based artist's video, installation and performance art projects have been presented in clubs, galleries and alternative spaces from Germany and Brazil to Hong Kong and Cuba.
https://www.youtube.com/user/performanceartist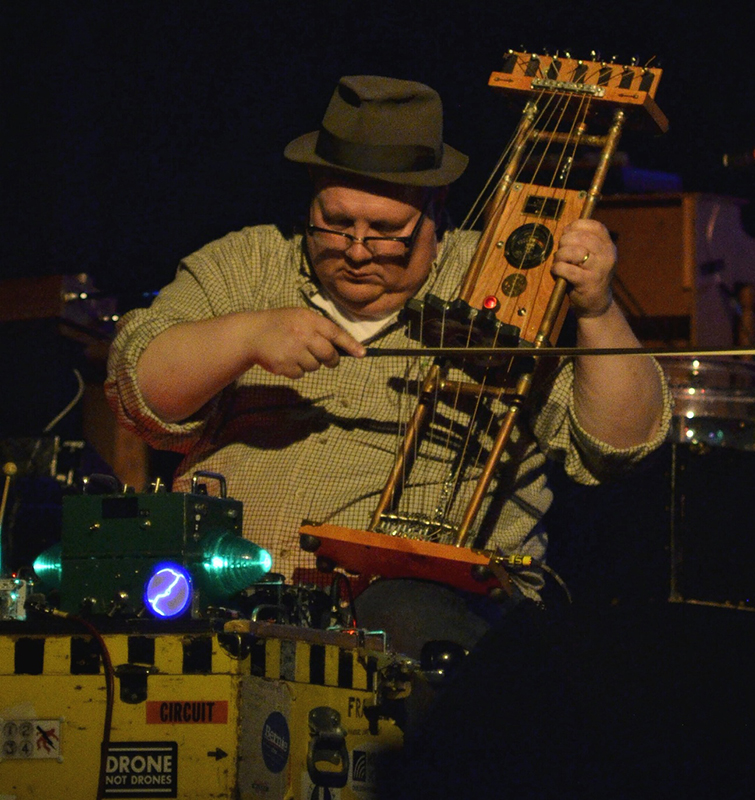 Rialto Center for the Arts
Darlene Hamilton, Assistant Director, Marketing & Communications
rialto.gsu.edu/
Traces: A Speech to African Nations, The Spirit of Hope (Sep. 15) — Building on the theme of the 2021-2022 Season of Mastery, the Rialto opens the 2022-23 Season of Power + Spirit with a theatrical performance in French with English supertitles featuring Étienne Minoungou, the Burkinabe actor and director. Written by Felwine Sarr, Traces: A Speech to African Nations, The Spirit of Hope recounts one man's return to his home continent, Africa.
Jane Monheit (Oct. 1) — Two-time Grammy-nominated vocalist Jane Monheit will perform pop and jazz standards from The Great American Songbook.
Nobuntu (Oct, 15) — A female a cappella group from Zimbabwe, Nobuntu performs a repertoire of traditional music, Gospel, Afro-Jazz and crossover accompanied by minimalistic percussion and traditional instruments, such as the mbira, and dance movements.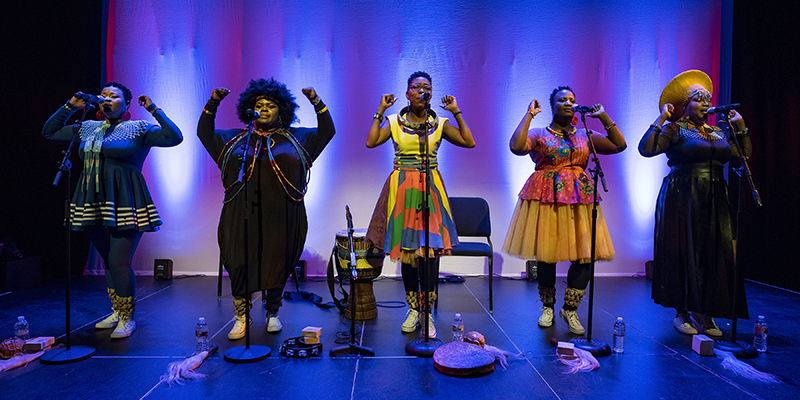 Arturo Sandoval (Nov. 12) — 10-time Grammy-winning Latin jazz musician/composer/educator Arturo Sandoval embodies the legacy of Cuban-style Afro-jazz. His ensemble and orchestral performances combine elements of jazz, classical, rock and traditional Cuban music.

25th Annual Gala Holiday Concert (Dec. 4) — This gala concert presented by the Georgia State University's School of Music will feature more than 200 student and faculty performers.
Darlene Hamilton: "COVID has affected us in every possible way including our staff, our artists and our bottom line. We have had several staff members test positive for COVID and we made the necessary adjustments and replacements during their recovery. Although we are still dealing with a significantly smaller staff caused by RIFs during COVID, we are returning to pre-COVID operations. When a member of The Manhattan Transfer, originally scheduled to perform in April 2022, was diagnosed with COVID, the show had to be postponed. Unfortunately, when the show was rescheduled for June 2022, we lost some of the original ticket buyers who were not able to attend on the new show date. Audiences are generally smaller than pre-COVID audiences. While many of our patrons are older and hesitant to return to large public events, we had a full house for a couple of shows last season. If all variables remain the same, we anticipate a general increase in attendance in the fall."
Schwartz Center for Performing Arts at Emory University
Rachael Brightwell, Managing Director
schwartz.emory.edu
The 2022-23 season marks the 20th anniversary of the Schwartz Center for Performing Arts as a distinguished presenter of concerts, residency and educational programs. Through the Candler Concert Series and Schwartz Artist-in-Residence program, the anniversary season features violinist Anne-Sophie Mutter; the Maria Schneider Orchestra performing the world premiere of a Schwartz Center big band commission; a new song cycle from Schwartz Artist-in-Residence Lawrence Brownlee; and masterful genre-benders Béla Fleck, Zakir Hussain, and Edgar Meyer with flutist Rakesh Chaurasia. The Schwartz Center also welcomes Urban Bush Women as the season's special Candler dance event.
Music from Copland House featuring Susan Graham, mezzo-soprano: A Standing Witness (Sep. 23) — The song-cycle A Standing Witness was written especially for mezzo-soprano Susan Graham and the Music from Copland House ensemble by Grammy Award-winning composer Richard Danielpour and Pulitzer Prize-winning author and former Poet Laureate Rita Dove. The Schwartz concert is the work's Atlanta premiere.
Urban Bush Women: Legacy + Lineage + Liberation (Oct. 20, 22) — In honor of Urban Bush Women's 35th anniversary, Legacy + Lineage + Liberation celebrates the power of Women(+) in a program of classic works that meld genres and amplify the voices of Women(+) of color.
Hélène Grimaud (Oct. 27) — Internationally acclaimed French classical pianist, wildlife conservationist, human rights activist and writer whose idiosyncratic style has been compared with Glenn Gould, Hélène Grimaud makes a rare appearance in the Southeast in this solo recital.
Maria Schneider Orchestra (Nov. 17) — American composer Maria Schneider guides her 18-piece orchestra through lush and complex works that trace new contours along the jazz orchestra landscape. This concert features a world premiere commission in honor of the Schwartz Center's 20th Anniversary.

An Evening with Fred Hersch and esperanza spalding (Jan. 19) — Preternaturally gifted multi-instrumentalist, singer, songwriter and composer esperanza spalding has cited Madonna, Ornette Coleman and Joni Mitchell as artistic influences and career models. Hersch has initiated and participated in many significant duo collaborations. Together, spalding and Hersch will perform a program drawn from the Great American Songbook, Brazilian music and jazz.
Spivey Hall at Clayton State University
Tammy Moore, Marketing Director
spiveyhall.org
Laurin Smith, Paul Warner, You Ju Lee (Sep. 11) — Presented by Clayton State University's Music Department, a free concert of works for piano trio performed by guest faculty members Laurin Smith (violin), Paul Warner (cello) and You Ju Lee (piano). The program includes Ludwig van Beethoven's Piano Trio No. 3 in C minor, Op. 1, No. 3; Franz Liszt's Tristia (Vallée d'Obermann) for piano trio, S. 378c; and Trio élégiaque No. 1 in G minor Sergei Rachmaninoff.
Georgia Musicale Group (Sep. 18) — Founded in 2016 by Utako Tanigawa, Georgia Musicale Group, whose members hail from Canada, Russia, Germany, France, the UK and several American states, will perform a variety of music from Baroque to contemporary in settings for piano, vocals and chamber ensemble.
Joshua Bell & Peter Dugan (Sep. 30) — Widely recognized as one of the greatest living classical violinists, Joshua Bell will perform with multi-genre piano specialist Peter Dugan in a sure-sellout concert.
Europa Galante with Fabio Biondi (Oct. 8) — Italian violinist Fabio Biondi and his period ensemble, Europa Galante, will perform a program that includes the Violin Concerto in G minor, BWV 1056 and Brandenburg Concerto No. 5 in D major by Johann Sebastian Bach, and the Concerto in D major for two violins, two celli and strings by Antonio Vivaldi.
Eric Owens & Singers of Curtis Opera Theatre (Oct. 16) — Four emerging professional singers from the Curtis Institute of Music join celebrated bass-baritone Eric Owens, a 1995 Curtis Institute alumnus, for a concert program that includes Neues Liebeslieder Walzer, Op. 65, for four voices and four-hand piano by Johannes Brahms, plus lieder, songs, operatic arias and ensemble pieces.
Igor Levit (Oct. 23) — A regular guest soloist on the international concert hall and festival circuit, German pianist and political activist Igor Levit will perform a program at Spivey Hall that includes works by Robert Schumann, Fred Hersch, Richard Wagner and Franz Liszt.
Wycliffe Gordon & the International All Stars (Oct. 29) — Trombonist, composer, arranger and educator, former member of the Wynton Marsalis Septet and Lincoln Center Jazz Orchestra, Statesboro, Georgia native son Wycliffe Gordon brings his International All Stars to Spivey Hall for a jazz concert guaranteed to swing the joint like never before.
Antonio Meneses & Paul Galbraith (Nov. 6) — Antonio Meneses was the last cellist of the legendary Beaux Arts Trio. Paul Galbraith is one of the most innovative and sought-after guitarists of the past half-century. Celebrating the 200th anniversary of Brazil, the duo's touring program includes a new arrangement of Schubert's "Arpeggione" Sonata; Brazilian composer Radamés Gnattali's Sonata for Guitar and Cello; "Five Places from an Imaginary Brazil," written for the duo by André Mehmari; plus solo works by each artist.
Gunnar Idenstam & Erik Rydvall (Nov. 12) — Swedish organist Gunnar Idenstam joins forces with countryman Erik Rydvall, a virtuoso on the nyckelharpa, which is a traditional string instrument played with a bow and equipped with a key box to determine the melodic pitch while a set of resonating sympathetic strings give the instrument a unique chiming sound. The duo will perform selections from their 2019 album, Northern Dances: Folk Music from Scandinavia and Estonia. Idenstam will play a number of solo pieces on Spivey's amazing Albert Schweitzer Memorial Organ.
''Ben Bliss & Lachlan Glen__ (Nov. 13) — Tenor Ben Bliss and pianist Lachlen Glen, co-founders of the classical arts production company Mise-en-Scène Studios, are known for eclectic program recitals featuring selections from pop songs and the American Songbook, as well as bel canto opera arias and classical leider.
Merz Trio (Nov. 20) — Formerly in residence at the New England Conservatory of Music, Brigid Coleridge (violin), Julia Yang (cello) and Lee Dionne (piano) are The Merz Trio. Their Spivey Hall program, conceived around the theme of Night Journey, includes works by Franz Schubert, Antonín Dvorak, Alban Berg, Florence Price, Thelonious Monk and Pēteris Vasks.
Sons of Serendip (Dec. 4) — In a return visit to Spivey Hall, Micah Christian (lead vocals), Cordaro Rodriguez (piano, guitar), Kendall Ramseur (cello, vocals) and Mason Morton (harp) will apply their special blend of classical, jazz, gospel and pop to a program of spirit-lifting holiday music.