CREATIVE ARTS: Words of wisdom from Dwayne 'Dubelyoo' Wright
Openings and new exhibitions to see during Black History Month
When Art, Beats + Lyrics was established in 2004, it began as a local art show for artists to highlight their work, and to help build a network for the city's creatives. Now, it has grown beyond the parameters of Atlanta, and has solidified itself as the premiere art experience nationwide, and also features the seminal musicians of the era, giving everyone in attendance the perfect balance of music and artistic expression. Its founder and curator, Dwayne "Dubelyoo" Wright, spoke with Creative Loafing about the evolution of this traveling exhibition, and how it came to be.
"Well, it started off with my business partner, Jabari Graham — he worked for the circus in the marketing department — and this is like 2000 and the early 2000s," Wright tells CL. "When he got laid off, he wanted to do a show that combined music and art and all of that; so he went out and searched for artists.
"He found a few, and I was one of the artists in the first show," Wright continues. "It was in Little Five Points at a bar called The Five Spot, and it went really well with a decent turnout. After that show we decided to work together on doing an event at the High Museum, so we went from a bar to the High Museum in about four months. The show shut down the museum in two hours and a lot of people didn't get a chance to come in to see it. It created a major buzz in the city, and it's been like that ever since."
Since its inception almost 20 years ago, Art, Beats + Lyrics has expanded throughout the country, having sold out shows in locations such as Miami, Los Angeles, Detroit, Dallas, Chicago, and many more. While laying foundations in various places has been critical to AB+Ls, having a large turnout in its flagship city brings the most satisfaction to Wright.
"Our show in Atlanta is important because most of the artists in the show are from Atlanta," the North Carolina native says. "We've been taking Atlanta art and culture and bringing it to places that may not experience it like we do here (in Atlanta). The people that are in the show get a chance to invite their people that (are) local and they all come out, so it becomes one big family thing, and that's been one of the main things in our show for two decades.
"I think the thing that makes it such a big deal here is that one, we do our show in other cities and those people talk, 'Hey, I went to the show in Detroit.' 'I went to the show in Chicago and it was awesome.' 'Why is it coming to Atlanta?' — the buzz gets really big," he adds. "It's a really good feeling that people get when they come and they leave inspired. So I think that's one of the reasons why the turnout is the way it is."
Art, Beats + Lyrics will be traveling to Oakland, Houston, and New York in 2023.
In Atlanta, there are many galleries, exhibitions and shows to check out this month.For all the city's art enthusiasts, here's where to go and what to do in February.
Now through - Feb. 19
Urinetown, Oglethorpe University Theatre — Co-produced by Actor's Express and Oglethorpe University Theatre and staged at Oglethorpe University, Urinetown tells the story of the not-so-distant future, when a 20-year drought has depleted the land of water. All citizens are forced to pay the corrupt "Urine Good Company" megacorporation for the "privilege to pee." When the idealistic Bobby Strong decides he has had enough, he leads a ragtag group of rebels in a revolution to pee freely. — Okla Jones, III
$35. Thurs., Feb. 2 - Sun., Feb. 19. 4484 Peachtree Rd NE, Atlanta, 30319. 404-504-1473 actors-express.com @aexpress
Feb. 10 - Mar. 5
The Hot Wing King, Alliance Theatre — Written and Directed by Katori Hall, The Hot Wing King is a fierce new comedy about the risks and rewards of celebrating who you are. Called "flavorful and bitingly funny" by New York Stage Review, and "a delicious new play to be applauded and savored" by Talkin' Broadway, this Pulitzer Prize-winning play is making its debut at Alliance Theatre in February, so it's definitely something you don't want to miss. The plot focused on Cordell and Memphis's annual "Hot Wang Festival." Supported by his beau Dwayne and best friends, the group settles in for a fun night of pre-competition prep. But when a family emergency forces Dwayne's troubled nephew into the mix, it quickly becomes a recipe for disaster. Suddenly, the first-place trophy isn't the only thing that Cordell risks losing. — Okla Jones, III
$10 - $78. Fri., Feb. 10 - Sun., Mar. 5. 1280 Peachtree Street NE, Atlanta, 30309. alliancetheatre.org @alliancetheatre
Sat., Feb. 11
Marc Evan Jackson and Friends: An Evening of Improv, Comedy and Romance, Atlantic Station — Marc Evan Jackson — an entertainer who has starred in in numerous film and television shows such as The Good Place, Brooklyn Nine-Nine, The Thrilling Adventure Hour, Parks and Recreation — is coming to Atlanta to perform in a comedy show featuring the city's top comedians to create a perfect Valentine's Day experience. Joined by Amber Nash, Karen Cassady, Freddy Boyd, Kevin Gillese, and Jon Carr, Marc and the VSP comedy group will take the audience's romantic stories and use them to inspire hilarious scenes. — Okla Jones, III
$45 - $100. Sat., Feb. 11. 241 20th St. NW, Atlanta, 30363. www.atlanticstation.com @atlanticstation
Feb. 16 - Mar. 3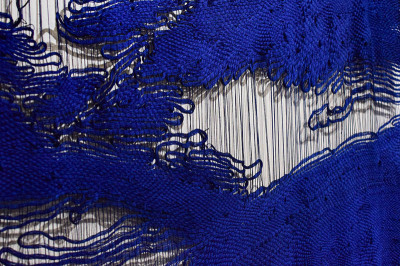 Hannah Ehrlich: clearing: a fertile exhale, Swan Coach House Gallery — Hannah Ehrlich is a textile artist based here in Atlanta, whose work focuses on the abstraction of landscapes to portray human emotions and examine the true being inside of everyone. Her upcoming exhibition clearing: a fertile exhale will be held at Swan Coach House Gallery, curated by Makeda Lewis. With the pieces in the collection, Ehrlich seeks to create a space where the self can be questioned and the chaos versus order in our emotions can be revealed. This month-long installation includes an opening reception on Thursday, February 16, from 6-9 p.m., and an in-depth talk with the artist herself on March 4 at 3pm. — Okla Jones, III
Free. Thurs., Feb. 16 - Fri., Mar. 3. Opening reception Thursday, Feb.16, from 6-9 p.m. Artist talk Saturday, March 4, 3 p.m. 3130 Slaton Drive NW, Atlanta, 30305. 404-253-3132 swangallery.org @swancoachgallery
Feb. 18 - Mar. 4
Paper Trail, ABV Gallery — Since 2010, Greg Mike's Beltline-based gallery has been a go-to spot if you're looking to find some of the best art in Atlanta. He, along with his network of creatives, have built a community that reaches far beyond this establishment's four walls. It has been home to hundreds of art exhibitions, pop-up events and brand activations, and now you can check out its upcoming group show, titled Paper Trail, which features new works on paper by various artists from around the world. If you can't attend the opening reception in person on the 18th, there will be an online auction for available artwork starting at 6pm EST on the same day, and will be open for 24 hours. — Okla Jones, III
Free. Sat., Feb. 18 - Sat., Mar. 4. 659 Auburn Ave NE, Ste 504, Atlanta, 30312. 404-390-3932 abvatl.com @abvgallery
Through Feb. 19
Mufaro's Beautiful Daughters: An African Tale, Synchronicity Theatre —  Written in the style of African Folktales, this new show directed and choreographed by Taryn Janelle is an expansive, musical retelling of the beloved book. Set under the clear Zimbabwean sky comes a tale of sibling rivalry and tests of character. Award-winning artist and writer John Steptoe's rich cultural imagery of Africa and gift for storytelling earned him the Coretta Scott King Award and the Boston Globe-Horn Book Award for Mufaro's Beautiful Daughters. Now for the first time with new music created by Synchronicity's artistic team and directed by LeRell Ross, this play is simply magic for the whole family. — Okla Jones, III
$15 - $40. Now - Sun., Feb. 19. 1545 Peachtree St. NW #102, Atlanta, 30309. 404-484-8636 synchrotheatre.com @synchrotheatre
Through Feb. 26
Echoes of Ecology – Prayers and Rituals, Reeves House Visual Arts Center — The RHVAC is ringing in 2023 with new work from Atlanta-based metal sculptor and mixed-media artist Corrina Sephora. Her art is known for its exploration of emotion through sculptures, paintings, drawings, and immersive installations. In Echoes of Ecology – Prayers and Rituals, she focuses on the four elements – earth, air, water, and fire – to share and cultivate aspects of family, memory, and personal history through art as a form of transformation. — Okla Jones, III
Free. Now - Sun., Feb. 26. 734 Reeves St. Woodstock, 30188. 678-494-425 woodstockarts.org @woodstockgaarts
Through Mar. 10
Everyday In-Between, Spalding Nix Gallery — This current exhibition at Spalding Nix features new work by Beth Lilly, Robert Hightower, Wendell George Brown, Amanda Joy Brown and Shelby Little. The primary focus of Everyday In-Between is balance (both good and bad) of life. While most of us strive for a sense of stability, predictability and connectedness on a daily basis, we live in a constant state of change, distraction and sometimes chaos. The artists in this show explore these unique but often-times common spaces of our everyday life; seeking stability in chaos, predictability in change and connections with strangers and with ourselves, through various mediums. — Okla Jones, III
Free. Now - Fri., Mar. 10. ADAC, 351 Peachtree Hills Ave, Suite 419 Atlanta, GA 30305. 404-841-7777 spaldingnixfineart.com @spaldingnixfineart
Through Jun. 3
Madame Grès: The Art of Draping, SCAD FASH Museum of Fashion + Film — Curated by fashion historian Olivier Saillard and organized by Rafael Gomes, creative director of SCAD FASH museums, Madame Grès's The Art of Draping contains nearly 80 garments by from her unique collections, and is presented to the public for the first time. The designs on view — which range from the 1930s to the 1970s — include her celebrated draped "Antique" gowns, which have continued to bring her renown and glory in the many decades since. Madame's exhibition is a selection of white, ivory, and chalk designs that reveal the Hellenic majesty of her draping. Her black designs symbolize the timelessness of her creations of a style that's unique like none other. In addition to Grés, this exhibition contains more than 600 haute couture designs, and just as many photographs from some of the biggest and brightest in high fashion. — Okla Jones, III
$10. Now - Sat., Jun. 3. 1600 Peachtree St. NW, Atlanta, 30309. 404-253-3132 scadfash.org @scadfash
Through Aug. 6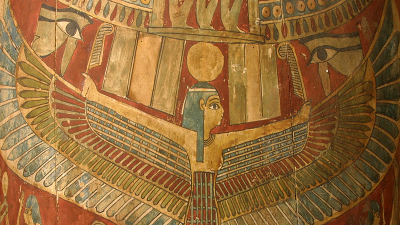 Life and the Afterlife: Ancient Egyptian Art from the Senusret Collection, Michael C. Carlos Museum — This new exhibition at Emory is about the power of ancient Egyptian objects to engage and inspire. The collection, named after King Senusret II's pyramid village, Hetep-Senusret in the Faiyum, was gifted to the Carlos Museum about five years ago by the Georges Ricard Foundation with the understanding that it would be conserved and used to promote knowledge not only about the rich funerary rituals, customs, and beliefs of the ancient world but also about the life of ancient objects over time. Several items in the exhibition highlight student and faculty research, technical and scholarly collaboration, methods of analysis and conservation. — Okla Jones, III
$8. Now - Sun., Aug. 6. 571 South Kilgo Cir. Atlanta, 30322. 404-727-2163 carlos.emory.edu @carlosmuseum