BLUES & BEYOND: May flowers with new music
Fresh tunes from some of Atlanta's most talented artists
Who doesn't love spring in Atlanta? The heat and humidity of the hellish summer has yet to hit, the foliage comes to life in vibrant colors, and outdoor concerts return in force. Adding to the seasonal excitement this year are new albums from established veterans along with one up-and-coming talent.
William Bell: One Day Closer to Home — "You're never too old to say how it makes you feel," sings soul man William Bell, now 84, on his first album in seven years. He then proceeds to prove that. Recorded mostly in College Park at his own Wilbe Studios, the Stax living legend's smooth/raspy voice sounds half his age on these dozen tunes, all but one with his name in the writing credits. Local guitarist Cody Matlock contributes to a few selections on the old school album of upbeat melodic R&B and heart breaking ballads. Bell gets swamp/bluesy on the title track, taps into old label-mate Otis Redding for the gospel soul "When I Stop Loving You," and delivers a stone-cold classic in the mesmerizing reminiscence of "I Will Remember Tonight." Atlanta is fortunate to have this multiple award winning veteran call our city home.
Michelle Malone:Fan Favorites, Vol. 1 Unplugged — Perhaps taking a cue from U2, who recently released a similarly conceived collection of their most popular tunes stripped down to an acoustic format, Atlanta's proudly independent journeywoman Malone does the same with 15 of her own compositions on this, her second release in a year. Anyone who has experienced one of her solo gigs knows what to expect as Malone powers through these oldies with a soulful Southern enthusiasm applied to everything she touches. From the sprightly Delta blues of "Tighten Up the Springs" to the Laurel Canyon-inspired "When I Grow Up" and the tasty folk (with whistling!) of "Butter Biscuit," Malone is in fine powerful voice on often requested catalog gems that sound frisky and animated in these unaccompanied versions.
The Wood Brothers: Heart is the Hero — King Johnson, Oliver Wood's early Atlanta based funk/blues/world music outfit, seems to be ancient history, especially as he continues releasing superb albums with his bass playing brother Chris and multi-instrumentalist Jano Rix. The Wood Brothers' trio keeps improving as a band too, as this set is recorded live in the studio to analog tape with virtually no overdubs. There's not a significant difference in the material here than on their previous albums, as Oliver's unique, scratchy, yearning voice keeps the band's combination of folk, jazz, blues, and gospel on point, musically and lyrically. Horns are sprinkled in, bringing back memories of King Johnson. Even with the stripped down recording, these performances seem crafted by a much larger band, a testament to the threesome's extraordinary talents. The Wood Brothers just keep "Rollin' On" as one of their titles attests.
Brandon Reeves: Putting Together Pieces — Singer/songwriter Reeves describes his music as country/folk/blues. It's an apt depiction, especially because Reeves' specialty is combining those genres into original tunes that blur the lines of where one ends and the others begin. He has a charming, low-key voice that meshes perfectly with sweet songs that go down as smooth as Keb' Mo' and a Sunday morning cup of coffee. His acoustic based music feels naturally organic and a positive attitude towards life, even when he has the "empty tip jar blues," keeps his music upbeat and enthusiastic with contagious "believe-in-yourself" optimism. On "Be What You Were Meant to Be" he reminds us not to lose hope, over a J.J. Cale-styled shuffle that follows the album's theme. He plays somewhere in the area weekly, so stop by the next time you see him playing and drop some cash into that jar on stage.
Mom's love Blues & Beyond shows, too. Treat her to one of these.
May events
Thurs., May 4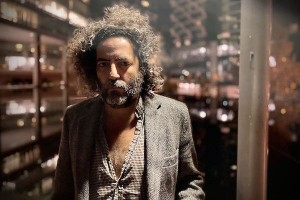 Destroyer (solo), The Reds, Pinks & Purples, The EARL — Canadian iconoclast Dan Bejar has commanded his indie-artsy Destroyer outfit for nearly thirty years, helming it through multiple personnel and musical changes. It's little surprise he now takes the stage as a solo act, stripping down the often ornate, overdubbed sound of the band —  as exhibited most recently on 2022's terrific Labryrinthitis —  to its most skeletal form. Arrive early for Glenn Donaldson who, as The Reds, Pinks & Purples, plays dreamy, West Coast indie pop with darker overtones.
$sold out. 8:00 p.m. The EARL, 488 Flat Shoals Ave.NE, Atlanta, 30316. 404-522-3950. badearl.com
Esther Rose, Eddie's Attic — The multiple overdubs that enhance singer/songwriter Rose's new album, Safe to Run will need to transition to a more stripped down approach for the live stage when she plays those songs tonight. But her tunes are so well crafted and composed that, along with Rose's lovely voice, they may be enhanced by that shift. The recently released tracks may be her finest, most intimate yet.
$14. 9:15 p.m. Eddie's Attic, 515-B N. McDonough St., Decatur, 30030. 404-377-4976. eddiesattic.com 
Fri., May 5
Eliot Bronson, Abe Partridge, Eddie's Attic — Frequent Eddie's visitor, and ex-Atlanta resident (he has since moved to Nashville), Bronson writes intimate songs that cut close to the bone. His smooth vocals and subtle melodies make it seem like he's singing directly to you. It's a good bet he'll perform his touching tune simply entitled "Atlanta," a weeper about his time here. Don't miss iconoclastic Renaissance man Partridge who just last month headlined his own show at this venue.
$16. 7 p.m. Eddie's Attic, 515-B N. McDonough St., Decatur, 30030. 404-377-4976. eddiesattic.com 
Sat., May 6
The Walkmen, Terminal West — This Hamilton Leithauser-led outfit took an extended hiatus starting in 2013, but 2022's reissue of 2008's You & Me shows they are still alive, albeit without a release in over a decade. Look for new music from these once keyboard oriented sinewy hellions who will likely rely on their older material for the majority of this rare ATL gig. Billed as "an evening with," it's more of a "very late evening with" as the midnight start time might alienate all but the most fervent nighthawk fans of these NYC edgy post-punkers.
$40-46. 11:59 p.m. Terminal West, 887 West Marietta St. NW C., Atlanta, 30318. 404-876-5566. terminalwest.com  
Tues., May 9
Eilen Jewell, Christopher Paul Stelling, Eddie's Attic — The first of two shows, oddly on different dates at the same venue (the next is two days later) finds veteran Idaho-based singer/songwriter Jewell promoting a new album, Get Behind the Wheel. It's her ninth release and comes after a divorce and an extended performing hiatus which found her questioning her path forward. Jewell's style is appropriately described as "roots noir," a bittersweet combination of country, folk, and rockabilly coalesced around the singer's charming, often humorous, personality and innocent yet resolute vocals.
$25. 7 p.m. Eddie's Attic, 515-B N. McDonough St., Decatur, 30030. 404-377-4976. eddiesattic.com 
Wed., May 10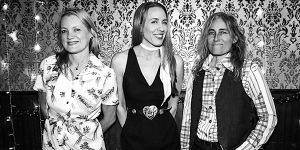 Kelly Willis, Melissa Carper, Brennen Leigh, Eddie's Attic — It's an indie roots/country supergroup of sorts as these three women, all headliners, join forces for a unique tour where the whole will likely exceed the sum of its already impressive parts. Carper and Leigh ride in on critically lauded new albums. Along with country/pop veteran Willis, this can't-miss collaboration will likely not be repeated.
$20. 7 p.m. Eddie's Attic, 515-B N. McDonough St., Decatur, 30030. 404-377-4976. eddiesattic.com 
Jamie McLean Band, Smith's Olde Bar — The days of McLean's guitar work as a member of the Dirty Dozen Brass Band are far behind him as his solo career progresses. He is now a solid, Stones-loving, blues based, rocker whose approach is best explained by the opening track of his latest album "Give My Life to Rock and Roll." His taut trio amplifies that career describing statement as McLean's fiery guitar licks and tough yet tuneful songs, featuring better-than-average singing, deliver the bluesy rocking goods.
$12-17. 8:00 p.m. Smith's Olde Bar, 1578 Piedmont Ave. NE, 30324. 404-875-1522. sobatl.com 
Thu., May 11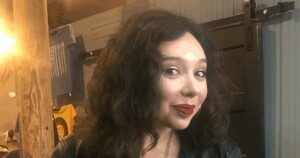 Tyler Tisdale, Britton Bass, Kiely Connell, Smith's Olde Bar — This terrific lineup of up and coming Americana singer/songwriters is headlined by Tisdale, with his darker, introspective musings and earthy, soulful bellow. Be sure to arrive early for Connell whose recent blues/country Calumet Queen debut was a 2022 highlight for new Americana voices.
$12-15. 8:00 p.m. Smith's Olde Bar, 1578 Piedmont Ave. NE, 30324. 404-875-1522. sobatl.com 
Eilen Jewell, Miss Tess, Eddie's Attic — Wait what? Wasn't she just here two days ago? Jewell returns, likely with the same set list but a higher profile opening act in Miss Tess, often a headliner on her own. Jewell features tracks from her extensive career in music (her debut hit in 2005) which touches on country, blues and rockabilly, at its best incorporating all of those. Maybe the swinging Tess will hang around to yodel for a few tunes. 
$25. 7 p.m. Eddie's Attic, 515-B N. McDonough St., Decatur, 30030. 404-377-4976. eddiesattic.com 
Fri., May 12
Jazz Is Dead, Buckhead Theatre — As the band's name implies, this quartet of jazz players, led by co-founder/ex-Weather Report bassist Alphonso Johnson and recent addition guitarist Steve Kimmock, lay their substantial chops into material from The Grateful Dead. The all instrumental approach focuses on melodies that gradually yet expectedly veer off into jammy directions, although with less noodling and more technical expertise than most Dead cover acts. They have been doing this with various personnel changes since 1998 and have refined the show with plenty of musical room to roam. Twirl dancing might be limited though. 
$26-35. 8:00 p.m. Buckhead Theater, 3110 Roswell Rd. NE, 30305. 404-843-2825. livenation.com/venue/KovZpZAJAllA/buckhead-theatre-events
Evan Stepp & the Piners, Blue Cactus, The EARL — The Atlanta based country rocking sextet, with an emphasis on country, bring plenty of genuine twang to their Southern rock. Stepp has a cool, smooth voice and the band shifts from subtle ballads to rollicking rave ups with ease. Blue Cactus' dreamier approach focuses on lead singer Steph Stewart's sweet, supple vocals.
$12-15. 8:30 p.m. The EARL, 488 Flat Shoals Ave.NE, Atlanta, 30316. 404-522-3950. badearl.com
Sat., May 13
Miko Marks, Rissi Palmer, Eddie's Attic — This impressive double bill presents two African American women who combine soul with country and roots rock for stunning results. Both have made inroads on commercial country radio in the past year, pushing the boundaries of that medium. Each will do a set, then join together for some songs, one of which will be their new collaborative single, the gospel/rocking "Still Here." Either artist would be recommended, but together this show is not-to-be-missed.
$15. 9:30 p.m. Eddie's Attic, 515-B N. McDonough St., Decatur, 30030. 404-377-4976. eddiesattic.com 
Revival:Celebrating Georgia's Historic Theaters, Fox Theater — This is the third such annual event raising money "to preserve Georgia's historic theaters and expand the Fox's education programs." Judging from the local talent involved — Collective Soul, Mother's Finest, Drivin N' Cryin, and Jet Black Roses —  it should be quite the rocking affair. Bonus: DNC's Kevn Kinney is the MC. 
$55.50-40.50. 7:30 p.m. Fox Theatre, 660 Peachtree St.NE., 30308. 404-321-5000. foxtheater.org
Wild West Picture Show, Star Community Bar — Keli Mercadante saddles up again to front this '90s outfit that used to call the Star Bar home when that venue was in its Americana twang phase. While the club has gone through plenty of musical changes since, it's appropriate that WWPC gets to perform this rare "homecoming" (their word) reunion there. We'll assume the band's high energy country, mixed with an occasional ballad, hasn't changed, and that Mercadante remains a magnetic presence.
$12-15. 8:00 p.m. Star Community Bar, 437 N. Moorland Ave., 30307. 404-390-3062. starbaratl.bar
Sun., May 14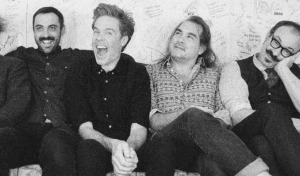 Josh Ritter & the Royal City Band, Adeem the Artist, Variety Playhouse — Singer/songwriter Ritter's debut appeared in 2000 and he hasn't stopped releasing albums since, combining easygoing pop, rock and folk. Even if his voice isn't especially distinctive, Ritter's firm grasp of melody, fine-tuned band and excellent production makes each album worth hearing. A new one, Spectral Lines, that appeared last month, continues his tradition of exemplary writing and classy songs that feel intimate and universal. Adeem the Artist's raw country, often concerning the working class, makes for a terrific double bill.
$32.50-49.50. 8:00 p.m. Variety Playhouse, 1099 Euclid Ave. NE. Atlanta, GA. 30307. 404-504-7354. variety-playhouse.com
Thu., May 18
Wheeler Walker, Jr., Variety Playhouse — If concerts had ratings like movies, Walker Jr.'s would be triple X. That's by design, of course, as comedian Ben Hoffman decided, through Walker, his alter ego, to make the filthiest pure honky-tonk music that radio, and/or conservatives, would never touch. Mission accomplished with his first song, 2013's "Eatin' Pussy, Kickin' Ass" (premiered on his Comedy Channel show) and it has been downhill from there. Musically, he enticed lauded producer Dave Cobb in his corner to provide credibility. Walker has been a popular guest on podcasts and talk shows chatting about tunes like "God Told Me to F**k You," F**ked by a Country Boy," and the immortal "Finger Up My Butt." It's guaranteed to be the rowdiest, dirtiest, most obscene and, if you're in the mood, funniest country show ever. Whether this is sharp social satire or simply bad taste isn't clear. In either case, you've been warned. 
$29. 8:00 p.m. Variety Playhouse, 1099 Euclid Ave. NE. Atlanta, GA. 30307. 404-504-7354. variety-playhouse.com
The Wood Brothers,Shovels & Rope, The Eastern — This striking bill features two Americana favorites, each of whom could take top billing. Clearly the Wood Brothers are the main attraction tonight due to Oliver Wood's long history and strong ties to Atlanta in King Johnson and other outfits. The trio tours with a new album, Heart is the Hero, another winning entry in their idiosyncratic catalog of folk, jazz, country, pop and blues. The Shovels and Rope duo also features a stripped down sound, theirs leaning more towards indie rock with resilient country roots.
$39.50-77. 8:00 p.m. The Eastern, 777 Memorial Dr. SE., Atlanta, 30316. easternatl.com
Abby Bryant & the Echoes, The Eastern (rooftop) — If you're coming for the Wood Brothers at the larger venue tonight, leave home early and check the roots rocking Bryant and her band for this free show on the more intimate rooftop stage. Bryant's husky soulful voice is tough and her band, complete with honking sax, mixes Stones and Petty influences for a tight and convincing sound.
$Free entry with ticket to The Wood Brothers show. 6:30 p.m. The Eastern, 777 Memorial Dr. SE., Atlanta, 30316. easternatl.com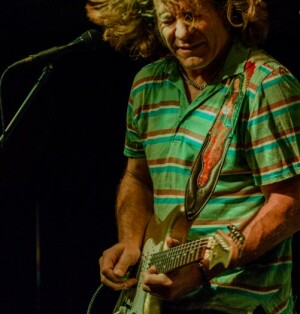 Chris Duarte, Marty Manos Band, and The Garden Club, Wild Heaven West End — Texas bred blues rocking guitarist Duarte has heard the Stevie Ray Vaughan comparisons since his well received 1999 debut and has thankfully ignored them. Instead he kept doing his thing, getting better and cranking out over a dozen albums of mostly original material without much critical or popular fanfare, while consistently blowing away audiences. He's still at it, now touring behind the new appropriately titled Ain't Giving Up, another fine, rugged release filled with the Lone Star state rootsy rocking he has perfected over a quarter century of generally under appreciated work.
$18-20. 8:00 p.m. Wild Heaven West End Brewery & Gardens, 1010 White St. SW., Atlanta, 30310. wildheavenbeer.com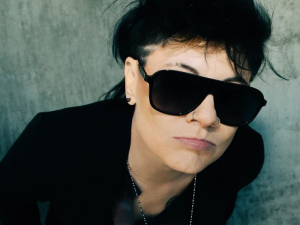 Songwriters in the Round, Eddie Owen Presents: Red Clay Music Foundry — This month's edition of the long running series features the irrepressible Michelle Malone, along with the similarly talented Hannah Thomas and Sonia Leigh, all veteran roots/Americana singer/songwriters and friends with bulging catalogs of material. But the best part is when they join voices, either on their own material or the occasional cover, harmonizing and urging the others to new heights. Someone ought to record this one, which has the makings of a classic show. 
$25-32. 8:00 p.m. Eddie Owen Presents: Red Clay Music Foundry, 3116 Main Street, Duluth. NE, 30096. 404-478-2749. eddieowenpresents.com 
Karl Denson's Tiny Universe, Ivan Neville, Terminal West — It's a 25 anniversary celebration for reed man Denson and his band, which means he will likely cherry-pick music from his extensive career in supercharged funk, jazz and jam rock. We might get a Stones' song, too, since he has been a key member of their horn section on the road since 2013. Having Ivan Neville (son of Aaron) along to help with vocals is icing on the cake. This should be a memorable throw down with a dance-all-night vibe.
$28.50-32. 8:30 p.m. Terminal West, 887 West Marietta St. NW C., Atlanta, 30318. 404-876-5566. terminalwest.com
Fri., May 19
My Sister, My Brother, Eddie's Attic — This is a collaboration between folk/pop singer/songwriters Sean McConnell and Garrison Starr, both headliners on their own. The duo's vocal harmonies and music combine naturally and gracefully for a recent EP of predominantly acoustic music that glides and soars.
$20. 9:00 p.m. Eddie's Attic, 515-B N. McDonough St., Decatur, 30030. 404-377-4976. eddiesattic.com 
Sat., May 20
Ally Venable Band, Smith's Olde Bar — There will never be enough talented, guitar slinging, blues rocking, band leading women. Texas-based Venable is the most recent, and arguably youngest, entry into the field, having started in 2013 when she was just 14. A decade later she is a talented veteran who writes impressive material and is buttressed by the high profile likes of Kenny Wayne Shepherd, Buddy Guy and Joe Bonamassa. Her albums, including the recent Real Gone, show she's in it for the love of the genre, a point proven by her crackling live shows.
$TBA. 8:00 p.m. Smith's Olde Bar, 1578 Piedmont Ave. NE, 30324. 404-875-1522. sobatl.com 
Roswell Music Festival, Downtown Roswell — Check out the Roswell music scene with this daylong event featuring a passel of local roots/blues bands and headlined by Memphis' soulful rockers Southern Avenue.
$55-140. 1:00 p.m. Downtown Roswell, 37 Magnolia St., 30075. roswellmusicfestival.com 
Hank Williams Jr., Old Crow Medicine Show, Ameris Bank Amphitheatre at Encore Park — Now in his mid-'70s, Hank Williams' only child has outlived his legendary dad, who died at just 29, by over four decades. He's had a bumpy career, but he hit his stride in the late '70s and '80s with radio-ready songs combining outlaw country and Southern rock. Few, however, expected his rugged, Dan Auerbach assisted, 2022 comeback as a gritty bluesman —  covering Muddy Waters, Jimmy Reed and others —  with the unlikely, self-deprecating album title of Rich White Honky Blues. The veteran Americana openers will likely attract a younger audience.
$39-275. 7:00 p.m. Ameris Bank Amphitheatre, 2200 Encore Parkway, Alpharetta, GA. 30009. 404-733-5010. www.encoreparkamphitheatre.com
Sun., May 21
Logan Halstead, Eddie's Attic — Kentucky-born, West Virginia-raised Halstead is, at just 19, a promising young country singer who leans towards a more ragged, outlaw style. He's getting substantial notice, even before the release of his debut, due to dark songs about the coal mining area where he was raised, sung in a voice that sounds more grizzled and mature than you expect. Imagine a younger, less ornery Steve Earle mixed with Tyler Childers and Sturgill Simpson and you're close to his stark, unvarnished approach. Catch him now before he explodes.
$15. 8:00 p.m. Eddie's Attic, 515-B N. McDonough St., Decatur, 30030. 404-377-4976. eddiesattic.com 
Atlanta Blues Society Gathering & Jam, Cajun Blues — The Trilby Brothers take the stage for this month's meet and greet geared to the area's blues lovers…and those who just want to check out the scene. The closing jam of area musicians is always a highlight too.
$free. 3:00 p.m. Cajun Blues, 2197 Savoy Dr., Chamblee, 30341. 770-674-4240. atlantabluessociety.org
Tues., May 23
Evan Dando, City Winery — The Lemonheads made a short-lived splash on the 120 Minutes scene years ago, paving the way for frontman Evan Dando's solo career — which never really took hold. His last album was in 2003. It's anyone's guess what he's doing now. His shaggy, easygoing, indie, folksy pop rock was pleasantly inoffensive which might make this solo date (without a band), worthwhile. Or maybe not.
$35-50. 8:00 p.m. City Winery, Ponce City Market, 650 North Ave. NE., 30308. 404-496-3791. Citywinery.com/Atlanta 
Wed., May 24
The Bros. Landreth, Eddie's Attic — It's the "Come Morning Tour" named after the siblings' (Dave and Joey) most recent release. The Canadian roots pop duo got a major lift last year when Bonnie Raitt plucked their 2015 deep track, "Made Up Mind," as the lead from her most recent album. The duo's smooth, unruffled soulful folk, not far from earlier Boz Scaggs, goes down easy, and the brothers harmonize like, well, brothers. Worth a look.
$20. 7:00 p.m. Eddie's Attic, 515-B N. McDonough St., Decatur, 30030. 404-377-4976. eddiesattic.com 
Thurs., May 25
Ryan Adams & the Cardinals, Coca-Cola Roxy — Adams has a long way to go to revive his career, which tanked after a raft of negative press about alleged sexual misconduct (from which he was legally cleared) and a nasty divorce from actress Mandy Moore. But, he has returned to his prolific self lately, releasing at least six under-the-radar albums since 2019 (four in 2022 alone!), two of which were song-by-song recreations of Nebraska and Blood on the Tracks. That brings his total up to 24 studio discs, so what he'll be playing is up in the air. But if Adams is trying to win back his once sizable audience, it's likely he will deliver a professional performance with a great band behind him, something he could previously not be counted on doing.
$45-99. 8:00 p.m. Coca-Cola Roxy, 800 Battery Ave. SE #500, 30339. livenation.com/venue/KovZ917ACc7/coca-cola-roxy-events 
Sophie B. Hawkins, Seth Glier, Eddie's Attic — According to her bio, husky voiced singer/songwriter Hawkins has been plenty busy over the last decade, contributing music to various movies and TV shows, raising two children. and touring behind the 30th anniversary of her debut album. What she hasn't done is release a new album, until now. Hawkins' return to the recorded medium with Free Myself appears next month, so it's likely she will be previewing tracks from it for this show. It's a lovely, ballad heavy set that should work well in EA's listening room atmosphere. 
$45.06-54.29 7 p.m. Eddie's Attic, 515-B N. McDonough St., Decatur, 30030. 404-377-4976. eddiesattic.com 
Fri., May 26
SuperBlue: Kurt Elling & Charlie Hunter, City Winery — Multi-award winning, mellifluous jazz vocalist Elling partners with famed fusion 8-string guitarist Hunter (who plays bass and guitar simultaneously) to recreate their recent SuperBluerelease. It's a lively, smooth, soulful, sometimes funky, occasionally artsy, and bluesy set, somewhere between Stevie Wonder, Donny Hathaway and Sly Stone (at his most sedate) that seems perfect for a live performance.
$35-45. 8:00 p.m. City Winery, Ponce City Market, 650 North Ave. NE., 30308. 404-496-3791. citywinery.com/Atlanta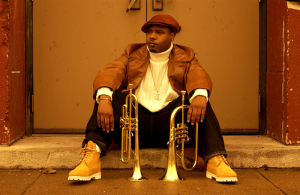 Atlanta Jazz Festival Presents The Apollo's Production of The Blues and Its People, Symphony Hall — Trumpeter Russell Gunn leads a 26 piece Royal Krunk Jazz Orkestra through original blues, jazz and gospel music reflecting on the African American experience throughout history. The show, a multi-media cultural event, received rave reviews during its run at the Apollo Theater in New York.
$59-69. 8 p.m. Atlanta Symphony Hall, 1280 Peachtree St., 30309. 404-733-4900. aso.org
Please send upcoming blues events to consider for CL's Blues & Beyond concert calendar to hal.horowitz@creativeloafing.com.